Zach Martin (Zachary Edward Martin) is an American football offensive guard who was born on November 20, 1990.
Zack plays foot in the big league, National Football League, for the Dallas Cowboys. In the 2016 NFL draft, he was drafted by the same team, the Cowboys, as the 16th overall pick in the first round.
Ever since then, Martin has been playing in the position of a guard and has made 6 Pro Bowls, and has also been selected to 6 All-Pro teams.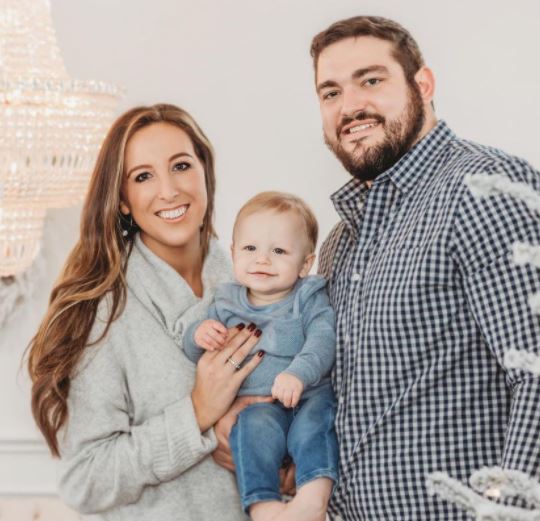 Unlike Zack, very little information about Morgan's early life, education, and past relationships are available.
Morgan and Zack met each other at university. They quickly fell for each other and have been each other's support since then. We will take a closer look at this topic but before that, let us have a look at who Morgan Eifert is.
Morgan Eifert | Quick Facts
| | |
| --- | --- |
| Full Name | Morgan Eifert |
| Birth Date | Not Available |
| Birth Place | Indianapolis, Indiana |
| Nick Name | None |
| Religion | Christian |
| Nationality | American |
| Ethnicity | White |
| Education | University of Dayton |
| Horoscope | Not Available |
| Father's Name | Not Available |
| Mother's Name | Not Available |
| Siblings | Tyler Eifert |
| Age | N/A |
| Height | N/A |
| Weight | N/A |
| Hair Color | Light Brown |
| Eye Color | Dark Brown |
| Build | Slim |
| Profession | Assurance Associate |
| Marital Status | Married |
| Spouse | Zack Martin |
| Kids | A son |
| Net Worth | Not Available |
| Merch of Zack Martin | Cards |
| Last Updated | June, 2022 |
Who is Morgan Eifert? Early life
Morgan Eifert is the wife of National Football League star Zack Martin.
Eifert was born and raised in Indianapolis, Indiana. Unfortunately, information about her early days, school years, or college years is not available.
Some of the information we have is currently under review for authenticity.
Morgan Eifert Career
Eifert is a white American who currently works at PwC in their Assurance service line, which is located in Cincinnati, Ohio.
Unlike most wives of NFL or MLB stars, Morgan has an active personal, professional career and does not sit around the house being a housewife.
Morgan has engaged herself in numerous companies and has an impressive portfolio.
You might be interested in reading about Ed Marinaro.
She has worked for companies like Delta Sigma Pi, President's Emissaries, UD office of admission, SBA IT, Blue & Co. LLC, The Yancey Family, Cold Stone Creamery, and others.
She has experience working as a sales associate, child care worker, tax intern, core assurance intern, consultant, managing director, IT assistant, assurance associate, etc.
She seems to be an all-rounder, just like her husband in his college days playing varieties of sports.
On top of all this, she also recently passed the CPA exam, all four sections of it.
Morgan Eifert Physique
Zach Martin's wife, Eifert, is slim, tall, and blonde. Morgan shares a lovely smile in most of her photos and also seems to have great tanned skin too.
The couple's physical appearances were meant to complement each other. Their subtle blondeness, their facial features, their body shape seem to fit great with each other.
Sad to say, there is no detailed information about her body measurements.
Relationship of Zack and Morgan
Morgan Eifert and Zack Martin recently celebrated their 5th anniversary on July 2nd, 2021. They got married a year after Zack popped the question in June of 2015, and since then, they have been living happily together.
Information about both of their dating life prior to their marriage is unavailable. However, it is rumored that Zack had a serious relationship with someone before dating Morgan.
On the other hand, there is no data available disclosing Morgan's past relationship.
Zack Martin and Morgan Eifert's brother, Tyler Eifert, were roommates when they were studying at the University of Notre Dame.
Before being brothers-in-law, the two seemed to be good friends and roommates. Later, Tyler was the one who first introduced his sister and Zack to each other, and the rest is history.
Morgan Eifert and Zack Martin; Net Worth
Morgan Eifert is a hard-working lady who also seems to love some refreshing time. She loves to cruise around the lake, she loves boating, and she also enjoys drinking.
In October of 2016, after celebrating Zack's birthday in a bar, she was visited by nine of her friends. They went wild later that night and got too drunk. She needed a 10-day detox following that night.
Morgan seems to get along well with people from the National Football League industry and other players along with their wives.
She seems to have gone on many trips with other fellow wives of Dallas Cowboy's players.
Zack Martin's net worth is estimated to be around $18 million. He has signed a contract worth $84million with the Dallas Cowboys. The contract spans six whole years.
On the other hand, Morgan work as a full-time employee at PricewaterhouseCoopers. . But, information about her salary is not known either about her net worth.
But we have stumbled upon the information that the average salary at PwC for an Assurance Associate, the position Eifert works in, is $65,559 per year.
Hence we can safely say that she earns a handsome amount.
Reggie Wayne might be of your interest.
Husband, Zack
Zack Martin was born on 20th November 1990, making him 31 years old.
Zack stands over 6 feet and 4 inches (1.94m), weighs in about 304lbs (104kg) and has a verticle jump of 28 inches or 0.71 meters.
On September 5th of 2021, Zack Martin was tested positive for COVID-19 and was placed on the reserve/COVID-19 list.
Born and raised in Indianapolis, Indiana, Zack plays for the Dallas Cowboys in the offensive guard position.
He has been a National Football League player since 2014. That is when he was drafted in the first round by the same team he plays now.
Zack Martin spent most of his childhood in the same school. He was enrolled in the Saint Matthew Catholic School for the entirety of his elementary school years, from kindergarten to 8th grade.
Later, Zack enrolled in Bishop Chatard High School for his freshman year. That is where his football talent made him some name.
According to credible sources, he was ranked a 4-star recruit after winning two state championships.
Zack was an all-rounder athlete during his sophomore years. He played for both positions; offense and defense.
He also competed in track and field sports such as shot put and discus throw.
Moreover, he played basketball in his freshman and sophomore years at the Bishop Chatard High School.
Being ranked a 4-star recruit, he had offers from all over the country, but he chose to join the University of Notre Dame.
He preferred to go to Notre Dame over offers from UCLA, Stanford, Virginia, Michigan, Illinois, and Northwestern.
You might as well enjoy our article about Carl Banks.
Football Family
Zack's father, Keith Martin, was a defensive tackle who played for Kentucky Wildcats. Zack is actually the middle child. His older brother Josh Martin also played football back in his high school days.
Likewise, his younger brother Nick Martin is signed in with the Houston Texans. Zack and Nick used to play football together in their college days in Notre Dame.
He rocks a different drip.
Zack decided to show up in a shirt, fully buttoned, and khaki combination at a press conference right after being drafted by the Dallas Cowboys in 2014.
Instead of a well-tailored suit, he decided to wear something casual and comfortable, which is understandable in a way. When asked why he did not wear a suit instead, he replied that a fully buttoned shirt and the khaki combo are more of his style.
"I'm definitely more laid-back. I figured if I was wearing a suit, I'd be sweating profusely." said the 4 times First-team All-Pro winner.
Morgan Eifert and Zack Martin's First Child
Information regarding the baby's birth remains a mystery as no information is publicly disclosed.
Thanks to this Instagram post from Zack Martin himself, we can safely say that the baby was born in March of 2019, if not on the 9th of March.
The couple decided to name their firstborn Charles Richard Martin. He weighed 9 pounds and 4 ounces during the birth, which is considered quite bulky for a newborn.
People were quick to point out that he would be a successor to his father's football career because of his giant size, even as a newborn.
They have made sure not to disclose much information about their son, just as they have concealed the information about their past dating life.
Social Media
Zack Martin's wife, Morgan, is often active on the social platforms. And here are the links down below if you want to connect to Morgan.
Instagram: As morganeif (private account) with 2.1k followers (as of September 2021)
Twitter: As @morganeif with 382 followers
Linkedin: As Morgan Eifert
Frequently Asked Questions (FAQs)
How old is Morgan Eifert?
At the moment, information about her birthdate is unavailable. But we can safely assume by her looks that she is probably in her late 20s or early 30s.
What teams did Zack Martin play for?
Zack Martin has only played for one team, the Dallas Cowboys. It seems that he has been loyal to the club ever since being drafted by them in 2014.
Where did Zack Martin go to college?
Zack enrolled in the University of Notre Dame. He played football there and also met his present wife while being a student at the institution.