Kelsey Plum is an American professional basketball player who serves as a point guard for the Las Vegas Aces. She previously pursued her career in NCAA Division I women's basketball.
Kelsey played her college career at the University of Washington. She also was the part of U19 Team (2013) and Pan American Team (2015).
Kelsey was picked first overall in the 2017 Women's National Basketball Player(WNBA) Draft by San Antonio Stars. Since she started her professional career in WNBA against Dallas Wings, her life has not been the same.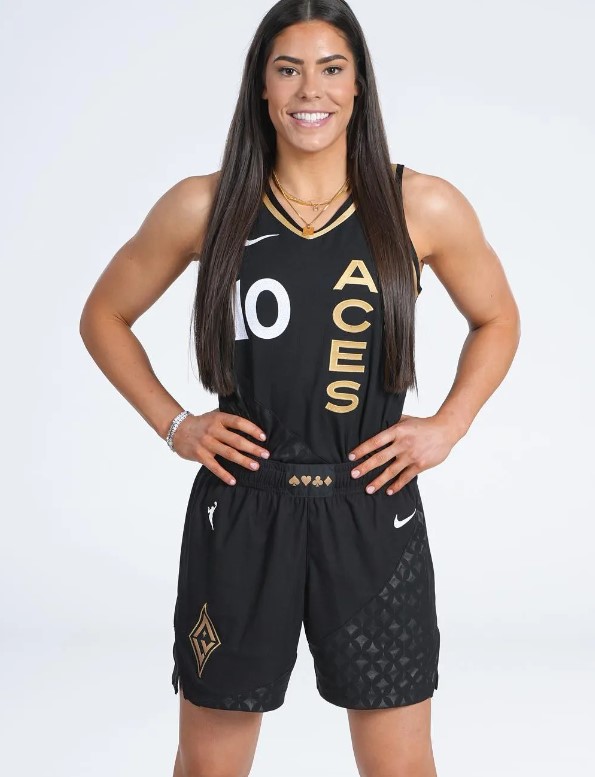 During her time as a player, Plum has broken and made numerous new records. We will talk about all of them on the latter topic.
Kelsey Plum: Quick Facts
| | |
| --- | --- |
| Full Name | Kelsey Christine Plum |
| Birth Date | August 24, 1994 |
| Birth Place | Poway, California, USA |
| Now known as | Kelsey |
| Religion | Christian |
| Nationality | American |
| Ethnicity | White |
| Education | The University of Washington |
| Horoscope | Virgo |
| Father's Name | Jim Plum |
| Mother's Name | Katie Plum |
| Siblings | Two Older Sisters & a brother |
| Age | 29 Years Old |
| Height | 5 feet 8 inches(173 cm) |
| Weight | 66 kgs(145 lbs) |
| Build | Athletic |
| Eye color | Dark Brown |
| Hair color | Dark Brown |
| Profession | WNBA Basketball Player and a Broadcaster |
| Active years | 2017-present |
| Position | Point Guard |
| Marital Status | Married |
| Husband | Josh |
| Children | None |
| Net Worth | $1 Million |
| Merch | Trading Cards, Signed Ball |
| Social Media | Instagram, Twitter |
| Last Update | September, 2023 |
How Old Is Kelsey Plum? Height and Appearances
Kelsey Plum is currently 29 years old – she was born in 1994 in Poway, California, the United States.
Kelsey's star sign is Virgo which is meant that she is supposed to have intellectual skills with a hardworking mindset.
Since she was born in a family of athletes, she had no barriers to pursuing her career in basketball. The San Antonio Stars' player has made numerous new records as a professional player.
Talking about her physical attributes, Plum stands at the height of 5 feet 8 inches(173 cm) and weighs around 60 kgs (145 lbs).
Trained from an early age, Kesley has a toned and athletic body. However, her exact body measurements are unknown to the media.
Other than that, she has got long dark brown hair and the same colored eyes that perfectly match her fair skin complexion.
Early Life and Family- Where Did Kelsey Plum Go To College?
Kelsey Plum, the professional WNBA player, was born in Poway, California, the United States of America. She is the daughter of her father, Jim Plum, and her mother, Katie Plum.
Kesley's upbringing as an athlete is not a new thing when her parents themselves are former athletes.
Likewise, her father was a football and baseball player; and at the same time, her mother was a volleyball player.
Her father played football and earned All-American honors in La Mesa, California (School Football). Similarly, he pursued his further career at San Diego State and played football and baseball accordingly.
Furthermore, her mother Katie played volleyball at the University of Carolina, Davis. She was an accomplished athlete at the University.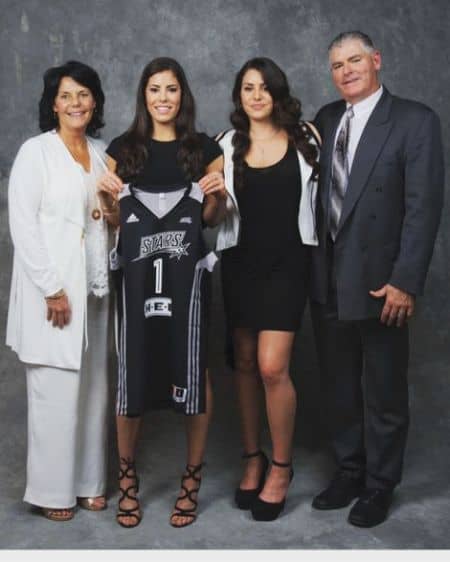 After knowing that, it makes sense how easily Kelsey was drawn towards sports of all things. Not to mention, she is not the only one who chose this path.
Kiara Morrison Bio, Parents, Wedding, Husband, USC, Net Worth, Instagram >>
Kelsey has two older sisters named Kaitlyn and Lauren, who followed their mother and are now professional volleyball players. Despite being in the shadows, Plum also has a brother, Daniel Plum who played football for UC Davis.
Also, Kaitlyn played for UC Davis while Lauren played for the University of Oregon and then for USA Volleyball's Junior National Team.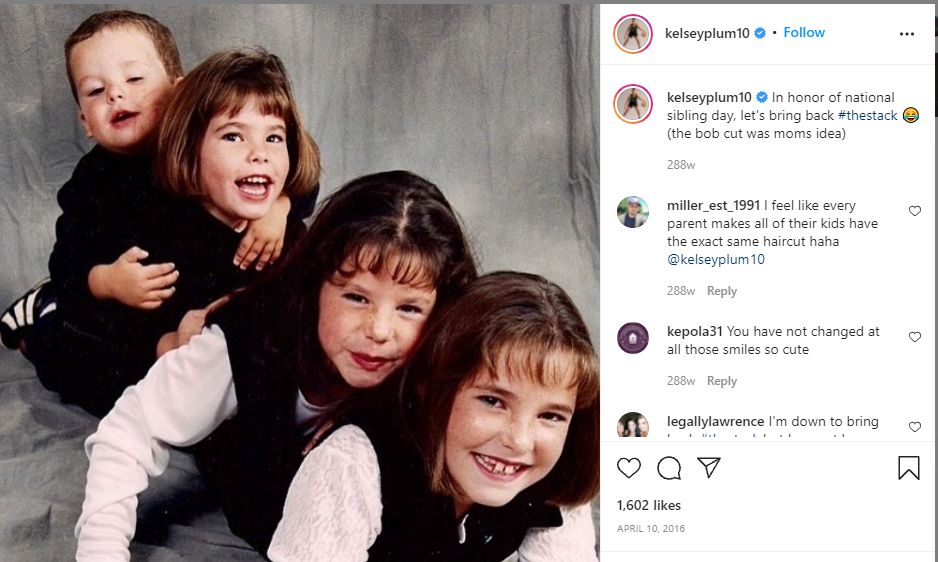 As for her education, Plum completed her early studies at La Jolla Country Day School. There she was named the McDonald's All-American. Later, she enrolled at the University of Washington.
Likewise, Plum graduated with a bachelor's degree in anthropology in June 2017.
Kelsey Plum- Early Basketball Years As when
During her early years, Kelsey used to play volleyball just like her sisters. But when she reached high school, Plum chose La Jolla Country Day School over Poway High School.
It was there she pursued basketball over volleyball as well.
Kesley gave a stellar performance during her high school days, where her average points were 19.9 per game. Similarly, she recorded 677 rebounds, 381 assists, and 370 steals.
Then Kelsey was selected to the 2013 WBCA High School Coaches' All-America Team. She participated in the game and scored 14 points.
Moreover, being named McDonald's All-American qualified her to participate in the 2013 McDonald's All-American Girls Game.
And when the time came for her to chose college, Plum accepted the offer from Washington. Her other options included Maryland, Virginia, Gonzaga, and Oregon.
Kelsey Plum Played for the USA Basketball U19 Team
Looking at her high school records, it did not take long for the USA Basketball U19 Team to select her.
Under the guidance of a head coach, Katie Meier, with the team, she participated in the tenth FIBA U19 World Championships held in Klaipeda and Panevezys, Lithuania.
Nonetheless, the team won all nine games, where Plum scored 5.6 points per game. However, Kelsey's bright streak was interrupted when she was injured in December and then underwent surgery on April 6.
But after much-needed rehabilitation, she returned to the court more determined than ever. Similarly, Kelsey again participated in the 2015 Pan American Games held in Toronto, Ontario, Canada.
College Years and Professional Basketball Years
A hard worker, Kelsey signed to summer school classes and got acquainted with her college and her new teammates.
The head coach, Mike Neighbors, noticed this action of hers and led him to name her the team captain, an unusual event for a freshman.
Nonetheless, Kelsey set six Washington freshman records; 695 total scores and 38 points per game were the highest numbers set by a freshman.
Likewise, Plum earned freshman of the year honors for the Pac-12 conference.
During her sophomore year, Plum was named the "Wade Watch," a list of 25 players who could win player of the year awards. Moreover, her dedication continued even in her junior and senior years.
In her senior season, Kelsey became the all-time leading scorer for either gender in Pac-12 history. In January 2017, Plum became the first Pac-12 player, and the 12th NCAA Division I Women's played to reach 3000 career points.
Not to mention, she ended her senior season with a total of 1109 points, setting a record in the NCAA Women's basketball single season.
Right after her graduation, she was selected as the first pick of the 2017 WNBA draft by the San Antonio Stars. Plum then made her professional debut on May 25, 2017, against Dallas Wings.
By the end of her rookie season, Kelsey averaged 8.5 ppg and was voted the All-Rookie Team. However, she also ended with the second-worst record in the league.
Later in 2018, San Antoni relocated to Las Vegas and was renamed the Las Vegas Aces. The next season she improved her games drastically, averaging more points, rebounds, and assists.
Aside from her individual points, her team Las Vegas Aces overall ranking also improved. Their team ended the season as the number 4 seed with a 21-13 record.
Furthermore, in the 2017-2018 off-season, Kelsey signed with Fenerbahce and helped the team win the Turkish Women's Basketball League championship title.
Missed 2020 season
Kelsey inked a 2-year extension with the Aces worth $350K on May 15, 2020. But we guess luck was not in her favor as soon as the month of June approached, she suffered an injury to her Achilles tendon.
The injury and later the surgery caused her to miss the entire 2020 season. She also tweeted with a positive approach, "I'll be back, better than ever. Just wait on it.'
Then in January 2020, Plum worked as a broadcaster for Pac-12.
Kelsey Plum has a rocket arm.
Basketball is her choice, not her need. She plays it all by her wish. You would not be surprised if you are a Kelsey fan and have seen her mind-boggling attendance at San Antonio Spurs' playoff game against the Memphis Grizzlies in 2017.
Kelsey has a cannon arm. She is just unbelievable when it comes to throwing. As an NBA ritual of throwing free t-shirts into the stands, she did her best Uncle Rico impersonation and threw the god damn t-shirt over the summits.
Look at the video and name this anything, a rocket arm, a cannon, a rifle!
What Is Kelsey Plum Salary?- Net Worth and Income
One of the impressive basketball players in the Women's National Basketball Player. Coming from an athletic family, Plum also chose her career as a basketball player.
Currently, she is active as a point guard for the Las Vegas Aces since her WNBA draft in 2017.
However, this star player's net worth as of now is still under review. It is not known how much she makes in a year and as a salary.
Despite the lack of information, we do know that back on May 15, 2020, Plum signed a 2-year extension with the Aces for $350k.
Aside from this, anything remotely related to her income, endorsements, and other sources is a complete mystery. But we will make sure to update you on this matter as soon as we see some progress.
Personal Life- Wedding, Husband, and Children
This may seem unlikely, but the basketball star, Kelsey Plum, is a married woman as of now. The 25-year-old is married to her longtime boyfriend named Josh.
Though Plum has stayed quiet about it, she and her husband have been dating ever since their college days. However, many details about their relationship are not mentioned in the media.
Likewise, after long years of dating, the lovebirds finally tied their knot on February 17, 2016. Their beautiful wedding ceremony took place at Kendall Plantation.
Sadly, we have no idea about Josh and his profession to this date. And also, the couple does not have a child. But we will make sure to update you as soon as we get some news on them.
Spotted with D'Angelo Russell
You people must be wondering what so goofy even if Kelsey is spotted with NBA All-Star D'Angelo Russell. So, here is the disclosure.
Jerry West Award winner for 2019, D'Angelo Russel, was spotted with Kesley on May 25, 2019, in Vegas at the Protein house. It was an early Saturday afternoon, and they were pretending like a couple, according to the sources.
The meet was just held after the very breakup with D'Angelo Russel's girlfriend, Gabby Engersgaard. Was Russel seeking empathy, or were he and Kelsey really into each other? The facts still remain unknown.
What wasn't funny at all to WNBA star Kelsey Plum?
Football running back Aaron Jones was playing video games in the hospital lobby while his girlfriend was in labor with their child, as mentioned in the public sources.
That act by Jones received plenty of criticisms. You know, playing PS4 in the hospital when your partner is going through a vulnerable situation.
The criticisms were also brought by one of our WNBA stars Kelsey Plum. She tweeted saying, " that's trash." The tweet was eventually deleted by her, but that attracted a huge backfire by Aaron Jones.
Social Media Presence
Instagram– 304k Followers
Twitter– 46.3k Followers
Frequently Asked Question
Is Kesley into the Olympics, the heights of International sports?
In accordance with the online sources, yes, she headed her team, U.S. women's 3×3 basketball qualify for the Olympics.
Kesley, along with fellow WNBA players Katie Lou Samuelson, Stefanie Dolson, and Allisha Gray, knocked out Spain, 21-13, in the semifinals of the qualifying tournament to mark a spot in this summer's Olympics.