Handpicked as the 31st overall in the 2013 NBA draft, Allen Crabbe is an American professional basketball player for the Westchester Knicks of the NBA G League.
Crabbe has played for four NBA teams and two G League teams, including the Westchester Knicks.
During the 2017-18 season with the Brooklyn Nets, he made some of his best pointers.
While still in high school, his first memorable event was being named the California Basketball and Fourth-team All-American.
So, when Crabbe came out of high school as one of the best players, everybody had high hopes for him.
Before getting too much into details, the following are some of the interesting facts about the forward Crabbe.
Quick Facts
| | |
| --- | --- |
| Full Name | Allen Crabbe |
| Birth Date | April 6, 1992 |
| Birth Place | Los Angeles, California, USA |
| Nick Name | Cool Breeze |
| Nationality | American |
| High-School | Price High School |
| University | University of California |
| Horoscope | Aries |
| Father's Name | Allen Crabbe Jr. |
| Mother's Name | Cheryl Price |
| Siblings | Nikki and Mari K. |
| Age | 31 years old |
| Weight | 212 lbs (96 kg) |
| Height | 196 cm ( 6 feet 5 inches) |
| Build | Athletic |
| Marital Status | Unmarried |
| Profession | Professional Basketball Player |
| Position | Shooting Guard, Small Forward |
| League | National Basketball Association (NBA) |
| NBA Teams | Westchester Knicks |
| Jersey Number | 31 |
| NBA Draft | 2013/ Round: 2/ Pick: 31st overall |
| Experience | 8 seasons |
| Net Worth | $20 million |
| Active Status | 2013-present |
| NBA Merch | Basketball |
| Social Media | Instagram, Facebook |
| Last Update | September 2023 |
Basketball Career
High School Career
Growing up in the largest California city with ethnic and cultural diversity combined with the awe-strucking Hollywood film industry, Crabbe spent his best years in Los Angeles.
While for his high school studies, Allen enrolled in Price High school in LA, founded by his grandfather, Frederick K.C Price.
Along the time, Allen became one of the top versatile players in his high school, leading Price to a Division IV state title.
Even though Price was not a top-ranking school, it still provided enough materials for their studies and helped the students excel.
Crabbe was also named Gatorade Player of the Year for California.
College Career
After being a successful basketball player for his high school, Crabbe joined the California Golden Bears men's basketball team at the University of California, Berkeley.
Crabbe was able to earn Pac-12 Freshman of the Year mention during his first season with all .400 -3 points field goal percentage.
In the 2011-12 season, he made 15.2 points and 5.7 rebounds per game. Maintaining 84.3% from the Free-throw Line and being one of the top shooters, Crabbe was able to earn the first-team All-Pac-12 conferences again.
<<<Tyus Jones: Career, Marriage & More>>>
With the final year making rounds along the corner, Crabbe ended this year with an average of 18.4 assists, 7 blocks, 1.1 steals, 2.6 assists, and 6.1 rebounds per game.
Adding to his outstanding performance in his junior year, he was voted Pac-12 Player of the Year and All-Pac-12 first-team third time in a row.
Another worthy mention was the national recognition by Sporting News and the National Association of Basketball.
NBA Career
Even if Crabbe was selected as the 31st overall pick by Cleaveland Cavaliers in 2014, he was already traded to the Portland Trail Blazers on draft night.
After a season with the Cavaliers, Idaho Stampede moved him in their wing for the NBA Development League, where he made 1 point and 5 rebounds in 37 minutes in a loss.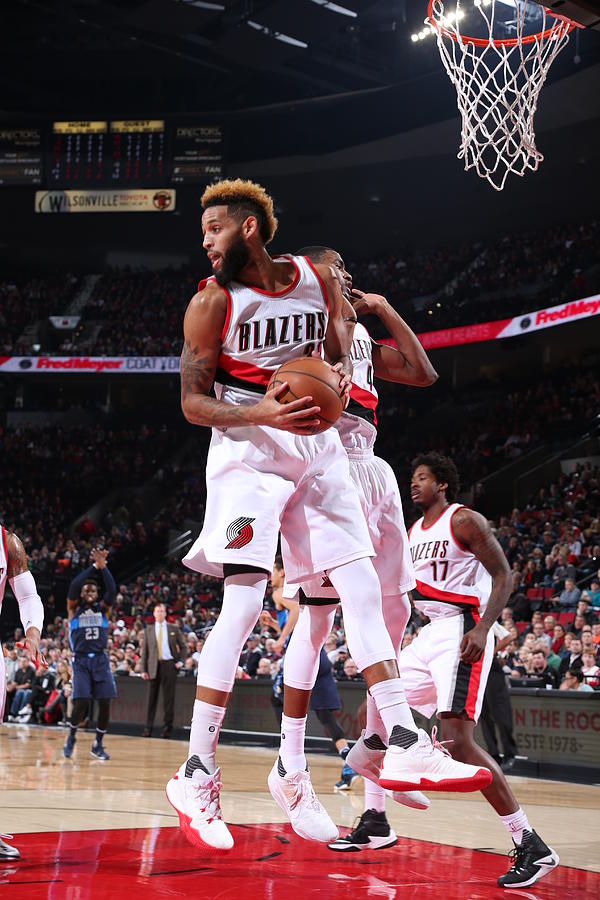 Crabbe went back and forth with Blazers, finally debuting as a professional on November 11, 2014.
As a starter for the game, Allen played against Charlotte Hornets in a 102-100 win. That season he managed 2.2 points, 0.6 rebounds, and 0.4 assists for the team.
When Nets offered a four-year deal of $75 million to Crabbe in 2016, Blazers, not wanting to let go of Crabbe, decided to match the offer and re-sign him.
With the end of four seasons in Cleaveland, Allen joined the Blazers team and became the first guard to score 30 off the bench.
On his birthday, April 9, Crabbe gifted himself a career-high 41 points over Chicago Bulls on a 114-105 win, along with the highest 3-pointers made in the single season.
His highest for the 2018-19 season was 27 points in a 119-113 loss.
Crabbe played with Atlanta and Minnesota for further seasons, finally signing with Westchester Knicks in 2022.
Playoffs
Crabbe had played a total of 17 playoff contests for the Blazers.
He showed some of his best games, averaging 8.1 points, 2.8 rebounds, and 1.1 assists around the playoffs.
<<<Luol Deng: Sudan, Injuries, Foundation & More>>>
Injury
Because of the sore right knee, Allen had to miss nine-straight contests and the other 26 games but soon returned to play against Denver Nuggets on Feb 6, 2019.
In 2018 Crabbe underwent successful right knee arthroscopy.
Allen Crabbe | Net Worth
It's hard to depict a player's net worth only based on his salary as they are involved in various campaigns and merch.
So keeping that in mind and calculating all of his endeavors, salary, and career earnings, Crabbe's net worth is around $20 million as of February 2022.
Allen Crabbe $4.5 million House in LA
Around January 2021, Allen was ecstatic to share a piece of good news with his fans.
Recently, he had bought a $4.5 million mansion on the grounds of Los Angeles, which sits in 0.37 acres of land.
The mansion was supposedly built in 2020 and had a $1.8 million tax value, and Crabbe has to pay $33 thousand for taxes each year.
It is three-storied in a 7,962 sq. ft with a relaxing atmosphere including sauna, movie room, half basketball court, pool house, swimming pool with spa, and others.
Donations and Honors
"As athletes, we make soo much money. But I won't spend it in five cars and three houses."
"It's crazy, and it's how people live, although we can't even use all those pieces of stuff. I wonder when players say they are broke, like where could you blow all of that money because it's too much money we make in our careers."
Crabbe always believed in giving back to the people. So, when his former high school was on the brink of shutting down due to financial shortage, Crabbe offered a big help to them.
Donation to Price
It is well known that Allen graduated from his family school, Price.
After 2018-years graduated, Price was in heavy financial chaos. The school struggled and didn't have enough donations to continue further.
When Crabbe found out about the school's situation in a call with his mother, he offered a "mid-six figures" donation; Price continued their journey to the new year. All thanks to the shooting guard.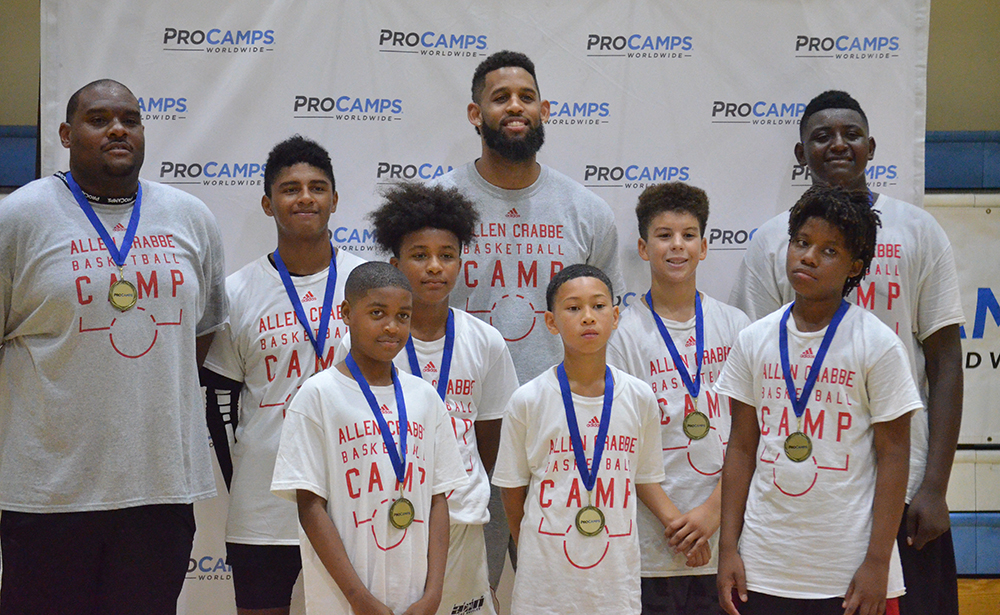 His aunt, who runs the school, got very emotional over her nephew's big heart and said, "I was very stunned. I cried for a month."
Following the news of the donation, Crabbe mentioned that he and his family members all attended the school. "Ever since I was a kid, I remember going to Price until high school graduation."
"Price is attached to my heart, and I did what I could at the moment."
A Little Bit of Back Story: Price High
Allen's grandfather, Apostle Frederick K.C Price, was a well-known televangelist who founded the Crenshaw Christian Center in 1973 and wrote faith-related books.
Having a good following from the church, his grandparents and aunt came up with the idea of a school.
So, the school first opened in September 1986. But unfortunately, with Allen's eldest uncle dying in a car accident sometime later, the school decided to honor his name.
Mrs. Evans, Crabbe's aunt, then named the school after her older brother, Frederick III.
However, Price has educated over 10000 students from pre-school to 12th grades in the Soth Angeles area.
And has 100 percent rates to 4-year-universities for its graduates with over 90 thousand scholarships.
<<<Kevin Knox Bio: Career & Net Worth>>>
Honors
Previously, he had helped the school by providing new computers, athletic equipment, and new uniforms.
Crabbe's family, students, and teachers all made the school a place where children were free to pursue whatever they wanted in life, so Allen knew he had a responsibility toward them.
And acknowledging Crabbe's large donation, the school decided to honor the school's basketball court in his name.
On the day of his honor, he talked about being family with every person related to Price and said with a smile," It's going to continue to stay open."
Into Allen Crabbe's Personal Life
Crabbe was born under fire sign Aries to parents Allen Crabbe Jr. and Cheryl Price.
Nicole 'Niki' Kirkland is his older sister and his stylish. He once mentioned, "she's like the mastermind behind all of my looks."
Thanks to his sister, Allen attended a New York Fashion Week in 2019 where he got to meet other athletes, including Jimmy Butler, Nick Young, and Victor Crus. Allen describes the experience as surreal.
Well, for Niki, she owns her boutique clothing store named "K.Ele " on Melrose Avenue in Los Angeles.
His other sibling is his cutie brother Mari K, who just celebrated his 10th birthday in Colorado on 25 February 2019. Visualizing his Instagram profile named bucketsneverstop09, he is a huge wrestling fan and a dope kid.
As for his relationship status, Allen Crabbe is currently single.
However, early in 2012, when he still had a Twitter account, Allen hinted at having a girlfriend even though he had never revealed any girls as his girlfriend before and even today.
But during the March of 2019, Allen was linked to the reality star Daddy's Girl's actress Angela Simmons, daughter of a famous rapper.
Apart from posting numerous Nets videos, she focused mainly on Crabbe reels in her Instagram story. Thus, fans started to come up with theories of their dating instantly.
And after a match in the same month, Allen and Angela were seen riding together and posting stories about love songs.
Well, for now, his Instagram consists of only two pictures; not much is out in public except the outstanding performances he puts on.
Age & Body Measurements
Crabbe was born during the start of the summer in 1992 and celebrates his birthday on 9th April every year.
Taling about his body facts, the 6 feet 5 Allen Crabbe has an attractive athletic measurement. He weighs 212 lbs which defines his great body proportions.
<<<Shaun Livingston Bio: Injuries, Career, Net Worth & More>>>
Moreover, his hazel brown eyes definitely pop up, which complements his beautiful smile.
Crabbe has black hair and seems to change his style now and then, offering different looks to his fans and media.
And he prefers 33 white and Black Adidas shoes for his comfort during the games.
Social Media
FAQs about Allen Crabbe
Who is Allen Crabbe's agent?
One of the CAA's top basketball agents, Aaron Mitz, is Allen's sports agent. Mitz has a total of 27 clients with a contract of $804.6 million.
Who are Allen Crabbe's idols?
Ever since he was 4-5 years old, he remembers watching NBA games and thinking of being one of them in the future. His biggest inspirations are Kobe Bryant and Shaq O'Neal.