Have you ever heard about Allison Fisher? If yes, read the article to ensure that you have not missed anything about the legendary player.
If not, then do not worry! Because we are here for you.
Popularly known as the Duchess of Doom, Allison Fisher is a professional pool player and a former professional snooker player.
Allison is near and dear to many with her charismatic and vibrant persona. As a result, she is one of the most sought-after pool players.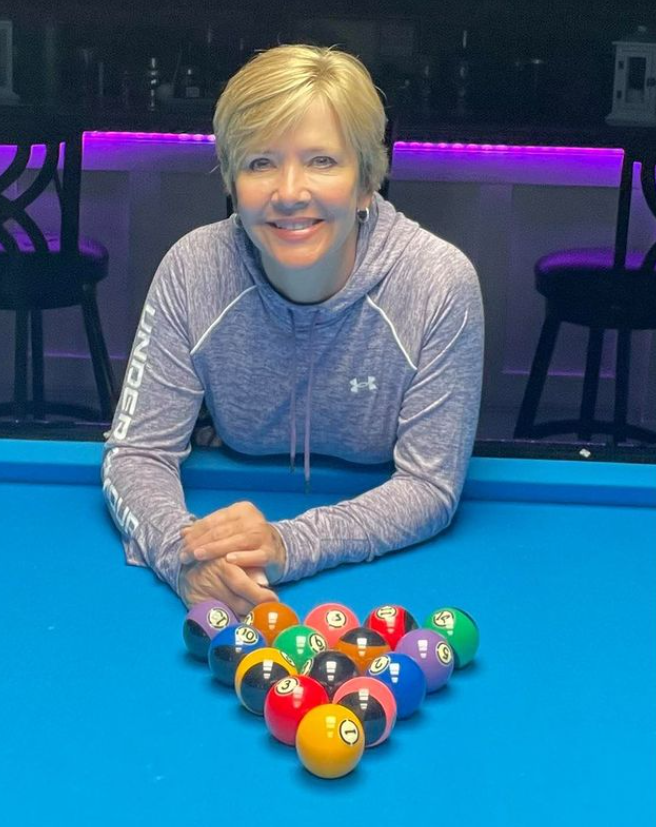 This article has gathered all the information about Allison's personal and professional life, including her career highlights and notable achievements.
But before that, some quick facts.
Quick Facts
| | |
| --- | --- |
| Full Name | Allison Fisher |
| Nick Name | The Duchess of Doom, Barracuda, Fisher Queen |
| Age | 55 |
| Birthdate | February 24, 1968 |
| Birthplace | Chestnut, United Kingdom |
| Mother's Name | Not Available |
| Father's Name | Peter Fisher |
| Residence | Charlotte, North Carolina |
| Marital Status | Not known |
| Husband | Not known |
| Children | Not known |
| Religion | Christianity |
| Nationality | British |
| Height | Not known |
| Weight | Not known |
| Hair Colour | Blonde |
| Eye Colour | Blue |
| Shoe Size | Not known |
| Tattoos | None |
| Zodiac Sign | Pisces |
| Profession | Professional Pool player, Former Professional Snooker Player |
| Pets | Dogs |
| Hobbies | Teaching, Gardening |
| Salary | Under review |
| Net Worth | $10 million |
| Social Media | Instagram, Twitter, YouTube |
| Merch | Allison Fisher Billiards Baseball Card |
| Last Update | June 2023 |
Allison Fisher: Early Life and Family
The former snooker player, Allison, was born on February 24, 1968, in Chestnut, United Kingdom. Her father's name is Peter Fisher.
However, her mother's name is not known. Likewise, Allison also has a brother but we are not aware of his name.
Although Fisher was born in Cheshunt, she grew up in Tonbridge, Kent. Later, her family moved to Peacehaven, East Sussex.
Allison Fisher Awarded with MBE
The effort and hard work that you put into something never goes unrecognized. Fisher cannot be praised enough for her contribution to sports.
Allison has done something that most people can only dream of. Allison excelled not in one sport but two in her lifetime, making her name in both as a champion.
Fisher is a seven-time World Women's snooker champ. She has been a major influence to thousands of young girls and women and those who wish to soar high in the World of sports.
Allison's hard work and determination are noteworthy. The pool player has had too many accomplishments to count since the beginning of her journey in the World of sports.
For all the contributions and services made by Allison to sports, the UK government has announced that Allison will be awarded an MBE (Member of the Order of the British Empire). The announcement was made in the New Year's Honours List.
MBE is chivalry honoring contributions to the arts, sciences, philanthropic and social activities, and public services.
The order was discovered by King George V on June 4, 1917. With the order, it is time that Allison Fisher enjoys the fruit of her hugely successful career.
We congratulate Allison for her achievement and wish to see more players like her in the coming days.
Know about the Top 12 Best Pool Players in the World>>
How did Allison Fisher start her Journey as a Snooker Player?
If we track down the seven-time World Women's Snooker champ's journey, we are taken back to when Allison was 11 years old.
One fine day, Allison was sitting with her father watching Pot Black. The television program immediately caught her attention, and she was drawn toward the sport.
Once her family moved from Chestnut to Peacehaven, Fisher asked permission from her parents to play snooker.
There was a local pub in the area which had a snooker table. When her parents agreed, Allison was overwhelmed with joy.
Fisher was only 12 years old when she started playing snooker. She used to play for only four hours a week because of her school hours.
Additionally, she was also taking hockey, basketball, and netball. So it was difficult for her to manage her time.
However, Allison did not give up. In a year, she was selected for the pub league team. Fisher won every trophy in the league throughout the time she stayed there.
After the league, she quickly diverted her attention to national-level tournaments. International-level tournaments followed the national level.
Is Allison Fisher also a Legend in the World of Pool?
Allison Fisher could not achieve the height she was seeking in the snooker world. In addition, Fisher always felt that being a woman snooker player, she did not receive the same respect as her equivalent male players.
Fisher shifted her attention to the Billiards. Unlike women's snooker, she found her true passion in the pool. Further, women's pool games had gained more recognition at that time as compared to snooker.
Therefore, the former snooker player moved to America to play on the WPBA Tour. Allison has won 79 Pocket Billiards Titles, including a gold medal at the Kaohsiung 2009 World Games.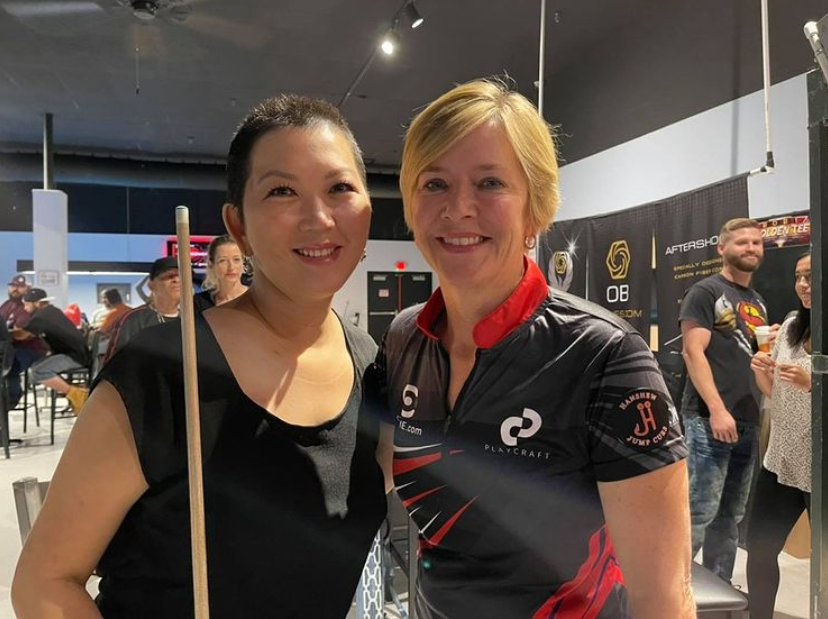 Further, Allison has won 4 world championships and 8 American national Championships. She has also won 8 US Open 9-Ball Championships and 55 Classic Tour Titles. Allison's achievements are numerous.
Apart from these, she has also won other 22 worldwide titles, including 6 Tournaments of Champions and 2 ESPN Ultimate Championships.
The England-born received the female Player of the Year by all three of the major pool publications, Billiards Digest, Pool & Billiard Magazine, and InsidePOOL Magazine in 2007. She is also ranked #1 in the P&B "Fans' Top 20 Favorite Players" poll.
Allison is truly a legend in the realm of the pool. With her passion and dedication, the duchess of doom has set an example to the World.
Allison Fisher's TV Appearances
Besides, being a world champion in snooker and pool, Allison fisher has also been featured in many TV shows.
This versatile woman started making TV appearances at the early age of 14. Her first TV appearance was in the show Noel Edmonds's "Swap Shop."
Likewise, at the age of 17, Allison appeared on the Terry Wogan Show. She also attended BBC's UK Sports Personality of the Year.
Further, the pool player has appeared on the "Question of Sport" on BBC numerous times.
Apart from that, Allison has made appearances on 'Body Matters' and a Saturday evening prime-time game show called 'Big Break.'
The Duchess of Doom was also a regular studio guest for Sky Sports during the Snooker events. Likewise, in 2001, she also starred in Sky Sports' one-hour televised interview 'Steve Davis & Friends.'
Her TV appearances do not stop here. She was also on an instructional video on TSN called Shooting Vectors.
It is no lie that Allison is an outstanding sportsperson. Likewise, she is also an immensely talented commentator. In 2006, Allison appeared as a commentator and an interviewer on the International Pool Tour.
Moreover, she was also a commentator on ESPN for the WPBA US Open Championships of 2008. Overall, Fisher has over 100 hours of coverage with ESPN and Sky Sports.
Additionally, Allison has also delivered speeches at the Lions Club. Rotary Club and various other institutions.
Is Ding Junhui the most successful Asian snooker player? Find out>>
Volunteer Works
Allison Fisher is a philanthropist. Her love and care for society are known to all. She has engaged herself in various volunteer works and charities.
Some of the notable ones include her volunteer work in Viv's Kidz, Make a Wish Foundation, My Sisters Place, etc.
Further, Allison is also the patron of the UK-based Help the Handicapped Holiday Fund. Moreover, she is also the patron of the Bridge Trust for the homeless of Kent County.
The snooker player also served as President of the World Professional Billiards Association Board of Directors in 2000.
Moreover, she participates in every WPBA Charity Pro-Am benefiting charities.
Allison Fisher: Age and Body Measurements
Allison was born in 1968, which means that she is currently 55 years old. She was born in the Monkey year, according to the Chinese calendar.
People born in the Monkey year have a magnetic persona and are clever and bright. Characteristics such as mischievousness, curiosity, and intelligence are usually seen in such people.
Likewise, the legendary pool player's weight and height are under review. We will surely make an update once the information is revealed.
Allison has blonde hair and bright blue eyes. She has a charismatic face and greets people with a huge smile on her face.
Moreover, as the pool player was born in February, her zodiac sign is Pisces. Also, Allison does not have any tattoos on her body.
Allison is particularly famous by her nickname 'The Duchess of Doom'
Meet Judd Trump, the no.1 snooker player>>
Allison Fisher: Social Media
The legendary pool player can be found on various social media platforms.
Allison has over 1.9k followers on the Twitter page. Likewise, the player can be found on Instagram, where she has around 6.8k followers.
However, there is no information about her Facebook account. She shares various instances about her life, friends, and family on her social media. Moreover, she also shares pictures of her dogs.
Further, she also interacts with her fans and followers through her social media.
Additionally, Allison Fisher also has her own YouTube Channel. She has 2.81k subscribers on her channel.
Alison usually goes live and talks about her personal as well as professional life via youtube. She also used to run episodes of 'Ask me anything, where the player used to answer the questions asked by her viewers.
Apart from her YouTube Channel, various other channels, including the sports channels, also upload videos of Allison playing pool.
Additionally, Allison has her website called allisonfisher.com.You can find more about her and her career highlights on her website. You can also book a pool lesson via her website.
The billiard wizard does not step back when it comes to supporting other fellow players through her social media sites.
When Jeanette Lee (The Black Widow) was diagnosed with Stage 4 ovarian cancer, Allison expressed her compassion, by posting a message on Facebook.
" I feel so sick. I cannot believe I'm reading this news. Jeanette has done so much for the sport at every level."
Allison Fisher: Net Worth
The pool player had an extraordinary career. Allison has made it all happen, from winning world championships to featuring in TV shows.
With such an overwhelming career, one can assume that she has made massive money. And well, she deserves all the money for the contributions that she has made in the realm of sports.
Allison won the WPBA BCA 9-Ball Championship and secured whopping prize money of £110,000.
Further, the pool player has also been awarded a top earner multiple times. Allison has also earned at least one million dollars in prize money.
Apart from the prize money, Allison also does various sponsorships and advertising, adding to her wealth.
Additionally, she provides lessons, both single and group, and teaches young enthusiasts how to play pool.
With all these, the 55 year old has acquired enough riches to enjoy a healthy and happy, and luxurious life.
Allison Fisher, the pool champion's net worth, is believed to be $10 million as per popularbio.com.
Read about Willie Mosconi, his Books & Net Worth>>
Frequently Asked Questions
What are the other nicknames of Allison Fisher?
Allison Fisher is most popularly known as The Duchess of Doom. However, she is also sometimes called the "Barracuda," "Fisher Queen," and "Alli the Bug."
The nickname "Alli the Bug" was reportedly given to her by her brother when she was a child.
What happened to the father of Allison Fisher?
Her father is not alive anymore. She lost her father, Peter, due to cancer. Peter was the biggest source of inspiration to Allison. Sadly, he passed away in 2001 battling cancer.