Jeanette Lee, also famous as The Black Widow, is a top-ranked pool player of the 1990s. Known to be a fierce player and a source of inspiration for many female pool players, Jeanette is loved by many in the world.
Apart from being an extraordinary pool player, Jeanette is a single mother of three, a businesswoman, an influencer, and a philanthropist.
Many of us only see a bold woman when we see Jeanette and have no idea about her life's pain and struggles.
Jeannette refuses to back out despite living a life of constant struggle. She has gone through more than 15 neck and back surgeries and was recently diagnosed with Cancer.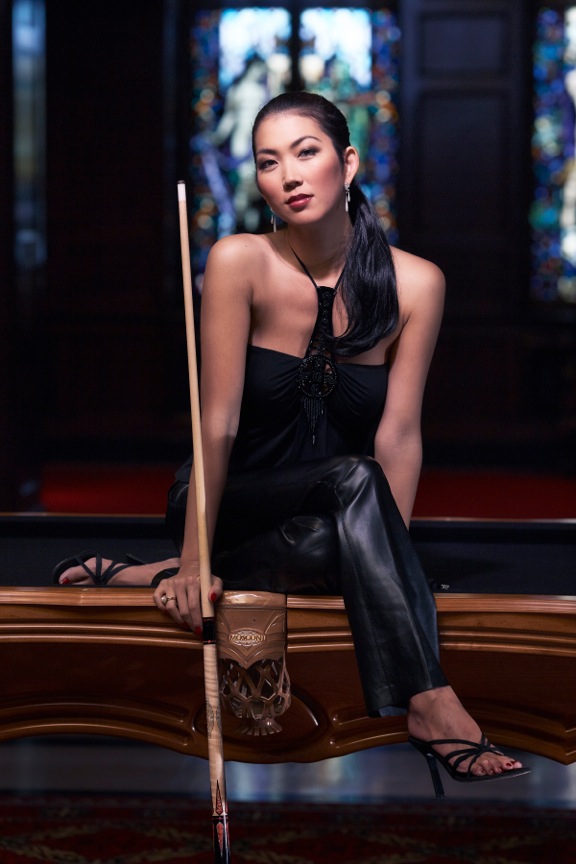 Today we are here with the less-known part of Jeanette's life. In this article, we have compiled everything that you need to know about the legendary pool player.
But before that, some quick facts.
Quick Facts
| | |
| --- | --- |
| Full Name | Jeanette Lee |
| Birth Name/Real Name | Lee Jin Hee |
| Nick Name | Black Widow |
| Age | 51 |
| Birthdate | July 9, 1971 |
| Birthplace | Brooklyn, USA |
| Mother's Name | Not known |
| Father's Name | Not known |
| Siblings | Not known |
| Marital Status | Divorced |
| Husband | George Breedlove |
| Children | Three |
| Religion | Christianity |
| Nationality | American |
| Height | 5 feet 8 inches (173 cm) |
| Weight | 58 kg (128 Pounds) |
| Hair Colour | Black |
| Eye Colour | Dark Brown |
| Shoe Size | 8 (UK) |
| Tattoos | No |
| Zodiac Sign | Cancer |
| Profession | Pool Player |
| Turned Pro | 1993 |
| School | Bronx High School |
| Salary | Under Review |
| Net Worth | $1 Million (approximately) |
| Social Media | Instagram, Twitter, Facebook |
| Merch | The Black Widow's Guide to Killer Pool (Book) |
| Last Update | February 2023 |
Jeanette Lee: Early Life and Education
Jeanette Lee was born in Brooklyn, USA, on July 9, 1971. Her family was a Korean immigrant family living in the USA. Hence, although she was born in America, she is of Korean Descent.
The name of Lee's parents is unknown. Her mother is a registered nurse, whereas her father owned a smoke shop in Manhattan.
More information about her parents and siblings (if any) will be updated soon.
Jeanette had a difficult childhood. Living in the predominantly black community of Brooklyn as a Korean immigrant was a challenge.
Lee attended Bronx High School but dropped out of it. She could not continue her studies because Jeanette was diagnosed with severe scoliosis at the early age of 12.
Know about the Top 12 Best Pool Players in the World>>
Jeanette Lee: Battle with Scoliosis
If you are not familiar with scoliosis, it is a medical condition where people are diagnosed with a sideways curve in their backbone or spine. The curve-shaped over three dimensions (usually "S"- or "C" shape).
Severe cases of scoliosis can affect breathing and movement and cause unbearable pain. The pain worsens with age.
She sustained surgery to get rid of the pain at an early age.
It changed her life forever. Jeanette woke up with two 18-inch Harrington rods implanted in her back.
Lee felt as if she was being burned alive from the inside out. Tears were running down her eyes; Jeanette used to look to her mom for comfort.
She was under the influence of heavy pain medications, and moans were the only sounds she could muster. No one had told Jeanette that the surgery was going to hurt. At the early age of 12, she was unprepared for all of that.
In some cases, scoliosis is stable, while it increases over time in others. In Jeanette's case, scoliosis grew overnight by three inches. The pain was unbearable.
After the surgery, Jeanette was left with a scar on her body. She says that she grew her hair long to hide the scar.
Diagnosis of Scoliosis had made Jeanette's life a living hell. Living as a Korean immigrant was already difficult. On top of that, carrying the rod on her back and wearing the brace made her life miserable.
Lee was often bullied at her school and neighborhood. As a result, she had a difficult childhood and struggled to fit in.
How did Jeanette Lee find her love for the pool?
In her teenage years, Lee struggled and looked for acceptance everywhere. Scoliosis had completely shaken her confidence. She even dropped out of school.
Lee strolled around in the bars drinking, smoking, and looking for acceptance. She had almost become a delinquent.
At the age of 18, Jeanette Lee visited one of the poolhall in New York. There, she saw an elderly guy playing pool. Observing the guy, Jeanette found the peace that she was looking for.
The guy had control over the pool table. It was as if he made the pool balls dance according to his wishes. Pool, for Jeanette, reflected confidence.
She was hooked by the grace that the pool player had. Jeanette decided that she would also learn how to play pool, and the rest is history.
It took three years for her to learn pool. Finally, she turned pro in 1993.
Know About Willie Mosconi, Mr. Pocket Billiards>>
Jeanette Lee: Professional Career and Achievements
Jeanette Lee started playing pool in late 1989. It took her three years to turn pro, and a year and a half later, she was no. 1 in the world.
That's right! The child who struggled with even finding acceptance was ranked as the No. 1 female pool player in the world.
Additionally, from 1993-1996, Jeanette was three times runner-up at the World Nine-ball Championships in the women's category.
Further, in 1998, Lee also received the Women's Professional Billiard Association (WPBA) Sportsperson of the Year Award.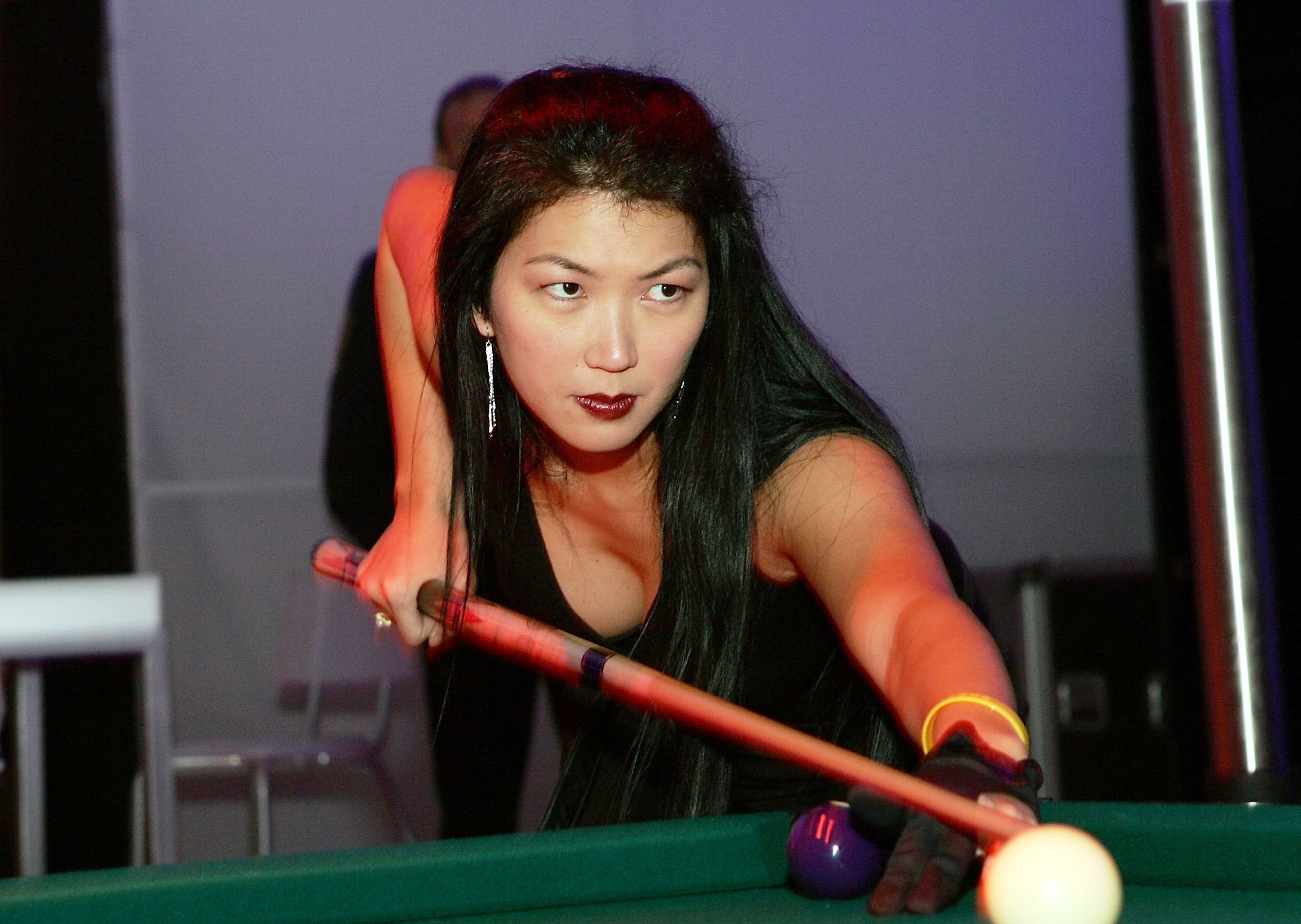 The achievements of the pool player are countless. She has innumerable top finishes at the WPBA Tour.
In addition, Lee won the gold medal for the United States at the 2001 World games, held in Akita, Japan.
Further, Jeanette also won the ladies' US$25,000 winner-take-all Tournament of Champions. She won the Tournament not once but twice. The first time she won it was in 1999, and the second was in 2003.
Additionally, Jeanette Lee was ranked fourth in the "Fans' Top 20 Favorite Players" poll of the Pool & Billiard Magazine in 2007.
The American pool player was also inducted into the Billiard Congress of America Hall of Fame 2013.
Why is Jeanette Lee called Black Widow?
Jeanette Lee is a sweet girl. She loves her friends and family and has a warm and welcoming nature.
However, when Jeanette gets onto the pool table, she shows no mercy to her opponents. Her style and confidence hit differently. She is focused and knows her target.
Jeanette received the nickname Black Widow from her friends because, despite her sweet behavior, she would "eat people alive" when she got to a pool table.
Most people know Jeanette as the Black Widow rather than her real name. She has accepted the nickname and presents herself as the Black Widow to the world.
Jeanette Lee has also written a book called "The Black Widow's Guide to Killer Pool."
In the book, the Black Widow has explained multiple aspects of winning a game of billiards.
Further, the book covers various topics, from holding the cue to performing combinations, kissing, and executing trick shots.
The Black Widow, through her book, teaches aspiring champions of all levels to compete intelligently, lose gracefully, and win frequently.
Furthermore, Jeanette's book tends to keep the readers focused and on track even when faced with seemingly insurmountable challenges.
Is Ding Junhui the most successful Asian snooker player? Find out>>
Jeanette Lee: Husband and Children
The black widow got married to George Breedlove, a professional pool player and business owner, in 1996.
George Breedlove is also popularly known for his nickname 'The Flamethrower.' He has appeared in multiple ESPN matches and has won more than100 regional tournaments.
The two had three daughters together. Cheyenne Lee Breedlove, Chloe Angelee Breedlove, and Savannah Lee Breedlove.
Further, George Breedlove also had two daughters from his previous marriage, Morgan Michelle Breedlove and Olivia Sue Breedlove.
Among the three daughters they had when they were together, Savannah is the first natural-born child for the couple.
Chloe was born to a surrogate mother. Likewise, Jeanette and George adopted Cheyenne. In addition to that, they also raised a foster son, John Kang, together.
Currently, Black Widow is a single mother to three of her daughters. Reports claim that now she is divorced and no longer lives with her husband.
However, the reason for their separation is still unclear.
The couple has always kept their personal lives away from the media and tabloids. As a result, there isn't much information available about them.
Jeanette Lee: Age and Body Measurements
Born in 1971, Jeanette Lee is now 51 years old. She is a bold lady and stands five feet eight inches or 1.73 meters tall.
Moreover, she weighs around 58kgs or 128lbs. She looks lovely with her beautiful dark brown eyes and black hair.
Her bra size is 32B and has an 8 (UK) shoe size. She has a perfectly slim body shape with a measurement of 33 inches breast, 26 inches of waist, and 30 inches of hips.
Born in July, her sun sign is Cancer. People with cancer signs are known for their round features and cheerful disposition. They are also very cordial.
It wouldn't be a fallacy to say that Jeanette Lee perfectly fits the description. As to her friends, fans, and dear ones, she brings sunshine and positivity wherever she goes.
Meet Judd Trump, the no.1 snooker player>>
Jeanette Lee: Battling with Cancer
Truth be told, Black Widow's life has been full of struggle and challenges. The pain was never away from her with incurable scoliosis in her back ever since her childhood.
However, with a strict routine and disciplined diet, the pool player had learned to turn her pain into power.
The storm has once again knocked at Jeanette's door as she was diagnosed with Stage 4 Ovarian cancer in 2021.
She has lost her hair because of Cancer. However, Jeanette is battling Cancer every day and hasn't forgotten to smile. In the truest sense, she is the epitome of a bold and courageous lady.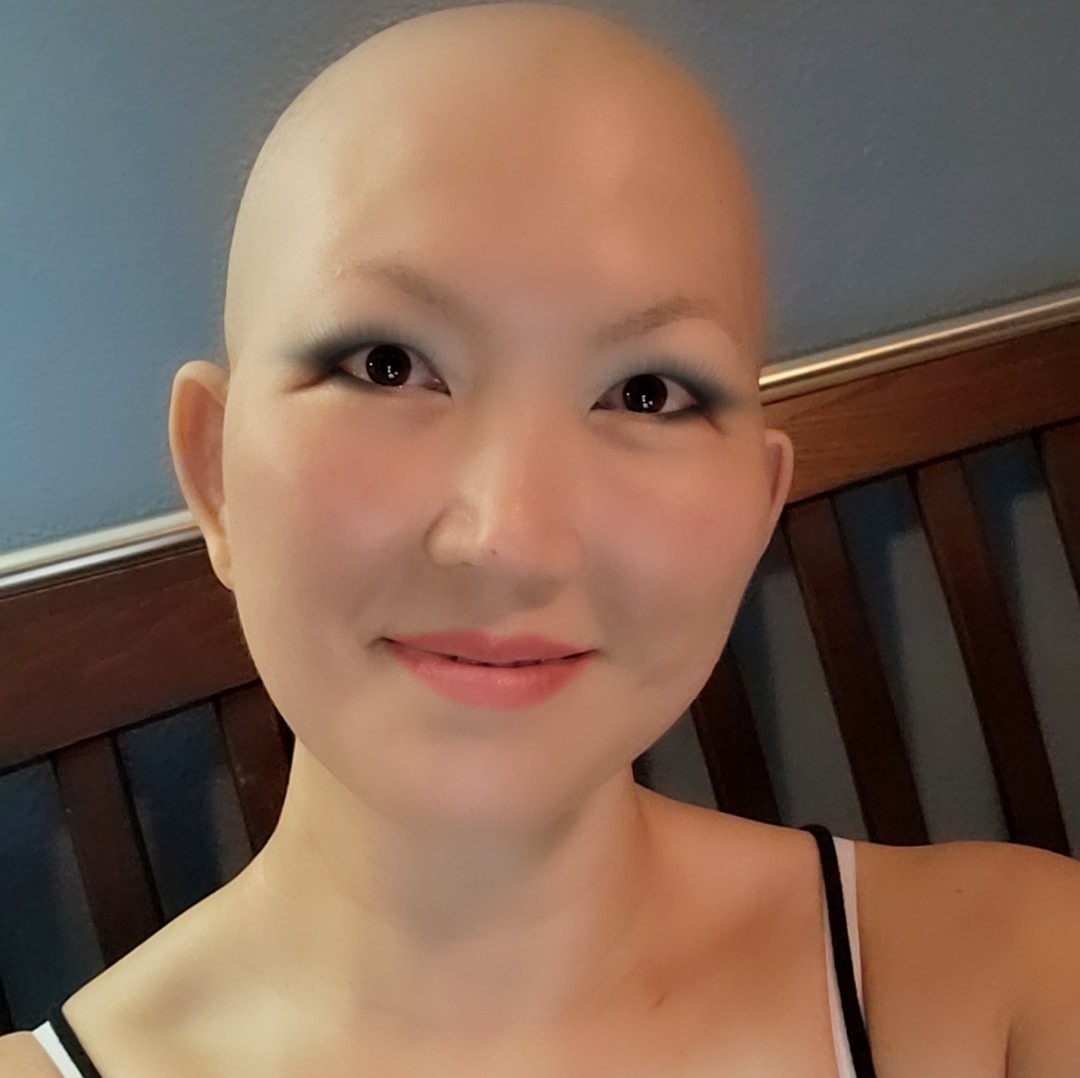 At this stage of life, she is most worried about her three daughters, who are still very young. She does not want to leave her daughters without a parent.
According to doctors, her diagnosis is swiftly terminal. Cancer has spread unrecognized in Lee's body under cover of the pain from Scoliosis.
However, we hope that her will to live and modern medical treatments will significantly prolong her life.
A GoFundMe page was created to raise funds for the pool player. The fundraiser had received over $50,000 in donations on its first day. This shows that Jeanette is loved by many in the world.
Many people wish good health for Jeanette. By far, more than 2,500 people have donated more than $185,000 to Jeanette's legacy fund.
Among them also includes a donation of $10,000 from Tony Stewart.
Jeanette Lee: Social Media
Lee is quite active on Social Media. She is on Facebook as Jeanette Lee "The Black Widow." She has over 136K followers on Facebook.
Likewise, Lee is on Twitter as The Black Widow (@BlackWidow). She has 10.4K followers on Twitter.
Her Twitter Bio explains her to be a Pro Billiard Champion, a Hall of Famer, a world games gold medalist, an author, a public speaker, an entertainer, and a philanthropist.
Likewise, her Instagram account has 16.4K followers. You can find her on Instagram as @jeanettelee.
Jeanette Lee: Net Worth
Lee has made a fortune as a pool player. She is the one who showed the world that pool is not only a "guy game".
Apart from the money she made by playing pool and her prize money, Jeanette also made a fortune from sponsorships and endorsements.
Jeanette, an American citizen of Korean descent, was a lady who could nab even the sponsorships that had nothing to do with billiards, chalk, or cues.
One of her sponsorships includes a 7-year deal with Bass Pro Shops. Further, Jeanette has also appeared on numerous national TV shows, including Crook & Chase, Good Morning America, and Hard Copy.
Moreover, she also had a part in the Walt Disney film, directed by Garry Marshall, named 'The Other Sister',
Furthermore, the Black Widow also runs a business. She also owns a local franchise of the American Pool Players Association, which is set up in Tampa. The organization primarily hosts leagues in local bars.
With all this, the American Pool Player Black Widow has a net worth of approximately $7 Million as per exactnetworth.com.
While the Covid 19 pandemic may have certainly harmed her business, sources claim that her net worth is still in that range.
Frequently Asked Questions
Is Jeanette Lee still married?
The pool player is now a single mother to her children. She was previously married to George Breedlove. But the couple has now separated.
Did Jeanette always want to be a pool player?
Becoming a pool player something that had not crossed Jeanette's mind until she was 18. The pool was something she had never thought of.
Instead, she wanted to be an elementary teacher. However, the encounter with a gentleman at the smoky pool hall of New York City changed her dream forever.