Andrew Whitworth is a former American football tackle who played in the NFL for 16 seasons. He played his first 11 seasons for Cincinnati Bengals and his final five with the Los Angeles Rams.
Andrew Whitworth was one of the oldest offensive tackles in NFL history. Being one of the strongest and senior players, his aura always cheered people in the stadium.
He was known to be the best in his profession. Not only this, but the athlete has also left a mark on his college teams by assisting in many victories.
During his college days, he finished the season with 22 straight games. Until now, the offensive tackle has received several awards and recognition for his contribution to the games.
Andrew has collected numerous awards, including USA Today High School All-American (2000), BCS National Champion (2003), First-team All-SEC (2004, 2005), Built Ford Tough Offensive Line of the Year (2018), and many more.
On 27 December 2022, Andrew revealed on Peter Schrager's podcast that he could consider returning to the NFL field.
Whitworth said, "I've said this since the day I retired, I'll never say never."
So, you might be wondering about his earnings, net worth, and details about his life. Then let's scroll through the article below through the quick facts.
Quick Facts
| | |
| --- | --- |
| Full Name | Andrew James Whitworth |
| Nick Name | Andrew James |
| Age | 41 Years Old |
| Height | 6 ft 7 in / 2.01 m / 201 cm |
| Weight | 310 lb / 141 kg |
| Arm Length | 35 in |
| Hand size | 10.13 in |
| Horoscope | Sagittarius |
| Date Of Birth | 12 December 1981 |
| Birth Place | Monroe, Louisiana |
| Religion | Unknown |
| Nationality | American |
| Ethnicity | Unknown |
| Hair Colour | Bald |
| Eye Colour | Black |
| Skin Colour | Fair |
| Marital Status | Married |
| Wife | Melissa Whitworth |
| Kids | Shara, Drew, Katherine |
| Father's Name | James Whitworth |
| Mother's Name | Charlotte Whitworth |
| Siblings | Not Available |
| High School | West Monroe High School |
| University | Louisiana State University |
| Profession | Football Player |
| Active from | 2006-Present |
| Position | Offensive Tackle |
| Current Team | Los Angeles Rams |
| Former Team | Cincinnati Bengals |
| Net Worth | $40 Million |
| Career Earnings | $105 Million |
| Social Media | Instagram |
| Merch | Autograph Helmet, Bobblehead, Player Plaque |
| Last Updated | March 2023 |
Early Life, Family, & Education
The American former football offensive tackle Andrew James Whitworth was born on 12th December 1981 in Monroe, Louisiana.
His zodiac sign is Sagittarius. Andrew is the son of a father, James Whitworth, and a mother, Charlotte Whitworth.
As he likes to keep his private life out of the media, not much information about his family and other relatives is available on the internet.
Andrew went to West Monroe High School in West Monroe, Louisiana. While in school, he played football for the Rebels under the head coach Don Shows.
The player graduated high school in 2001 with a great impression. After completing high school, Andrew enrolled at Louisiana State University.
He was expected to play for the college in 2001 but was redshirted.
The athlete commenced his first year in 2002. In 2003, he started all 14 games as a sophomore. Overall, he started 52 games from 2002 to 2005.
Age, Height, & Weight
Andrew is 41 years old as of 2023. He stands 2.01 meters tall and weighs about 310 lbs.
Though the body measurements are unknown, it is no secret that Andrew is well-built like a machine.
By looking at his physique, anyone can say Whitworth has a perfect body that goes well with his play position.
Net Worth, Contract, & House
Andrew has earned a massive amount by playing in the NFL.
Andrew's net worth is estimated to be $47 million as of March 2023.
In 2019, he agreed to a three-year deal with Los Angeles Rams worth $30 million.
The deal included $5 million as a signing bonus and $12.5 million as guaranteed. Also, he was paid $10 million as an average salary.
On 9th March 2017, he signed three years contract, from 2017 to 2019, with Los Angeles Rams for $33.75 million.
The contract included a $5 million signing bonus, a $15 million total guaranteed, and an $11.25 million average salary.
Andrew also pocketed millions of figures while playing for the Bengals.
His first contract with the Bengals was a mere $2.96 million rookie contract which he signed in July 2006.
The contract was valid from 2006 to 2009. However, the Cincinnati Bengals renewed the agreement in 2008 for $24,635,000.
Further, this contract included a $6 million signing bonus, $6 million guaranteed, and a $4.10 million average annual salary.
On August 2011, he signed a two years deal for $19.52 million, including a $6 million signing bonus, $10.3 million total guaranteed, and an average salary of $9.76 million.
The offensive tackle's journey with the team didn't end there, as the contract was extended again for one year.
Andrew signed a contract worth $9 million, valid from 2015 to 2016.
The contract included a $2 million signing bonus, a $9 million average salary, and a $3 million guarantee.
Houses & Cars
Andrew is living a lavish lifestyle with his family. In 2019, he purchased a mansion worth $6 million in Westlake Village, California.
Before moving to Westlake Village's mansion, the athlete lived in Choudrant L.A.'s home, which he sold for a hefty amount.
Career Highlights
Andrew was drafted in the second round, 55th overall in the 2006 NFL Draft by Cincinnati Bengals.
He began his professional career after debuting on 10th September 2006 in Kansas City. The offensive tackle played for the Cincinnati Bengals from 2006 to 2015.
In January 2013, he was named a left tackle on the AFC Pro Bowl team for the first time in his career.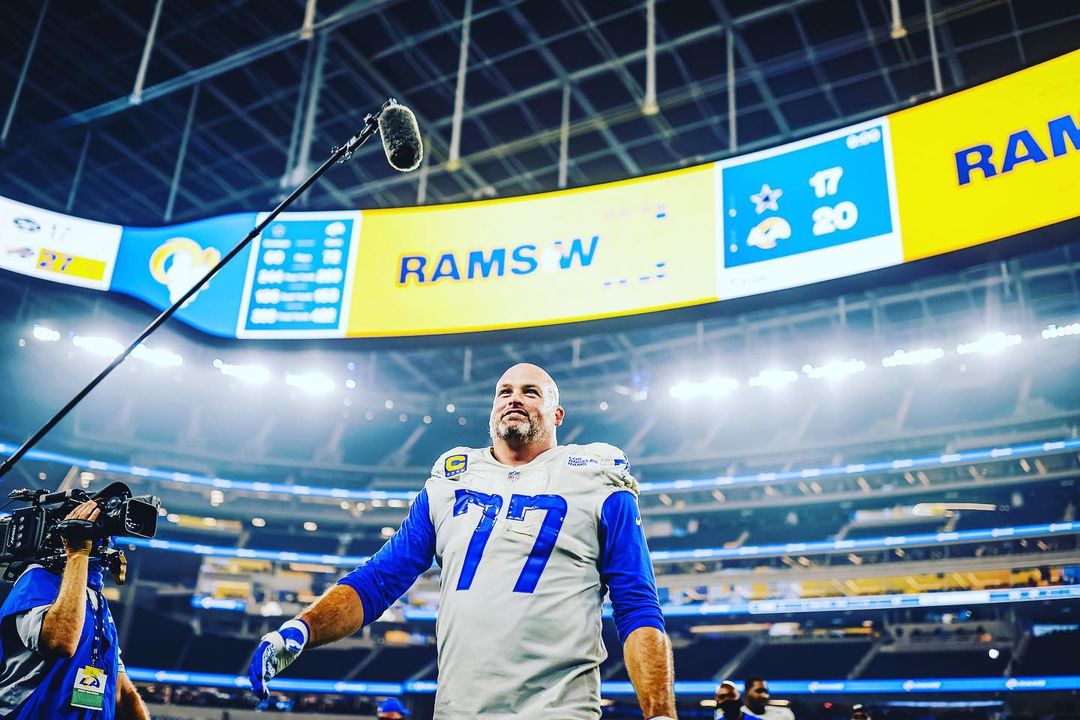 After completing his tenure with the first team, Cincinnati Bengals, Andrew joined Los Angeles Rams on 9th March 2017.
In the NFL Top 100 Players of 2018, he was ranked 87th by his peers.
The Rams defeated the Bengals, giving Whitworth the victory over his former team in Week 8 of the 2019 season.
He was the only 12th NFL player in league history to win against all 32 NFL teams with that win.
On April 1, 2020, he signed a three-year contract with the Rams, but he did not play much that year as he was reserved on the injured list.
Andrew started playing on January 7, 2021, receiving the 2021 Walter Payton NFL Man of the Year at the 11th Annual NFL Honors.
He won his first Super Bowl, Super Bowl LVI, against his former team Cincinnati Bengals.
Andrew Whitworth announced his retirement after 16 seasons on 15 March 2022. He joined Amazon's Thursday Night Football crew as an analyst after retiring.
On August 26, 2022, Andrew entered an online feud with the Cowboys, claiming that the Cowboys called him several times to return to the NFL field.
Injury
Andrew suffered a scary leg injury during the second quarter of Seattle's clash with the Rams in November 2020.
He was immediately carted off the field, and after examination, it was found that he had torn MCL and damaged PCL.
After encountering the injury, he was away from the game for proper bed rest. However, Andrew recovered well and played for his team.
He often shared his exercise videos on social media. By the speed he was recovering was obvious to say that he would return in time for his team.
Battle With COVID-19
In July 2020, Andrew tested positive for COVID-19. Not only he, but his wife, children, and in-laws were also the victim of the virus.
They all suffered when one of his family members went to lunch with the contracted friend. However, the athlete and his family recovered well in a few weeks.
Wife & Kids
Andrew is happily married to his wife, Melissa Whitworth. The couple has been married for several years.
He got hitched to Melissa in 2006 and has been together ever since.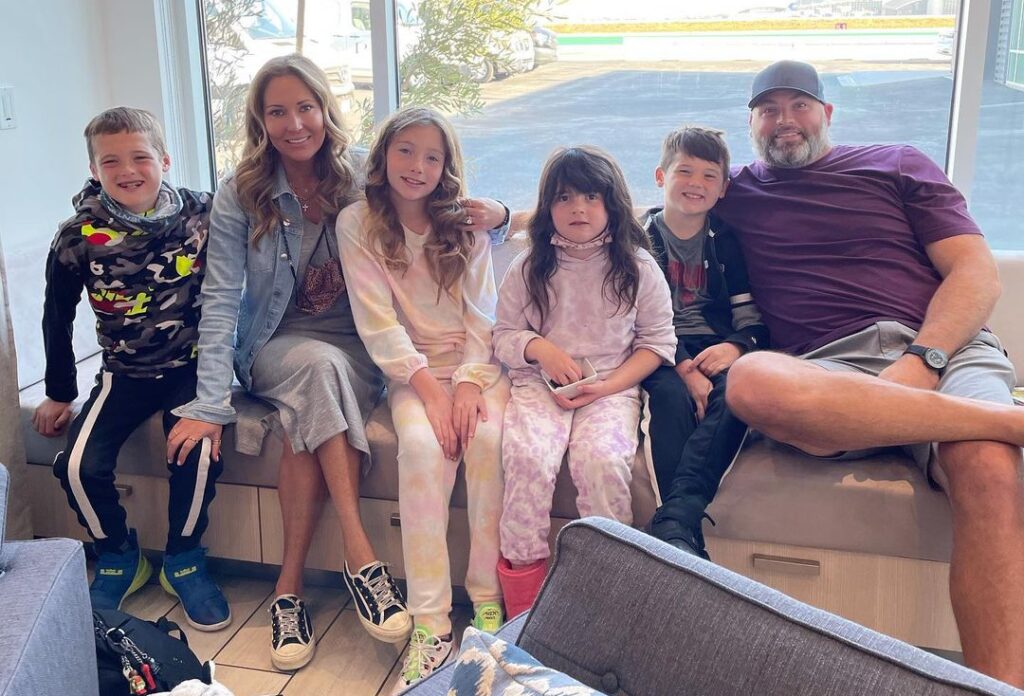 Andrew and his better half, Melissa, are blessed with four children; two daughters and two sons.
As per the report, the firstborn are twins Sarah and Drew. Later, they gave birth to a son Michael and a daughter Katherine.
Details On Andrew's Wife
Melissa is well-known in beauty pageants. In 2003, she competed for Miss Louisiana and lifted the title.
Not only this, but she also won Dancing With the Stars, Cincinnati's version.
Similarly, Melissa is active on Twitter under the username @mrs_whit77. She has about 5,993 followers on the platform as of this writing.
Also, she uses Instagram. Her username is melissawhitworth77.
Interesting Facts About Andrew Whitworth
During his high school days, Andrew was the sixth offensive line prospect in the country.
Not only this, but he was also a talented golfer and a tennis champion.
Andrew donated $250,000 to the Los Angeles Regional Food Bank in March 2020. He made a vast donation during the 2019-2020 COVID-19.
He was named to the Pro Bowl four times in 2012, 2015, 2016, and 2017.
Popularity Graph
Andrew Whitworth is the former NFL tackle who last played for the Los Angeles Rams.
The above graph shows Whitworth's popularity over the past twelve months.
Frequently Asked Questions (FAQS)
Is Andrew Whitworth in the Hall of Fame?
Andrew Whitworth is not inducted into any Hall of Fame to date. He is in second position in NCAA Division I history with 52 career starts from 2000-2005 behind Derrick Strait of Oklahoma (53 starts, 2000-2003).
Who is the oldest lineman in the NFL?
Andrew Whitworth was the oldest lineman in the NFL.
Is Andrew Whitworth retired?
All-Southeastern Conference first-team honors holder Andrew Whitworth is retired now. He works as an analyst for Amazon's Thursday Night Football.