Andrew Whitworth is one of the oldest American offensive tackles in NFL history. He represents the Los Angeles Rams.
Being one of the strongest and senior players, he has such an aura that makes people cheer in the stadium. Also, Andrew played for the Cincinnati Bengals for a decade.
He is known to be the best in his profession. Not only this, but the athlete has also left a mark on his college teams by assisting in many victories.
During his college days, he finished the season with 22 straight games. Until now, the offensive tackle has received several awards and recognition for contributing to the games.
Andrew has collected awards like USA Today High School All-American (2000), BCS National Champion (2003), First-team All-SEC (2004, 2005), Built Ford Tough Offensive Line of the Year (2018), and many more.
Moreover, Andrew also has a foundation called BigWhit 77 Foundation. Via the foundation, he is actively participating in developing the community.
Likewise, he has also donated millions of money for the well-being of people.
So, you might be wondering about his earnings and net worth. Also, you might be curious to know more details about his life.
Then let's scroll through the article below through the quick facts.
Quick Facts:
| | |
| --- | --- |
| Full Name | Andrew James Whitworth |
| Nick Name | Andrew James |
| Age | 40 years old |
| Height | 6 feet 7 inches (2.01m) |
| Weight | 310 lb (141 kg) |
| Arm Length | 35.00 inches |
| Hand size | 10.13 inches |
| Body Measurement | Unknown |
| Horoscope | Sagittarius |
| Date Of Birth | 12 December 1981 |
| Birth Place | Monroe, Louisiana |
| Religion | NA |
| Nationality | American |
| Ethnicity | NA |
| Hair Colour | Bald |
| Eye Colour | Black |
| Skin Colour | Fair |
| Marital Status | Married |
| Wife | Melissa Whitworth |
| Kids | Shara, Drew, Katherine and |
| Father's Name | James Whitworth |
| Mother's Name | Charlotte Whitworth |
| Siblings | NA |
| High School | West Monroe High School |
| University | Louisiana State University |
| Profession | Football Player |
| Active from | 2006- |
| Position | Offensive Tackle |
| Current Team | Los Angeles Rams |
| Former Team | Cincinnati Bengals |
| Net Worth | $47 |
| Salary | $10,000,026 |
| Social Media | Instagram |
| Merch | Autograph, Bengals jersey |
| Last Updated | November, 2022 |
Andrew Whitworth | Early Life, Family, And Education
The American football offensive tackle Andrew was born on 12th December 1981 in Monroe, Louisiana, United States.
As of writing the article, he is approaching 40 years old within a few days. Being born in December, his zodiac sign is Sagittarius.
Andrew is the son of a Father, James Whitworth, and a mother, Charlotte Whitworth.
As the offensive tackle likes to keep his private life out of the media, not much information about his family and other relatives is available on the internet.
Education
Andrew went to West Monroe High School in West Monroe, Louisiana. While he was in school, he played football for the Rebels. The Don Shows coached him.
The player graduated high school in 2001 with a great impression. After completing high school, Andrew got enrolled at Louisiana State University.
He was expected to play for the college in 2001 but was redshirted. Sometimes, the players get redshirted to lengthen their time, so the same happened with Andrew.
The athlete commenced his first year in 2002. In 2003, he started all 14 games as a sophomore. Overall, he started 52 games from 2002 to 2005.
How old is Andrew Whitworth? Age, Height, and Weight
The professional football player is 40 years old as of 2022. He stands 6 feet and 7 inches (2.01 m) tall and weighs about 310 lb (141 kg).
Though the body measurements are unknown, it is no secret that Andrew is well-built like a machine.
By looking at his physique, anyone can say Whitworth has a perfect body that goes well with his play position.
Andrew Whitworth | Net Worth, Contract, and House
Being the renowned offensive tackle, Andrew earns a massive amount by playing matches for the NFL. Indeed, he has piled up a net worth of a million figures.
"Andrew's net worth is estimated to be $47 million."
Additionally, the athlete makes millions by signing contracts for the NFL's teams. For instance, in 2019, he agreed to a three-year deal with Los Angeles Rams worth $30,000,077.
The deal included $5,000,000 as a signing bonus and $12,500,000 as guaranteed. Also, he will be paid $10,000,026 as an average salary by the team.
Similarly, on 9th March 2017, he signed three years contract, from 2017 to 2019, with Los Angeles Rams for $33,750,000.
The contract includes a $5,000,000 signing bonus, $15,000,000 total guarantees, and an $11,250,000 average salary.
You might also want to read: <<Marshal Yanda Bio: Age, Early Life, NFL, Wife & Net Worth>>
Contract And Salary
Andrew also pocketed millions of figures while playing for the Cincinnati Bengals.
He signed four years contract worth $2,965,000, including a $1,100,000 signing bonus, $1,100,000 total guarantees, and a $741,250 average salary.
The contract was valid from 2006 to 2009. However, the Cincinnati Bengals renewed the agreement in 2008 for $24,635,000.
Further, the Bengals contract included $6,000,000 as a signing bonus, $6,000,000 as total guarantees, and $4,105,833 as the average salary.
The agreement was done for at least six years, from 2008 to 2013. Also, Andrew again extended his playing tenure for the Cincinnati Bengals.
He signed a two years deal for $19,525,000, including a $6,000,000 signing bonus, $10,300,000 total guarantees, and an average salary of $9,762,500.
The offensive tackle's journey with the team didn't end there, as the contract was extended again for one year.
Andrew signed a contract worth $9,000,000, valid from 2015 to 2016.
The contract included a $2,000,000 signing bonus, a $9,000,000 average salary, and total guarantees of $3,000,000.
Houses And Cars
Andrew is living a lavish lifestyle with his family. In 2019, he purchased a mansion worth $6 million in Westlake Village, California. Currently, he lives in the same villa.
Before moving to Westlake Village's mansion, the athlete lived in Choudrant L.A.'s home, which he sold for a hefty amount.
Talking about Andrew's cars, detailed information is not uncovered yet. It is for sure that he has acquired several branded vehicles.
Also, check out: <<Glory Johnson Bio – WNBA, Kids, Wife & Net Worth>>
Andrew Whitworth | Career Highlights
Andrew got drafted by the NFL in the second round in 55th overall in 2006. Cincinnati Bengals selected him back then.
He began his professional career after debuting on 10th September 2006 in Kansas City. The offensive tackle played for the Cincinnati Bengals from 2006 to 2015.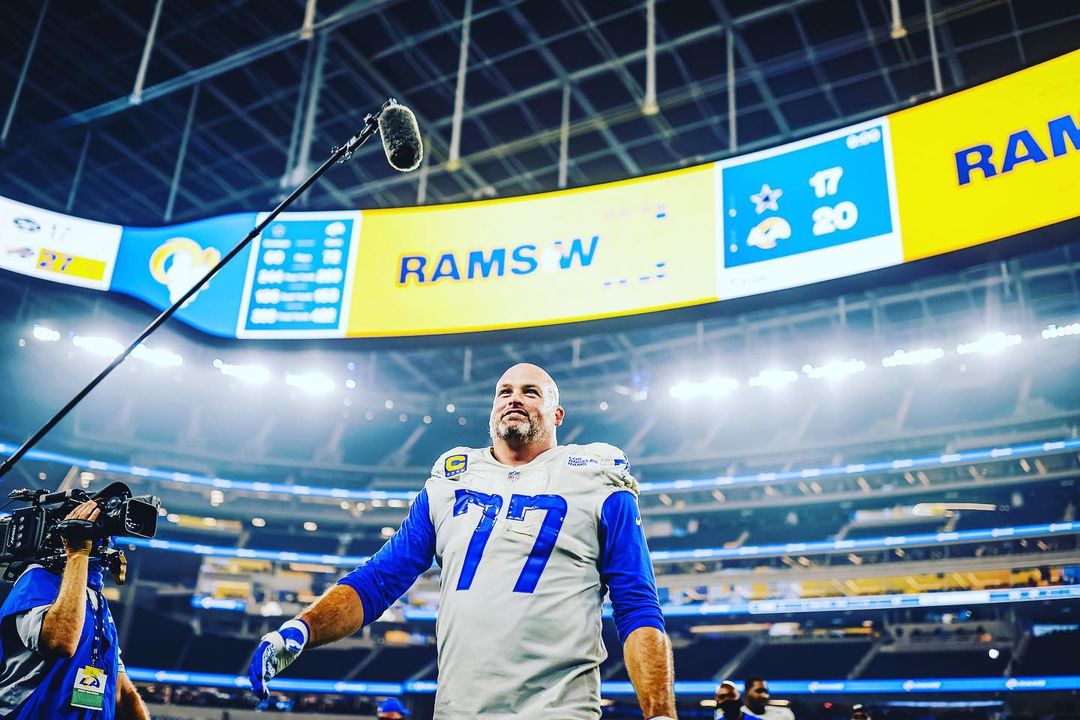 After completing his tenure with the first team, Cincinnati Bengals, Andrew joined Los Angeles Rams on 9th March 2017. Until now, he has been playing for the team.
Andrew Whitworth | Injury
Andrew suffered a scary leg injury during the second quarter of Seattle's clash with the Rams in November 2020.
He was immediately carted off the field, and after examination, it was found that he had torn MCL and damaged PCL.
After encountering the injury, he was away from the game for proper bed rest. However, Andrew seems to be recovering well from the pain.
He often shares his exercise videos on social media. Also, by looking at his videos on his Instagram, he might return to the game very soon.
Don't forget to check out: <<Hunter Dozier Bio: Wife, Covid-19, Family, and Kids & Career>>
Andrew Whitworth | Battle with COVID-19
The pandemic, COVID-19, has made people's life harder than ever until now. Many citizens all over the world lost their life due to the pandemic.
Back in July 2020, Andrew tested positive for COVID-19. Not only he, but his wife, children, and in-laws were also the victim of the pandemic.
They all suffered when one of his family members went to lunch with the contracted friend. However, the athlete and his family recovered well from the coronavirus in a few weeks.
Who is Andrew Whitworth's wife? Wife & Kids
Andrew is happily married to his wife, Melissa Whitworth. The couple has been married to each other for several years.
The offensive tackle, Andrew, got hitched to Melissa in 2006. They have been together for almost more than a decade.
As Andrew is confidential regarding his love life, he has not disclosed anything about his romantic life other than this.
Kids
Andrew and his better half, Melissa, are blessed with four children; two daughters and two sons.
As per the report, the firstborn are twins Sarah and Drew. Later, they gave birth to a son Michael and a daughter Katherine.
Details On Andrew's Wife
The player's sweetheart, Melissa, is well-known in beauty pageants. In 2003, she competed for Miss Louisiana and lifted the title.
Not only this, but she has also won Dancing With the Stars, Cincinnati's version.
Her recent profession is unknown, but she might have been a famous reporter back then. She has won an award for her contribution to the journalism field.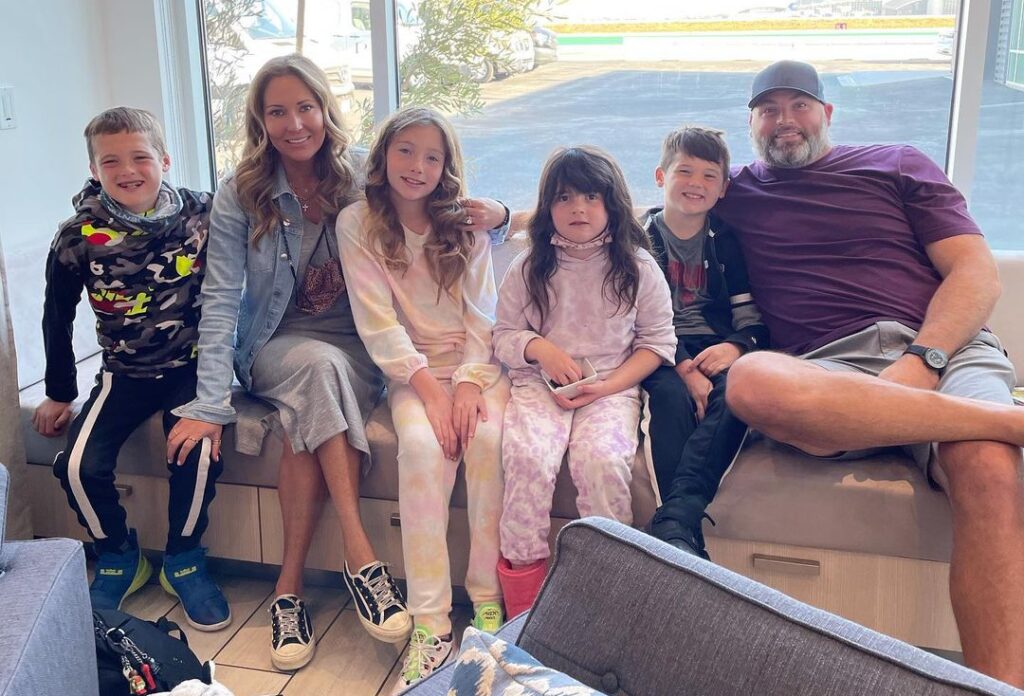 Similarly, Melissa is active on social media like Twitter under mrs_whit77. She has about 2,201 followers on Twitter as of 9th December 2020.
Also, she uses Instagram. Her username is melissawhitworth77. She often shares the news of her beau, Andrew's football team, and other related information in their Twitter feed.
You might be interested in reading:<<Russell Westbrook Bio: Net Worth, Wife, NBA & Early Life>>
Interesting Facts About Andrew Whitworth
During his high school days, Andrew was the sixth offensive line prospect in the country.
Not only this, but he was also a talented golfer and a tennis player champion.
Andrew donated $250,000 to the Los Angeles Regional Food Bank in March 2020. He made a vast donation during the 2019-2020 COVID-19.
The offensive tackle is the four times winner of the Pro Bowl. He lifted the trophy in 2012, 2015, 2016, and 2017.
Social Media Presence
Andrew Whitworth is quite active on social media. You can follow him via these links.
Instagram: 74.2k followers
Some FAQs
What position is Andrew Whitworth?
Andrew is the offensive tackle for the Los Angeles Rams.
Who is the oldest lineman in the NFL?
Andrew Whitworth is the oldest lineman in the NFL. He is about to be 39 years old on 12th December 2020.
Is Andrew Whitworth in the hall of fame?
Andrew Whitworth is not inducted into any hall of fame to date.
Is Andrew Whitworth retired?
Andrew Whitworth is not retired till now. However, many sources claimed that Whitworth might retire after the 2021 season, but he's still active as of now.