Luis Antonio Valencia Mosquera, popularly known as Antonio Valencia, is an Ecuadorian footballer who has played for the popular football club, Manchester United, for ten years and has also led the team.
Antonio last played for the club LDU Quito of Ecuador, his home country. The story of Antonio Valencia an extraordinary one.
From the small town of Ecuador to one of the world's biggest clubs as one of the biggest players, Antonio Valencia is truly an inspirational sportsperson.
A hard worker, motivated, and focused leader, and a fan favorite, Antonio Valencia is surely a delight to watch on the field.
His dedication and enthusiasm, not to mention his undying love and passion for sports, are an inspiration to all aspiring footballers and sports personalities worldwide.
Before diving into their spellbinding career of Antonio, take a look at some quick facts about him.
| | |
| --- | --- |
| Full Name | Luis Antonio Valencia Mosquera |
| Birth Date | August 4, 1985 |
| Birth Place | Lago Agrio, Ecuador |
| Known as | Antonio Valencia |
| Religion | Unknown |
| Nationality | Ecuadorian |
| Ethnicity | Unknown |
| Education | Unknown |
| Horoscope | Leo |
| Father's Name | Luis Antonio Valencia |
| Mother's Name | Teresa Mosquera |
| Siblings | 5 |
| Age | 38 Years Old |
| Height | 5 feet 11 inches (1.80m) |
| Weight | 80 kgs |
| Build | Unknown |
| Body Measurements | Unknown |
| Hair color | Black |
| Eye color | Dark Brown |
| Profession | Footballer |
| Active Years | 2000-present |
| Marital Status | Married |
| Spouse | Zoila Valencia |
| Children | 1; Domenica Valencia |
| Net Worth | 40 million Euros |
| Social Media | Instagram, Twitter |
| Merch | Jersey, Action Figure |
| Last Update | November, 2023 |
Antonio Valencia – Age, Height, Weight, Early Life
Valencia was born on 4th August 1985 to Luis Antonio Valencia and Teresa Mosquera in Lago Agrio, which lies near the city of Nueva Loja, Ecuador, South America.
He is 35 years old currently. He is 5'11(1.80m) and weighs about 80 kgs. Born in a low-income family, Valencia helped his parents from a young age.
He used to accompany his mother to sell drinks outside the football stadium and later collect empty bottles for his father to sell in the bottle deposit of the capital city of Ecuador, Quito.
Antonio had a big family of 5 siblings. He played football as a kid, barefoot, in front of his house.
When Valencia was 11, Pedro Peralza, a local scout for talent, spotted him playing in a dusty street and then signed him for the local sports academy in Sucumbios.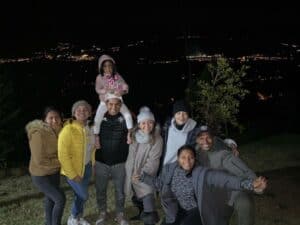 When he turned 16, Antonio went to Quito, Ecuador's capital, to play football for El Nacional, a military-backed club in Ecuador.
He played as a central midfield for a monthly salary of only $50. He only told his mother and the eldest brother, who paid for his bus fare.
You might also be interested in reading about Howard Long Jr Bio: Raiders, Football, Instagram, Net Worth Wiki.
He is primarily a right-back but has played as a right-winger for a long time throughout his career and played right-back towards the end of his time with Manchester United.
Antonio successfully made the transition from a right-winger to a right-back under manager Jose Mourhino.
Antonio Valencia – A Rollercoaster Football Career
National and International Clubs
Initial Days
Antonio joined the El Nacional at the age of 16. He progressed through the youth system at the Ecuadorian Club El Nacional quite well.
Antonio became a regular player in the first team. He played in more than 80 matches for the very same club.
He won the Ecuadorian Serie A with El Nacional. After that, he signed with La Liga side Villarreal in 2005.
Valencia played in the Spanish league only twice in between loan spells at Recreativo for the 2005-06 season. He helped the team gain wide recognition and promotion as he helped them finish on the top of the table, that is, as champions.
In the year-long loan deal, he was signed by the English Premier League club Wigan Athletic in 2006. Wigan Athletic later signed Valencia on a three-year deal for an undisclosed fee in January 2008.
His first goal for Wigan Athletic was in a match against Manchester City in 2006, where his team won 4-0. He received his first red card at Wigan Athletic in a match against Aston Villa's Wilfred Bouma because of the two-footed challenge.
His final goal for Wigan Athletic was on 13th December 2008 as he drove them to the win of 3-0 against Blackburn Rovers.
He reportedly turned down an offer from Real Madrid in 2009. He later joined Manchester United in June 2009.
Manchester United (2009 – 2019)
His stellar performances for the club Wigan Athletic were successful in attracting the attention of several high-profile clubs. Valencia started from Villareal and was offered a spot in Manchester United.
Antonio signed with Manchester United in June 2009 and played fabulously and gave many impressive appearances for the team and himself, establishing him as one of the best players at Manchester United.
Valencia was the first player to be signed by Manchester United in the summer of 2009 under four years. The fee remains undisclosed; however, it is estimated to be around the range of a whopping 16 million pounds.
Read about fellow footballer Kyle Sloter.
Antonio has played with excellent players throughout his career. Some of the major players he has shared a dressing room with are Ryan Giggs, Wayne Rooney, Robin Van Persie, David De Gea, Paul Pogba, Nani, Patrick Eura, Rio Ferdinand, Nemanja Matic, Paul Scholes, Nemanja Vidic, Micheal Carrick etcetera.
His first goal for Manchester United came in his first game itself. He scored the second goal or United in a match against Boca Juniors in the Audi Cup.
Valencia scored his first competitive goal for Manchester United when he scored against Bolton Wanderers.
He scored his first UFEA championship league goal four days after the one with the Bolton Wanderers against CSKA Moscow.
He was also given the prestigious Jersey #7, which had been previously worn by excellent Manchester United players like Christiano Ronaldo, Johnny Berry, Steve Coppell, Bryan Robson, David Beckham, etcetera Micheal Owen departed from the club.
However, he returned to his previous jersey #25 after he suffered a series of injuries and a lack of form throughout the season.
The latter half in Manchester United
Antonio spent the biggest chunk of his career in Manchester United. He learned and grew a lot as he trained and practiced as a team member of one of the world's biggest clubs.
His achievements from Manchester United are considered commendable and far-fetched.
He is considered one of the best players to have ever played for Manchester United. Antonio also got the chance to show his leadership skills through captaincy at Manchester United.
He was cherished by football enthusiasts and loved worldwide for his performances on the ground.
Antonio got voted into the PFA Team of the Year in his debut season with the club. He went on to win two Premier League titles, a FA Cup, two League Cups, three FA Community Shields, and the UEFA Europa League.
Valencia renewed his contract with Manchester United on multiple occasions.
LDU Quito
In July 2019, Valencia returned to Ecuador, signing with LDU Quito, with whom he won the inaugural Copa Ecuador in his first season.
International Achievements
Antonio Valencia played through the under-20 national team, alongside another supremely talented footballer, the Late Christian Benitez.
Valencia made his senior Ecuador debut in 2004. He has represented his country at the 2006 FIFA World Cup, the 2007 Copa América, the 2011 Copa América, the 2014 FIFA World Cup, the Copa América Centenario, and the 2019 Copa América.
Since his debut in Ecuador's national team, Valencia has won more than 90 caps and scored 11 goals for his country. This is an awe-inspiring record for someone his age.
Highlights, Awards, and Accolades
Antonio Valencia has won numerous awards for himself and the clubs he played with and his homeland Ecuador. He has a long list of trophies he won for all the teams he has played for.
Some of the honorable mentions for his personal wins are listed below:
Alan Hardaker Trophy: 2010
PFA Premier League Team of the Year: 2009–10
Sir Matt Busby Player of the Year: 2011–12
Manchester United Players' Player of the Year: 2011–12, 2016–17
Manchester United Goal of the Year: 2011–12
UEFA Europa League Squad of the Season: 2016–17
Antonio Valencia – Career Stats
| | | | | | |
| --- | --- | --- | --- | --- | --- |
| | | | | | |
| | | | | | |
| | | | | | |
| | | | | | |
| | | | | | |
| | | | | |
| --- | --- | --- | --- | --- |
| | | | | |
| | | | | |
| | | | | |
| | | | | | |
| --- | --- | --- | --- | --- | --- |
| | | | | | |
International Champions Cup
| | | | | | |
| --- | --- | --- | --- | --- | --- |
| | | | | | |
| | | | | | |
| | | | | | |
| | | | | |
| --- | --- | --- | --- | --- |
| | | | | |
| | | | | | |
| --- | --- | --- | --- | --- | --- |
| | | | | | |
| | | | | | |
| | | | | | |
| --- | --- | --- | --- | --- | --- |
| | | | | | |
Antonio Valencia – Net Worth, Salary, Signings, and More
This footballer started his career with a $50 salary, which moved up along with his football career. His move to Villareal happened for an undisclosed fee.
Valencia's move to Manchester United is also undisclosed, but sources claim that it was about 16 million pounds. Quite a jump from his first salary, super impressive too.
He is rumored to have an estimated net worth of more than 40 million euros, as of 2023.
Antonio Valencia – Personal Life, Wife, Kids
Antonio Valencia seems to be a shy, quiet, and reserved person. The internet does not have much information about his private life. We, however, know that he is married to his now-wife, Zoila Valencia.
They also have a daughter named Domenica, born during the 2006 World Cup, making her almost 15 years old in 2021. His older brother, Eder Valencia Mosquera, is also a footballer in Ecuador.
To improve his English language proficiency, Valencia took training with his team members from Wigan Athletic at least once a week. These language training sessions changed almost daily when he transferred to Manchester United in 2009.
Sir Alex FugerSon described Valencia as a shy and quiet boy
People who have spent a lot of time with him, along with his fans, remember him as a sentimental person.
As he said in one of his interviews before his last few matches, he had as a part of the team Manchester United,
I want to enjoy until the last moment with you, man united
He is widely known and appreciated for his kind and humble attitude.
Everyone who works with him has spoken highly about his football playing skills and talent and his utmost kindness, compassion, humbleness, and the love he carries for his daughter, family, and homeland.
This is a youtube video where he is seen speaking about his beliefs, and his personality shines right through as a humble and down-to-earth sportsperson as he answers his fans' questions.
Antonio Valencia – Social Media
Social Media of Antonio Valencia gives his fan a sneak peek into his personal life. Although Valencia is not on Facebook, he is active on Instagram with more than 2 million followers.
Give him a follow if you're a fan or became one after reading this. Valencia can be found on Twitter. Feel free to give him a follow there as well.
Some FAQs
Who is Antonio Valencia married to?
Antonio is married to Zoila Valencia.
How fast is Antonio Valencia?
The speed of Antonio Valencia is 35,10 km/h.
What is the Jersey Number of Antonio Valencia?
The Jersey Number Antonio is 14.