Aric Almirola, a professional racer, has been in a loving relationship with his wife, Janice Almirola, since 2010 and has two kids.
Even if Janice does not have social media, Aric doesn't hold back in posting about his wife and children. The couple has been together for over a decade.
The professional stock car racer Aric Almirola competes full-time in the NASCAR Cup Series.
Introduced to racing by his grandfather, Aric began racing since eight years old. At 18, he began driving at the NASCAR Sun Belt Weekly Racing Division.
He has raced in numerous NASCAR Series, including World Truck securing two wins, and Xfinity Series, with four wins.
In 2007, Aric made his NASCAR Cup Series at the Las Vegas Motor Speedway. With 438 races run over 16 years in the NASCAR Series, he has claimed 3 NASCAR Cup Series titles.
Moreover, on January 10, 2022, Aric declared that he would retire from full-time racing after the 2022 season. However, he announced on August 19, 2022, that he would not quit and continue his racing career.
In 2023, Almirola competed in two road course events, winning the NXS at Sonoma for the first time and handing RSS its first-ever victory as a group.
Aric Almirola Wife Janice Almirola
Racer Aric Almirola has been with his long-term partner, Janice Almirola.
They first met in 2005 at an event where the two were introduced to one another by Janice's father. Her father always believed that they were a good fit.
Aric proposed to Janice in November 2009, and they tied the knot on December 11, 2010.
Every year, she celebrates her birthday on May 22.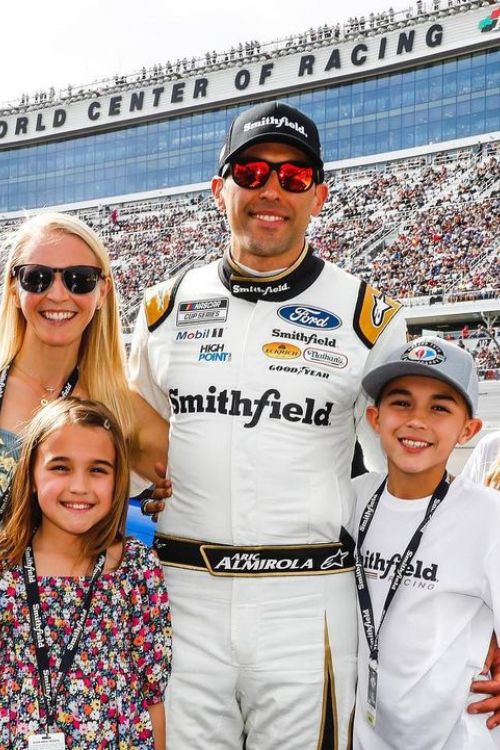 His wife, Janice, was born to Randy Goss and her mother in Hartland, Michigan. Her father, Randy, is a NASCAR pit crew chief and two-time AMA Grand National champion.
Despite her husband's popularity, Janice has managed to maintain her privacy. Moreover, she is not even active on any social media platforms.
Likewise, they are parents to two beautiful children- Alex (born September 2012) and Abby (born November 2013).
Aric Almirola Parents
NASCAR driver Aric Almirola was born on March 14, 1984, to his parents, Ralph Almirola Jr. and Bobbi Almirola.
He was born at Eglin Air Force Base in Florida and raised in Tampa. His family members are of Cuban descent- they emigrated from Cuba during the Cuban Freedom Flight.
Moreover, his father, Ralph Jr, previously worked in the Air Force as an environment control specialist. Later, he joined the Hillsborough Country Fire Department.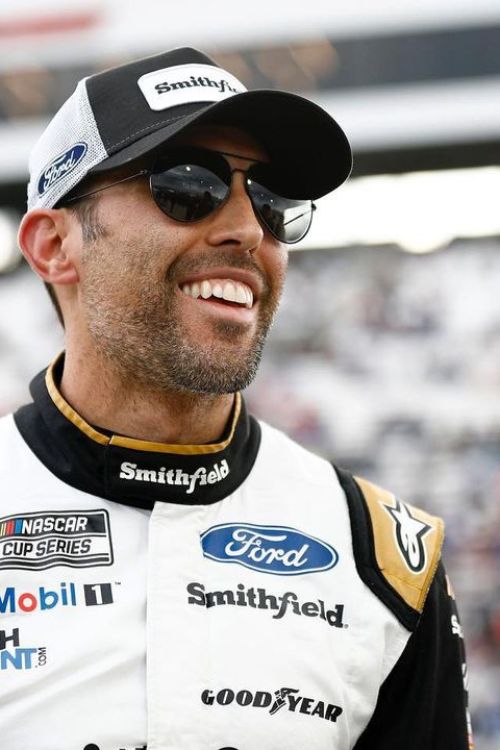 However, details regarding his mother are yet to be out. Nevertheless, she has always been a source of inspiration for him.
Additionally, Aric's maternal grandfather, Sam Rodriguez, a sprint car champion, is the one who introduced him to the sport and instructed him in it.
Since his early career, the ones by his side always supporting his dream are his family.
Aric Almirola Net Worth
As of September 2023, Aric Almirola has accumulated a total net worth of about $2 million.
He has earned such an amount of wealth from his professional career as a car racer.
Aric gets a yearly basic salary of $5500,000 plus bonuses. The racer competes in several racing championships and earns prize money which adds to his wealth.
Moreover, Aric has partnered with well-known companies, such as Go Bowling, Smithfield Foods, Mobil 1, and Ford.
The net worth of the racer will surely grow in upcoming years as he continues to thrive in his career.