Can you name a male weightlifter? Maybe you'll remember Mark Henry from WWE or some other weightlifter. Now, name a female weightlifter? Struggling with it?
Well, after reading this article about the 12 best female weightlifters of all time, it won't be tough for you.
There's this fact that female weightlifting wasn't included even in Olympics till the 2000 Sydney Olympics. Hence, the best female weightlifters remained out of the public eye.
Several female weightlifters have disproved this notion. In recent years, the championships, as well as the number of viewers, have increased. Yet, it seems that much of the world is not aware of the best female weightlifters of all time.
Don't worry. In this list, we'll be talking about the factors such as career records, career longevity, medals in the Olympics, and other prestigious title received by the 12 best female weightlifters.
12 Best Female Weightlifters of All Time
The 12 best female weightlifters of all time from different categories and both old as well as new athletes are included in the list below:
| | | |
| --- | --- | --- |
| Rank | Country | Name |
| 1 | Canada | Maude Charron |
| 2 | Thailand | Prapawadee Jaroenrattanatarakoon |
| 3 | China | Liu Chunhong |
| 4 | Taiwan | Hsu Shu-Ching |
| 5 | Taiwan | Kuo Hsing-Chun |
| 6 | China | Chen Yanging |
| 7 | China | Wang Mingjuan |
| 8 | China | Zhou Lulu |
| 9 | China | Cao Li |
| 10 | South Korea | Jang Mi-ran |
| 11 | Canada | Christine Girard |
| 12 | Philippines | Hidilyn Diaz |
12. Hidilyn Diaz
Hidilyn Diaz, the first gold medal winner for the Philippines, has shown no substitute for hard work. She first made her appearance in the Olympics in 2008. Unfortunately, the performance during the first Olympics was abysmal.
Diaz came in second last out of 12 participants. However, her performance during the next Olympics was slightly better as she earned the ninth position.
The Philipines gold medalist surpassed her expectation when she earned a silver medal during the 2016 Olympics. Further, Hidilyn is the only weightlifter athlete to participate in the four Olympics.
Finally, she won the gold medal in the 2020 Tokyo Olympics in the featherweight category. Other than that, she has also earned a bronze medal in the World Championships held in 2015, 2017, and 2019.
Her dedication shows that anything is possible if we commit to our goal and put in a lot of effort.
11. Christine Girard
The middleweight Olympic gold winner Christine Girard was born in Canada. However, most of the female athletes in weightlifting are from Asian countries. Christine is an exception to the trend.
Christine's story of the Olympic gold is a unique one. In the 2012 Olympics, she achieved the third position.
However, in 2016, the gold and silver medallists of the 2012 Olympics were found using an illegal substance to enhance their performance. So, after four years, she earned a gold medal.
But, she has shown her impressive performance in the Commonwealth Games by earning gold and a silver medal.
The 5 ft 3 inches tall gold medalist of the 2011 Pan American tournament sets a record at clean and jerk for a middleweight.
10. Jang Mi-ran
South Korean weightlifter Jang Mi-ran has won both Olympic gold medals and World Championships. Thus, she is regarded as one of the best weightlifters of all time. She participates in the 75+kg weight category.
Jang Mi-ran won 4 consecutive gold medals in World Championship from 2005-2009. Between 2005 to 2008, she also managed to win Olympic gold.
So, she's one of the best weightlifters of the late 2000s. Similarly, in 2008, she broke the world record for snatch with 140 Kg. Then, in the finals, she lifted 326 kilograms to win the coveted gold medal.
Likewise, Jang bagged a bronze medal in the 2012 Olympics. Along with this, she also won a silver medal during the 2004 Olympics.
She is now retired, living in South Korea, and is known for her raw strength and power.
Learn More About Top 15 Greatest Female Boxers of All Time
9. Cao Li
Two Time World Champion Cao Li was one of the most impressive weightlifters in the late 2000s. She participated in weightlifting from an early age.
At the age of 18, she broke from the national circuit into the international circuit. Similarly, at 20, she won the Junior World Championship. Initially, she participated in the 65 kg category but later shifted to 69 kg and moved to the 75 kg category.
Cao Li won most of her medals in the 75kg category but sadly went too soon at the age of 21.
The Chinese weightlifter also won two gold medals in East Asian Games and a gold in the Asian Games. She had also won a gold in the Olympics; however, in 2017, her gold in the 2008 Olympics was disqualified due to a doping violation.
8. Zhou Lulu
The inclusion of weightlifting in the Olympics inspired many women to take weightlifting as a career. Zhou Lulu watched the 2004 Olympics in her house. By seeing female weightlifters, she began to take an interest in weightlifting.
In the coming years, Lulu made a name for herself by winning several medals for her country. The Chinese heavyweight athlete Zhou Lulu has won gold in the Olympics and World Championship.
In 2012, she set the world record in her weight category, lifting 333 kg. This led to her first Olympic gold medal. Similarly, she won the 2011 World Championship in the 75+ weight category and later won silver in the 2013 World Championship.
7. Wang Mingjuan
Over the years, China has produced many great female weightlifters. Wang Mingjuan is one of the best weightlifters in China. Her career is decorated with gold medals.
Apart from 2 gold in the Asian Games, she also has gold in Olympics (2012) and four gold medals in World Weightlifting Championship.
Wang won her first gold medal during the 2002 World Championship. Likewise, she last won the gold medal in the 2012 Olympics. In a career spanning decades, she always managed to remain fit and win trophies.
She participates in the flyweight category, which is around 48 kg. Wang Mingjuan has also set several records in her career.
6. Chen Yanging
Chen Yanging set a record by winning two consecutive Olympic gold medals. She won gold in 2004 and 2008 in the lightweight category. Before, no female weightlifter had won two consecutive gold medals.
She was regarded as one of the best young weightlifters during her early years. Chen won two Junior World Championships. She clearly showed promise from the early days.
Unfortunately, in 2000 she was not selected for the Olympics. Due to this, her performance fell off the slope, and she did not win even the national championship.
A year later, she left weightlifting and began her normal life. Luckily, in 2004 her coach pursued her to resume training. She trained harder than before and went on to make history.
Currently, Chen is regarded as one of the best weightlifters of recent times. Her achievement encouraged many Chinese girls to be a weightlifter.
Learn More About Weightlifter Waldemar Baszanowski Bio and Net Worth
5. Kuo Hsing-Chun
The current Olympic champion in the 59 kg category is one of the best weightlifters of the present time. She has an illustrious career with five gold medals in Asian Games, four golds in the World Championship, and two Universiade Championships.
Her journey is even more inspiring as she belongs to the indigenous tribe of Taiwan. Hsing-Chun's family was very poor. Her grandmother looked after her as her mother was busy earning money to feed her.
Kuo was an athletic child in her school. During her school days, the olympian participated in many sports activities. Finally, in high school, she chose to focus on weightlifting.
She has set 11 world records in her career. Kuo is also the current reigning World Champion in the 59 kg weight category.
4. Hsu Shu-Ching
This Taiwanese athlete switched from basketball to weightlifting in her teenage. It turned about to be a masterstroke as she went on to win two Olympic golds and a World Championship and Asian Games.
Luck favored Hsu Schu-Ching as her coach had also won a Bronze medal in the World Championship. Due to this, her performance improved highly.
She also won two consecutive gold medals in 2012 and 2016. Hsu won the gold in 2012 when the winner, Zulfiya, failed the anti-doping test. She also made several records in her career.
Apart from that, she has also won gold in Asian Games as well as Asian Championship.
In 2018, she decided to retire from her career, citing injuries as the main reason.
3. Liu Chunhong
Most female weightlifters are from China. During the 2000s, many Chinese athletes went on to dominate the world stage of weightlifting.
Liu Chunhong is also a Chinese weightlifter who has won a gold medal in Olympics, World Championship, and Asian Games.
However, her 2008 Olympic medal was disqualified as she violated the doping rules. Due to this, she faced a lot of backlash from the people in China. However, her award in the 2004 Olympics is still valid. She broke many records during her senior career.
2. Prapawadee Jaroenrattanatarakoon
Prapawadee Jaroenrattanatarakoon or Prapawadee J. is another olympian on our list from Thailand. Apart from that, she has also won bronze in the World Championship and Silver medals in the Asian Games.
She broke into the international circuit when she won the bronze medal in the 2005 World Championship. Unfortunately, after that, she fell prone to an injury. Luckily, the damage was just a minor setback in her career as she managed to win an Olympic Gold after recovery.
She is one of the most prolific weightlifters from Thailand, with her personal best of 29 kg snatch (2005) and 126 kg of clean and jerk (2009)
1. Maude Charron
The best female weightlifter of all, which we saved for the last, is Maude Charron. Charron is the current world champion in the 64 kg weight category.
Charron is the second female weightlifter from Canada to win a gold medal. In the 2020 Tokyo Olympics, she also broke the record of the highest weight lifted by a Canadian in 64 kilograms category.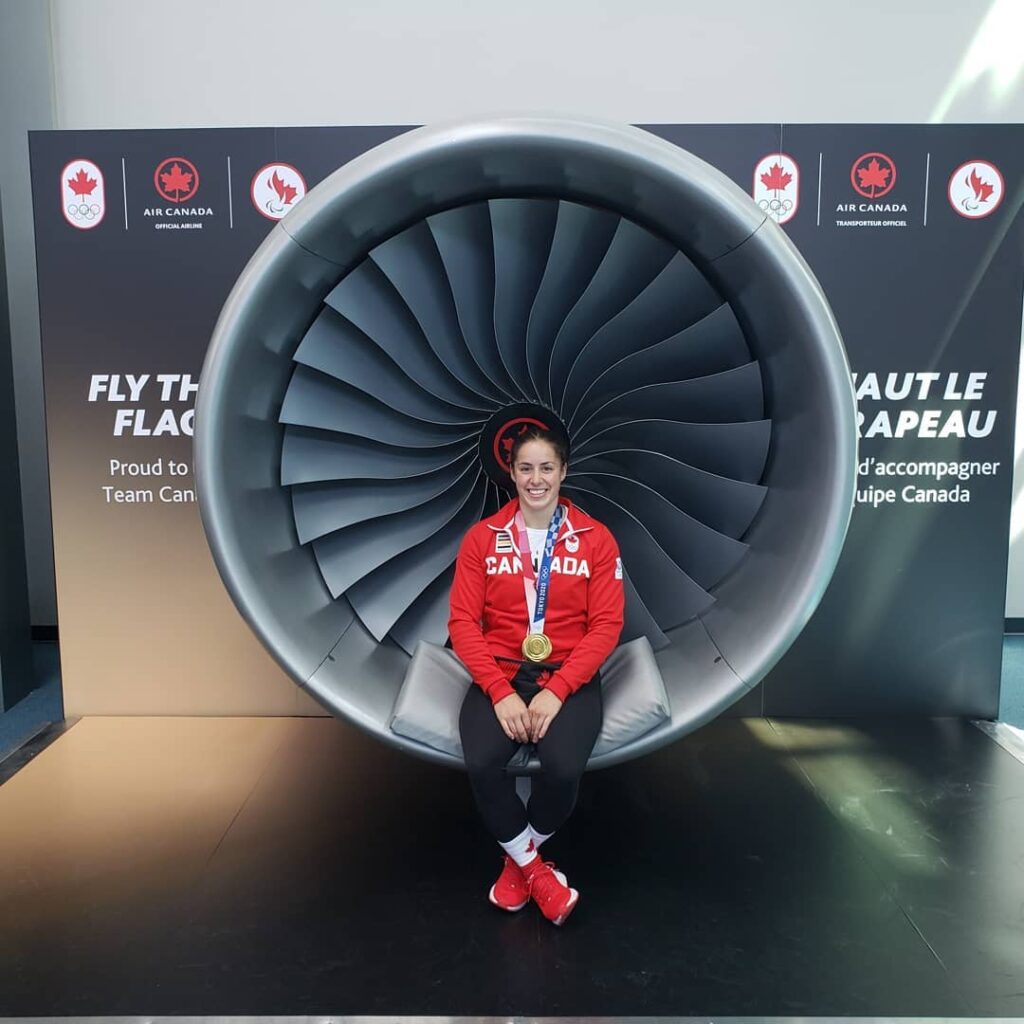 Maude has also won gold at Pan American Championship and Commonwealth games. Apart from that, she has also won a silver medal at World Championship.
She is regarded as one of the current best weightlifters. Her recent won at the Olympics and Pan American Championship have increased her fame and legacy.
Conclusion
The future of women's weightlifting is bright. All the young talents are getting better opportunities and a larger audience. In the coming days, these names will become household names, just like male weightlifters.