12 Players With the Best Hair In The NBA!! Basketball players have a fashion-forward style as much as they have competitive gameplay. One of the styling aspects for the players is their hair. Therefore, let's discuss the best hair in the NBA.
Of course, an excellent hairstyle for basketball players doesn't impact their gameplay. Look at some great players, such as LeBron James, Michael Jordan, and Kobe Bryant.
All of these players don't have hair, to begin with. However, they have dominated the game while people on social media have made fun of their hairline.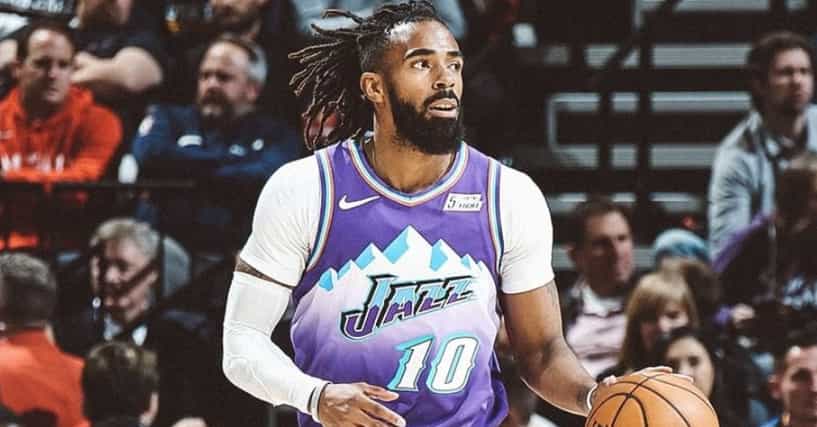 Especially LeBron, in recent has got all the heat relating to his bald spots. Nevertheless, there are players blessed with great hair genetics.
As a result, they look phenomenal with their stylish hairline, which includes JaVale McGee at the top with versatile haircuts.
Hence, let's know about the 12 players with the best hair in the NBA without further ado.
Before reading the detailed information about the top 12 players with the best hair in the NBA, let us quickly view the names in the list.
Quick View
| | | |
| --- | --- | --- |
| Players Name | Current Team | Position |
| 12. Robin Lopez | Cleveland Cavaliers | Center |
| 11. Elfrid Payton | Fort Wayne Mad Ants | Point Guard |
| 10. Markelle Fultz | Orlando Magic | Point Guard / Shooting Guard |
| 9. Mike Conley Jr. | Minnesota Timberwolves | Point Guard |
| 8. Derrick Rose | New York Knicks | Point Guard |
| 7. Robert Covington | Los Angeles Clippers | Small Forward / Power Forward |
| 6. Kelly Olynyk | Utah Jazz | Power Forward / Center |
| 5. Ricky Rubio | Cleveland Cavaliers | Point Guard |
| 4. Steven Adams | Memphis Grizzlies | Center |
| 3. DeAndre Jordan | Denver Nuggets | Center |
| 2. Ja Morant | Memphis Grizzlies | Point Guard |
| 1. JaVale McGee | Dallas Mavericks | Center |
12 Players With Best Hair In The NBA 2023
12. Robin Lopez
The Lopez family is blessed with the best genetics. Jennifer Lopez, the American singer, is one of the most beautiful females in the world.
Of course, the basketball player Robin Lopez and Jennifer are not related. However, they are blessed with heights, talent, and good hair.
Robin is the brother of the 2021 NBA champion Brook Lopez. Although Brook likes to keep things simple with his hair, as he has an army cut, his brother likes it funkier.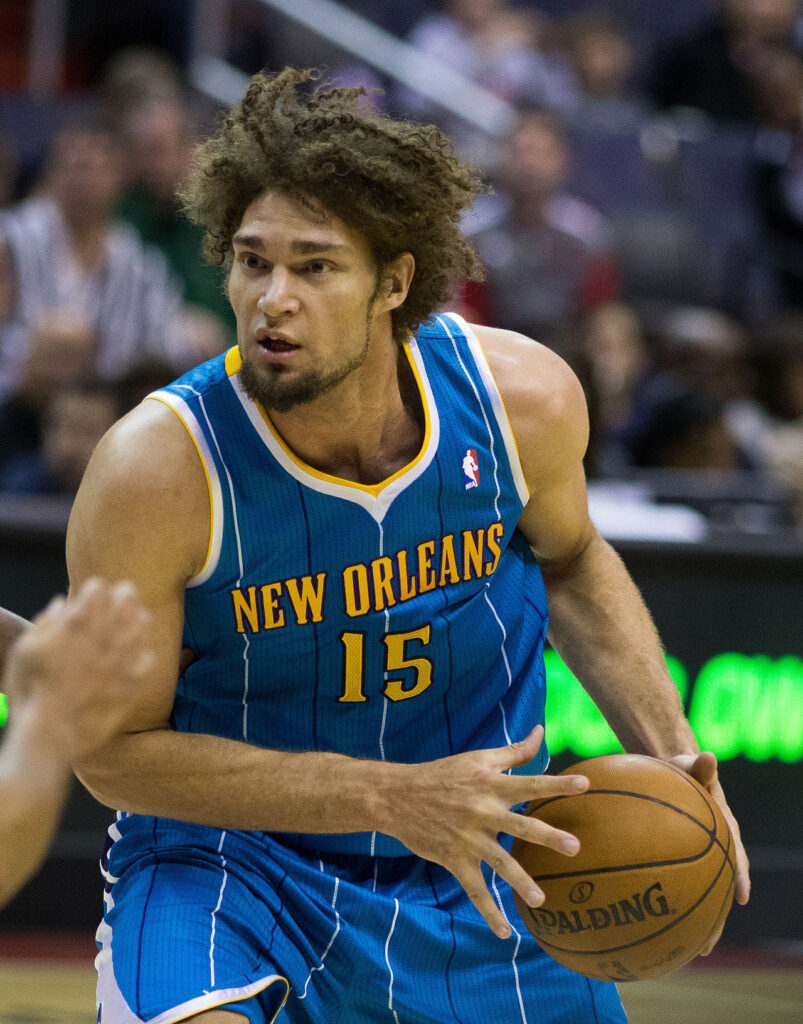 His hair is one of the curliest hairs in the league. Many would term his massive curly hair untidy as it fiddles around his head, but he loves it.
When the media asked about his hair preference, he said this is how he likes to roll. This answer is the most Robin Lopez way possible.
Moreover, Lopez doesn't care that he lets his massive hair flow free during games.
While many might disagree with having Robin on the list of the best hair in the NBA, he certainly does not care.
11. Elfrid Payton
Elfrid Payton had one of the most recognizable hairlines in the NBA. This statement was true until he decided to trim his signature hair in 2018.
Further, his hairstyle was the most joked-about hairline in the league. His flopsy part hanging over his eyes got in the opponent's way.
As a result, many players had difficulty guarding him or playing him one-on-one. As a result, many fans named it the "Elfrid Payton stopper" or "the best defender in the NBA."
Not only that, but the hair also got in his way. Hence, there is huge evidence that his hair might be the reason for his broken jumper.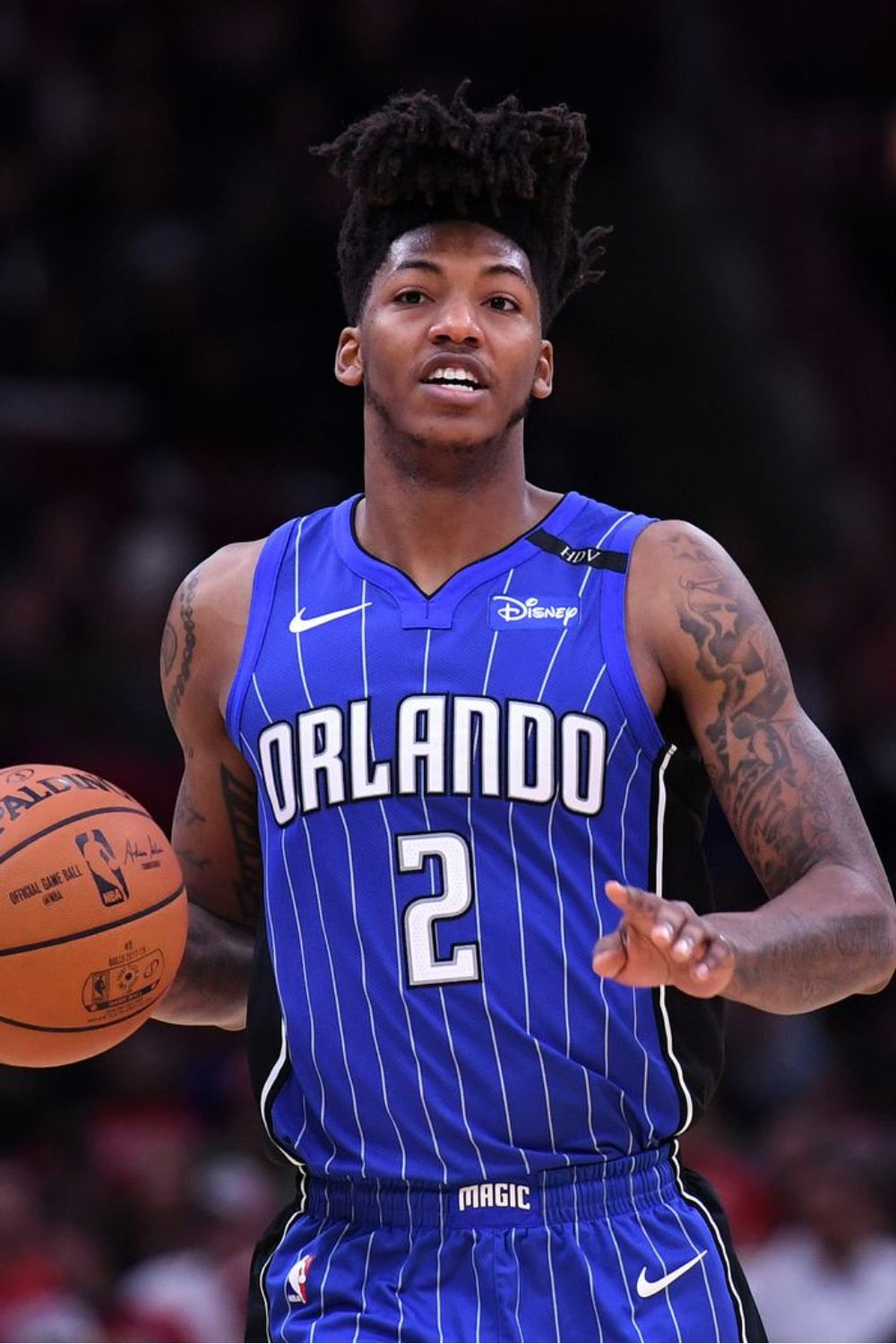 Even his former Magic teammates believe that his hair came in his way of performance. Therefore, even his teammates were excited when he decided to cut his hair.
Evan Fournier tweeted, "he finally did it" with a picture of his trimmed hair on Twitter.
His long hair was a patch with his high school team. All the team members promised not to cut their hair until they won state championships.
However, they failed to win the championships. As a result, Payton's teammates decided to cut their hair, except for Payton.
When his teammates forced him to cut his hair, he denied saying that he liked his long hair and was thinking of growing them more.
Payton now has a short half-buzz cut.
He recently joined Fort Wayne Mad Ants on February 8, 2023.
10. Markelle Fultz
Markell Fultz is a starting point guard for the Orlando Magic of the NBA.
Fultz was a first overall pick in the 2017 NBA Draft by the Philadelphia 76ers. However, his performance didn't live up to their expectations.
As a result, in just three years with the 76ers, they traded him to the Orland Magic. Even though he is behind in proving his worth to the NBA, he is still having a good season.
If not for his gameplay, he gets highlighted for his different hairstyle. Previously as a member of the 76ers, he had soft skin fade with short twists on top.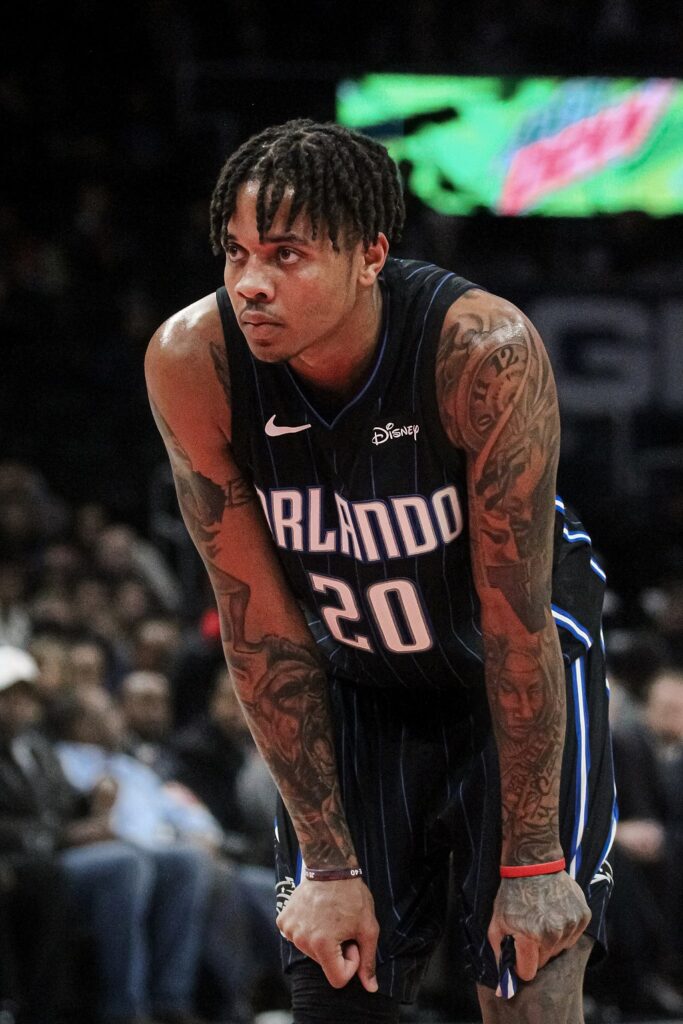 Further, after being traded to the Magic, the point guard has grown his hair. Hence, now he has long and thick hair that comes through his forehead.
This look has improved his appearance in the game. In addition, the long hair goes well with the tattoos he has all over his arm.
Overall the basketball player may not have proved his point on the court yet, but he has certainly made a point in the conversation about the best hair in the NBA.
9. Mike Conley Jr.
Mike Conley Jr. is one of those who have very superstitious beliefs regarding his hair. He usually prefers his hair twisted in a dreadlock.
However, Conley frequently switches from braids to dreadlocks throughout various games.
This action generated a huge debate online about whether he plays better in any style.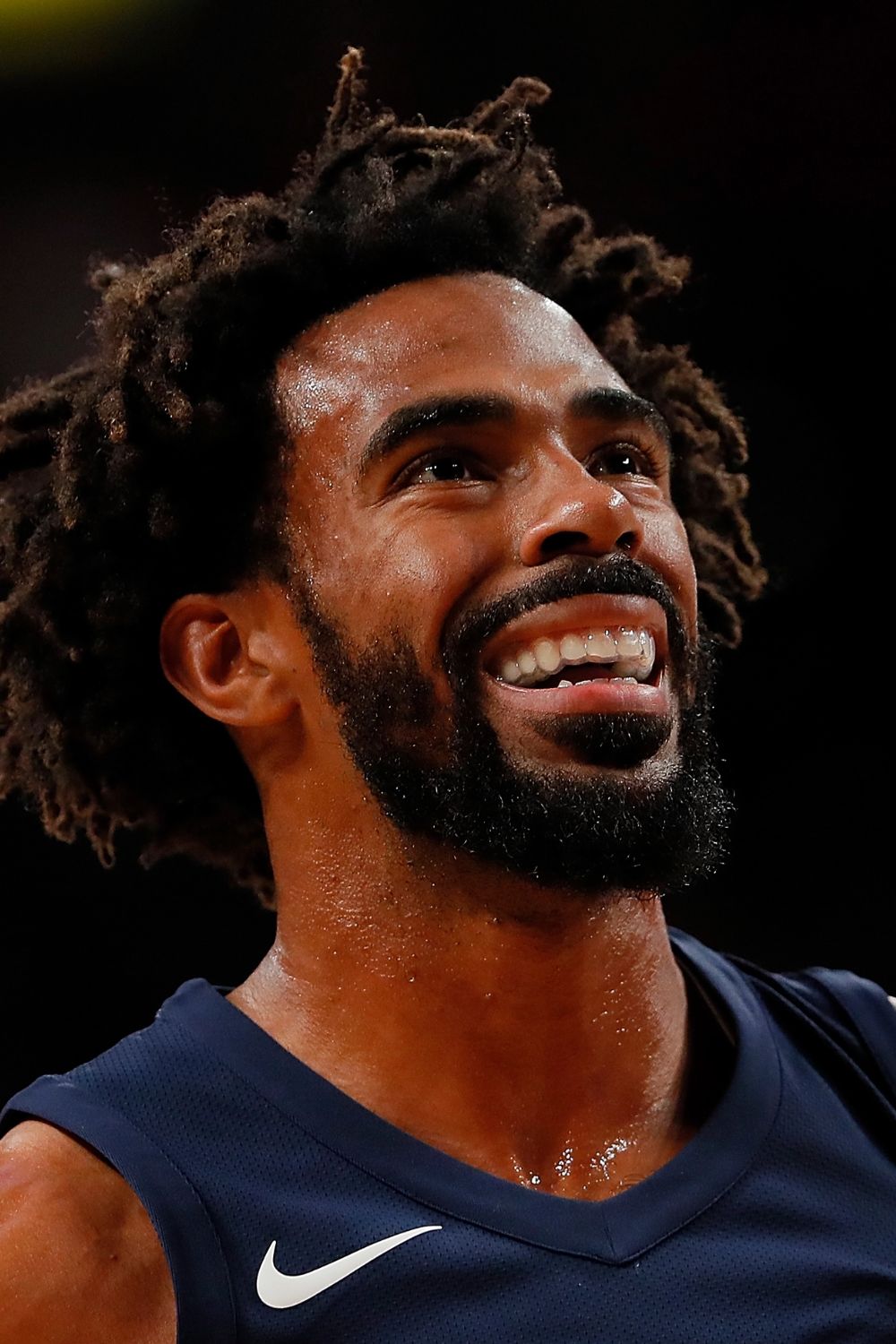 Hence, when a reporter asked him about his hairstyle change, he said he kept dreadlocks when his team won and opened them when they lost.
This doesn't affect much of his playing style. However, this is a method of constantly reminding himself that he doesn't want to lose two games in a row.
Quite shockingly, his team rarely ever lost two games in a row. Besides that, his hair looked great in both hairstyles.
Especially when the Jazz's point guard ties his hair with a rubber, he looks flawless. Therefore, he will always be a top candidate when discussing the best hair in the NBA.
However, in 2023 he has a short Afro haircut, as seen in his Instagram posts.
8. Derrick Rose
Derrick Rose is one of the most loved players in the league and one of the basketball players with the best hair in the NBA.
Basketball fans have a profound connection with Rose and his playing career. During his prime, he was the next big-time behind Jordan in the Bulls franchise.
However, injuries got the best of the point guard, and as a result, he had to go through multiple surgeries.
His recovery phase toned a lot of emotion, especially when he got traded from the Bulls. He didn't have the same explosiveness as he used to, with multiple injuries.
Nevertheless, his comeback story from a broken foot to still playing in the league inspired many fans. But it's not the only thing that fans across the league praise.
The fans love Rose's braided look, most notably during his Detroit Pistons tenure. As a Pistons player, he had a long dreadlock that he used to tie with a rubber.
Similarly, the former league MVP has changed his hair frequently and nailed it every time. Even right now, in his short afro look, he looks flawless.
7. Robert Covington
Robert Covington, an American professional basketball player for the Los Angeles Clippers, plays the position of small forward and power forward.
He might not look big down the post, but he knows how to move around that area. In addition, his explosiveness and game IQ are well-appreciated in the league.
To be a great basketball player, he also knows how to work around his style. He is frequently seen changing his hairstyle season after season.
Covington has tried all of Mohawk, braids, or fancy top-up dreadlocks. His looks are different, yet they look very charming.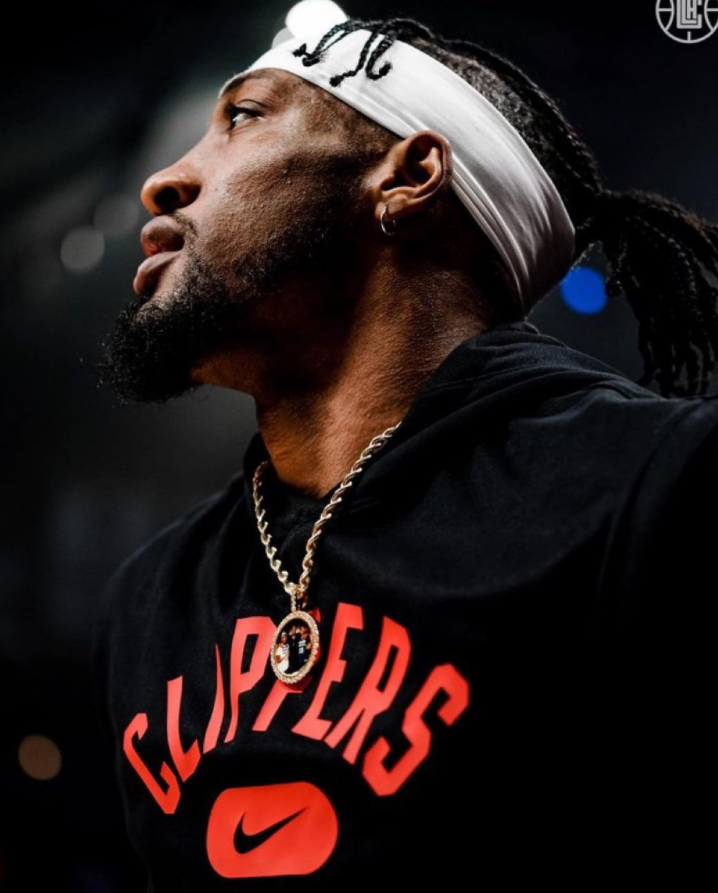 However, this was not always the scenario. In Robert's rookie season with the 76ers, he had the most awful-looking haircut.
He had grown top-up curly hair with a soft skin fade. The haircut made his head look much bigger than his body.
Nevertheless, that was in his past.
Covington now has thin braids that look even better with the NBA-advised headgear.
6. Kelly Olynyk
The Canadian professional basketball player Kelly Olynyk plays for the Utah Jazz of the NBA. He was a 13th overall pick of the Dallas Mavericks in the 2013 draft.
He has long hair that comes just beneath his shoulder. He has been growing his hair ever since his collegiate career.
The craze for long hair began when his two roommates made him watch soccer. Long hair with a headband was very famous in Europe during that time.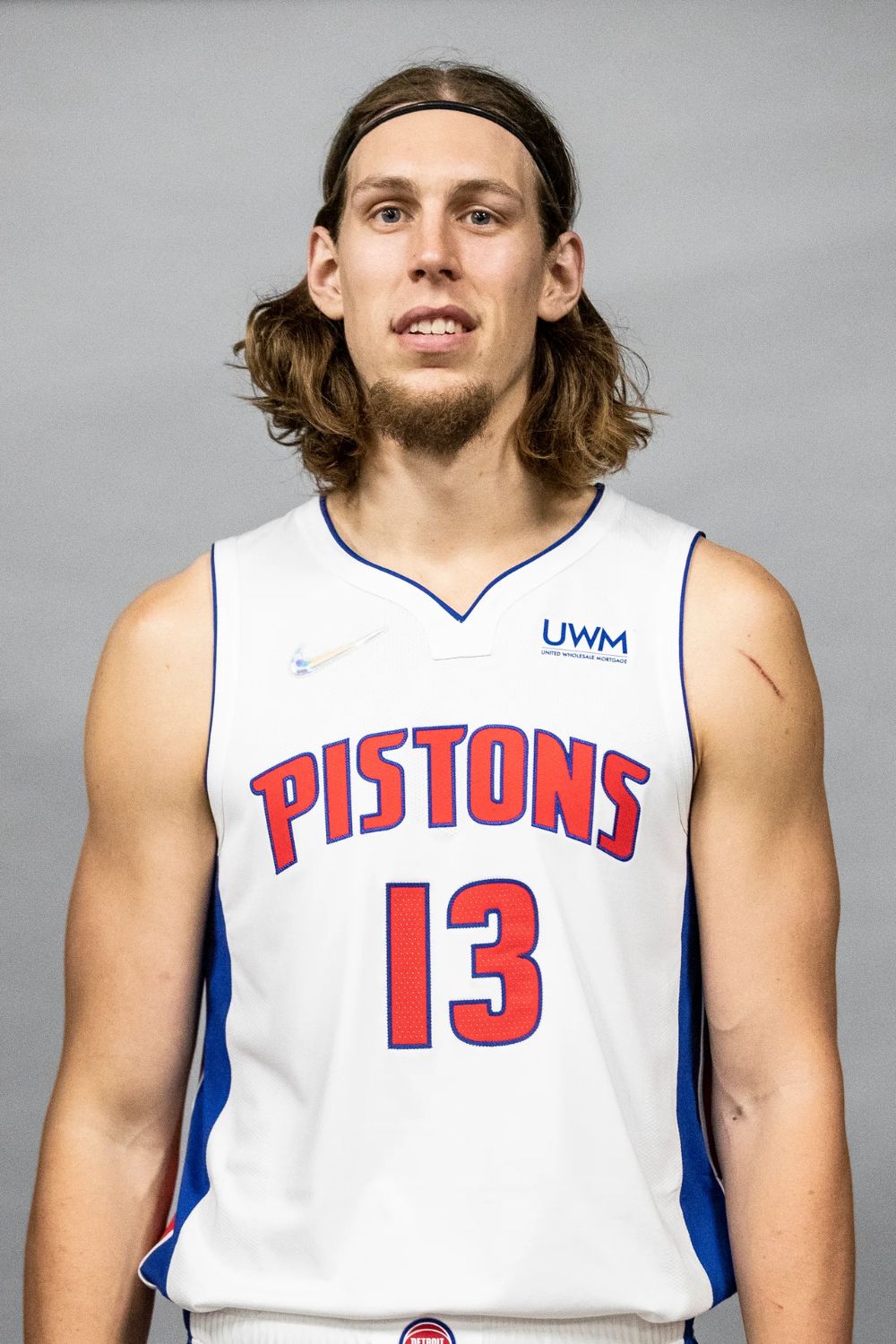 Therefore, the Piston's big man was inspired by Sergio Ramos' long hair to start growing his hair.
In particular, he loved how the European players wore headbands while having their hair behind their ears.
Hence, he started growing his hair and wearing headbands during games.
Also, an interesting fact about Kelly is that he decided to cut his hair in Canada instead of the U.S.
Olynyk says there is no specific reason for Canadian-only salon visits. It's just that he's more focused on his career during his time in the U.S.
Kelly, in 2023 is still maintaining his long hairstreak, which looks nourished.
5. Ricky Rubio
With his aggressive gameplay and charming looks, the Spanish point guard Ricky Rubio can knock people off. Most credit for his fascinating looks goes to his silky and shiny hair.
However, this was not the case from the beginning for the player. He was far from being called the "Boy Wonder" in his rookie year.
He had straight, dense hair with a bushy beard. Many people don't believe they are the same guy while comparing his pictures now and in his rookie year.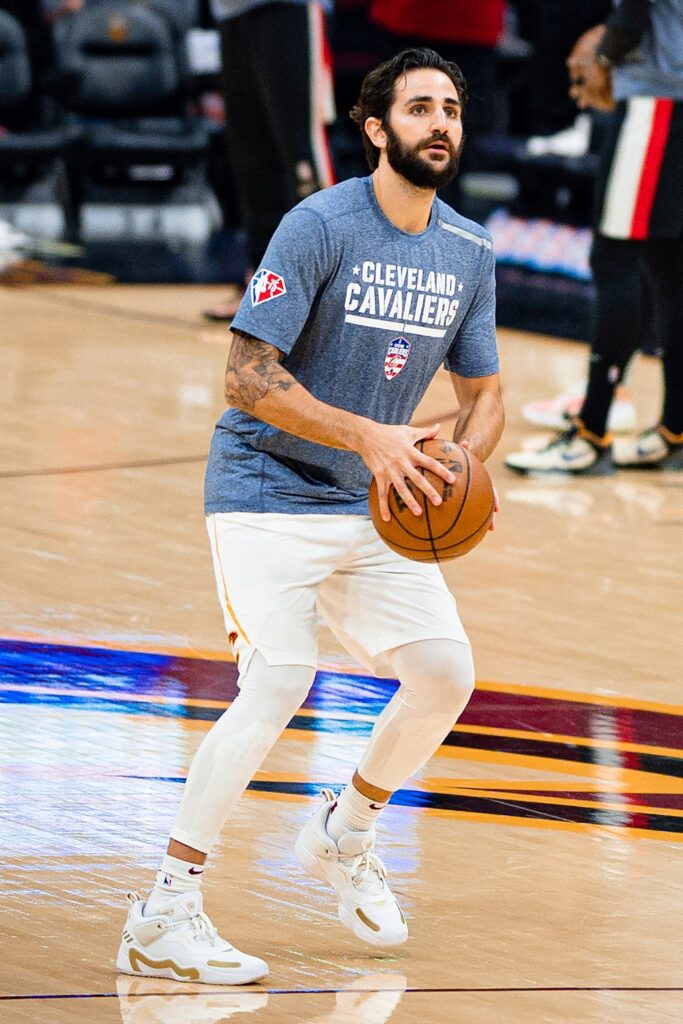 His style transformation has left many clueless and inspired. Further, Ricky himself feels more confident with his current transformation.
This whole transformation began with him letting his hair grow.
In addition, to a good vibe, he was also playing better basketball. Personally, Rubio rocks a man bun as it's more stylish.
During game time, he likes to put on gel since he doesn't like getting his hair in the way.
Either way, his Spanish genetics surely has helped him become one of the players with the best hair in the NBA.
4. Steven Adams
In particular, the NBA's Aquaman is not a huge fan of long hair. However, since his third season in the NBA, Adams had already started growing them.
Steven explained in an interview with New Zealand's Sky Sports that he was tired of paying $60 for haircuts. So, as a result, he let them grow as much as possible.
$60 every month is a hard hit to anyone's income. So being smart, the Grizzlies center decided to save money instead.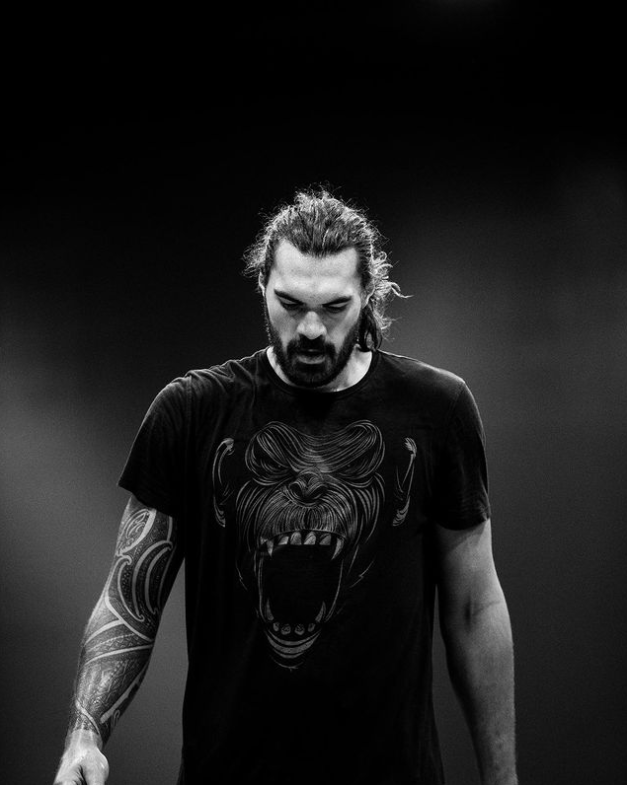 Besides that, the New Zealander loves his hair now. When asked whether he wants to cut his hair in the future, his answer was a straight no.
With the signature New Zealand cultured tattoo combination, he looks great. While playing, he prefers to tie his long curly hair into a man bun.
There was a time when he let his hair flow free during the game. This was back during his OKC rookie days.
Paired with his gorgeous beard, he is one of the most charming guys in the NBA. Overall, the big man's hair is one of the best in the NBA.
3. DeAndre Jordan
DJ has been blessed with some tremendous Afro-American genes for his hair. But, unfortunately, the backup center for the Philadelphia 76ers might be way past his prime in basketball.
His current look is most certainly in the style game. Initially, he had a top-up curl with twists on top.
With his French beard and twisted hair, he looked earnest. But, ironically, he is one of the nicest players in the NBA, as per the players and media.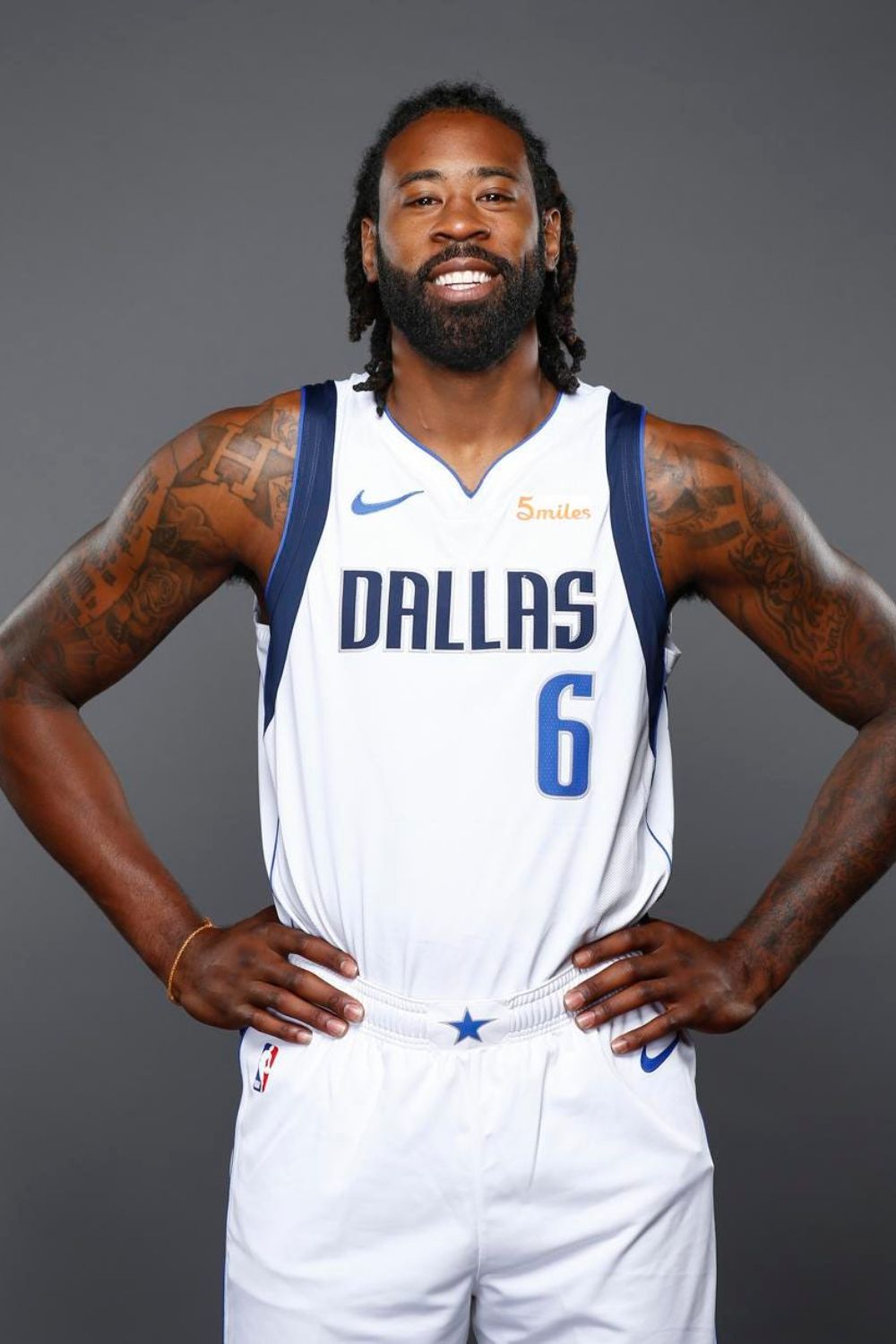 Hence, this is another reason for not jumping and judging a book by its cover, but coming back to the topic, he started growing his hair after his trade from LAC.
Jordan had already grown his hair to his shoulder during his final years as a Clipper center.
He needed the hair to grow a bit more for his favorite dreadlock. There was a huge hype around social media when DJ shared his first look in dreadlocks.
Initially, the dreadlock was curled, which gave him a more intense look. Later, the veteran center decided to go all the way in terms of his hair.
2. Ja Morant
Ja Morant is famous in the league for his explosive gameplay and hairstyle. After Morant came out with his free-form dreadlocks, many youths were seen copying his looks.
Pop stars such as Lil Wayne and Lil Durk wear such hairstyles. However, the All-Star starter usually likes to tie his hair during the game.
While most players would tie their hair backward, he prefers a ponytail. He also preferred tying it from behind, but a funny incident invited his new style.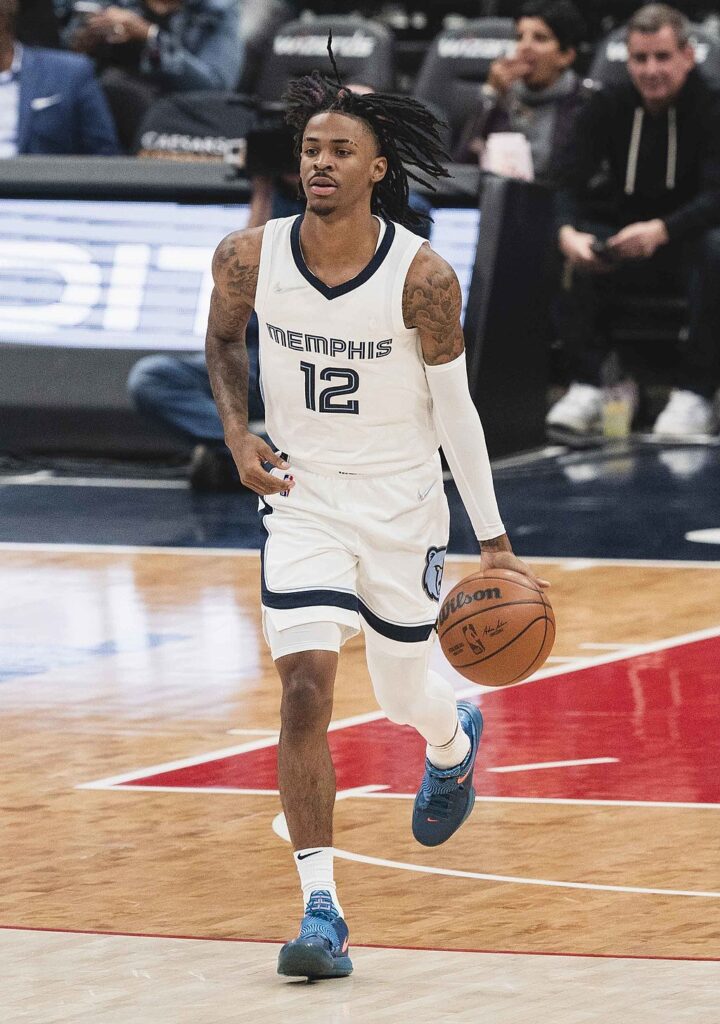 While playing against the Timberwolves, Ja lost two bobby pins in the middle of the game. As a result, he improvised and tied his hair in a ponytail for the second half.
With his newly invented hairstyle, he exploded for Grizzlies' victory. No one can tell what happened. Was it the hair that got the Wolves' defender's attention?
No matter what, he liked his new hairstyle. Therefore, he is frequently seen tying his hair in a ponytail during game time.
1. JaVale McGee
JaVale McGee has always been on top of his game regarding his hairdo. However, he never fails to surprise his fans with funky yet bizarre hairstyles.
He made plenty of headlines while playing for the Golden State Warriors due to his weird grooming style, as reported by CBSSports. First, he shaved his head completely while leaving a strain of hair in the bottom.
However, this is not where he stopped. For game time, he braided the small strains of hair in the bottom of his head.
The braids were in the shape of a triangle. Hence, multiple fans took it to social media, trolling and rooting for the big man's style.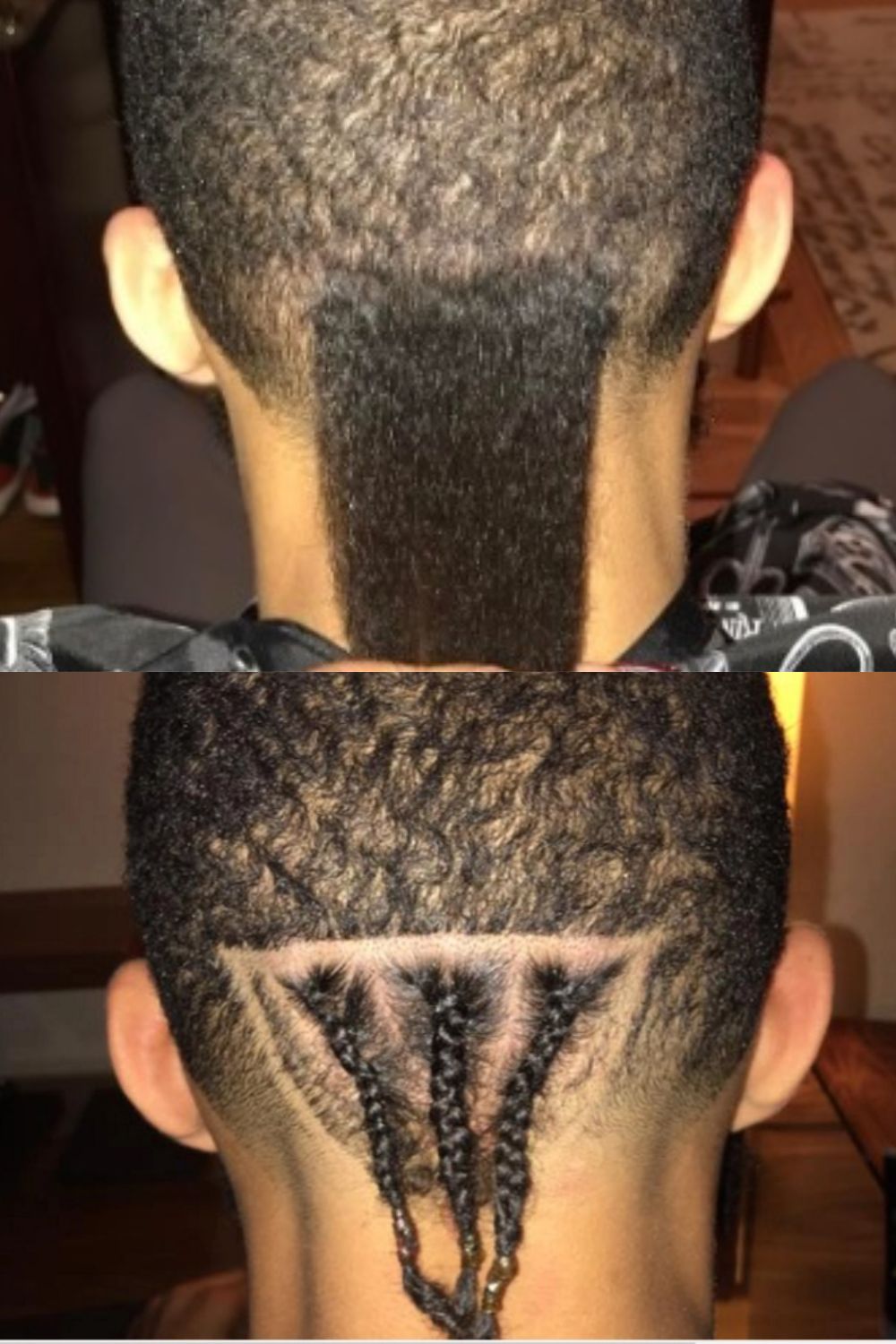 After joining the Lake Show, he grew his hair into a soft skin fade with short twists on top. Likewise, over the year, he grew the twists into braids.
Especially during the Laker's championship season, he vlogged himself having designs for his long braids. Due to Covid, the NBA created a bio-secure bubble inside the Walt Disney World.
Since the protocol didn't allow him to get outside, he had multiple hairdos inside the bubble.
Nineteen episodes range from the first day of the bubble to the last victorious day. Hence, he was seen showing his lifestyle inside the bubble.
In 2023, McGee is rocking his lowkey stylish military-style crew cut.
Overall, McGee will never be forgotten for having the best hair in the NBA.
Conclusion
A hairstyle might not make a huge difference for a player during game time. But it most certainly makes a difference in one's personal life.
Stuff like hairstyle, facial hair, height, and clothing makes a male attractive. Therefore, players in the NBA are always on top of their game in style and basketball.
Hence, let's appreciate these individuals for having one of the best hairs in the NBA.