Do you know about some of the best Muslim athletes of all time?
Islam is the world's second-largest religion with 1.9 billion followers. It makes up 24.9% of the world's population. Hence, some of the best athletes in the world come from Islam.
Many famous boxers, NBA players, and soccer players are Muslim. However, while some of these athletes are born Muslims, few converted to the faith later in their lives.
These athletes have made their name in the history of their respective sports. Despite this fact, even many fans are unknown of the religion they practice. There have been many NBA players who fasted during the NBA season during the Ramadan period.
Almost every player on this list openly practices their religion. However, few athletes are non-practicing Muslims due to circumstances.
So, without further ado, let's have a look at the best Muslim athletes of all time.
13 Best Muslim Athletes of All Time
The list has been prepared with the help of trusted sources around the internet like SportsBrowser, Sportzbusiness, etc.
Let us take a quick look at the table below before diving into the intricate details of the list.
| | |
| --- | --- |
| Player Name | Sport |
| 13. Rasheed Wallace | Basketball |
| 12. Marat Safin | Tennis |
| 11. Franck Ribery | Soccer |
| 10. Shahid Afridi | Cricket |
| 9. Naseem Hamed | Boxing |
| 8. Bernard Hopkins | Boxing |
| 7. Imran Khan | Cricket |
| 6. Hakeem Olajuwon | Basketball |
| 5. Shaquille Rashaun O'Neal | Basketball |
| 4. Zinedine Zidane | Soccer |
| 3. Kareem Abdul-Jabbar | Basketball |
| 2. Mike Tyson | Boxing |
| 1. Muhammad Ali | Boxing |
13. Rasheed Wallace
We will start our best Muslim athletes list with a former professional NBA player, Rasheed Abdul Wallace. He was born in Philadelphia, Pennsylvania, on September 17, 1974.
Wallace played 16 seasons in the NBA after Washington Bullets (now Washington Wizards) drafted him. He was the fourth pick in the 1995 NBA draft. Before being drafted, he played college basketball at the University of North Carolina.
During his time, Wallace was one of the few Muslim players in the NBA. After making a debut for the Bullets, he played for teams like Portland Trail Blazers, Atlanta Hawks, and Detroit Pistons.
Likewise, Rasheed also played for the Boston Celtics and the New York Knicks before retiring. After retiring, Wallace then transitioned into a coaching career.
Some of his career highlight wins of Wallace include NBA champion, four times NBA All-Star, and NBA All-Rookie Second Team.
After transitioning to a coaching career, Wallace worked as an assistant coach for the Detroit Pistons and as a head coach for Jordan High School.
As of 2021, Rasheed has signed to become an assistant coach at Memphis, led by head coach Peny Hardaway.
Click here to read about the 13 Famous Indian Athletes.
12. Marat Safin
Marat Safin is a former world No. 1 tennis player from Russia. He was born Marat Mubinovich Safin on January 27, 1980, and was a former politician.
In a 2008 interview with "USA Today," Safin identified himself as a Muslim. He stated that he is Russian but 100% Muslim. Aside from Russian, he is fluent in English and Spanish speaking. However, he does not speak his native tongue, Tatar.
From an early age, Safin was exposed to Tennis. His parents are former tennis players and coaches, while his sister Dinara Safina is also a former world No.1 professional tennis player.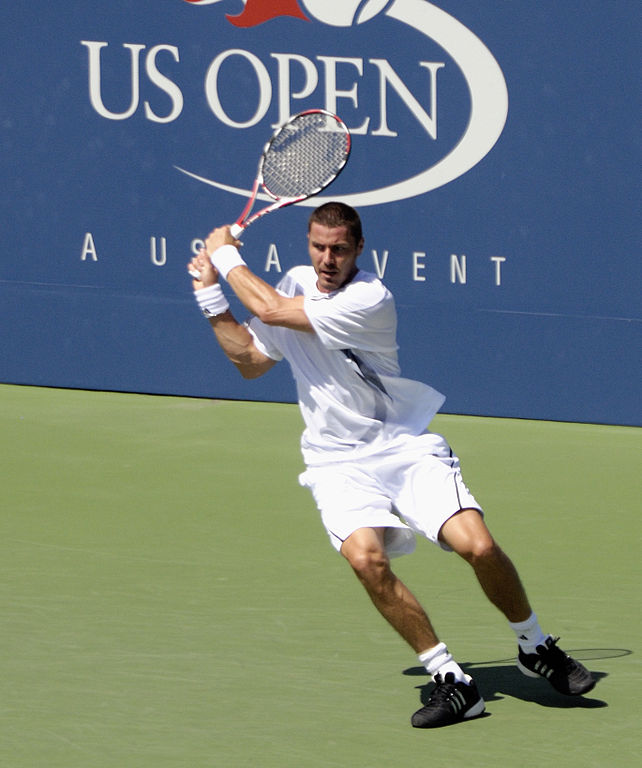 In the 2000 US Open, Safin won his first Grand Slam after defeating Pete Sampras in the final. Similarly, in 2005, he won the Australian Open after defeating Lleyton Hewitt in the final.
Likewise, he contributed to the victory of Russia in the Davis cup in 2002 and 2006. Safin was the first Russian male tennis player to reach the Wimbledon semifinals in 2008. However, he lost the game to Roger Federer.
Safin was ranked the world No. 61 at the time of his retirement in 2009. He is also the first Russian tennis player to be inducted into the International Tennis Hall of Fame in 2016.
11. Franck Ribéry
The next athlete on our list is a professional football player from France, Franck Ribéry. 39 year-old Ribéry is considered a fast and tricky player with excellent dribbling skills. He is also a captain for Serie A club Salernitana.
Bayern signed Ribéry for the then club-record fee of €25 million in 2007. Ribéry won nine Bundesliga titles, six DFB-Pokal, one UEFA Champions League, and one FIFA Club World Cup with Bayern.
Ribéry learned about Islam from his Muslim friend, Malik. His friend Malik introduced him to the Quran and the Prophet. Ribéry then converted to Islam upon marrying his wife at the height of his athletic career.
He announced his conversion and changed his name to Bilal. The major European clubs provided Ribéry with halal meals and unique rooms for prayer, seeing his eagerness for his religion.
Ribéry has represented France's national football team 81 times on international platforms. He is a three-time winner of the French Player of the Year and the German award of Footballer of the Year.
10. Shahid Afridi
Shahid Afridi is a professional cricketer from Pakistan. He is one of the most popular and destructive cricketers and ranked fifth as the most wicket-taker in ODI. He is currently the captain of Galle Gladiators in the Lanka Premier League.
Afridi started his cricket journey at a young age. Before being drafted to the Pakistan senior national team in 1994-95, he played for the under-19 championship circuit. After being drafted, Shahid made his first ODI debut in 1996.
There are several records Afridi has made in his career. For example, he is a world record holder for the fastest ODI century in 37deliveries. Similarly, he also holds the record for having the most sixes in the history of ODI cricket.
In the 2009 T20 World Cup Final, Shahid was named the player of the match. He led the Pakistan cricket team as a captain from 2009 to 2011. Afridi was captain of the national team for all game formats in 2010.
After the 2015 Cricket World Cup, Afridi announced his retirement from ODI cricket. However, he is still active in other formats of the game. He is also one of the most charitable athletes.
Along with having a charity foundation under his name, Afridi also teamed up with UNICEF to promote an anti-polio campaign in his country. He was nominated among the top 20 most charitable athletes of 2015.
9. Naseem Hamed
Next on our list is a former professional boxer, Nassem Hamed. Born in Sheffield, South Yorkshire, Hamed started boxing professionally at flyweight in 1992. He is ranked the best British featherweight of all time by BoxRec.
Hamed won the European bantamweight title at the age of 20. He then won the WBC International super bantamweight title in 1994. He held multiple featherweight world championships during his career from 1992 to 2002.
Fans of Hamid called him Prince Naseem and Naz. Dan Rafael of ESPN once even wrote him to be one of the biggest stars in the sport who would sell out arenas before his opponent was even named.
Aside from his unconventional boxing skills, Hamed is also known for his spectacular ring entrances. Hamed would make his entrance on sometimes a flying carpet, a lift, or a palanquin. He even re-enacted the video of Michael Jackson's thriller and wore a Halloween mask.
Hamed's ring antics did not end there; he was known for his front somersault over-the-top rope into the ring. Similarly, his hard-hitting southpaw boxing style and formidable one-punch knockout power were also iconic.
Being a proud Muslim, Hamed frequently recited the Takbir aloud before his fights.
In 2015, Hamed became the International Boxing Hall of Famer. In addition, he is ranked as the 19th greatest European pound-for-pound boxer of all time by BoxRec as of 2020.
Click here to read about Dominic Gutiérrez Bio: Net Worth, Wife, Dad & WWE.
8. Bernard Hopkins
Bernard Hopkins was born Bernard Humphrey Hopkins Jr. He is a former professional boxer and is one of the most successful boxers of the past three decades.
Hopkins had a rough childhood. By the age of 13, Hopkins had turned into a life of crime. He was sentenced to 18 years in Graterford Prison for nine felonies when he was 17.
In 1988, Hopkins was released from prison after serving almost five years. While in prison, he discovered his passion for boxing, so he decided to use boxing to escape his life of crime. It was at the same time, Hopkins converted to Islam.
Immediately after being released from prison, he joined professional boxing. Hopkins made his debut in 1988 but lost the game to Clinton Mitchell. His first world championship came in 1995 when he won the IBF middleweight title.
Hopkins is nicknamed "The Executioner" and later "The Alien" for his great defense and mastery of boxing fundamentals. He held multiple world championships in two weight classes during his professional career.
Hopkins is one of the greatest boxers of the modern era. His professional career span started in 1988 and ended in 2016.
7. Imran Khan
Next, we have the Prime minister and former cricket player of Pakistan on our list. He is 70 year-old Imran Khan. Born Imran Ahmed Khan Niazi, he was an international cricketer and the Pakistan national cricket team captain.
Khan's ancestry belongs to the Pashtun ethnicity and the Niazi tribe. Therefore, he is a born Muslim. In the 1971 Test series against England, he started his international cricket journey but made his first-class cricket debut at 16.
During his professional cricket career, Khan served as a national cricket team captain between 1982 and 1992. Under his captaincy, the Pakistan national team won the 1992 Cricket World Cup, Pakistan's first and only victory in the competition.
Khan is one of cricket's greatest ever all-rounders and had a record of 3,807 runs and took 362 wickets in Test cricket before retiring. This influential public figure retired from international cricket after the 1987 Cricket World Cup.
After retiring from the cricket world, Khan then entered the political platform. During his cricket career, Khan was offered political positions a few times. However, he is generally described as a nationalist and a populist.
Khan founded a political party in 1996 and then ran for the seat of National Assembly Pakistan in the 1997 Pakistani general election.
In 2010, Imran Khan became the International Cricket Council's Hall of Famer.
6. Hakeem Olajuwon
Hakeem Olajuwon is a former Nigerian-American professional basketball player. Nicknamed "the dream," 60 year-old Olajuwon is widely considered to be one of the greatest centers and greatest basketball players of all time.
Olajuwon started playing cricket at the age of 15 after entering a local tournament while at the Muslim Teachers College in Lagos, Nigeria. He immediately picked up the game and emigrated from Nigeria to play basketball at the University of Houston.
Houston Rockets drafted Olajuwon as the first overall selection of the 1984 NBA draft. He was an undisciplined player who got into minor fights during his initial years.
However, Olajuwon started getting spiritual and became a more devout Muslim later. As a result, he is one of the elite Muslim players of the league who had a strict observance of Ramadan. He played better during Ramadan.
After debuting with Houston, Olajuwon also played for the Toronto Raptors. His career highlight awards include two-time NBA champion, two-time NBA Finals MVP, and NBA Most Valuable Player.
Similarly, his awards also include twelve times NBA All-Star, six times All-NBA First Team, three times All-NBA Third Team, etc. In 1996, Olajuwon became a member of the United States team that won the Olympic gold medal.
Olajuwon is among one of the 50 Greatest Players in NBA History. In addition, he became the Naismith Memorial Hall of Famer in 2008.
5. Shaquille O'Neal
Many may not know, but one of the greatest basketball players, Shaquille O'Neal, is also of Islam faith. More famously known as Shaq, he was born Shaquille Rashaun O'Neal on March 6, 1972, in Newark, New Jersey.
O'Neal's first and middle names- Shaquille and Rashaun translate to "little one" and "warrior" in Arabic. He has stated his intention to participate in the sacred Muslim right of passage known as Hajj. Muslims travel to the holy city of Mecca for this sacred right.
From high school, Shaq started playing basketball. The Orlando Magic drafted him as the first overall pick in the 1992 NBA draft. Given his 7ft 1 inch height, O'Neal's height gave him some advantage in the game.
In 1992-93, Shaq won the Rookie of the year award. He quickly proved himself to be one of the best centers in the league. During the 1995 NBA game, he led his team to the finals.
After starting his NBA career with Orlando, Shaq played for other NBA teams like Los Angeles Lakers, Miami Heat, and Phoenix Suns. Similarly, he also played for the Cleveland Cavaliers and Boston Celtics.
Some of the notable career highlights O'Neal's include four-time NBA champion, three-time NBA finals MVP, and NBA Most Valuable Player. Likewise, he was also NBA All-Star, eight times All-NBA First Team, three times NBA All-Star Game MVP, etc.
O'Neal retired from his professional playing career in 2011. He became the Naismith Memorial Basketball Hall of Famer in 2016 and was elected to the FIBA Hall of Fame in 2017.
4. Zinedine Zidane
50 year-old Zinedine Zidane is a former French professional football player. Zinedine is one of the greatest players of all time and one of the world's most successful coaches.
Zidane is a Muslim of Algerian Kabyle descent. He describes himself as a "non-practicing Muslim." But this does not stop him from praying before his game.
Zidane is an introverted icon and does not open up more about his religious beliefs. It may also result from racial politics that insulted his racial origins in the past. He also received death threats before the match against Algeria in 2004.
In an interview with Esquire magazine, Zidane stated, "I have an affinity with the Arabic world. I have it in my blood, via my parents. I'm very proud of being French, but also very proud of having these roots and this diversity."
After retiring from his professional playing career, Zidane transitioned into a coaching career. He was appointed as a special adviser to Real Madrid's first team in 2010 and was with the Real Madrid club but resigned in 2021.
Zidane was named one of the greatest living players by the FIFA 100 in 2004. He is one of the eight players who have won the World Cup, the Champions League, and the Ballon dÓr.
3. Kareem Abdul-Jabbar
Our number 3 of the famous Muslim athletes is the former professional basketball player, Kareem Abdul-Jabbar. He was born Ferdinand Lewis Alcindor Jr. in New York.
In the summer of 1968, Alcindor converted to Islam while at UCLA. He took the Arabic name Kareem Abdul-Jabbar which translates to "noble one, servant of Almighty." He studied the Quran, and from then, his beliefs were clarified, and his faith was renewed.
Kareem played basketball in his high school and college career, and after college, the Milwaukee Bucks drafted him as the first pick in the 1969 NBA draft. Jabbar won the NBA Rookie of the Year and NBA All-Rookie First Team in 1970.
In his professional career, he also played for the Los Angeles Lakers. His notable career highlight awards include six times NBA champion, two-time NBA Finals MVP, six times NBA Most Valuable Player, etc.
After retiring from his playing career, Kareem transitioned to a coaching career. He worked as an assistant coach for Alchesay HS, Los Angeles Clippers, and Los Angeles Lakers. Likewise, he was the head coach for the Oklahoma Strom.
Even after his retirement, he remains the all-time leader in the points scored, field goals made, and career wins. In 1995, he became the Naismith Memorial Basketball Hall of Famer.
2. Mike Tyson
Mike Tyson is considered one of the greatest heavyweight boxers in boxing history. Born as "Michael Gerard Tyson," he was nicknamed "Iron Mike" or "Kid Dynamite" and later "The Baddest Man on the Planet."
Tyson had a rough childhood. He spent his childhood in neighborhoods with a high crime rate. He was arrested 38 times by the time he was 13, for which he was sent to the Tryon School for Boys.
At a juvenile detention center, Bobby Stewart discovered Tyson's boxing ability. Tyson proved Stewart accurate, and in the 1981 and 1982 Junior Olympic Games, he won two gold medals.
Although he was born a Christian, he converted to Islam later like his idol, Muhammad Ali. It has been speculated that he converted to Muslim while in prison.
It has been reported that his Muslim name is Malik Abdul Aziz though some reports suggest a different name, Malik Shabazz.
Tyson is well-known for his ferocious and intimidating boxing style. Although his public image has been marred with controversies, he has been regarded as the most ferocious fighter to step into a professional ring by Sky Sports.
Likewise, Tyson was the first heavyweight boxer to win the WBA, WBC, and IBF titles. Moreover, he is the only heavyweight boxer to unify these titles in succession.
ESPN ranked Tyson as number 1 on the list of "The Hardest Hitters in Heavyweight History." In addition, Mike is the International Boxing Hall of Famer and the World Boxing Hall of Famer.
Click here to read about Juliana Lima's Bio: All About the MMA Artist!
1. Muhammad Ali
We have come to the end of our list of famous Muslim athletes. On number 1, we have non-other than the legend of boxing, Muhammad Ali. He is one of the most significant and celebrated sports figures of the 20th century.
Ali was born Cassius Marcellus Clay Jr. in Louisville, Kentucky. The athlete made his amateur boxing debut in 1954 and 1960. His professional debut game was against Tunney Hunsaker.
An article with a cartoon message that Christianity was forced on slaves by the white establishment caught Ali's eyes. During that period, racism was all over America. And the cartoon made him realize that he hadn't chosen Christianity.
In 1961, Clay converted his religion to Islam. His conversion to Islam defined his career and legacy in many ways. After winning the heavyweight championship, he announced his conversion and made a personal declaration of independence.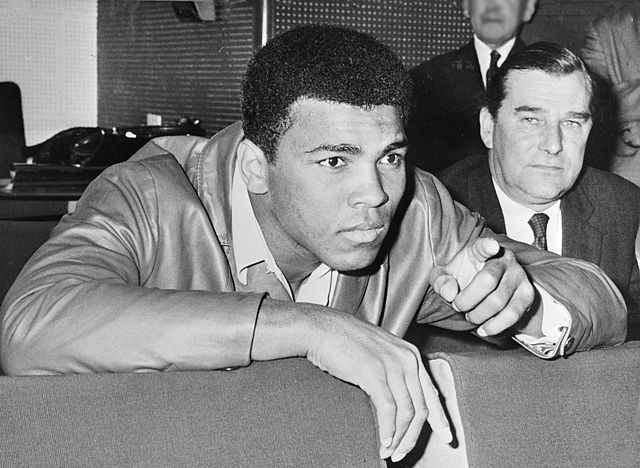 After the years followed, Ali continued exploring Islam. He was an icon for American Muslims.
Ali fought in several historic matches. However, the most significant event was the Fight of the century against George Foreman in The Rumble in the Jungle. Aside from boxing, Ali also was an accomplished spoken word artist, and he won two Grammy nominations for this.
Ali was also an actor and a writer. He released two autobiographies. After retiring from boxing, Ali became a philanthropist and an activist.
Sadly, this legendary and iconic figure of the 20th century died at the age of 74 on June 3, 2016.
Conclusion
These are some of the most famous Muslim athletes of all time. While most of them were born Muslim, some converted to one later in life.
Nevertheless, these athletes are proud of their ancestry and their religion. Do you happen to know any other famous athletes who are Muslims? Let us know!