You know you are a sports fan when you not only like to watch it but equally enjoy the commentary. Can you imagine any sports without the hosts cracking jokes and bringing up the excitement in the crowd? No, right!
We cannot argue that these hosts are talented to the core, so remembering some of the best sports hosts of all time, we will discuss the top 12 hosts we think are best at what they do.
So, if you want to know who are the 12 best sports hosts of all time, you have made it to the right place.
12 Best Sports Host of all Time
Here is the list of the 12 Best Sports Host of all time. Read the article to the bottom to explore more about these presenters.
| | | |
| --- | --- | --- |
| Ranking | Hosts | Primary Networks |
| 1 | Howard Cosell | ABC |
| 2. | Jim McKay | ABC |
| 3. | Bob Costas | NBC, HBO, MLB Network |
| 4. | AI Michaels | NBC, CBS, ABC |
| 5. | Jim Nantz | CBS |
| 6. | Keith Jackson | ABC |
| 7. | Vin Scully | CBS, NBC |
| 8. | Brain Moore | ITV, Sky Sports |
| 9. | Foster Hewitt | CBC Television |
| 10. | Pat Summerall | CBS, Fox Sports |
| 11. | Curt Gowdy | ABC, NBC |
| 12. | Jack Buck | ABC, CBS |
12. Jack Buck
Date of birth:

August 21

, 1924

Date of Death:

June 18

, 2002

Career:

1954-1996

Sports:

MLB, NFL
Remembering the early 50s, when Jack Buck got his big break announcing St. Louis Cardinals games on the radio in a booth, Buck is on number 12 of our best sports hosts of all time. He got his first break with Harry Caray and Joe Garagiola, which was incredible.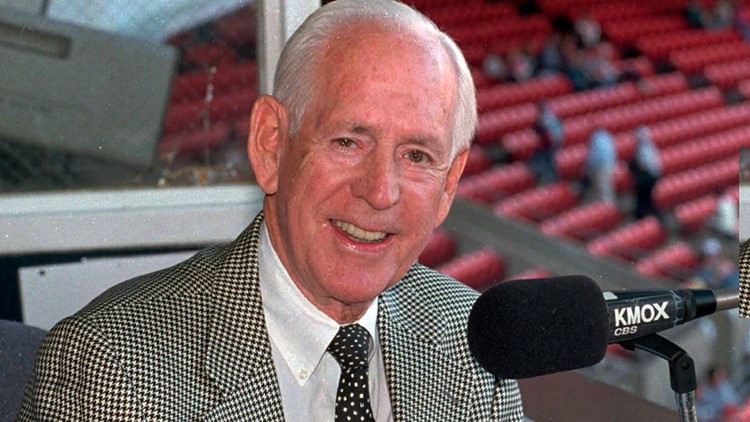 Buck was removed, then rehired by the Cardinals after Caray was fired in 1969, and achieved his first measure of popularity as a club reporter.
He was a superb NFL analyst for decades while being heavily linked with MLB and the Cardinals. Few have ever done a better job with the play-by-play.
Buck died in 2002, at the age of 77.
11. Curt Gowdy
Date of birth:

July 31, 1919

Date of Death:

February 20, 2006

Career:

1949-1988

Sports:

MLB, NFL/AFL, NBA, Olympics, College Basketball
Curt Gowdy is most recognized for covering baseball. For 15 years, Gowdy was the voice of the Boston Red Sox, but that undersells how good he was at covering other sports.
Gowdy came up with the term "The Granddaddy of Them All" for the Rose Bowl, which he got from his hometown of Cheyenne, Wyoming.
Ted Williams' final at-bat home run in Super Bowl I, the Jets' historic upset in Super Bowl III, the notorious "Heidi" game, and, most notably, Hank Aaron's record-setting 715th home run in 1974 – Gowdy was on the call for some of the most memorable events in sports history.
Want to know who ranked top in the largest NFL contracts? Then check this out: Ranking The Largest NFL Contracts for This Year.
10. Pat Summerall
Date of birth:

May 10, 1930

Date of Death:

April 16, 2013

Career:

1962-2002

Sports:

NFL, Golf, Tennis
Pat Summerall was a standout kicker at the University of Arkansas before spending a decade in the NFL with the Detroit Lions, where he won an NFL championship in 1952.
After his retirement, he moved straight into the broadcast booth and fashioned out such a spectacular career that future generations would have to be reminded that he had played the game.
Summerall's performance in the booth was spectacular. He was the network television announcer for 16 Super Bowls, more than anybody else in history.
It wasn't even simply football. He was as brilliant at golf and tennis, having called the Masters 26 times and the US Open 21 times, respectively.
9. Foster Hewitt
Date of birth:

Nov. 21, 1902

Date of Death:

April 21, 1985

Career:

1921-1968

Sports:

NHL
In the world of radio, Foster Hewitt was a beast; hence he falls to number 9 on our list of 12 best sports hosts of all time. He began working as a radio announcer in the 1920s, and it is believed that he and his father aired the first horse race ever broadcast in 1925.
Hewitt provided something that was severely needed at the time, "vision". When Toronto Maple Leaf's owner Conn Smythe built Maple Leaf Gardens in 1931, it included a then-unheard-of broadcast booth dubbed a "broadcast gondola" designed particularly for him.
Throughout 40 years, Hewitt was the voice of Canadian hockey, hosting Hockey Night in Canada for most of the 1950s and early 1960s.
8. Brain Moore
Date of birth:

Feb. 28, 1932

Date of Death:

Sept. 1, 2001

Career:

1961-1998

Sports:

Soccer
Brian Moore, before switching to BBC radio broadcast he began his career in newspapers in 1961, where he rose to prominence as part of the broadcast team for England's 1966 World Cup win.
Moore went from radio to television when London Weekend Television became ITV, where he stayed for the following three decades. Moore covered nine World Cups and more than 20 FA Cup Finals throughout his career.
After France won the world cup final in 1998, he retired and died of severe heart failure at the age of 69 in 2001.
7. Vin Scully
Date of birth:

Nov. 29, 1927, (Age: 95 Years Old)

Career:

1950-2016

Sports:

MLB, NFL, Golf
Vin Scully is, without a doubt, the finest pure baseball broadcaster of all time.
Scully grew up in the shadow of the Polo Grounds in New York and was so fascinated with the game for the first time after seeing his first true sports heartache when the New York Giants were defeated in the world series of 1963.
In 1950, Scully began broadcasting for the Brooklyn Dodgers, and he became the youngest person ever to perform play-by-play in the World Series, at the age of 23, a record that he still holds.
Read out the Top NFL linebackers of this year!
He traveled west with the club to Los Angeles in 1958, and his golden voice and poetic narrative captivated Dodgers fans for decades.
Scully remained in that role until 2016, when he announced his retirement after 67 seasons on the show.
6. Keith Jackson
Date of birth:

Oct. 18, 1928

Date of Death:

Jan. 12, 2018

Career:

1952-2006

Sports:

College Football, MLB, NBA, boxing, golf, USFL, Olympics
Moving forward at number 6 on our list of 12 best sports hosts of all time, we have the legendary Keith Jackson. There is only one voice that stands out amongst all in history, and that is the voice of Jackson.
Seattle Times columnist Steve Kelly once wrote about Jackson, saying, "Keith Jackson never was shrill. He didn't yell at every third-down conversion. He didn't make an 8-yard gain sound like the play of the century. When Jackson raised his voice, you knew the play was important."
5. Jim Nantz
Date of birth:

May 17, 1959, (Age: 64 Years Old)

Career:

1982-present

Sports:

NFL, college basketball, NBA, Golf
Few commentators have been as identified with a single event as Jim Nantz has with the Masters, where it's difficult to envision anything other than his voice describing the action, which he's done since 1989.
Find out the top 12 most-paid sports in the world.
But Nantz isn't only about the Masters. He has become just as well-known as the primary CBS NFL football game's play-by-play announcer in the last decade.
He has famous because of his intriguing connection with Tony Romo, the former Dallas Cowboys quarterback and color analyst.
4. AI Michaels
Date of birth:

Nov. 12, 1944, (Age: 78 Years Old)

Career:

1971-present

Sports:

NFL, Olympics, MLB, NBA, NHL, Horse Racing, Boxing
Al Michaels holds at least two of the top five most iconic moments in sports broadcaster history, and if we're honest, he owns the #1 place.
Does anyone care to tell us what's more memorable than his "Do you believe in miracles?!?" when the United States defeated the Soviet Union at the 1980 Winter Olympics in Lake Placid, New York.
Michaels' career has too many memorable events to name here, but aside from the "Miracle on Ice" game, he was the one who guided viewers through the catastrophic earthquake in San Francisco.
3. Bob Costas
Date of birth:

March 22, 1952, (Age: 71 Years Old)

Career:

1973-present

Sports:

Everything
Bob Costas was just the age of 22 when he got his first break as a radio commentator for the American Basketball Association's St. Louis Spirits.
Then, in 1980, NBC kingmaker Don Ohlmeyer recruited him, reportedly remarking that Costas, then 28, "looked like a 14-year-old."
Costas went on to have one of the most successful broadcasting careers in history over the next few decades. There hasn't been a significant event that Costas hasn't covered throughout that period.
Costas worked for NBC for 40 years, winning 29 Emmy Awards along the way, and no game was ever too big for the Queens, New York native.
2. Jim McKay
Date of birth:

Sept. 24, 1921

Date of Death:

June 7, 2008

Career:

1955-2006

Sports:

Everything
One of the things that people often forget when being a sports commentator is that you're still a journalist with journalism as your first loyalty. Jim McKay never had an issue with it.
McKay is widely regarded as the most recognized sports television journalist of all time, having covered the Olympics 12 times and being most known for his coverage of the Munich atrocity during the 1972 Summer Olympics.
He also served as studio presenter for the FIFA World Cup on two occasions, demonstrating his worldwide clout. McKay died in 2006 at the age of 86.
1. Howard Cosell
Date of birth:

March 25, 1918

Date of Death:

April 23, 1995

Career:

1953-1993

Sports:

NFL, Olympics, Boxing
Finally, on the top of our list, we have Howard Cosell. Howard Cosell is still the most well-known sports broadcaster, even after 25 years of his death. His career path and influence may still be felt in every sports broadcast we watch today.
Cosell decided to forego a legal profession (he graduated from NYU School of Law) in favor of catching a rising star by covering Muhammad Ali in his early life. Cosell became the face of Monday Night Football and an essential component of ABC's Olympic coverage.
Cosell's most memorable call occurred during an MNF game on Dec. 5, 1980, when he informed the country that John Lennon had been shot to death in New York City.
Conclusion
Watching sports is not just about your favorite player scoring but also about enjoying every second of it; at the same time, and these icons know precisely how to do that. Let us know who is your best host of all time.