James William Nantz III is an American sportscaster who has been linked with CBS Sports since the 1980s and has worked on telecasts of the National Football League (NFL), NCAA Division I, the NBA, and the PGA Tour.
Jim Nantz was born in Charlotte, North Carolina, on May 17, 1959.
Since 1989, Nantz has anchored the coverage of the Master's Tournament by CBS Sports. Later in 2004, he joined as the play-by-play announcer on the top NFL game by CBS.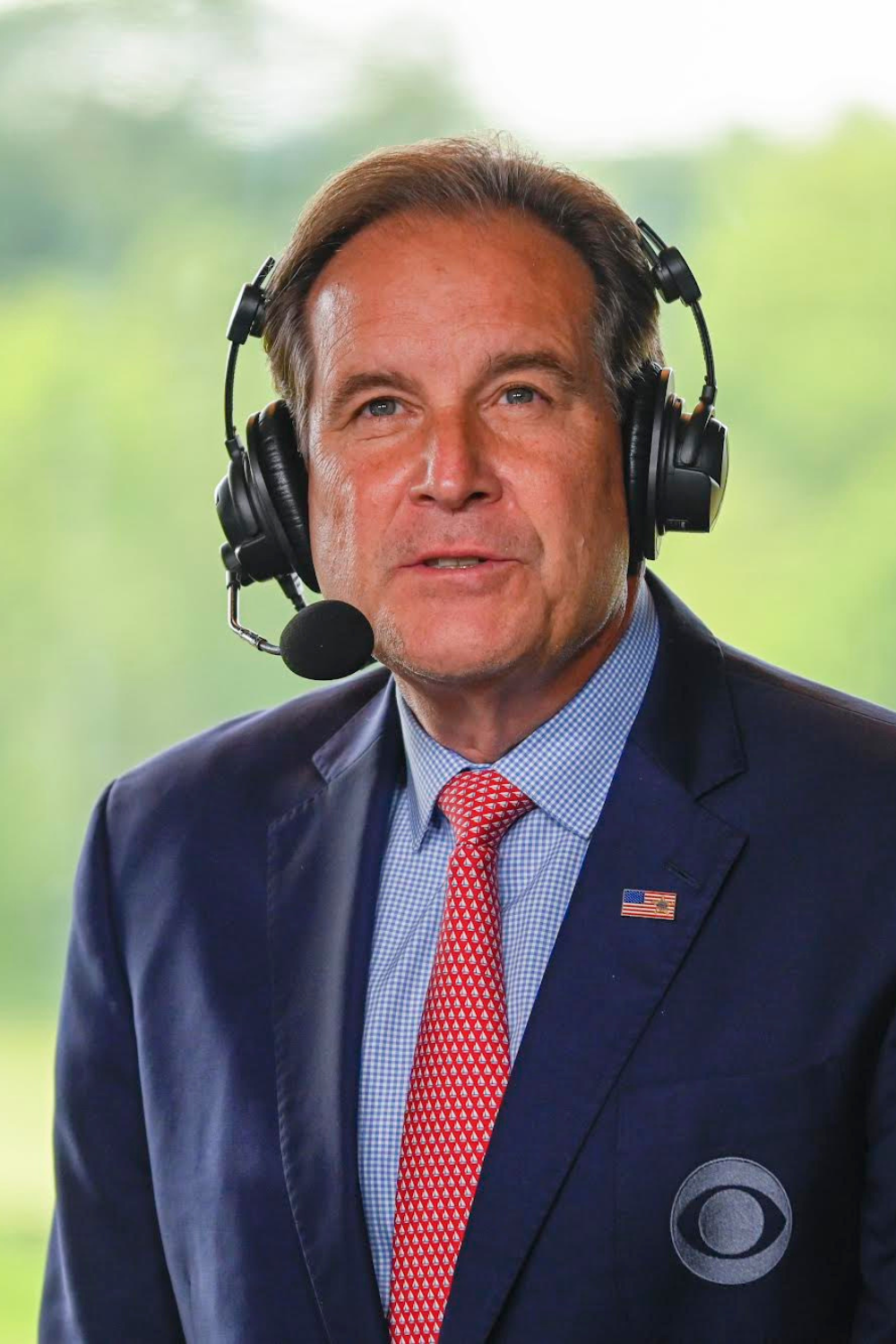 In May 2008, he released his first book, "Always By My Side – A Father's Grace, and also Sports Journey Unlike Any Other."
In addition, Nantz introduced his private wine label, "The Calling," its first vintage, released in 2012.
Jim Nantz is a familiar voice to many sports fans and enthusiasts around the world. He is a prominent figure in sports.
The sportscaster will call his final NCAA Tournament 'Final Four' in 2023 and will be replaced by Ian Eagle.
Let us find out more about the sportscaster through this article, starting with some quick facts.
Quick Facts
| | |
| --- | --- |
| Full Name | James William Nantz III |
| Birth Date | May 17, 1959 |
| Birth Place | Charlotte, North Carolina, United States |
| Genre | Play-by-play |
| Education | University of Houston, Texas |
| Horoscope | Taurus |
| Father's Name | Jim Nantz Jr. |
| Mother's Name | Doris Nantz |
| Siblings | Nancy Hockaday |
| Age | 64 Years Old |
| Height | 6'3″/1.90 m/190 cm |
| Weight | 75 kg/165 lb. |
| Shoe Size | N.A. |
| Profession | Sports commentator, anchor, actor |
| Debut | The early 1980s |
| Salary | $10.5 Million Annually |
| Net Worth | $15 Million |
| Married | Yes |
| Partner | Ann-Lorraine Carlsen Nantz (m. 1983-2009) and Courtney Richards (m. 2012-Present) |
| Children | 3 (Jameson Nantz, Caroline Nantz Finley, and Cathleen Nantz) |
| Social Media | Not Available |
| Merch | Jim Nantz Autographed Card, I Was There!, Always By My Side, Vineyard Vines Collection |
| Last Update | November 2023 |
Early Life, Family & Education
Jim Nantz was born James William Nantz III on May 17, 1959, in Charlotte, North Carolina.
He grew up in different places; New Orleans (Louisiana), Colts Neck Township (New Jersey), and Marlboro Township (New Jersey). In Marlboro, he attended Marlboro High School.
Being the co-caption of the basketball team and the number one player, he was a reputed athlete at his high school. He was also the co-captain of the golf team and a member of the Bamm Hollow Country Club.
Nantz then went to Texas, where he attended the University of Houston. He played on the Houston Cougars men's golf team at the university.
He was roommates with Fred Couples and Blaine McCallister, both of who went on to become professional golfers.
He majored in broadcasting, and around that time at the university, he worked with the CBS Radio Network by transmitting taped interviews to Win Elliot for Elliot's Sports Central USA weekend reports.
For the fans who are curious learners, well, this is how Nantz had his earliest experience with sports broadcasting.
Height & Weight
Nantz is currently 64 years old and celebrates his birthday on May 17th every year. His zodiac sign is Taurus.
The sports commentator was a reputed athlete at his high school and the University of Houston. This explains his amazing athletic body with round-off height and weight.
His height is 6 feet 3 inches (1.90 meters), and he weighs about 75 kg (165 pounds). His hair is dark brownish in color.
Broadcasting Career
Before CBS Sports
In the early 1980s, Nantz started working as a sportscaster and an anchor for KHOU Houston, a television station affiliated with CBS and licensed to Houston, Texas.
On the weekend, he worked as a sports anchor from 1982 to 1985 in Salt Lake City, Utah, for KSL-TV, a television station affiliated with NBC.
While working for KSL-TV, Nantz and Hot Rod Hundley called BYU football and the Utah Jazz basketball games.
At CBS Sports
In 1985, after joining CBS Sports, Nantz initially started working as a studio host for CBS Sports' coverage of college basketball and football games.
He also worked for the PGA Tour as an on-course reporter and worked as a commentator for NFL games on Westwood One.
When he moved to television, he called Saturday Night Football games from 1988 to 1990 for the then-active CBS Radio Sports.
Since 1989, James Nantz has been an anchor for the CBS Masters Tournament coverage. From 1991 to 2008, he worked with Billy Packer and commentated for the NCAA Final Four men's basketball finals. His analyst from 2008 to 2013 was Clark Kellogg.
From 2010 to 2013, the famous basketball head coach and former NBA player Steve Kerr joined them from Turner Sports during the Final Four.
After this, Greg Anthony teamed up with Nantz from 2013 to 2014. Greg Anthony was then suspended, and Bill Raftery and Grant Hill were selected as his replacement to team up with James Nantz.
Besides that, he gained a lot of popularity for roasting NFL player Jamaal Charles who cost his team a win after he coughed up the ball.
The NFL on CBS
From 1998 to 2003, Jim Nantz hosted The NFL Today on CBS, which was the pre-game program for the NFL. After this, in 2004, he became the top play-by-play announcer for The NFL on CBS.
Because of this change, Greg Gumbel was sent to the studio, and Jim Nantz was sent to the stadium booth with Phil Simms.
Nantz then teamed up to work on NFL broadcasts with analyst Hank Stram in 1991 and 1992. Then, while Greg Gumbel was busy with CBS's American League Championship coverage in 1993, Nantz temporarily filled in for him.
Jim Nantz and Randy Cross called the second-round playoff game between Dallas and Green Bay on CBS.
Nantz handled the play-by-play call of Super Bowl XLI on February 4, 2007. This event made him join the elite company of Curt Gowdy, Kevin Harlan, and Dick Enberg as the only play-by-play announcers to call both a Super Bowl and an NCAA Men's Basketball Championship Game.
Along with Brent Musburger, James is also one of the two men to host a Super Bowl, announce an NCAA Men's Basketball Championship game, and host The Masters from Butler Cabin. Both of these sportscasters achieved this feat with CBS.
In a deal with the CBS and NFL Network, Jim Nantz and his broadcast collaborate Phil Simms called the Thursday Night Football games in 2014, with Tracy Wolfson being the sideline reporter for the Thursday and Sunday games on CBS.
Nantz and Romo announced the Super Bowl LIII in 2019 and Super Bowl LV in 2021.
Afterward, Tony Romo, the former Dallas Cowboys quarterback, replaced Phil Simms to join Nantz as the color commentator for CBS' NFL telecasts.
Resigning With CBS Sports, New Contract
Sandy Montag of The Montag Group, who is Nantz's longtime agent, confirmed that the old play-by-play announcer had re-upped an extension deal with the network where he works as a lead announcer on everything from the NFL and NCAA men's basketball tournament to the Masters and PGA Tour.
In February 2021, Nantz called his second Super Bowl with Tony Romo and his sixth overall. Nantz has remained the lead voice for March Madness since 1991.
Additionally, Tony Romo, who has worked alongside Jim Nantz and received appraisals for his knack for estimating the plays that teams would run, signed a deal with CBS in 2020 worth $17.5 million a year, probably the largest sports analyst contract in TV history.
Nantz's contract with the CBS was to expire in early 2021, but he signed a new contract with the network.
As per the claim by different sources, his salary goes as high as $10.5 million per year.
After his new contract renewal, he focuses on becoming the first broadcaster to call 50 Masters tournaments for CBS. He would be achieving this feat by age 75 in 2035.
Media appearances
Jim has appeared on The Price is Right to present a Showcase prize that involves the CBS Sports properties. In the 1996 film Tin Cup, Nantz made an appearance as himself.
He also appeared in episodes of several different television series, including Arliss, Yes, Dear, Criminal Minds, and How I Met Your Mother.
Nantz played an announcer for a fictional baseball team in a short-lived series named Clubhouse. His voice was used in the 1998 film Scrapple.
Nantz has also been the guest commentator in the BBC's final round of the Open Championship for the BBC since 2009.
In the 1999 golf game Jack Nicklaus 6: Golden Bear Challenge, which was launched for PC, Jim Nantz and Garry McCord teamed up to provide extensive commentary.
Jim also recorded for his commentary that was featured in the arcade game series named Golden Tee Golf.
Nantz, along with Phil Simms, before Brandon Gaudin and Charles Davis replaced them, had been the commentators featured on the famous Madden NFL series from 2012 to 2016.
Nantz joined the former Denver Broncos quarterback Peyton Manning and Papa John's Pizza founder John Schnatter in an ad for the pizza company in 2013.
Relationships, Wife, And Children
Nantz lived in Westport, Connecticut, with his first wife, Ann-Lorraine "Lorrie" Nantz, and the couple had a daughter named Caroline. After being together for 26 long years, Ann-Lorraine and James, unfortunately, parted ways in 2009.
After their divorce, the court asked James to pay $916k a year to Ann-Lorraine for child support and alimony.
Before the final announcement of the divorce, James accepted that he had dated a then 29-year girl.
Although the judge concluded that this particular event had nothing to do with the marriage complications and that the relationship between Ann-Lorraine and James had gotten bad years before the extramarital affair.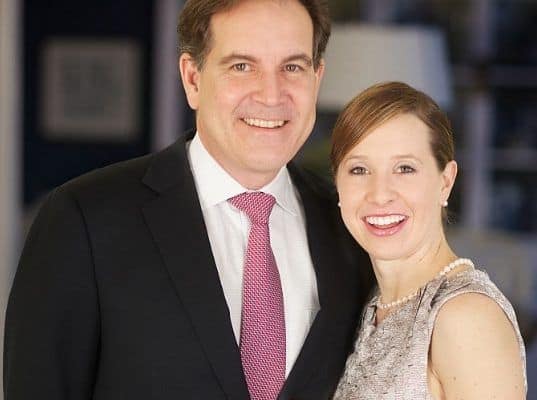 Afterward, in a ceremony held at the Pebble Beach Golf Links, Pebble Beach, California, Jim Nantz married Courtney Richards on June 9, 2012.
Their wedding event included a star-studded guest list (including Bush, Arnold Palmer, Robert Kraft, and Tom Brady).
The couple has stayed together ever since and has two kids, a daughter named Finely Cathleen Nantzborn, born in 2014, and a son named Jameson Nantz, born in 2016.
Besides that, he resides in a beautiful house with his family located at Pebble Beach.
Nantz Carries A Laminated Picture of Burnt Toast In His Wallet
Wait, what? But yes, you read it right. The play-by-play announcer, with a delicate yet strong voice, carries not only a macho personality but also a laminated picture of burnt toast.
Nantz is a guy who loves food, especially breakfast, and wants the toast burnt to a crisp but never had it when ordered in restaurants. So, he carried a laminated picture of burnt toast in his wallet to show them how he liked his bread.
Nantz said, "I'm a breakfast guy: three eggs scrambled, with bacon and wheat toast, burnt," to Golf Digest in 2016.
"The problem is that it never came back burnt. For years it would arrive limp and tan, which brought breakfast to a standstill when I sent the toast back."
Nantz added, " It was costing me 10 minutes a day, which, multiplied by six days a week, is four hours a month. That's 48 hours—two full days—per year. My friends, time is currency."
"My wife, Courtney, got tired of hearing me complain about it. She found a photograph on the Internet of a kitchen toaster ejecting two slices of burnt toast. My wife minimized it, printed it out, and had it laminated."
"She insisted I put it in my wallet. When I order, I present the photo to my server. I get some strange looks, but I can assure you, the toast now arrives black and scary, just the way I like it."
Nantz Offering Kind Words To Dustin Johnson At The Master's Ceremony
Winning the Master was a dream come true moment for Dustin Johnson.
Infamously known for his stoicism, after having the green jacket slipped onto him by Tiger Woods, during an interview with CBS' Amanda Ballionis, Dustin depicted how much he loved the game and is filled with emotions when it comes to the tournament.
"As a kid, I always dreamed about being a Masters' champion. It's hard to talk. I've never had this much trouble gathering myself. On the golf course, I'm pretty good at it. Out here, I'm not. It's hard to talk," Dustin said.
Dustin got emotional to the extent that he just could not complete his thoughts which later had Jim Nantz put the whole situation into words.
"I think that's one of the most incredible things I've ever seen from Dustin Johnson, right there," Nantz said.
"You get so many people that question what's inside players' hearts. So easy these days to post a thought or a comment on some site or social media. And people feel good about themselves for trying to tear down these talented people who work so hard and the fire that's inside of them. You just saw it right there. That was just a reflection on just how much it meant, how hard he worked for it."
Imitating Jim Nantz At Masters Impressions
Nantz has remained a long-time commentator of the Masters and is known for his slightly different catchphrases, and every year in the lead-up to Masters, Dan Patrick Show runs their Jim Nantz soundalike competition.
Also, Jim Nantz often appears on the show as a guest. There was one guy in 2018 who delivered some phrases in the exact Jim Nantz style with the CBS logo taped onto the chest pocket of his navy blue blazer.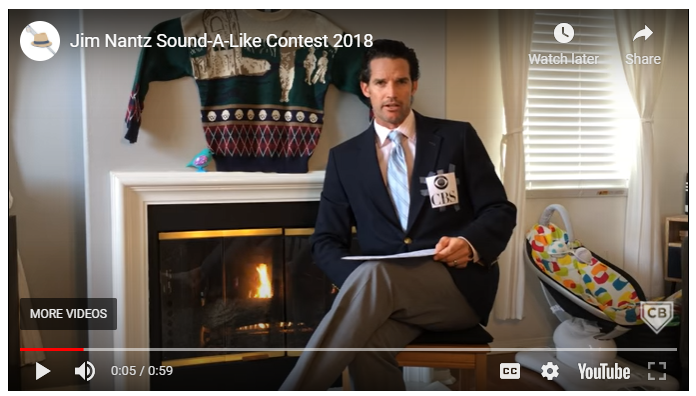 So, here are some of the quick Jim Nantz phrases that he used, "Ubiquitous nightingale," "Fred Couples has a supple spine," "Clint Eastwood climbs the dogwood," "Is that a gentoo penguin."
These are just the words that Jim Nantz delivers in real life just minutes before his live Masters Monologue begins.
Reacting To Kobe Bryant's Death
Jim Nantz addresses and respects each sport equally and the players as well. He does not leave a chance when it comes to showing solemn respect or honor to some of the brightest stars on the sports field.
This is how Jim Nantz started CBS' golf coverage today, with the news of Kobe. pic.twitter.com/JRKkiyoVyt

— Jim Dunaway (@jimdunaway) January 26, 2020
After Kobe's accidental and untimely demise that left all of us in unspoken pain, Jim Nantz started the CBS golf coverage with the news of Kobe Bryant's tragic demise. He gently acknowledged the news and showed signs of emotion.
Social Media World Reacts To Jim Nantz's Sunday Performance
Phil Mickelson made news in May 2021, rising as the titleholder of being the oldest golfer to win a major championship. He conquered the PGA Championship at -6, two strokes ahead of Louis Oosthuizen and Brooks Koepka.
While Phil was delivering his talent at an older age, CBS' lead golf announcer, Jim Nantz, gave his power-packed words, "Phil defeats Father Time!" on the 18th green at the Ocean Course Kiawah Island in South Carolina.
Net Worth, Annual Salary, & Income
Nantz has been active in the broadcasting field for a long time and has appeared in different shows. According to some sources, he earns about $10.5 million a year from CBS.
He has spent his earnings on renovation and also a mini-golf course in his backyard. Jim also released his private wine label, although it is not entirely clear how much he earned from its first vintage release in 2012.
The broadcaster has a net worth of $15 million as of 2023, which will surely grow even more, looking at his stardom, reputation, and popularity.
Endorsement Deals
Well, nothing much could be retrieved regarding endorsement deals, but in today's date, Jim Nantz has stood as one of the recognized commentators by NFL fans.
From college games to Super Bowls, it's tough to dig out a sport to which Nantz has not lent his voice. Reportedly, he also gets an additional $4 million in adjourned compensation from a deal with the golf company Titleist.
Jim Nantz has also shown immense interest in politics. He donated the maximum amount to the Jeb Bush campaign in 2016 and is a good friend of the Bush family. Not only that, he has contributed to Joe Lieberman.
Quotes
"Sometimes when you think you can't, you can, and UCONN has won the national championship."
"Some have suggested that the battle between Okafor and Schenscher is as good as any in the championship game since Olajuwon and Ewing."
"I'm blessed to have great friends, and there are a lot of men in my life who've been more than just friends."
Popularity
Being in the sportscasting field for a long time and announcing almost every sport for CBS, Jim has gained millions of fans worldwide.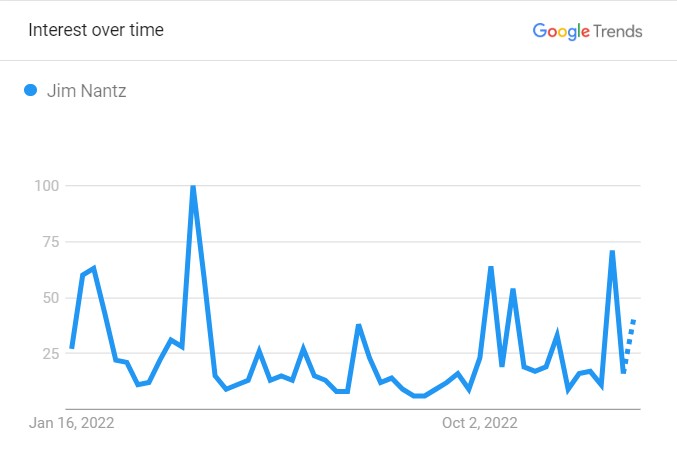 The above image gives brief information about the popularity of Jim based on Google searches in the United States over a year.
Frequently Asked Questions (FAQS)
Does Jim Nantz play golf?
Yes, Jim Nantz does play and has a great passion for this sport. Well, in the 2020 Masters at Augusta National, he played at the Pebble Beach golf course.
Who is Jim Nantz's ex-wife?
The broadcaster's ex-wife is Ann-Lorraine Carlsen Nantz.
Has Jim Nantz played for the Patriots?
No, the American sportscaster has not played for the Patriots. However, there is a Patriot player named Jim Nance.
Why does Jim Nantz carry a photo of a burnt toast in his wallet?
The sports broadcaster carries a photo of a burnt toast in his wallet because he is precise about how he likes his toast. Yes, Jim likes his toast burnt.
Who said "hello, friends" originally?
The phrase was originally said by Nantz.
Did Jim Nantz manage to reveal Tiger Woods' return timeline?
Although Nantz was unsuccessful in pushing Woods to reveal his return timeline, he did try his best.
How much is Jim Nantz's net worth?
Jim Nantz's net worth as of 2023 is $15 million.
Is Jim Nantz retiring?
Jim will call his last Final Four at the end of the 2022-23 college basketball season. But Nantz is staying with CBS Sports for coverage of the NFL and golf.