Bianca Belair (Bianca Nicole Belair) is an American professional wrestler competing for WWE.
Bianca is also a former track and field athlete. She debuted in professional wrestling in WWE NXT, where she twice contended for the NXT Women's Championship.
Moreover, the girl won the 2021 Women's Royal Rumble match after being recruited to SmackDown. The victory made her the second African-American superstar to win a Royal Rumble match after The Rock.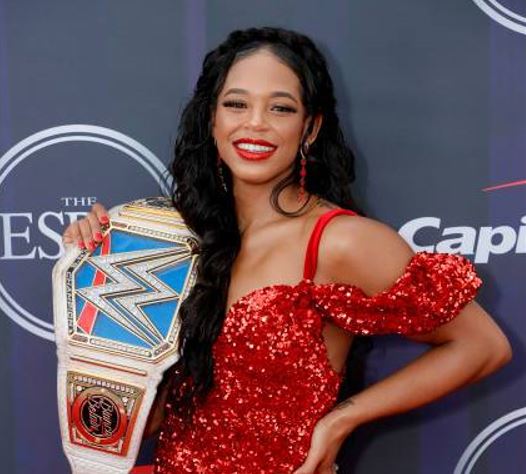 At WrestleMania, she successfully challenged Sasha Banks for the SmackDown Women's Championship, marking the two the first Black women to headline the event.
In addition, Pro Wrestling Illustrated selected Bianca as No. 1 among the best 150 female wrestlers in 2021.
This article discusses all the details that you need to know about professional wrestler. So, read all.
Before diving deep into the wrestler's life, look at some quick facts about her.
Quick Facts
| | |
| --- | --- |
| Full Name | Bianca Nicole Belair |
| Birth Date | April 9, 1989 |
| Birth Place | Knoxville, Tennessee, United States |
| Age | 33 years old |
| Nickname | The "EST of WWE" |
| Religion | Christianity |
| Nationality | American |
| Education | Austin-East Magnet High School, University of Tennessee |
| Horoscope | Aries |
| Father's Name | Leonard Belair |
| Mother's Name | Travonda Belair |
| Siblings | 2 older brothers |
| Height | 5 feet 7 inches |
| Weight | 64 kgs |
| Build | Athletic, Muscular |
| Shoe Size | Not available |
| Hair Color | Black |
| Eye Color | Dark Brown |
| Debut | September 6, 2016 |
| Ring Name | Bianca Belair |
| Marital Status | Married |
| Husband | Kenneth Crawford |
| Children | 2 Stepchildren |
| Profession | Professional wrestler |
| Trained by | Sara Del Rey, WWE Performance Center |
| Distinctive Features | Nose piercing, Longhair |
| Net Worth | $5 Million |
| Social Media | Instagram, Twitter, YouTube |
| Merch | Apple Phonecase, Action Figure |
| Last Update | April, 2023 |
Bianca Belair: Early Life
Bianca went to Austin-East Magnet High School and excelled in various sports, including track.
She was a hurdles competitor on the track and field team. Bianca had a volatile six-year track career during which she attended three institutions.
Likewise, Bianca began her college career at South Carolina University and Texas A&M University.
She did not compete for a year before finishing at Tennessee University. At Tennesse, she was named All-SEC and All-American in 2011 and 2012.
Similarly, the pro wrestler was also named to the SEC's academic honor roll. Additionally, she was also a powerlifter with appearances in RX magazine, Femme Rouge magazine, and CrossFit.
However, Bianca was compelled to give up her CrossFit career because of intercostal chondritis, often known as shifting rib syndrome.
Bulimia
As many of you might not know, the WWE champion Bianca had her struggle to cope with Bulimia during her high school years.
Although Bianca now looks very fit, she was overweight during high school. Bianca wanted to get a sports scholarship for her college. For that, she tried to run fast.
She believed that losing weight would make her able to run faster. As a result, she started throwing her food up. Bianca significantly lost weight.
The loss in weight worked for her, and she got a scholarship to the University of South Carolina. However, she soon developed Bulimia.
She ended up getting weak as she didn't have the proper nutrients. Moreover, she was also keeping her vitamins down.
When she started her first year, she realized she did not need to lose weight anymore as she already had the scholarship she wanted.
So, she started eating. She became obsessed with food and binge ate day and night. As a result, her weight increased again.
The college coaches expressed disappointment on that and remarked that they need the 'old Bianca.' As a result, Bianca started throwing food again.
Also read about WWE Bayley Bio: Early Life, Stats, Childhood, Career & Net Worth >>
Depression
The cycle of eating and starving continued until she had to get hospitalized. She got mentally depressed and had to take medications.
Bianca started isolating herself as she felt like a failure. She then went back to her family in Tennessee for a year. She spent time with her friends and family there.
Similarly, she also got therapy and counseling and gradually got herself back. After a year, she decided to walk on the track team at the University of Tennessee.
The girl earned a full scholarship again and finished her track career. She also graduated from the University of Tennessee.
The Story Behind Bianca's Nickname
Bianca is popularly known as the "EST of WWE." Bianca has been using the name since her time in the NXT. At that time, she called herself the "EST of NXT."
Fans of Bianca must know how she got her nickname and how much she deserves it. However, to the ones who know little about wrestling and WWE, the name can seem to be confusing.
The "EST" stands for the excellent degree, meaning that Bianca is the "EST" of all. Bianca is the strongEST, the fastEST, the roughEST, the toughEST, the quickEST, and so on. Moreover, she is the bEST of them all. Hence, she is the EST of WWE.
Bianca stuck to the nickname after her first promo at the NXT, where she described herself as the EST of everything. It was the moment when she thought that she had made it.
Following the promo, she called her mom, who also liked the name. Further, "EST of NXT" also rhymed and sounded perfect.
Age and Body Measurements
Born on April 9, 1989, Bianca Belair is now 33. According to the Chinese calendar, she was born in the snake year.
Her sun sign is Aries. People with Aries signs are known for their pragmatic and elegant demeanor. They are also opinionated and aggressive.
It wouldn't be wrong to say Bianca Belair perfectly fits the description.
Bianca is a bold lady and stands 5 feet 7 inches or 1.70 meters tall. Her bra size is 32B. She weighs around 64kgs. Bianca looks gorgeous with her beautiful dark brown eyes and long black hair.
She has a well-maintained figure and a slim body shape with the measurement 32 inches of breasts, 25 inches of waist, and 35 inches of hips.
Bianca regularly goes to the gym and exercises to maintain her body and keep it strong. The EST of WWE works out once or twice a day and maintains her nutrition accordingly.
Professional Wrestling Career
NXT
Shortly after her CrossFit career ended prematurely, Bianca applied her information to the WWE prospects database. It was more a whim rather than an actual plan.
After about two weeks, Bianca received a message from the WWE veteran, Mark Henry. Mark had come across Bianca's profile and offered her a tryout. However, Bianca herself had to do the rest of the work.
On April 12, 2016, Bianca signed a contract with WWE after two official tryouts. Also, she was assigned to the WWE Performance Center in Orlando, Florida.
Blair made her debut appearance on June 25 as "Binky Blair" during an in-ring segment at an NXT live event when she declared herself the "EST."
During her NXT career, she defeated many competitors like Dakota Kai, Candice LeRae, Lacey Evans, Aliyah, and Deonna Purrazzo. The wrestler had an undefeated streak of 367 days.
Bianca's last match on NXT took place on the 2020's February 19 episode of NXT. At the game, she was defeated by Charlotte Flair, the winner of the Royal Rumble.
You might also be interested in: Wife of Roman Reigns, Galina Becker- Parents, WWE & Profession>>
The Smackdown Women's Championship
Bianca made her main roster debut on the Raw following WrestleMania 36 by rescuing The Street Profits from Angel Garza, Zelina Vega, and Austin Theory.
Bianca became a member of the Raw roster and was paired with The Street Profits, causing her to change face in the process.
However, WWE ended the alliance since she didn't fit in with the team's humorous portions. Belair was selected for the SmackDown brand in the 2020 Draft in October.
What's more, Bianca won the Royal Rumble match by last eliminating Rhea Ripley on January 31, 2021, becoming the first-ever Black woman to achieve this feat in WWE history, following The Rock.
She was in the contest for nearly 56 minutes, a record for a Women's Royal Rumble competitor, despite entering at #3.
Defeating Sasha Banks
On the February 26 edition of SmackDown, Bianca formally challenged Sasha Banks, SmackDown Women's Champion, to a championship contest at WrestleMania 37. It was night one main events.
The pro wrestler achieved one of the biggest feats of her career that night. She won the SmackDown Women's Championship at WrestleMania, the first time she defeated Sasha Banks.
She subsequently successfully defended her championship against Bayley at WrestleMania Backlash and in a Hell in a Cell match.
Belair was supposed to defend her championship against Sasha Banks at SummerSlam. However, WWE stated during the event that Banks could not compete and would be substituted by Carmella.
Becky Lynch, who had returned to fight Bianca for the championship, attacked Carmella. Belair agreed and lost the match after two moves by Lynch in half a minute, giving Lynch the tournament and ending Bianca's reign after 133 days.
Belair beat Lynch via disqualification at Extreme Rules in what was meant to be their SummerSlam rematch, owing to interference by a returning Sasha Banks, and therefore did not earn the championship.
However, Bianca made history in the 2021 Survivor Series by becoming the first individual to win the event's conventional five-on-five elimination match while having a four-on-one handicap.
Awards and Accomplishments
Bianca has achieved several victories in her professional wrestling career. In 2021, Bianca Belair and Sasha Banks together made history as the first Black women to main event WrestleMania.
The two won the Best WWE Moment ESPY Award 2021.
Likewise, in Pro Wrestling Illustrated 2021, Bianca ranked No. 1 of the top 150 female wrestlers in the PWI Women's 150.
Similarly, in 2018, she ranked No. 9 in the top 10 female wrestlers and No. 3 in the top 10 wrestlers of the year in 2021.
Moreover, the pro wrestler has also won the WWE SmackDown Women's Championship. She also got the victory at the Women's Royal Rumble in 2021. Also, Bianca has also been awarded the Bumpy Award.
Bianca Belair Lifting Up Otis
In February 2021, Bianca had all the media's attention turned toward her. During an obstacle course at the WWE Smackdown, the wrestler stunned the world by easily lifting Otis.
At the Obstacle course on Friday Night, Bayley challenged Bianca. In the Fireman's carry segment of the challenge, Bayley carried Chad Gable and showcased her strength. It was impressive as although Chad is small in height, he is very well built.
On the other hand, Bianca was told to carry Otis! However, Bianca agreed. That's right! The pro wrestler did not hesitate to accept the challenge. And the girl showed the world that she is indeed the "EST of them all".
When asked about what made her accept the challenge, Bianca said that she calls herself the strongest. So, it was time for her to show everyone she was the strongest. It's not just something that she says.
Added to that, Bianca wanted to build the reputation of standing by her words. She wanted to be known as someone who did what she said so that no one could take her lightly.
After the challenge, Bianca posted on Twitter the video of her carrying Otis with the caption:
"I won't just tell you. I'll show you. I'm the strong-EST. #ESTofWWE. Oh, and @itsBayleyWWE, you should have just hopped on while you were at it. YOU REALLY TRIED IT! 😂 #TwiceAsHard #TwiceAsBetter"
Husband and Kids
Bianca Belair is married to the professional wrestler Kenneth Crawford, Montez Ford. The two met while they were training at the WWE Performance Center.
They got engaged on June 9, 2017, and quickly tied the knot on June 23, 2018.
The two do not have any children together. However, Bianca is the stepmother to Montez's two children from a previous relationship.
They have one daughter named Morgan Crawford and one son named Liam Crawford. Despite being a stepmother to the two, Bianca loves them and takes care of them like her own children.
Bianca and Morgan do not hesitate to showcase their love on social media. They constantly post pictures with each other.
Further, Bianca says that she loves being a wife. However, she firmly asserts that she does not want to be seen just as a wife. She is strong and independent and wants to build an identity for herself.
Likewise, the wrestler also said she wants to have children with Montez. However, she has clarified that her stepchildren will never face any difficulties. Morgan and Liam will always be her children.
Also, read about: Tucker Knight's Bio: Family, Wife, WWE, Net Worth & Injury >>
Bianca Belair: Social Media
Bianca Belair has a significant social media presence and a wide fan following. The WWE superstar can be found on YouTube, Instagram, and Twitter.
Bianca has millions of followers altogether. She has 1.2 million followers on his Instagram page and more than 583.8k followers on Twitter. Both of her accounts are verified.
Her Twitter bio explains herself as "WWE 💋#ESTofWWE💋 Bianca Blair Crawford WIFE💍MRS. @Montezfordwwe "
Bianca is active on her social media and frequently posts about her professional and personal life there. In addition, she often interacts with his fans via her social media.
If you wish to learn more about the lifestyle and professional career of the WWE superstar, follow her on her social media handles.
Moreover, Bianca is also on YouTube, where she has 110k subscribers. She created the account on February 6, 2018. WWE and other sports channels also post her wrestling videos on YouTube.
Bianca Belair: Net Worth
Bianca has had a successful WWE career and is one of the richest people in the WWE. She currently earns a salary of $550,000 annually.
AT PRESENT, THE WWE Champion HAS A NET WORTH OF APPROXIMATELY $5 MILLION.
She also earns additional money through item sales and appearances on pay-per-view television. The details of her other earnings, property, and assets are still under review.
Frequently Asked Questions
What is Bianca Belair's signature move?
Bianca's signature move is K.O.D. (Kiss of Death). Likewise, she also uses Spear, Delayed Suplex, Gorilla Press Slam, 450 splashes, Fallaway Powerbomb, Glam Slam, Powerslam, and Nirvana Strangle.
What is Bianca Belair's entrance music?
In 2016, Bianca used the song "Way You Love Me". Again her entrance music in 2017 and 2018 was "We Do It Better". The superstar's walk-on music is "Watch Me Shine" by CFO$.
Is Bianca's hair real?
Yes, Bianca Blair's long and glossy black hair is real. Her hair almost touches the floor and she always braids it.