A professional NFL player since 2015, tight end Blake Bell plays for Kansas City Chiefs (2021-now). Bell returned to the Chiefs on a second stint, having played earlier in the 2019 season, where he won the Super Bowl LIV.
It's certain that NFL passion of Blake came from a sporting background & a genetic inheritance. His father, Mark Bell, played for Indianapolis Colts before his retirement in 1984.
For the 2022-23 season, he signed a one-year deal with Kansas City Chiefs- it marks the 8th NFL season of the Wichita-born player.
Bell won the Super Bowl LVII with the Chiefs against the Eagles (38-35.)
Blake recorded his first career receiving touchdown in the Chiefs' Week 17 game against the Denver Broncos in the 2022 season.
After beating the Bengals in the AFC Championship, the Chiefs will face the Eagles in Super Bowl LVII.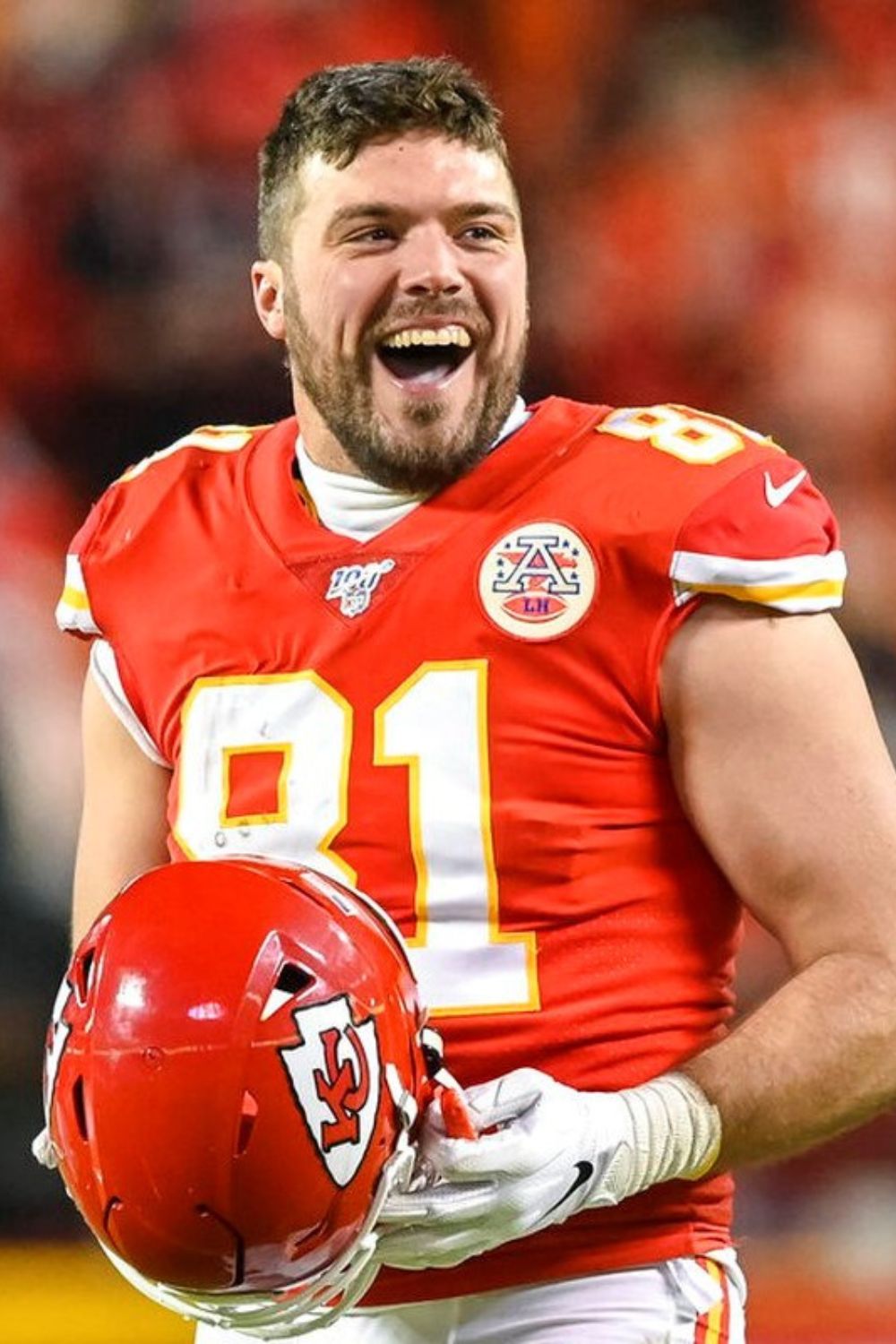 The 2015 NFL Draft pick Bell played two seasons with the San Francisco 49ers. After that, he saw a one-season stay with teams like the Vikings, Jaguars, Chiefs & Dallas before returning to the Chiefs again.
For more information on Blake Bell- his family, net worth & relationship, be sure to read the full article.
Quick Facts
Full Name
Blake M. Bell
Nick Name
Belldozer
Date of Birth
August 7, 1991
Age
31 Years Old
Birth Place
Wichita, Kansas, United States
Nationality
American
Zodiac Sign
Leo
Height
6 ft. 6 in/1.98 m/ 198 cm
Weight
251 lbs./ 114 kg
Hair Color
Brown
Eye Color
Black
Father's Name
Mark Bell
Mother's Name
Sherry Bell
Siblings
Brock Bell
Education
Bishop Carroll Catholic

University Of Oklahoma

Marital Status
Married
Wife
Lyndsay Walter
Married Year
2021
Children
Not Available
Profession
Football Player
Position
Football Tight End
Team
Kansas City Chiefs
Jersey Number
81
Net Worth
$3- $5 Million
Social Media
Instagram, Twitter
Merch
Bobblehead, Jersey
Last Update
May 2023
Family & Early Life
Born on August 7, 1991, Blake M. Bell grew up in Wichita, Kansas. He is the youngest of two sons to Mark Bell and Sherry Kendall Bell.
Blake has an older brother named Brock Bell, two years his senior, born on August 15, 1989. Though further detail on him is under wraps.
His father, Mark E. Bell (b. August 30, 1957) and his uncle Mike Bell (twin brother of Mark) are former NFL players who had collegiate careers at Colorado State University.
Both of them were 1979 NFL Draft picks.
Blake's father played with Seattle Seahawks (1979-1982) and Indianapolis Colts (1983-1984) before his retirement. On the other hand, his uncle played for Kansas City Chiefs for 12 seasons.
Father & Mother Are An Exemplary Couple
Blake's parents married decades ago, but the love & adoration between them remains pristine.
Reportedly, they exchanged vows on July 3, 1987, and two years later, became parents to Brook & then to Blake in the next two years.
On July 3, 2016, Bell's father, Mike, wished his wife Sherry their 29th wedding anniversary.
Not to mention, Mike's Instagram (@mobell82) profile is all about his family & friends. On February 9, he wished Sherry her birthday in an Instagram post.
Education & Collegiate Career
Bell attended Bishop Carroll Catholic High School, where he played football and baseball. During his senior year in 2009, Blake recorded 32 touchdowns for 2,752 yards thrown.
Rivals.com considered him a sixth-best pro-style quarterback recruit.
Then, Blake Bell chose the University of Oklahoma to play for the Sooners but redshirted in 2010, which began his freshman year in 2011.
As a freshman, he made only 7 game appearances leading to 44 rushing attempts for 171 yards and 13 touchdowns. And after 201 rushing yards on 10 carries with three touchdowns, Ben was MVP of the 2011 Insight Bowl.
In 2012, as a sophomore, with 60 attempts, Ben rushed 201 yards with eleven touchdowns to complete 9-of-16 passes for 107 yards.
In 2013, as a junior, Ben played in 11 games, recording 140 completions out of 233 attempts for 1,648 yards, 12 touchdowns, and 5 interceptions. Though, he missed the 2014 Sugar Bowl.
Blake's senior year in 2014 saw him change to tight end after the redshirt freshman quarterback Trevor Knight came on the roster.
Also, he appeared in only 9 games, with 16 receptions for 214 yards and 4 touchdowns.
While at Oklahoma, due to his massive name and fame, his attractive running skills, he earned the nickname Belldozer.
Fun Fact: In the 2010 MLB Draft (Major League Baseball), the Detroit Lions picked him in the 43rd round, but he didn't sign.
NFL Draft & Debut With The 49ers To Super Bowl Victory
After the East–West Shrine Game in 2015, Blake Bell went for the draft. The San Francisco 49ers picked him in round four (117th overall) of the 2015 NFL Draft.
Other Oklahoma alums who became notable picks were Jordan Phillips, Geneo Grissom, Daryl Williams & Tyrus Thompson.
Following two seasons (2015 & 2016) with the 49ers, Bell saw a waiver- he had 27 game appearances (only 5 starts) with 19 receptions for 271 yards, averaging 10 yards per game.
View this post on Instagram
On September 3, 2017, he joined Minnesota Vikings and played for a season.
Then, he played the 2018 season with Jacksonville Jaguars- started in 4 games out of 10 & made 8 receptions for 67 yards.
On April 2, 2019, Bell signed with Kansas City Chiefs to score his first touchdown (8-yard) in a 51-31 win over Houston Texans in the AFC Divisional Playoff.
Moreover, he caught one pass for nine yards in the Super Bowl LIV victory against the 49ers.
Some significant Chiefs players in that game were Patrick Mahomes, Chad Henne, Isiah Pacheco, Nick Bolton, Travis Kelce, and Mecole Hardman.
What Is Blake Bell Doing Now?
After the Dallas Cowboys signed him as a free agent, Bell played with them for a season (2020). Then, on March 18, 2021, he returned to the Kansas City Chiefs for the second time.
Blake signed a one-year deal with the Chiefs on March 24, 2022, to join the 2022-23 roster lists: Michael Burton, Deon Bush, Nick Allegretti, and Creed Humphrey.
After getting off the injured reserve, Bell recorded his first career receiving touchdown in the Chiefs' Week 17 game against the Denver Broncos in the 2022 season.
In the Super Bowl LVII, Kansas won against the Eagles (38-35) on February 12, 2023.
Wife, Relationship & Kids
The Kansas City Chiefs player is married. He lives in Norman, Oklahoma, with his wife, Lyndsay Walter Bell. They married on February 13, 2021, in Southlake, Texas.
The duo chose to have a simple wedding, inviting a few close friends and family.
Then, nearly after a year, on December 31, 2021, while wishing birthday to Lyndsay, Blake shared a snap from his wedding moment on his Instagram.
Lyndsay was born on December 31, 1990.
On New Year's eve of 2020, the NFL player confirmed via Instagram that he and Lyndsay Walter were engaged, as he mentioned "fiance" in the birthday wish.
Surfing through Bell's Instagram, it seems the couple has been together since Blake's college days in Oklahoma. He first shared a picture with his then-girlfriend (now wife) in 2013.
They are yet to share children.
Net Worth & Salary
As of May 2023, Bell has an estimated $3-$5 million net worth.
Mostly, he earns through his NFL contracts that offer him a lucrative salary. For now, no information on his endorsement deals is out.
From the Kansas City Chiefs, Blake Bell earns a salary of $1.272 million for the 2022-23 season- thanks to a one-year contract signed on March 24, 2022.
His rookie contract, signed on May 11, 2015, with the 49ers, was $2.785 million for four years.
After that, Bell played the 2019 season with the Chiefs on a one-year $895,000 contract. It followed his 2020 season salary of $1.7 million with Dallas & the 2021 salary of $1.12 million with the Chiefs, each on a one-year contract.
Social Media
Even though Blake is not that active on Instagram and Twitter, he still holds a massive fan following on both these platforms.
Instagram – 42.8k Followers
Twitter – 41.1k Followers
View this post on Instagram
Besides being a tight end for Kansas City Chiefs, Blake also has a keen interest in golfing, as he has uploaded in his Instagram post.
The Search Graph
Blake's popularity graph illustrates the high intensity of fluctuation, which can be due to his upcoming appearance in Super Bowl LVII with Kansas.
Frequently Asked Questions (FAQS)
How much does Blake Bell make?
Bell signed a one-year contract with Kansas City Chiefs for the 2022-23 season, which earns him a salary of $1.27 million.
Who is Blake Bell's dad?
Blake Bell's father Mark Bell is a former NFL player. He played for Seahawks (1979-1982) and Colts (1983-84) before retiring.
Does Blake have a twin brother?
No, Blake doesn't have a twin brother but an older brother named Brock. Well, his father, Mark E. Bell has a twin brother named Mike J. Bell, who also played NFL- for 12 seasons entirely with Kansas City Chiefs.