Bobby Lashley is undoubtedly not a new name for anyone who follows WWE. From MMA to ECW to WWE, Lashley's journey and career graph have been incredible and inspirational.
Lashley is usually known to be tough and strong in the ring and is one soft-spoken man in real.
The public accepted him and became his fan for a brief period. Today, millions of people love him and follow him.
However, it has not always been easy for Lashley; love and hate are part of his business. As per the demand of his character, he has to pretend he is a bad guy. In such cases, he has been poorly criticized and lost many followers.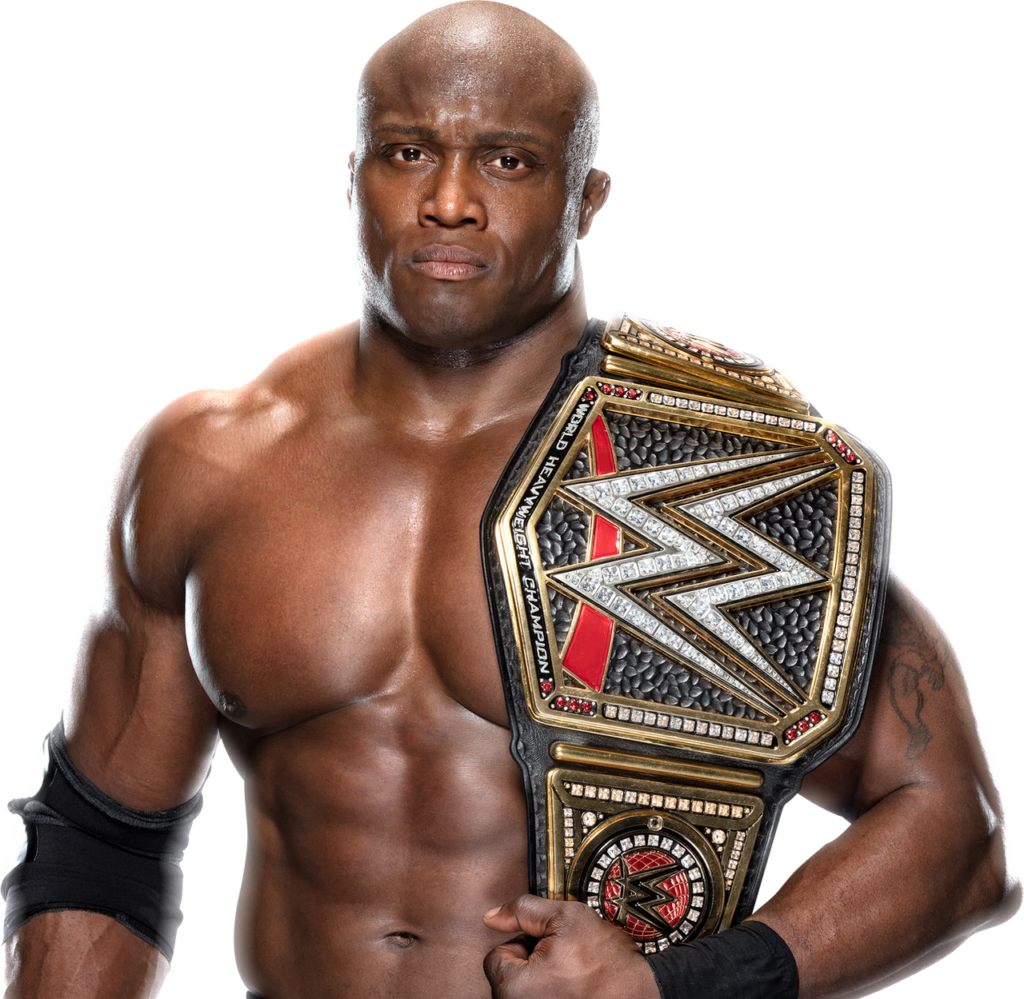 But whoever knows WWE is just for entertainment and not real would know who the actual Bobby is. So today, in this read, we will try to let you know who the actual Bobby Lashley is.
But before we proceed, let us immediately look at the quick facts.
Quick Facts
Full Name
Franklin Roberto Lashley

Birth Date
July 16, 1976
Birth Place
Junction City, Kansas, U.S.
Ring Name

Bobby Lashley
Blaster Lashley

The Dominator

Age
47 Years Old
Nationality
American

Ethnicity
Black
Education

Missouri Valley College
Fort Riley Middle School

Horoscope
Cancer

Father's Name
Not Available

Mother's Name
Clara Lashley

Siblings
Cathy, Jessica, Frances
Height
6 ft. 3 inches

Weight
124 kg
Hair Color
Bald
Eye Color
Black

Build
Athletic

Sexual Orientation

Straight

Marital Status
Single

Ex-girlfriend

Kristal Melisa Marshall
Children
Kyra Lashley, Myles Lashley, and Naomi Lashley

Profession
Professional Wrestler

Affiliation

WWE
Currently in
Raw
Active since
2004
Career Earnings
$4 Million

Salary
$1 Million

Merch
T-shirt
Social Media
Instagram, Twitter

Last Update
November 2023
Bobby Lashley: Early Life and Education
Bobby was born and brought up in Junction City, Kansas, the United States, on July 16, 1976.
About his parents, his Father was in the army and had to travel a lot, and he was raised by his mother, Clara Lashley, along with his three sisters.
However, he had to face his parents' divorce when he was young, and digesting the fact his parents would not be together was hard for him.
Lashley was naughty as a kid, and his sisters often used to take him to the woods and tie him in the tree for hours. Then, in seventh grade, he was introduced to wrestling, the off-season alternative to football.
However, later wrestling became his love, and he escaped from his family drama. Lashley has seen how his mother struggled to raise four kids, so from an early age, Lashley started to earn.
Similarly, he went to Fort Riley Middle School for primary education about his education. After that, he graduated from Missouri Valley College in human-service agency management and recreation administration.
Very few of you might know this, but Lashley first chose his Father's career path and joined the army. But he also continued wrestling and fought in the army's world-class athlete programs.
Further, he had even won many medals in the army. He was even qualified to wrestle in Olympics 2004 to represent Team USA. However, he couldn't go that season as some goons shot him with a gun in his knee.
Bobby Lashley: Career
Booby Lashley's WWE career began in 2005 when he signed their contract. He made his first appearance in SmackDown with his real name. His first match was against Simon Dean, and he won the game.
In 2006, Lashley became the first wrestler from SmackDown to qualify in the survivor series. After making a good impact on SmackDown, Lashley shocked everyone by moving to ECW.
He was there to sign the contract for the ECW championship, and guess what? He won the title after defeating the Big Show. After his victory, he became the third African-American to have won the WWE World Championship title.
However, Lashley was in ECW for one year, and again he was drafted to RAW in 2007; due to this, he had to give up his ECW title. Lashley could not make much of an impact on Raw. After losing a series of matches, he decided to join Independent Circuit in 2008.
For six years, Lashley was there in Independent Circuit. During his time on Circuit, Lashley defeated many wrestlers like Toman Honda, Bob Sapp, The Predator, and Kendo Kashin.
Then, he went to Total Nonstop Action, where he performed in many matches. However, he did his best, given his best, but nothing gave in as much popularity as he desired.
You can also read about Roman Reigns Bio: WWE, Net Worth, NFL & Wife.
After that, he went to TNA, where the feud between Kurt Angle and Lashley was highlighted and gained much public attention. Lashley was shown as an evil character in TNA and faced much public backlash.
Return in WWE
After ten years of leaving WWA, Lashley returned to WWE and made his first appearance on Wrestlemania 34. After the theme music of Lashley music played, the crowd went insane and started cheering for him.
Lashley was shown in some tag team matches in the first return month. Lashley won the Summer Slam and got direct access to the Universal title, and Roman Reigns was also one of the contenders, so he lost the match against Roman.
Finally, in 2019 Lashley won Intercontinental Championship on Raw. But unfortunately, he lost the title to Finn Balor in Elimination Chamber.
In July of 2019, both Lashley and Braun Strowman had a fight where WWE took them to the hospital due to their fierce battle. After Lashley lost that fight, he took a break from Raw.
In September, he returned to Raw, interrupting Rusev's match and kissing Lana, Rusev's wife.
All liked that storyline, and WWE formed a love triangle between Rusev, Lana, and Lashley. Later, Lana and Lashley got married in the WWE main event.
However, this marriage could not last, and Lashley asked Lana for a divorce after she interrupted him during a title match, and due to that, Lashley lost the World title.
World Champion Win
While Mix was the Universal Champion, Lashley defeated him in a lumberjack match, and he got the chance to win the Universal Championship for the first time in his career. And in various events, he saved his title again, Drew Mclntyre and Kofi Kingston.
But on September 13, Bobby lost his title after Big E cashed his money in the bank while Randy Orton and Lashley had a match.
But Lashley didn't give up, and his target was to win the Universal title again. After defeating many contenders in a fatal four-way, Lashley became the number one contender for the championship and had to fight against Brock Lesner.
Nonetheless, Bobby Lashley won the match after Roman Reigns interfered and helped Lashley win against Brock in the 2022 Royal Rumble and become the WWE Champion again.
Career apart from being a wrestler
WWE superstars and their love for Hollywood are not hidden from anyone. Once these superstars get some name and fame, they try their luck in Hollywood, and Bobby is no exception.
Bobby has been a part of some movies and a few series. Apart from that, he has also been featured in one music video named Nightmare.
But he could not get much success in his acting career, so his primary focus was wrestling. Furthermore, he is a trainer and trains youngsters in gyms, and he even owns a nutrition food brand; hence, we can call him an entrepreneur.
Bobby Lashley: Body Measurement
Tall, dark, and handsome are the exact words that fit Lashley's personality. Lashley stands at 6 ft. 3, which is considered a good height. Likewise, he weighs around 124 kg.
Lashley goes to the gym more often to maintain his body and look fit. Bobby even follows a special diet to keep his body. As a result, his body type is athletic, and his abs are well-defined.
Ironic that Bobby has had to follow a strict diet, even being a food lover. He loves eating different foods and trying diverse cuisine; anything that contains peanut butter and jealousy burger is his favorite.
But it is part of his job to look fit, so he once in a while enjoys his cheat meal.
Bobby Lashley: Workout Routine
Bobby Lashley trains five days a week; two are off days for him. He does cardio two times a day and yoga two times a week.
Lashley has dedicated his day one to working out for squats, deadlifts, versa climbing, and walking lunges. He did pull-ups, ball slams, rower sprints, and bent-over rows for day two. After an extreme workout for two days, he takes a break on day three.
Lashley does flat bench press, one-arm incline press, deck flies, and dips for day four. Day four is for single-arm shoulder presses, thrusters, and lateral raises. Finally, on day six, Lashly prefers doing EMOM, pull-ups, push-ups, and TGU.
Bobby Lashley: Net Worth
Undoubtedly, Lashley has earned quite a good amount of money. It is estimated that Bobby has a net worth of $4 million, making around $1 million years as a salary.
You can also read about Ouellet's Bio: Early Life, WWE, Husband & Net Worth.
However, not little has disclosed his property, house, and car collection. But as soon as we retrieve any information regarding it, we will update you.
Bobby Lashley: Personal Life
Bobby is a phenomenal wrestler and doing great in his career. But his personal life is not as happening as his professional life as he has always been unlucky in love.
Bobby had two serious relationships in the past, and from both the relationship, he has kids. But unfortunately, neither of the relationships lasted, but one good in all those bad had his kids with him, who gave him hope to be a better person every day.
He dated Kristal Marshall, who is a famous wrestler herself. Bobby and Marshall started dating in 2007 and made headlines for being a lovey dubby couple.
Myles is their son's name, born in 2008, and they even have a daughter named Naomi. But unfortunately, Marshell and Bobby parted ways in 2010, after four years of knowing each other. Kristal shared the news of their split on her Twitter.
Before having an affair with Kristal, Lashley dated another woman from whom he even has a daughter named Kyra Lashley, who 2005. Unfortunately, as it has been kept a secret, no one knows who Kyra's mother is.
Then as a part of his WWE gimmick, he married Lana. But this was a fake relationship just for WWE to make it fun to watch. But their on-screen love story also ended after Lashley divorced Lana.
Currently, Lashley is happy and living a good life with his kids. As per sources, Lashley shares a friendly relationship with his ex-girlfriends as a part of parenting.
Social Media Presence
Lashley has a huge fan following, and his fans are worldwide. So, to make his fans even happier and make them know him better, Lashley is active on both Instagram and Twitter.
His Instagram has around 900k followers, and he keeps sharing about his kids, his training videos, and his vacation pictures there.
You can also read about Samantha Rotunda: Family, Husband, Divorce & Net Worth.
Frequently Asked Questions (FAQs)
Has Bobby Lashley left WWE?
No, he has not. He is still a part of WWE; however, he takes a break once in a while from WWE and goes to MMA but again returns to WWE.
Was Bobby an army before joining WWE?
Yes, he was. As his Father was in the army, he wanted to become an army too, but later, he changed his career path and became a wrestler.