Bradley Mathias Kaaya Jr., known as Brad Kaaya, is a former American professional football quarterback.
He is popular for his time at Miami Hurricanes from 2014 to 2016 and National Football League(NFL) for three more years.
Bradley achieved several accolades playing college football for the Miami Hurricanes football team. He left Hurricanes in 2016 as an all-time leading passer.
Moreover, he got the honors of ACC Rookie of the Year and 2014 ACC Offensive Rookie of the Year in his freshman year at Miami.
Further, he joined the National Football League club Detroit Lions from the 2017 NFL Draft. Sadly, things didn't go as planned for Kaaya.
After a few unsuccessful stints at different clubs, his football career ended prematurely in 2019 at the young age of 23. Currently, he works as a screenwriter.
This article will discuss his early life, personal life, net worth, football career, and more. Before that, take a quick look at some interesting facts about Brad Kaaya.
Quick Facts:
Full Name
Bradley Mathias Kaaya Jr.
Birth Date
September 3, 1995
Birth Place
West Hills, Los Angeles County, California
Nick Name
Kaaya
Education
Chaminade College Preparatory School
University of Miami
Nationality
American
Ethnicity
Mixed
Religion
Not Available
Zodiac Sign
Virgo
Father's Name
Brad Kaaya, Sr.
Mother's Name
Angela Means
Siblings
Charlie Kaaya
Age
27 Years Old
Height
6 ft. 3 in. (1.93m)
Weight
214 lbs. (97 kg)
Hair Color
Black
Eye Color
Dark Brown
Build
Athlete
Relationship Status
Dating
Girlfriend
Megan Strauch
Sport
American Football
NFL draft
2017 (Round: 6 / Pick: 215)
Position
Quarterback
Jersey number
#8
Preferred Hand
Right
Current Teams
Free Agent
Former Teams
Detroit Lions, Carolina Panthers,
Indianapolis Colts, Cincinnati Bengals
Awards
Third Team All-ACC – 2015
ACC Rookie of the Year – 2014
ACC Offensive Rookie of the Year – 2014
Salary
Not Available
Net Worth
$1.5 Million
Shoes
Not Available
Social Media
Instagram, Twitter
Shoes
Football cards, Jersey
Last Update
March, 2023
Brad Kaaya | Early Life & Parents
Brad Kaaya was born on September 3, 1999, somewhere in the West Hills, Los Angeles County, California.
After his birth, his parents, Brad Kaaya Sr. and Angela Means, named him Bradley Mathias Kaaya Jr. He has a younger sister named Charlie Kaaya.
He was born into a wealthy family, so he had a luxurious childhood. However, he worked hard to achieve success in football from a very young age.
Firstly, he started playing football at the local clubs of Los Angeles. Kaaya attended an all-male Encino Crespi High School for his high school education.
However, after just six months into his sophomore year, he left Crespi to join Chaminade College Preparatory School. He played football and won several awards for his school team.
Because of his hard work and talent, the team always had a huge expectation from him. After high school education, he attended the University of Miami.
He played college football for the Miami Hurricanes Football Team and achieved a huge success, which he failed to continue after joining the National Football League.
Read more about NFL player Desmond Trufant.
Who are Brad Kaaya's Parents?
Brad was born to popular parents. Both his father and mother are very well-known figures in the Hollywood cinema industry.
Brad was always in the media's eye due to his parents' popularity, but it didn't take him long to gain popularity from his own work.
Brad's mom, Angela Means, is a former actress who is well-known for her role as Felisha in the classic movie Friday (1995).
The list of her movies and TV Series includes House Party 3, Cousin Skeeter, and more. She retired from the cinema industry after Brad's birth.
His father, Brad Kaaya Sr., is a former screenwriter of the movie, O, and TV series Cousin Skeeter, MADtv, and Damon.
Brad Sr. coached young Brad on the Pop Warner Football team. Angela and Brad Sr. divorced when Jr. was five years old.
Brad Kaaya | Age, Height & Body Measurements
Kaaya was born in 1995, which makes him 27 years old when writing this article. Further, the September-born athlete comes under the zodiac sign of Virgo. His surname 'Kaaya' is based on Tanzanian heritage.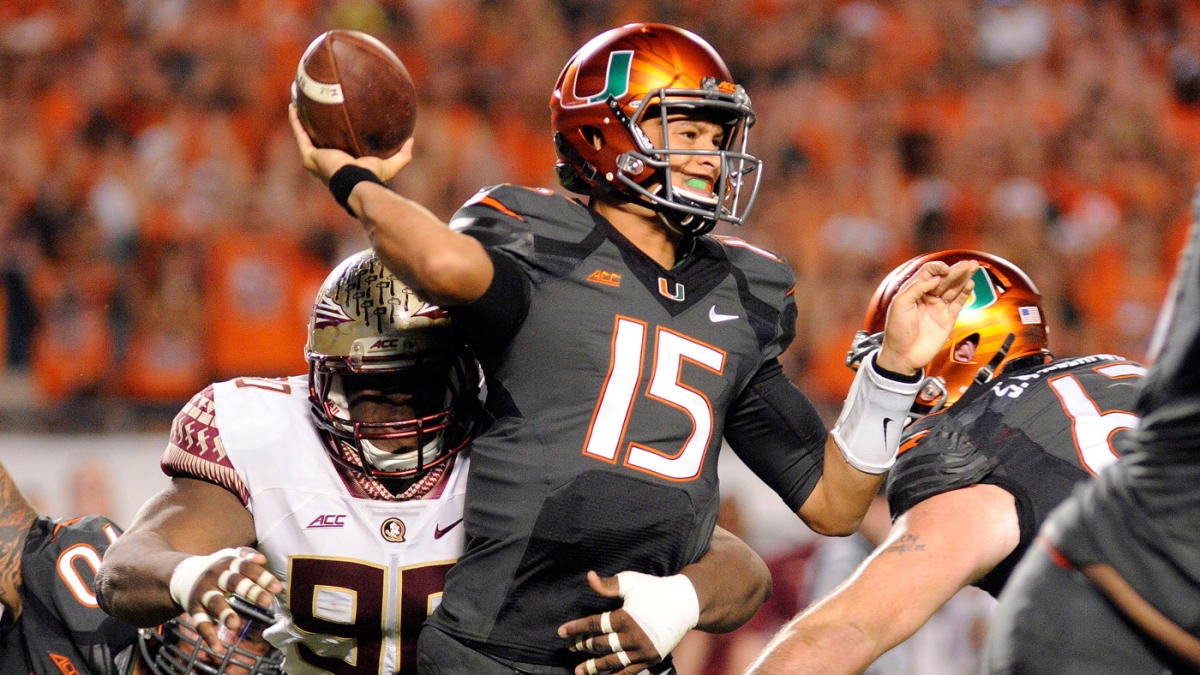 Moreover, he has a perfectly suited body to play in the quarterback position.
The former quarterback of Cincinnati Bengals has an athletic body figure of 6 ft. 3 in. (1.93m), and his last recorded weight is 214 lbs. (97 kg).
Brad comes from a mixed ethnic group. Moreover, right-handed players' Nationality is American. His dark brown eyes and short black hair add a trait to his attractive personality.
Brad Kaaya | Football Career
Early Career
Brad Kaaya started playing football since he was eight years old. Due to his long-range passing skills, he quickly shifted to the quarterback position.
Kaaya's parents were concerned about his career, so his father hired a private coach, Rudy Carpenter when he was a middle school.
For his high school education, Kaaya joined the Chaminade College Preparatory School, West Hills, LA County.
He was already a good player when he joined the Chaminade and soon made his way into the Eagles' team. Bradley went 23-3 as a starter at Chaminade Preparatory School.
In his senior year, he threw for 3,855 yards (school record) and 27 touchdowns. Altogether, he threw for 5,730 yards and 40 touchdowns in two seasons.
Furthermore, he led his school to their first-ever CIF and California State Championship in 2013.
Bradley won several individual and team awards during his four-year-long high school career.
He was ranked as the eighth-best pro-style quarterback recruit in his class by the Rivals.com recruiting network.
Likewise, he also got the honor of Consensus four-star quarterback prospect by ESPN, Scout, and 247Sports.
Moreover, he was also rated no—112 on ESPN's overall 300 rankings. Likewise, 247Sports also ranked him as the seventh-best pro-style quarterback.
Also, he played in Semper Fidelis All-American Bowl and got invited to "The Opening," All-Star Summer Prospect Camp.
He collected other accolades, Los Angeles Daily News All-Area Player of the Year and Nike's Elite XI.
You might also want to read: <<Todd Bowles Bio: Age, Career, Wife, Children, Net Worth Wiki>>
College Career
Brad Kaaya joined the University of Miami in 2014 to pursue his career in College Football. Soon, he got into the Miami Hurricanes team as a true freshman.
On August 24, 2014, Hurricanes head coach Al Golden gave him his debut against Jake Heaps.
Bradley Kaaya on Twitter: "The most fun I have on social media is with Miami fans honestly so therapeutic" / Twitter
After leading the team to an overall record of 6-7, he also made a bowl appearance in the Independence Bowl 2014. However, the team lost to South Carolina.
In total, he completed 2,962 passing yards on 202-for-345, passing along with 25 touchdowns.
After his sparkling first season as a true freshman, he was selected as ACC Rookie of the Year and Offensive Rookie of the Year by both coaches and ASCMA.
After an astonishing first season, Bradley started the new season with an even better form. He helped the Miami Hurricanes finish the regular season with a record of 8-5.
Unfortunately, Kaaya's team once again faced a defeat to Washington State Cougars in the Sun Bowl.
In 2016, he led the team to their best-ever start with a 4-1 record while going as high as #10 in the AP poll. Hurricanes finished the season with a 9-4 record.
Moreover, Kaaya played his last game for Hurricanes in a win over West Virginia Mountaineers in the Russel Athletic Bowl 2016.
He finished the 2016 season with career-best 3,532 passing yards, with 27 touchdowns and just seven interceptions.
Moreover, he completed 261 of 421 pass attempts at his career-best completion of 62.1 percentage. Brad Kaaya ended his college career as a leading passer in Miami history.
He concluded 9,968 passing yards, completing 720 and attempting 1,188 times in his three-year time at Miami.
In January 2017, Kaaya declared that he would enter the NFL Draft and not return to the Miami Hurricanes.
You can find the 2017 NFL draft Scouting report of Brad Kaaya on the Walterfootball website.
Brad Kaaya | Professional Career
Detroit Lions
The Detroit Lions selected Bradley Mathias Kaaya Jr. in the sixth round (overall: 215th) of the 2017 NFL Draft. He was the ninth pick among the quarterbacks selected in the Draft.
On May 12, 2017, Kaaya signed his first professional contract worth $2.52 Million for four years. Moreover, he got a signing bonus of $123,352.
However, he couldn't play on the same level under the pressure of the National Football League.
Firstly, he struggled to get his coach's trust and then dropped one after other awful performances. Eventually, the Lions waived him on September 2, just four months after signing him.
Carolina Panthers
Carolina Panthers claimed Kaaya off the Waivers on September 3. Sadly, his terrible form led him to another disappointment. On October 17, 2017, Panther waived him from their squad.
Detroit Lions (Second Spell)
A day later, Detroit Lions claimed Kaaya off the Waivers. He joined the practice squad and trained for more than a month.
Bradley went from a promising young player to an NFL flop in just less than a year. Despite all that, Kaaya didn't lose hope and continued with his hard work.
Indianapolis Colts
On December 27, 2017, Indianapolis Colts signed him straight off the Detroit Lions practice squad. That was the fourth time he changed his club within a year.
Finally, after some horrible stints at the Lions and Panthers, he found a little consistency at Colts. Kaaya spent the whole 2018 season playing for the Colts.
Despite having few good performances in 2018, people clearly saw his weaknesses going into the 2019 season. Ultimately, the Indianapolis Colts waived him from the injured reserve in February 2019.
Cincinnati Bengals
Once again, Kaaya was claimed off the waivers, this time by Cincinnati Bengals. But the Bengals declined to include him in the seasoned squad, making Kaaya an unrestricted free agent.
Bradley Kaaya on Twitter: "If there's one thing I'm thankful for, it's buying Tesla stock instead of buying a Tesla car ?
Currently, he is a club less for two seasons and works as a screenwriter for USC Cinematic Arts. Also, he is a manager at [email protected].
It's sad to see such a talented player being club-less at twenty-four years of age, but now he is doing good outside of football.
Let's hope he uses this experience to succeed in the future, whether in football or any other field.
You can find stats, game logs, matchups, projections, and much more information about Brad Kaaya on the FantasyPros website.
Career highlights and awards
2014: ACC Rookie of the Year
2014: ACC Offensive Rookie of the Year
2015: Third-team All-ACC
Brad Kaaya | Personal Life & Girlfriend
Kaaya is in a relationship with Megan Strauch. Bradley and Megan often post photos of each other on Instagram.
Since they both attended the University of Miami, we can guess that they met each other during their time at Miami and are together for about four years.
Apart from that, he has a healthy relationship with his family and likes to hang out with them and friends.
Moreover, he often posts photos with his little sister on Instagram. The support he gets from his family gives him extra motivation to work towards his goal.
Don't forget to read about: <<Brock Holt Bio: Age, Career, Wife, Net Worth, Instagram Wiki>>
Brad Kaaya | Criticisms
Brad Kaaya heard the criticism of his foul line last year, and like any quarterback, he wasn't pleased about it.
We'll get to that. First, here's his evaluation of how it looks now:
"They've got an unusual reasoning about themselves," he said. "[Offensive line] coach Searels has got them into great shape, and he's on the hard, he and coach Felder."
Those two, Kaaya said, are "beating up the O-line" in workouts, leaving them "exhausted." They want the line to "get after people, get after D-linemen, go attack defenses."
The returning beginners from last year, Kaaya said, "have really stepped up and solidified their spots in the rotation. That's really big."
"They've stepped up, and a lot of them have really grown up a lot. We'll see how it is when the season comes, but right now, it's a different mentality in that room. I think they've matured."
So, as per Kaaya, the line has had a change in perspective, an enhancement in strength and conditioning. Players also credit nutrition coach Kyle Bellamy for changing eating habits team-wide and looking stronger and meaner.
Kaaya revealed something else about the unit of left tackle Trevor Darling, left guard Kc McDermott, center Nick Linder, right guard Danny Isidora, and right tackle Sunny Odogwu, which is expected to open fall camp as the front five.
"One thing no one realizes is a lot of those guys were young last year, and a lot of them were playing with injuries," Kaaya said.
"A lot of those guys are healthy now. Just about the entire – just about the entire O-line had some kind of major injury that they were playing with the entire season. Guys had torn MCLs, torn meniscuses."
"People were saying, 'Oh, the O-line isn't looking too good right now,' certain games people would say that, but it hurt me because those guys were laying it on the line for me."
Kaaya remarked how Odogwu, who craved the Sun Bowl after having season-ending surgery to repair a torn MCL, played through that injury during the regular-season finale against Pittsburgh (Odogwu I asked him about it, memorably replied that it "hurt likes").
Kaaya also reported that Isidora "had a torn-up knee." Linder, he said, played with "both his shoulders hurting."
And struck the entire game against Florida State with "whiplash. He couldn't move his neck. He had ice bags on his neck after the game. TV doesn't see that, but I do."
Additionally
Kaaya said the left side of the line (left tackle Darling and left guard McDermott) was "generally healthy."
Still, he added that "everyone on the O-line had bumps and bruises and injuries that they played through, that some of them maybe didn't talk about it … maybe some people ignored it.
They had all kinds of injuries they played through because they wanted to protect me, and they wanted to help our offense. It means a lot.
"Those guys are laying it out on the line, and they're all healthy now. And their weights are down now, too, which is a big part of staying healthy is the right weight for your body, for your frame."
"As long as they stay healthy, I think they'll be pretty good. They should be one of the best offensive line groups in the conference."
"I think this year we'll see a different unit."
This is how the entire criticism looked like and took a leap soon after.
Brad Kaaya | Net Worth & Salary
The precise figure of Bradley Mathias Kaaya Jr.'s net worth is still a mystery to the public.
However, many online sources claim that he is a millionaire and has garnered such a big net worth from his football career and ancestral property.
"According to sources, Brad Kaaya has a net worth of $1.5 Million."
He is currently living a happy and lavish life in Los Angeles, California. Mostly, he is seen traveling around with his girlfriend, Megan.
Moreover, he is fond of wearing fashionable clothes and watching movies and TV Series.
Social Media Presence:
Instagram : 34.8k followers
Twitter: 93.2k followers
Some FAQs:
Is Brad Kaaya still in the NFL?
Kaaya meets Jeff Driskel and Tom Savage as the popular reserve quarterbacks to Andy Dalton. So, yes, he is still in the NFL.
What is Brad Kaaya's Lions jersey number?
Brad Kaaya wore jersey number #8 while playing for Detroit Lions.
What is Brad Kaaya's position in NFL?
Brad Kaaya played in quarterback position in the National Football League(NFL).
Who drafted Brad Kaaya?
The professional football team Detroit Lions drafted Brad Kaaya in the sixth round of the 2017 NFL Draft.
What is Brad Kaaya NFL Combine score?
| | |
| --- | --- |
| Wonderlic: | 34 (0-50) |
| QB Ball Velocity: | 53 (MPH) |
| Wingspan: | 76.625 inches |
| Hand Size: | 9.75 inches |
| Arm Length: | 32.00 inches |
| Size Rating: | 54/100 |