Brendan Haywood is an American-born professional basketball player who appeared in around thirteen NBA seasons from 2001 to 2015. He had recorded over 5500 points and 4800 rebounds at the end of his playing career.
Haywood started his NBA journey in 2001. Even though the Cleveland Cavaliers paved the path for him to the league, he debuted for the Washington Wizards.
Before his professional league debut, the New Yorker played his college basketball for the North Carolina Tar Heels. He was one of the top centers in North Carolina during his college days.
Haywood was quite huge in stature and lacked pace. Although he mostly struggled to secure points for his teams, his performance on the defensive end of the court was always praiseworthy. In that sense, one should complement his accomplishment as a center.
He won several honors and awards for his performance throughout his playing career.
However, his NBA championship win with the Dallas Mavericks in 2011 is the most special.
After his retirement, the former NBA champion works as a broadcaster for popular channels such as ESPN, NBA TV, and CBS Sports.
Discover more about this Tar Heels product's life and career in this article below. But before moving deeper, let's see some quick facts about him.
Quick Facts
Full Name
Brendan Todd Haywood
Known As
Brendan Haywood
Date of Birth
November 27, 1979
Birth Place
New York City, United States
Nick Name
Not available
Religion
Christianity
Nationality
American
Ethnicity
African-American
Zodiac Sign
Sagittarius
Age

43

years old
Height
2.13 m (7 feet)
Weight
263 lb (119 kg)
Hair Color
Black
Eye Color
Black
Build
Athletic
Father's Name
Not available
Mother's Name
Barbara Haywood
Siblings
None
Food Habit
Non-vegetarian
Education

James B. Dudley High School (Greensboro, North Carolina)
University of North Carolina (Chapel Hills, North Carolina)

Marital Status
Married
Sexual Orientation
Straight
Wife's Name
Theresa Tupea Haywood
Kids
Alani J. Haywood, Maota
Former Profession
Basketball player
Current Profession
Television Broadcaster
NBA Draft
2001 / Round: 1 / 20th pick overall
Position
Center
League
NBA
Active Years
2001 – 2015
Net Worth
$25 million
Currently Plays For
None / Retired
Jersey Numbers
00, 3, 33
Social Media
Instagram, Twitter
Merch
Autographed Basketball Card
Last Update

May 2023
Brendan Haywood | Early Life, Family & Education
Brendan Todd Haywood was born in New York City, United States, on November 27, 1979. Besides, there is no information about his father.
The mother and son stayed in the city of skyscrapers for a short time. After a while, they moved to North Carolina, where his mother got a job in a library. Fortunately, her earnings were sufficient to sustain the life of two people.
Raised in North Carolina, Haywood attended the James B. Dudley High School in Greensboro. His mother, Barbara, was very caring and used to emphasize more on his studies rather than other activities.
As a librarian, Haywood was an avid reader and often gifted books to Haywood on special occasions. So, Haywood was a pretty good student and mostly brought A's in exams.
As he grew up, Brendan became taller than average kids in his school and locality, which attracted the attention of his school's basketball coaches. Consequently, he started practicing basketball and showed excellent prospects.
However, his mother always instructed him to take his studies seriously and only allowed him to play basketball after completing his assignments. Once when his grades dropped, she visited his school to request the coaches not to spoil her kid.
Regardless, he was an academically gifted kid and kept doing well in other years. On the other hand, Haywood kept playing basketball and made it to his high school team. Even Barbara used to take her son to practice sessions sometimes.
However, education was always the first priority. Haywood graduated his high school in 1997 and eventually enrolled in the University of North Carolina at Tar Heels for higher education. Brendan graduated with a Bachelor's degree in Communications in 2001.
Brendan Haywood | Basketball Career
High School & College Career
Brendan Haywood was one of the prominent young student-athlete of the James B. Dudley School. He had a decent height to become a center, because of which he mastered his game in that position.
Haywood earned a Gatorade North Carolina Basketball Player of the Year in his senior season for his performance. Similarly, he made it to the 1997 McDonald's All-American Team selection.
Impressed by his performance, the Tar Heels' legendary coach Dean Smith recruited Haywood to the university team. Consequently, he began playing for them from the 1997-88 season.
However, they rarely utilized him in his freshman season, even though he stepped on the court every game. He could only average 2.9 points and 2.4 rebounds per game that season.
However, the new head coach Bill Guthridge included him in the starting line-up from his sophomore season, and he geared up his game right from that moment.
He averaged around 12.0 points and 7.0 rebounds per game in all three remaining college seasons. He led the Tar Heels to the Final four of the NCAA tournament in 2000.
Brendan was selected to the All-Atlantic Coast Conference Second Team for his senior season performance. Likewise, Sports America named him to the Second Team All-America in 2001.
Also, read about the power forward for the NBA club Orlando Magic Jonathan Isaac!
Professional Career
The Cleveland Cavaliers initially showed interest in Haywood because of which they chose him as the 20th overall pick in the first round of the 2001 NBA draft. However, the Cavaliers gave up on him as soon as the draft season was over.
Haywood was traded twice before the NBA season, but he eventually settled with the Washington Wizards. He played over 60 matches in his rookie season, in which his performance was average.
However, his rebounding and blocking capabilities showed some hope to the club, which guaranteed his stay for one more season with the Wizards.
Brendan's offensive game rarely improved throughout his NBA career, but he always delivered in the rear end of the court. He recorded over 7.0 rebounds per game while still playing with the Wizards in his prime.
He appeared for the Washington Wizards for nine seasons until 2010. The club traded him to the Dallas Mavericks on February 13, 2010. Even though he had signed a six-year deal with the club, the Mavericks released him after playing around three seasons with them.
Haywood became the NBA champion with the Mavericks in 2011.
Furthermore, he was associated with the Charlotte Bobcats in 2012, but his performance was miserable in his first season. To make it worse, he missed the entire 2013-14 season due to a foot injury.
After that incident, he never really made a comeback, although he played one more season with the Cleveland Cavaliers. He eventually retired from his professional career in 2015.
Awards & Achievements
NBA champion (2011)
Jersey no. 00 honored by North Carolina Tar Heels
McDonald's All-American (1997)
ACC All-Defensive Team (2001)
Second-team All-American-SN (2001)
Third-team Parade All-American (1997)
Second-team All-ACC (2001)
Third-team All-American-NABC (2001)
Third-team All-ACC (2000)
Gold medal at the Summer Universiade (1999)
Brendan Haywood | Net Worth & Career Earnings
Haywood has a net worth of approximately $25 million. It has already been around seven years since he started working in the sports media, and he earns pretty well as a broadcaster.
However, as everyone knows, he earned a lot of money playing professional basketball for many years. He signed a four-year contract worth $4.8 million with the Washington Wizards at the beginning of his NBA career.
The Wizards paid him around $978k for his rookie season alone. He stayed with them until 2009, playing seven more seasons from which he accumulated capital worth nearly $23 million.
Similarly, he played for other NBA clubs such as Dallas Mavericks, Charlotte Hornets, and Cleveland Cavaliers over the next six years, from which he made about $45 million more.
To sum it all up, Brendan collected approximately $69 million from his overall NBA career.
Besides, he earned some more money through brand endorsements from companies such as Panini.
Don't forget to read our article about the 2022 NBA All-Star Dejounte Murray!
Age, Weight & Height
As of 2023, Brendan Haywood is 43 years old.
Haywood stood out as one of the thriving centers in the NBA because of his skills and his, decent height and dedication to the routine workouts.
When he first entered the league, he was pretty bulky and had an abnormal amount of body fat. He weighed around 310 lbs and was clearly out of shape.
However, he soon realized that was not going to work as he realized he then had a challenging task to build his career. So, he started focusing more on his eating habits and mainly relied on fruits, vegetables, and a proper amount of meat diet as per the consultation of dieticians.
Brendan stands 2.13 meters (7 feet) tall and weighs around 263 lb (119 kg). He is still in great shape even though it has been long since he has distanced himself from the court.
Brendan Haywood | Wife & Kids
The star athlete had earned numerous fans during his NBA years, and of course, many women had approached him with proposals. However, he kept denying them all until he found true love, Theresa Tupea.
There is no reliable information about when they exactly met, but most probably, Haywood met her after his retirement. After dating for a while, the duo married each other in Charlotte, North Carolina, in 2018.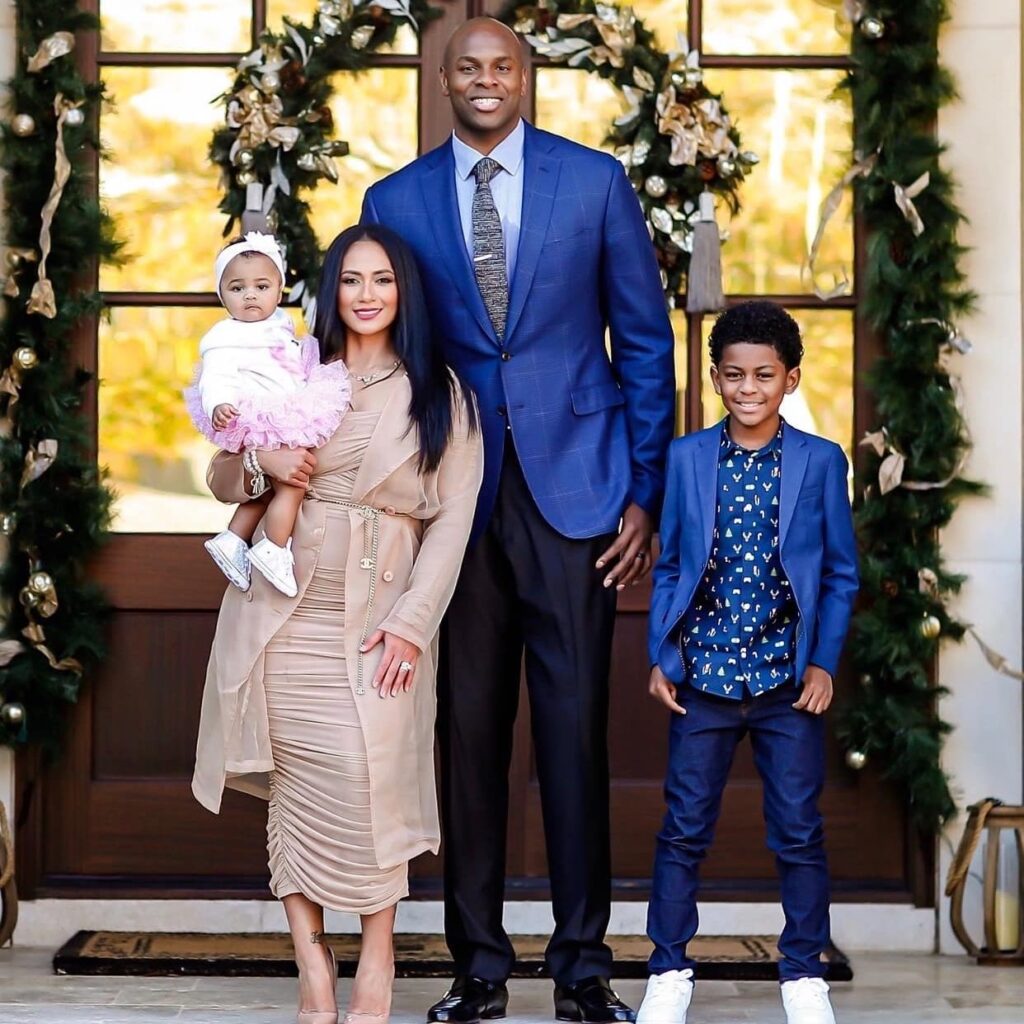 Theresa is a certified fitness trainer and an entrepreneur. She has her own fitness clothing brand, Gladiator Gear Apparel, based in North Carolina.
The couple is blessed with a beautiful baby daughter named Alani J. Haywood. She was born on April 10, 2020. Moreover, Theresa has a son named Maota from her previous relationship.
Currently, the Haywood family lives happily in their residence located in Charlotte, North Carolina. Brendan loves Maota as his own kid, and he, too, lives with them.
Social Media
You may also like to read about the one-time NBA champion Stephen Jackson!
FAQs
What happened to Brendan Haywood?
After retirement, Brendan runs a commentary show, House of Haywood, on NBA TV and works for other channels. Likewise, he co-hosted an interview show with a former NBA player Ryan Hollins on a Youtube channel named The Opinionated 7-Footers.
However, it has been a while since they haven't uploaded any video.
How many years did Brandon Haywood play in the NBA?
Brandon Haywood played for almost fourteen years in the NBA.