Every player who plays for Major League Baseball (MLB) makes their place. Some see the highs of success, some others are just average, and the rest are lucky to get just drafted.
Brian Goodwin is one fine example in MLB's history who has made his name with hard work and perseverance.
The MLB star Goodwin is currently playing for the Chicago White Sox of MLB, starting from last May 2021.
He also played for MLB teams like the Los Angeles Angels, Kansas City Royals, and Washington Nationals. The bright player has a bright future ahead of him.
The 33-year-old outfielder Brian was born on November 2, 1990, in Rocky Mount, North Carolina, USA. He started with three different sports, football, baseball, and basketball, while at school.
Later he focused on baseball. He continued his baseball in college and later played for MLB as a professional player.
Besides Brian's high-profile baseball career, he is an ordinary guy who likes to watch TV, play video games, and enjoy music.
In one of his interviews, he recently said that he has been watching one of the most popular TV series, Games of Thrones.
Brian seems to be a bit secretive about his family members. Yet, he mentions his girlfriend on some of the Instagram posts.
At the same time, Goodwin shares a lot of posts about people who influence him the most.
There is a lot to be learned about the MLB outfielder, Brian Goodwin. Before that, check the quick facts for a better grasp.
Quick Facts
| | |
| --- | --- |
| Full Name | Brian Christopher Goodwin |
| Birth Date | November 2, 1990 |
| Birth Place | Rocky Mount, North Carolina, USA |
| Nick Name | Not Available |
| Religion | Not Available |
| Nationality | American |
| Ethnicity | African American |
| Education | Rocky Mount High School, University of North Carolina |
| Horoscope | Scorpio |
| Team | Cincinnati Reds, Los Angeles Angels, Kansas City Royals, Washington Nationals |
| Father's Name | Not Available |
| Mother's Name | Not Available |
| Siblings | 1 (Sister) |
| Age | 33 Years Old |
| Weight | 93kg |
| Height | 6 feet |
| Hair Color | Black |
| Eye Color | Black |
| Body Measurement | Not Available |
| Shoe size | Not Available |
| Build | Athletic |
| Married | No |
| Profession | Professional Baseball Player |
| Position | Active Roster |
| Jersey Number | 18 |
| Children | No |
| Net Worth | Approx. $5 million |
| Retirement | Active |
| Social Media | Instagram |
| Merch | Rookie Card |
| Last Update | November, 2023 |
Goodwin | Age | Body Measurement | Horoscope
Recently Brian turned 30 on November 2, 2020. Yet, he looks younger than his real age. The charming personality Goodwin stands 6 feet tall and weighs around 93 kg (205 lbs).
The athletic player Brian is not only great-looking but also possesses a strong personality which helps him push harder at hard times.
Moreover, Goodwin falls under the Scorpio sign. A Scorpio is a deep and secretive sign. They are emotional and ambitious people, but they do not let their emotional nature come in the way.
In addition to his Western astrological sign Scorpio, the year 1990 makes Brian a Horse in Chinese Astrology, which makes him energetic and passionate. Horses are enthusiastic and optimistic souls.
Brian Goodwin | Family | Personal Life
When asked, What he liked to play when he was a kid, he said almost everything, but football was his favorite game.
Brian Goodwin has one sister who is older than him. They together have a great time in their childhood. Goodwin says they have everything they needed.
There is not much written about his parents on the internet. You can find few pictures posted here and there but not much about how they played a parental role in his life.
Goodwin Girlfriend | Wife
These days, most people are transparent about what they are doing professionally and personally.
They like to share life events and special memories out in public through social outlets, but Goodwin is not like most. He shares a little about his personal life.
In a few of his Instagram posts, we can see that Brian has a special person, Sierra, in his life. He likes to wish her on her birthdays, and Goodwin considers himself a lucky man to have her. Brian and the lucky girl look beautiful and happy together.
Yet, it is hard to guess Brian's relationship status. Whether he is engaged or married, we will have to wait to answer all our questions about his personal affairs.
Brian Goodwin | Career
Early Career
The cool baseball player, Brian, started playing baseball in high school. Even though he played other sports like football and basketball, but he focused mainly on baseball.
During high school, Goodwin received the title the Gatorade North Carolina Baseball Player of the year title. He also won All-Conference honors in football.
Moreover, the ambitious Goodwin went to the University of North Carolina, where he led his team in RBIs. He hit .291 in a single season.
But due to bad grades, Brian was transferred to Miami Dade College, where he hit .382 with a .500 on-base percentage.
Goodwin | Washington Nationals
Goodwin was firstly drafted in 2009 in the seventeenth round by the Chicago White Sox while at Rocky Mount High School, he chose to go to the University of Carolina to further his studies.
Eventually, Goodwin was drafted by the Washington Nationals in the first round in the 2011 Major Baseball League Draft.
Before starting his professional career, Goodwin was ranked as the Nationals fifth-best prospect by Baseball America.
In 2012 Brian entered the Class-A Hagerstown Suns. Again he was promoted to Double-A Harrisburg senators after .324/.438/.542 with nine home runs and scored 38 batting. Goodwin's good performance led him to become the MVP of the Rising Stars Game.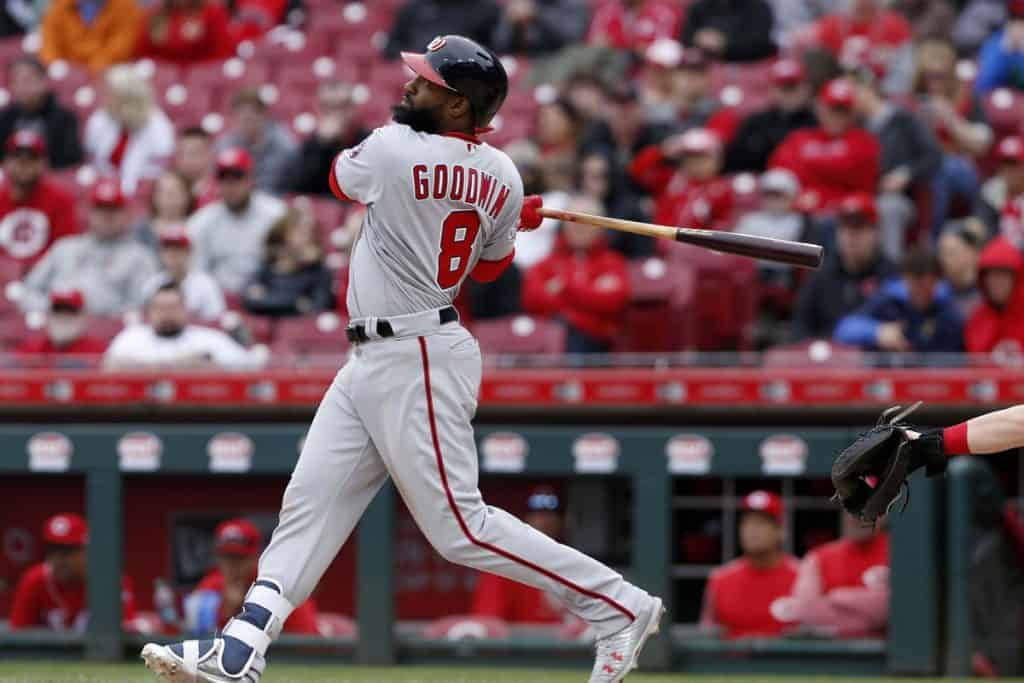 Before the 2013 season, Baseball America once again ranked him the Nationals third-best prospect.
Moreover, MLB.com ranked him the 52nd best prospect. Only after Brian hitting .284 in the minor leagues was invited to the Nationals in 2016.
In August. 2016, he hit in his first major league against the Cleveland Indians. After his time with the triple AAA Syracuse Chiefs in 2017, Brian got promoted to the majors. He scored his first major home run in June 2017.
On July 27, 2017, another major success was when Goodwin touched off back-to-back home runs for the Nationals against the Milwaukee Brewers, hitting a two-run shot.
You can also read about another MLB player, Nicky Lopez.
Kansas City Royals
In July 2018, the Nationals traded Goodwin to the Kansas City Royals in place of Jacob Condra-Bogan.
Bogan is a right-handed pitcher who played for minor leagues. Next year in March, the Royals released Brian.
Brian jokingly calls his time with the Royals short and sweet but not very sweet. The sources claimed that Goodwin was planning to stay with the Royals for the long haul but was soon replaced by Lucas Duda, Chris Owings, and Terrance Gore.
Los Angeles Angels
At the end of March 2019, the Los Angeles Angels acquired Brian by claiming off release waivers.
Goodwin gave .262/.346/.470, 17 home runs, and 47 RBI in 136 contests. 2019 turn out to be a good year for Goodwin. He was able to score and stay injury-free.
Cincinnati Reds
In August 2020, the Angels traded Goodwin to the Cincinnati Reds to acquire Packy Naughton and Jose Salvador.
In September, the outfielder, Brian, played his first game for the Cincinnati. He was non-tendered by the Reds later.
You can quickly check another baseball star, Jason Castro.
Pittsburgh Pirates
On February 11, 2021, Goodwin cracked a minor league contract with the Pittsburgh Pirates that offered him a Spring traini8ng as well.
Chicago White Sox
On May 4, 2021, Brian moved to yet another organization, Chicago White Sox. He was assigned to Charlotte's active roster position on May 6, 2021. He is the 38th player to make a home run in his White Sox Debut.
Talking about his stats, Brian has gathered a .250 batting average with 42 home runs and 129 RBIs over parts of five seasons in the major league.
Brian Goodwin | Net Worth
Brian has earned most of his net worth playing baseball. In a nine-year-long MLB career, the outfielder has seen both ups and downs, but years 2018-2019, Goodwin seems to have good fortune financially.
As of 2021, Brian Goodwin has an estimated net worth of $5 million.
The thirty-year-old outfielder still has a flourishing career with the Cincinnati Reds. His net worth is likely to increase in the coming years.
The ambitious player may explore other ventures in the future that will surely add to his value.
We do not know how lavishly Goodwin lives his life, but it looks like he likes to have fun and enjoy a comfortable life, which means he must be living luxuriously.
We are yet to discover his favorite car and favorite location to go on holiday.
Brian Goodwin | Social Media
The MLB star, Goodwin, looks cool and yet secretive in his social presence. He is only active on Instagram, and he has not loaded it with personal life events.
Brian has posts related to people who inspire him and his social interactions with his teammates.
Interestingly, Goodwin has posted a few pictures of his special person. There are a few pictures of Brian's childhood, which are cute. He is not active on Facebook or Twitter yet.
We would love to see Goodwin on other platforms sharing his game updates and personal glory.
Goodwin's fans surely admire his sportsmanship, yet they would love to see more of who he is in real life. Everyone would like to know more about his personal life.
Instagram 13.4k followers 886 followings
Frequently Asked Questions (FAQs)
Is Goodwin dating anyone?
Maybe. It looks like he is dating someone, but he has not disclosed any name yet and has not admitted anything about his relationship status anywhere.
On a few of his Instagram posts, Brian has added pictures saying God's gift. We still have a lot to discover about the mysterious lady from his Instagram post.
When was Brian drafted first?
2009. Goodwin was first drafted by the Chicago White Sox in the seventeenth round in the 2009 Major League Draft. The successful outfielder chose college over playing in major league.
Eventually, he was drafted by the Washington Nationals in the 2011 Major League Draft and started his MLB career.
Is Brian Goodwin retired?
No. The baseball player Goodwin is assigned to the active roster position by Chicago White Sox.