Britt McHenry is a television personality who, as of March 2023, hosts a show on WTTG Fox 5 in Washington, D.C. She has previously worked as an ESPN correspondent and a commentator on Fox Nation.
After she departed from ESPN in 2017, Britt served as a commentator on Fox Nation. There she hosted Fox News' 24/7.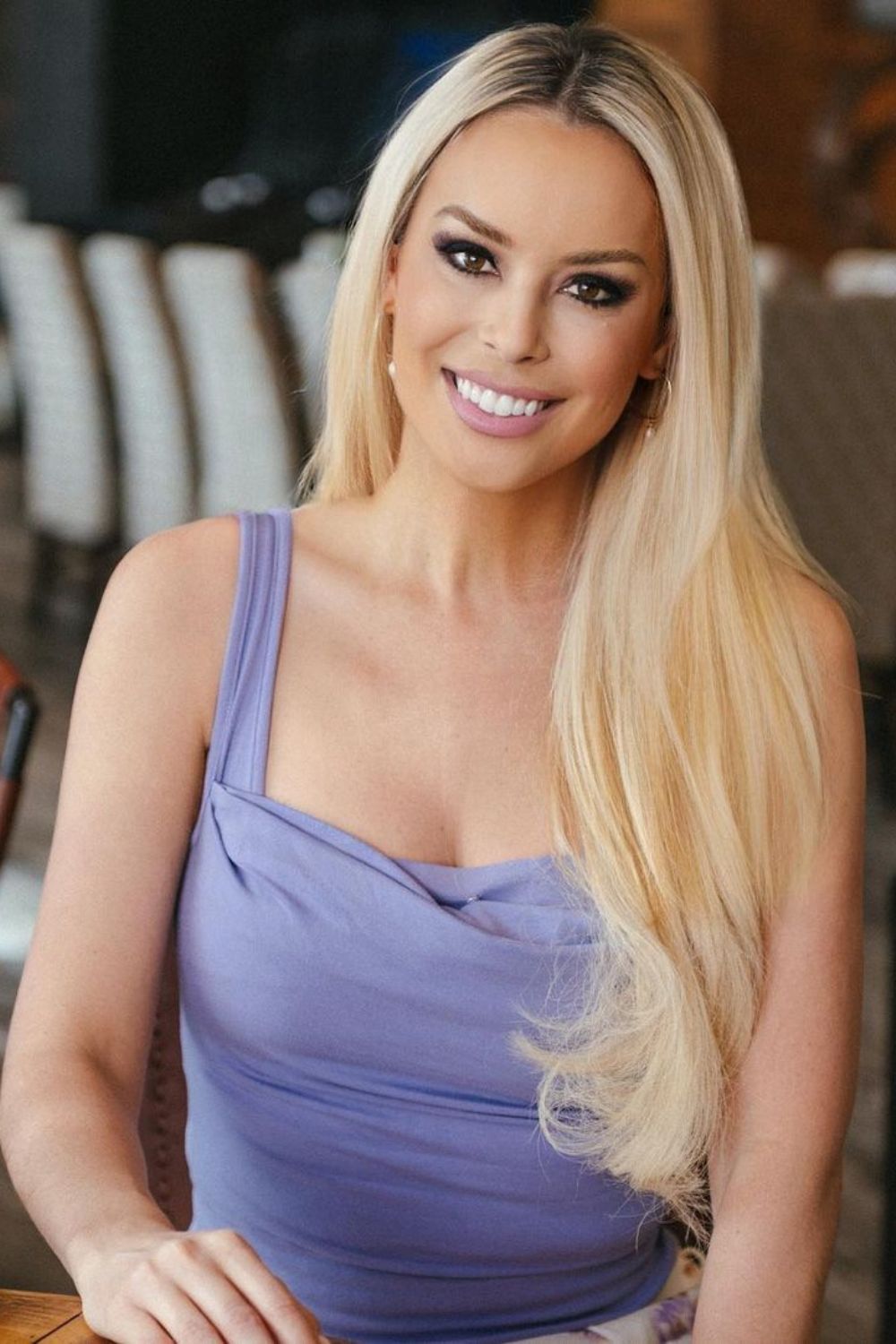 One of the famous female journalists, Britt, is also known for her hot rage and bold comment.
In 2015, her video of verbally mocking a tow employee went viral online, which dented Britt's fame with the public.
Not to mention, she did not hold back when ESPN laid her off with other 99 employees. But we will talk about them more in detail later on. So make sure to read till the end.
We will also discuss the details of her personal life, childhood, career path, and so on. Let's start with quick facts.
Quick Facts
| | |
| --- | --- |
| Full Name | Brittany May "Britt" McHenry |
| Birth Date | May 28, 1986 |
| Birth Place | Mount Holly, New Jersey, U.S. |
| Known As | Britt McHenry |
| Religion | Unknown |
| Nationality | American |
| Ethnicity | White |
| Education | Medill School Of Journalism |
| Horoscope | Gemini |
| Father's Name | Bill McHenry |
| Mother's Name | Unknown |
| Siblings | Unknown |
| Age | 36 Years Old |
| Height | 5 ft 10 in / 178 cm / 1.78 m |
| Weight | 55 kg / 120 lb |
| Hair Color | Blonde |
| Eye Color | Blue |
| Profession | Commentator, Television Personality |
| Network | Fox Network |
| Active Years | 2008-Present |
| Marital Status | Unmarried |
| Spouse | Unknown |
| Net Worth | $1.4 Million |
| Social Media | Instagram, Twitter |
| Merch | Pump The Brakes Podcast |
| Last Update | March 2023 |
Early Life & Education
Britt McHenry is best known for being a former reporter for ESPN. The young McHenry served as the correspondent for NFL Live, SportsCenter, and Baseball Tonight.
The journalist Britt was born in Mount Holly Township, New Jersey. Her father is Bill McHenry, a U.S. Air Force Lt. Colonel, while the information about her mother is unavailable.
The young Britt was raised in Satellite Beach, Brevard County, Florida.
She completed her elementary and secondary education, attended Satellite High School, and graduated in 2004.
After that, Britt enrolled at Stetson University, where she played in the women's soccer team.
Britt was teammates with the United States women's national soccer team's goalkeeper, Ashlyn Harris. McHenry played as a midfielder with the Hatters soccer team in 2004.
Britt finally graduated in 2007 and attended Northwestern University's Medill School of Journalism. While at Medill, McHenry started covering stories in Chicago, Illinois.
Age & Body Measurements
Britt is a gorgeous woman who has been active in sports since childhood.
Now the brilliant commentator, McHenry, was born on May 28, 1986, making her 36 years old as of 2023.
Her star sign is Gemini, and they are known for being smart, intelligent, and outgoing.
Likewise, famous for her successful career, Britt is lauded for her gorgeous features. The star commentator has long blonde hair and vivid blue eyes.
Also, she stands at 1.78 meters tall and weighs around 120 lb.
Although her other body measurements are unavailable, she has collected numerous fans with her alluring personality and charm.
Professional Career
Upon graduating from the Medill School of Journalism, McHenry immediately started working for WJLA-TV, ABC Television's Washington affiliate, and its sister station NewsChannel 8. There she worked as a sports reporter and a fill-in anchor.
Though initially starting as a business reporter, Britt later switched to sports and recorded her video reports. Not to mention, McHenry also spent two weeks at Fox Sports Sa Diego as a dugout reporter on the San Diego Padres telecasts.
In March 2014, she parted ways with ABC7 and joined the leading sports network, ESPN as a Washington, D.C.-based bureau reporter.
After her arrival, Britt served as a correspondent for various shows, including SportsCenter, Outside the Lines, NFL Live, and Baseball Tonight.
However, her time with ESPN also ended when on April 27, 2017, McHenry announced her departure from the station. The network let her go as a part of a 100-person layoff, including others like Ed Werder, Jayson Stark, and Jay Crawford.
Her last assignment as an anchor was NFL Draft. But in May 2018, McHenry bit back and tweeted that she was fired because she "was white and paid too much."
Nonetheless, Britt was active as one of the hosts of "Like It Or Not," alongside Guy Lambert and Bram Weinstein. Aired on Fox 5 Plus, it was a 30-minute-long weekly politics and pop culture discussion show.
Trump Feud Between Durant & Britt
As we all know, both Kevin Durant and Britt McHenry are outspoken. Also, to prove it, we have the Trump feud incident from August 2017.
Durant had initially commented on his decline to visit the White House due to the presence of the current occupant.
Taking that in mind, Britt McHenry tweeted;
"If the issue (fairly) is divisiveness in the USA, then use celebrity & platform to come together. Great leaders meet, not shun invitations to WH."
Indeed, Durant took the hint and took no time to reply to her.
Herewith, their Twitter feud commenced and ended as Durant replied, "By doing the opposite, I am inspiring more people." However, this tweet was later removed.
Towing Controversy
Just like her little rage over the lay-off incident with ESPN, this is not the first time McHenry showed her anger side.
McHenry was seen verbally berating and mocking a tow lot employee, Gina Michelle.
The video where she also used foul language was leaked on LiveLeak and went viral on 16 April 2015.
Consequently, McHenry became the target of many strong opinions from the public. Later on, McHenry issued an apology on Twitter.
She wrote, "In an intense and stressful moment, I allowed my emotions to get the best of me and said some insulting and regrettable things… I am so sorry for my actions and will learn from this mistake."
Because of the incident, ESPN suspended the American broadcaster for a week.
The following day, the towing company released a statement saying they did not want to see McHenry suspended or terminated due to her comments.
Britt Takes On Ryan Tannehill
After Britt's towing incident, she caught herself with Ryan Tannehill and his tweets. Yes, it takes us back to 2018, when she questioned the Dolphin's decision to keep Ryan despite his injury.
Britt often claims to be a Dolphins fan; she was surprised and displeased with how they worked. She even chose five women she thought would be better athletes than Ryan.
Well, maybe Ryan wasn't that good; however, taking the talks to the extent of stating him as the "glorified college wide receiver" was unacceptable.
Not to mention how she stated that the Dolphin's wide receiver stinks.
Reportedly on May 16, 2022, McHenry remembered when an Internet troll accused her of 'Only Liking White sports.'
She did not let anyone unfairly call her out after battling brain cancer. Likewise, she got furious at the so-called fan on Twitter after some accusatory comments.
Sexual Harassment Accusation
Britt McHenry filed a lawsuit against her former co-host, George Murdoch (aka Tyrus), and Fox News for sexual harassment on December 19, 2019.
As per Britt, Tyrus sent her inappropriate texts. However, Britt lost her phone containing text messages which were central to her claims.
Britt claimed that the 5,156 texts between her and Tyrus were deleted during the investigation.
According to Fox News, the matter was investigated and resolved.
Reportedly, on 2 January 2023, due to sexual assault allegations against Matt Schlapp, questions were raised, "will Fox reevaluate its relationship with CPAC or not?
Fox News has hosted and been a top sponsor to the Schlapps on-air dozens of times.
Likewise, a new case has risen where a staff accused him of sexual assault. It is not the only case; in the past, there have been a lot of people who were affected because of it.
Britt filed an allegation against George "Tyrus" Murdoch for sexually assaulting her.
He was removed quietly but still hosts a Fox News Radio podcast and remains an on-air regular on the network.
However, that case was dismissed after her legal team voluntarily dismissed it.
McHenry settled with Fox News with a non-disclosure agreement and undisclosed cash settlement and left the Network.
Tumor
On February 27, 2020, the Fox News commentator revealed that she was diagnosed with a brain tumor and that "surgery is imminent." The famous commentator also assured her followers on social media that she would undergo surgery soon.
"I was trying to keep this relatively private. But as usual, things are being said without my consent. I have a brain tumor. I'm with an amazing medical team, and surgery is imminent. Thank you for your continued support and understanding at this time."
Before this announcement, McHenry tweeted about getting an MRI of her neck and brain. Britt pleaded with her followers to get checked by the doctors on time.
"Overwhelmed by the support of friends and strangers alike. With the best surgeons and doctors. Just another thing to take on. Please, I can't stress enough, make your check-ups. Get an MRI early. It could have saved me."
Thankfully, she received her brain surgery on March 4, 2020.
As for her post-surgery days, she did a lot better. Right in March, she had all her stitches removed, and while the globe faced problems amidst the pandemic, she became stronger.
Britt McHenry showed that she was "Grateful" for 'Game of Thrones actress Emilia Clarke for sharing her brain injuries. She stated, "As A Brain Cancer Surivor, I Relate."
The actress also survived two life-threatening brain aneurysms while filming seasons one and three of 'Game of Thrones.'
Net Worth & Income
Britt McHenry has been active as a journalist for over a decade now. As of 2023, she has accumulated a net worth of $1.4 million.
As we know, Britt makes most of her income from her successful broadcasting career and working in various networks.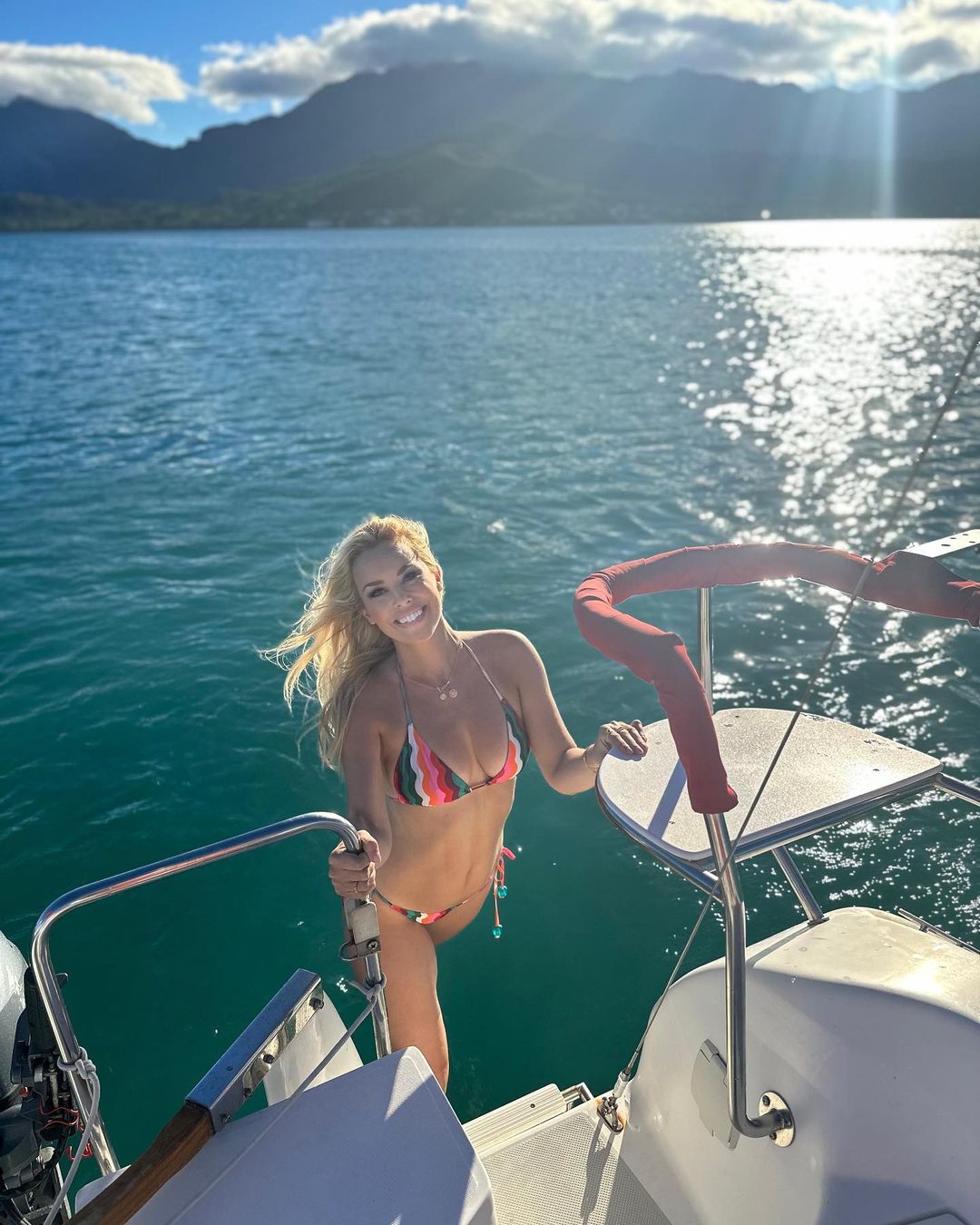 Well, it will be fair to say that Britt is independent. To elaborate, she has been earning her way since she was young.
Like her personal information, Britt has not revealed much about her income.
But according to online sources, Fox News Channel reporter makes around $60,000, if not more, every year.
As an ESPN reporter, McHenry made more than $85,000 annually.
McHenry also donates her hard-earned income to several social services and non-profitable charity organizations.
Relationships
Britt McHenry is well-known among her fans and admirers. Since she is a celebrity, many are curious about her personal life. Yes, her dating life!
Surprisingly, despite being on camera, Britt has kept her personal life far from the public.
Even though there is no solid information available on Britt's relationships, she is often linked with men.
Britt was rumored to be dating Tennys Sandgren, a professional tennis player, and Steven Cundari, entrepreneur and the co-founder of the 31south marketing agency.
However, as of this writing, no news on her boyfriend or husband has come out, so it is safe to say that the TV personality is single.
Social Media Presence
Britt McHenry posts a lot about her venture on social media. She has posted a lot about her vacations in her recent posts on Instagram.
View this post on Instagram
Instagram (Brittany May McHenry)- 377k Followers
Twitter (@BrittMcHenry)- 214k Followers
Popularity Graph
Britt McHenry is a television personality who is not afraid of speaking her mind.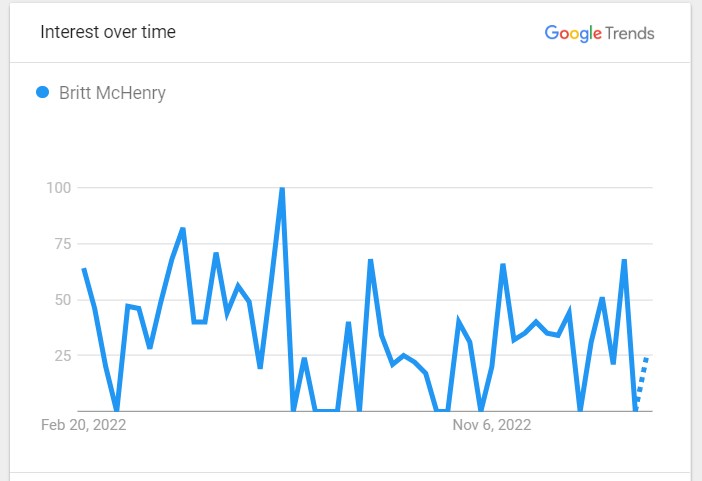 The graph shows her popularity over the past 12 months. She was highly searched online after she accused a broadcaster from Fox Network.
Frequently Asked Questions (FAQS)
What's between Liz Gonzales and Britt McHenry?
Well, the talk of them is an old tale taking back to 2018. It was a simple ongoing debate between them regarding the SI swimsuit issue and what it means to the #MeToo movement. Well, it was mainly the tweet war between Paige and Britt.
Does Britt McHenry have children?
Britt McHenry has no children, and we barely know if she is married or has a boyfriend. She has not opened up about her relationship with the public. She has not posted any pictures of marriage.
Has Britt McHenry received any awards?
No, Britt has not received any award to date. But she is quite famous because of her outspoken mind.