Brooke Olzendam (best known as Brooke Collins) suffered great pain during her journey. At times, life is unpredictable and gets more bitter than ever. Currently, Brooke is an accomplished sportscaster and a sideline reporter.
Throughout her journey, she has hosted numerous football, horse racing, baseball, and many more events.
Remove term: Brooke Olzendam Brooke OlzendamRemove term: Sports caster S
Today, we will discuss her life in detail, and along the way, we will trail down her work and family.
In 2022, she appeared in various podcasts and one of "The Blazers Balcony" on Apple Podcasts.
But first, let us get through the quick dose of here facts.
Quick Facts | Brooke Olzendam
Full Name
Brooke Olzendam
Date of Birth
August 12, 1981
Birth Place
Spokane, Washington, United States
Nick Name
None
Religion
Unknown
Nationality
American
Ethnicity
White
Zodiac Sign
Leo
Age
41 Years Old
Height
5'7″ (1.7 meters)
Weight
Around 50 kg (110 lb)
Hair Color
Dark Brown
Eye Color
Dark Brown
Build
Athletic
Father's Name
Dave Olzendam
Mother's Name
Alison Olzendam
Siblings
Unknown
Education

Shadle Park High School
Edward R. Murrow School of Communications
Washington State University

Marital Status
Married
Spouse

Andy Collins (Died in 2011)
Josh Bennett (m. 2014)

Kids
A son named Theo and a daughter named Amara Baptist
Profession
Sideline Reporter
Affiliations

N.B.C. Sports Northwest
Fox Sports Indiana
Pac-12 Network

Net Worth
$1 – $5 Million
Social Media
Instagram, Twitter, LinkedIn
Last Update
June, 2023
Brooke Olzendam | Early Life, Education & Body Measurements
Brooke Olzendam was born on August 12, 1981, under the star sign of Leo in Spokane, Washington, United States. Although there is no disclosed information about her siblings, she is the daughter of Alison Olzendam and Dave Olzendam.
View this post on Instagram
Talking about her familial background, her father, Dave, worked as the coach of Medical Lake between 1982 to 2004. Dave Olzendam has coached over 430 games during his 31 long seasons.
He is also an inductee at the Washington Interscholastic Basketball Coaches Association Hall of Fame. Hence, Brooke grew up mainly in the gym, watching her Father train others.
Brooke grew up as a tomboy until ninth grade, and she had always loved playing basketball.
So often, when girls grew up with bedroom posters of Brad Pitt and Justin Timberlake, Brooke had David Robinson, Reggie Miller, and Gary Payton.
As for her education, Brooke Olzendam attended Shadle Park High School in her native place Spokane, Washington. Following it, she enrolled in the Edward R. Murrow School of Communications.
This particular school is Washington State University, where she graduated in 2003.
Body Measurements
Brooke Olzendam is a gorgeous lady with deep dark brown hair and eyes of similar color. She stands at a stunning height of 1.7 meters while weighing around 110 lbs.
Click to learn about Maria Taylor's Bio, career, earnings, and love life!
Brooke Olzendam | Career
In years ahead, Brooke Olzendam commenced as a sideline reporter on the field. She initially worked and covered for the Washington Huskies as the host of Huskies All-Access.
During the tenure, she worked to cover for Huskies football and basketball while also serving as a host of Runnin' with the Pac.
Today, Brooke is a pregame/halftime/postgame host for Portland Trail Blazers telecasts. In the meantime, she also works for the Pac-12 Network, where she does football sideline reporting.
After it, Brooke became the primetime football sideline reporter while covering the C.B.S. College Sports Network. Then, after two seasons there, she joined the Pacers.
Later, she worked to cover for the Portland Trail Blazers as a pregame/halftime/postgame host.
Alongside it, Brooke starred in covered professional games ranging from baseball to horse racing for Comcast SportsNet Northwest (now N.B.C. Sports Northwest).
Before that, Brooke Olzendam was a part of Fox Sports West and Prime Ticket as a sideline reported for the UCLA Bruins football telecasts.
Follow to read about Leigh Davis; all there is to know about Rece Davis's wife!
Brooke Olzendam | Net Worth
Brooke Olzendam maintains a career net worth of $1.2 million. Apart from her career as a reporter, Brooke also earns a hefty amount from her brand endorsement deals.
Social Media
Check out her social media pages if you are interested in Brooke Olzendam's personal uploads and posts. She is on Instagram as Brooke Olzendam (@bolzendam) with 18.8 K followers.
View this post on Instagram
Likewise, she is on Twitter as Brooke Olzendam (@brookeolzendam), with 30 K followers. Similarly, she has her LinkedIn handle as Brooke Olzendam (Collins), with 370 connections.
Brooke Olzendam | Personal Life
Often one has to grow through loads of bruises throughout life. Well, as in Brooke's case, she struggles with a deep hole in her heart that may be healed, but the scars will haunt her for the rest of her life.
Brooke Olzendam is married to Josh Bennett and maintains a beautiful family of four. She has been moving forward firmly as a mother, a loving wife, and an accomplished reporter.
Brooke met Josh through her mother's friend during her tenure in Indiana in 2014. It was years after the death of her first husband, Andy Collins, when her mother's friend wanted her to meet him.
At first, she had declined the offer; however, something stirred her wanting to go out and meet him. After their meeting, they exchanged emails and contact numbers.
View this post on Instagram
Eventually, they clicked with each other, and today, they have two beautiful children together. To elaborate, they have a son named Theo (born in 2015) and a daughter named Amara (born in 2018).
Brooke Olzendam And Andy Collins
Well, Brooke Olzendam met Andy Collins for the first time during his years in Southern California. Back then, she worked in television and often commuted to Portland to host the "Talkin' Ball" show.
The duo dated each other not long after, and Collins was at the University of Oregon as a quarterback.
Then, nearly a year after their relationship, the duo took vows in 2011. The two married in Seattle and later flew to live in Fort Lauderdale, Florida.
Looking back, the duo met one night when they both happened to be at Nikki Beach, a bar in Venice. As a fun fact, they both had no intention to be out that day, but Brooke was out because of her friend who wanted to roam around L.A. while Andy was there to make sure his friend got a ride.
The duo saw each other for the first time and clicked instantly. Then, as they commenced talking and sharing their mutual interest in sports, they clicked and later shared a ride back to Andy's home. Following it, they exchanged numbers.
As a matter of fact, the duo clicked and got together only after a few intense days. Hence, Andy Collins made a move and proposed to Brooke on Valentine's Day in San Francisco.
Their wedding ceremony was organized in the presence of over 300 guests, but they didn't have a proper honeymoon as Brooke had her work to accomplish.
However, the two had started their official honeymoon on one of the islands off the Florida Keys.
Andy's Sudden Death
In August 2011, Brooke Olzendam and Andy Collins stayed at a hotel after returning from their House hunt. During that time, Andy was working out while Brook stayed in to iron the clothes.
After completing her ironing chore, she went downstairs to look for Andy after several failed calls.
Not long after it, she saw the Fire truck and paramedics rushing over for help, and when she couldn't see him, she returned to the room.
Then, she got a call from one of the E.M.T.s, who stated that Andy had lost consciousness while on the treadmill. As she rushed in, a nurse tried to resuscitate him as the ambulance arrived.
Though no one said a word to her, Brooke felt a chill run down her spine as she figured out something was going wrong.
"Then there was a priest giving him his last rites. I just kept saying, 'Please, come back.' I was holding his hand when they said he was gone."
-Brooke Olzendam
Altogether, they revealed that Andy Collins had a fatal heart attack. Even his autopsy report portrayed that Andy had arteries near his heart smaller than average, which was the root cause of his fatal death.
You might also be interested in reading about Kristina Pink's career journey and personal venture in life!
Funeral And Afterwards
A week after the incident, they held the funeral in Andy's hometown of Zillah, Washington. What was more heart-wrenching was that the duo was only married for ten days back then.
Indeed, this incident left Brooke Olzendam in despair, and she fell close to not returning to work. She stayed in bed for weeks and didn't glance at her wedding pictures.
During that time, Brooke's mother helped her to return all the wedding gifts. Almost after seventeen days of panic and breakdown, she returned to the field, and only this time, did she feel calm as she had never felt before.
Read more about Jane Skinner's bio, career, family, net worth, and many more!
Brief Glance On Andy Collins
Andy Collins was the three-time Southern California Intercollegiate Athletic Conference offensive player of the year at Occidental College. Initially, he transferred from the University of Oregon and played from 2004 to 2006.
Additionally, he also represented the United States in the Aztec Bowl. Andy had played for the New York Giants in the Arena Football League throughout his years, including stints with the Los Angeles Avengers and Colorado Crush.
Some of the tributes for Andy Collins are as below.
"This hurts. It's so sad. He was the consummate Leader on the field. We were proud of how he represented the team and Stockton, and our hearts go out to his family."
-Dan Chapman, former president of the Lightning
"It's tough for me to get a grip on this. I can't imagine what his wife and family are feeling. Andy is just one of those dudes you want to be around."
-Chad Cavender, a former Lightning quarterback
"The fact that I got to be his wife, that was a no-brainer. I'm proud to have been married to him for those ten sh0ort days. I will take that over, never meeting him in a heartbeat. No matter what happens, I'll always be Brooke Collins."
-Brooke Olzendam
In the Remembrance Of Andy Collins
Altogether, Brooke Olzendam commenced a new Campaign in honor of her late husband to raise awareness about the importance of AEDs and heart health. As she lifted the Campaign, the Portland Trail Blazers raised $5,000.
Furthermore, she stated that she wished to raise awareness regarding heart problems through her story. Therefore, this Campaign kicked off as "Brooke Hearts Your Heart."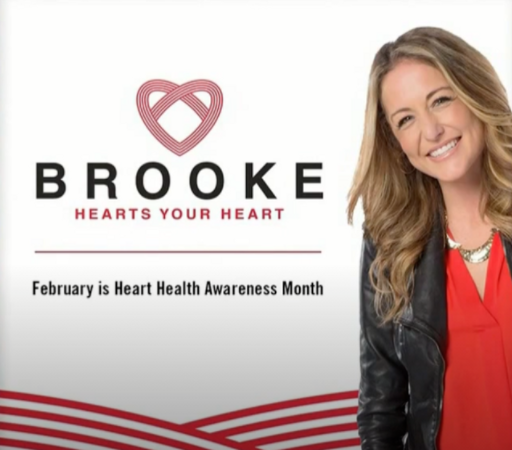 Podcast | 2022
Recently Brooke appeared on "The Blazers Balcony" on Apple Podcasts, where while enjoying wine in Santa Barbara, Brooke Olzendam and
Casey Holdahl talks about the Trail Blazers' triumph against the Kings on opening night in Sacramento.
Brooke Olzendam | FAQs
What did Andy Collins use to call Brooke Olzendam?
Andy Collins lovingly used to call Brooke Olzendam "I.G.," as in Instant Gratification. They complete each other.
When did Andy die after they got married?
On Tuesday, Collins died ten days after their wedding in Fort Lauderdale; Andy Collins, who was 27, apparently suffered a heart attack.
Click to follow in-depth about Ariel Helwani's life, career, earnings, and love life!