CD Lamb is an emerging star in the National Football League, renowned for his exceptional abilities as a wide receiver for the Dallas Cowboys.
Lamb gained recognition in college football by being named a consensus All-American in 2019 during his tenure at Oklahoma.
In 2020, the Dallas Cowboys drafted him in the first round of the NFL Draft, and he quickly made a notable impact on the team.
In the 2022 season, Lamb had a breakthrough performance, hauling in 107 receptions for 1,359 yards and scoring nine touchdowns, earning him his first Pro Bowl and second-team All-Pro honors.
These accolades have established him as one of the league's most promising young athletes.
As he prepares for the next season with the Cowboys, Lamb has expressed his excitement about his future with the team and his commitment to wearing their jersey for years.
Want to know more about the player? Then read the entire article, and you will be good to go. But before that, here are some quick facts about the player!
Quick Facts
| | |
| --- | --- |
| Name | Cedarian CeeDee Lamb |
| Profession | American Footballer |
| Nationality | American |
| Birth Date | April 8, 1999 |
| Birth Place | Opelousas, Louisiana, U.S. |
| Age | 25 Years Old |
| Zodiac Sign | Aries |
| Height | 6 feet 2 inches/1.88 meters/188 cm |
| Weight | 87 kg/191 lbs. |
| Chest Size | 38 inches |
| Waist Size | 34 inches |
| Biceps Size | 18.3 inches |
| Shoe Size | 12 (U.S.) |
| Hair Color | Black |
| Eye Color | Black |
| Sexual Orientation | Straight |
| Religion | Christian |
| School | John and Randolph Foster High School |
| College | The University of Oklahoma |
| Father's Name | Cliff Lamb |
| Mother's Name | Leta Ramirez |
| Marital Status | Not Married |
| Girlfriend | Crymson Rose |
| Social Media | Instagram |
| Last Update | June 2023 |
Early Life & Family
Cedarian DeLeon "CeeDee" Lamb was born on April 8, 1999, in Opelousas, Louisiana, United States.
His brother's name is Taribbean Ramirez, and his sisters are Andres Lamb and Brianna Lamb. He is the oldest among his siblings.
The player grew up with a younger sibling and his parents, Cliff Lamb and Leta Ramirez.
His family was forced to relocate to Houston, Texas, after the devastating effects of Hurricane Katrina on the city in 2005.
Education & Early Career
CD Lamb attended John and Randolph Foster High School in Richmond, Texas. He played high school football and received several honors and awards there.
He was considered a highly sought-after prospect and received offers from several prominent universities. Lamb eventually committed to the University of Oklahoma in July 2016.
Lamb continued to excel in football during his college years, playing for Oklahoma from 2017 to 2019. He also had the opportunity to catch passes from two Heisman Trophy winners, Baker Mayfield and Kyler Murray.
In 2019, Lamb was recognized as a consensus All-American, a significant honor in college football.
Career
CD Lamb has had a remarkable NFL career so far. He made his debut for the Dallas Cowboys in 2020.
The player immediately made an impact, setting several franchise rookie records and becoming the first player in NFL history to record at least five receptions in his first six games.
In 2021, Lamb improved his numbers and emerged as a key player in the Cowboys' offense, leading the team in receptions, receiving yards, and touchdowns.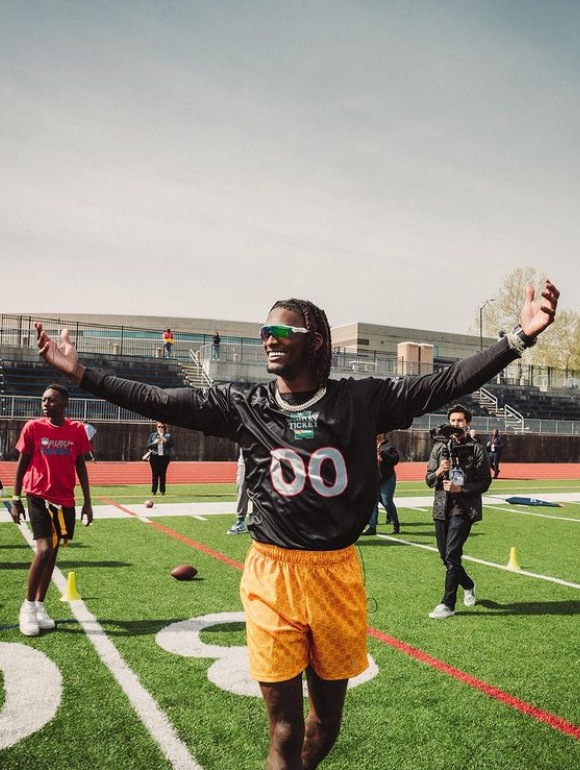 He was selected to his first Pro Bowl and named a second-team All-Pro by the Associated Press. In 2022, Lamb continued his impressive play and helped lead the Cowboys to the NFC Championship Game.
He had career-high receptions, receiving yards, and touchdowns, ranking sixth in the league in both receiving yards and receptions.
Lamb also earned his second consecutive Pro Bowl and second-team All-Pro honors.
Career Highlights & Awards
Second-team All-Pro (2022)
2× Pro Bowl (2022, 2021)
Consensus All-American (2019)
First-team All-Big 12 (2019)
Second-team All-Big 12 (2018)
Girlfriend
CD Lamb is currently in a relationship with Crymson Rose, a 23-year-old American model, sportswoman, and social media star.
The couple first met while both were student-athletes at the University of Oklahoma.
Before her relationship with Lamb, Crymson Rose dated NBA player Trae Young in high school, but they eventually broke up.
She has also gained significant attention on social media platforms and has a sizeable following on Instagram.
Rose made headlines during the draft night when she grabbed Lamb's phone, and he snatched it back from her. The incident quickly went viral on social media and garnered much attention from fans and the media.
Net Worth & Contract
Lamb signed a four-year contract with the Dallas Cowboys worth $14.01 million, including a $7.75 million signing bonus and $14.01 million guaranteed on July 2020.
Similarly, Dallas exercised a $17.91 million option for 2023 on April 20, 2023.
The player's average annual salary is $3.5 million, and he will become an unrestricted free agent in 2025.
As of this writing, his career earning sits at around $11.61 million, including salaries and signing bonuses.
CeeDee Lamb's estimated net worth is around $21 million as of June 2023, as reported by various sources. This wealth comes from his successful NFL career and various endorsement deals with brands like Body Armour, Vertiball, etc.
Lamb's endorsement deals with these brands have significantly contributed to his wealth, as he has appeared in commercials and advertisements for some of them.
Fines and Altercations
Despite his successful career, CD Lamb has been fined several times for various altercations during the 2021 NFL season.
On October 22, 2021, he was fined $10,300 for taunting the New England Patriots by spinning the ball in front of J.C. Jackson.
Similarly, on October 3, 2021, he was fined $15,450 for a uniform violation for wearing his jersey untucked and his socks too low during the game against the Carolina Panthers.
In addition, he was also fined $10,815 for an illegal block on Panthers safety Jeremy Chinn during a run play by Ezekiel Elliott in the same game.
Earlier in the season, on September 27, 2021, Lamb was fined $5,150 for another uniform violation, and on September 9, 2021, he was also fined $5,150 for a uniform violation against the Tampa Bay Buccaneers.
Age, Body Measurements, & More!
The NFL player was born on April 8, 1998. Hence, he is 25 years old. His zodiac sign is Aries.
He stands 1.88 meters tall and weighs around 191 pounds. In terms of his body measurements, his chest measures 38 inches, his waist measures 34 inches, and his biceps measure 18.3 inches.
The player has black hair and eyes, complementing his athletic build and chiseled features. Likewise, he has many tattoos carved on his body.
Interesting Facts
He got his nickname CeeDee from a peewee coach who couldn't pronounce his real name, Cedarian.
He grew up rooting for LSU but didn't get an offer from them until after he had committed to Oklahoma. He also briefly de-committed from Oklahoma to join Texas A&M. However, he changed his mind again and stuck with the Sooners.
He caught passes from two Heisman Trophy winners at Oklahoma: Baker Mayfield and Kyler Murray. He also played with Jalen Hurts, a Heisman finalist in 2019.
Frequently Asked Questions (FAQS)
When was CD Lamb drafted, and by which team?
CD Lamb was drafted in the first round of the 2020 NFL Draft by the Dallas Cowboys with the 17th overall pick.
What is CD Lamb's number?
Lamb wears number 88 for the Cowboys. He initially wore number 10 in his rookie season but switched to 88 in 2021.
What are CD Lamb's stats?
In 2022, Lamb had 107 receptions for 1,359 yards and nine touchdowns, ranking among the top receivers in the league. He also made his second consecutive Pro Bowl and was named All-Pro second-team.