When we talk about the most influential people in the snowboarding arena, Chloe Kim is one of the names that is never missed.
She is the youngest woman to win an Olympic snowboarding gold medal. In the meantime, she is also the only woman to score a perfect 100 in any competition.
Before discussing her career, games, and life, let us get through a quick dose of fast facts.
Quick Facts
Full Name
Chloe Kim
Date of Birth
April 23, 2000
Birth Place
Long Beach, California, U.S
Nick Name
Imugi
Religion
Christianity
Nationality
American
Ethnicity
Korean-American
Zodiac Sign
Taurus
Age
23 years old
Height
5 feet 3 inches (1.6 meters)
Weight
115 lb (52 kg)
Hair Color
Black (natural), Blonde (dyed)
Eye Color
Brown
Build
Athletic
Father's Name
Jong Jin Kim
Mother's Name
Boran Yun Kim
Siblings
Two half-sisters; Tracy and Erica
Education
Dana Middle School
Mammoth High School
Princeton University
Marital Status
Unmarried
Boyfriend
Evan Berle
Profession
Snowboarder
Country Represented
United States
Event(s)
Halfpipe
Club
Mammoth Mountain Ski and Snowboard
Coach
Rick Bower
Active Years
2013-present
Net Worth
$3-$6 million
Social Media
Instagram, Twitter
Merch
Paperback
Last Update
December, 2023
Body Measurements
Chloe Kim is an attractive lady with an athletically toned body. She has fair skin and medium blonde hair with beautiful brown eyes.
She stands at the height of 5 feet 3 inches (1.6 meters) while weighing 115 lb (52 kg).
Likewise, she has a bust or breast size of 31 inches/81 cm. Well, she wears a bra size of 36B (US)/80B (EU) with a cup size of B(US).
Moreover, her waist size is 25 inches/64 cm, and her hip size is 35 inches/89 cm. Additionally, she has a shoe size of 7(US).
Read about Billy Morgan | his career, earnings, and many more>>>
Work Out Routine
When it comes to her training and workout sessions, Chloe Kim ensures to give it her all with rigorous exercises. As per the sources, Kim typically spends at least two hours a day performing drills on snow throughout her competition season.
Chloe focuses on working on her body strength in her gym routine with loads of heavy lifting, single-leg exercises, and outdoor running.
She also works on single-leg squats and single-leg lateral lunges to maintain similar body control.
Following it, she goes light with twenty minutes on the bike and light core cardio.
Her lower body workout includes squat variations and targets multiple muscles like the thigh, glute, and other core muscles.
Diet
"I eat whatever I crave; that's who I am! I love food; just thinking about taking my favorite foods out of my diet would absolutely crush me." – Chloe Kim.
Although Chloe looks for balance, she is also a foodie when it comes to her diet. Not to mention, she has a sweet tooth and can't part her ways with treats.
Usually, her breakfast consists of chocolate pancakes, some biscuits and gravy, toast, and cottage cheese. As for her lunch, she lunches french fries and pizza.
At the end of the day, her dinner goes as per her mood, which might either be In-N-Out or Chipotle.
Chloe Kim | Early Life
Kim was born on April 23, 2000, under the star sign of Taurus in Long Beach, California, USA. She is one of the three daughters of Boran Yun Kim and Jong Jin Kim.
Like everyone else, the family has been, is, and will always play a crucial role in Chloe Kim's life. With the immense depth of love for her family, Chloe has directed a 60-second movie with P&G titled "Always There," dedicating it to her parents.
"My upbringing and giving me a sense of who I am — they were the most amazing supportive parents. I was so excited for this because I love our story, the Kim story." – Chloe Kim.
Moreover, Chloe Kim has a best friend relationship with her mother, Boran Yun Kim. Not to mention, Chloe states that her mother is also her top beauty inspiration.
"When I look, feel, and do my personal best, it shows my personal 100! My mom is always helping me achieve my personal 100." – Chloe Kim.
Click to learn about David Wise Bio: Career & Net Worth>>>
As a matter of fact, Chloe's father, Jong Jin Kim, is the motivating factor behind her confidence. He has been the building block of her foundation from the starting phase as he started her ongoing career first as her routine.
"The truth is he always made me figure things out on my own." – said Chloe Kim
Talking about her father, Jong Jin Kim initially emigrated from South Korea to Southern California in 1982. He came to pursue his collegiate studies and then worked as a minimum wage officer.
He was pursuing an engineering degree at El Camino College and used to live in Torrance.
Nickname: Imugi
Chloe Kim's father nicknamed her the Imugi, the Korean word for a young dragon. As a fun fact, Chloe was born in the Korean zodiac year of the dragon.
Well, he chose her nickname to portray her strength and mightiness.
Family Background & Education
As we discussed before, both her parents are immigrants from South Korea to the United States. Hence, Chloe Kim is a second-generation Korean-American.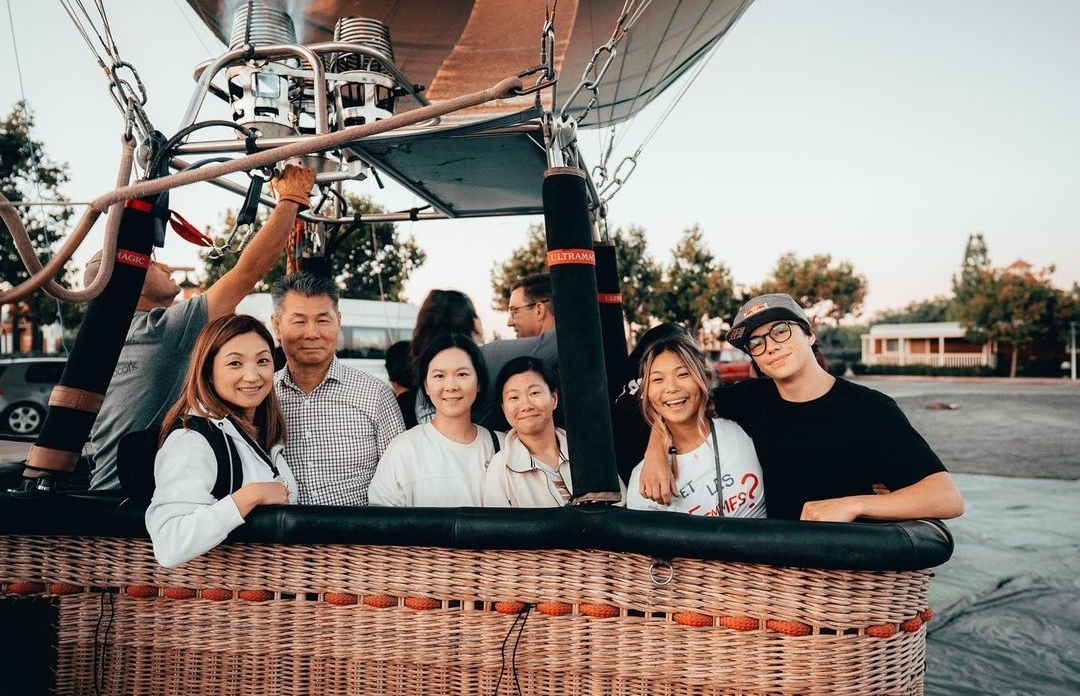 She was born in Long Beach, California, and raised in nearby Torrance. Today, she can speak English and Korean as well as French.
As for her academic background, Chloe Kim studied third and fourth grade in Geneva, Switzerland.
Before it, Chloe was homeschooled for a short interval of time. Following it, she completed her middle school study at Dana Middle School.
Likewise, she graduated from Mammoth High School and was later accepted into Princeton University – a prestigious Ivy League university.
Later, the university granted her a leave of absence to let her focus on her snowboarding career.
Chloe Kim | Career
Early Career
Chloe Kim started early in the competition arena as she joined Team Mountain High at the age of six. She went to Geneva, Switzerland, for training not long after it.
After spending a couple of years, she was back in California and commenced training at Mammoth Mountain. She spent two years on the team, from age eight to ten.
Professional Debut
Though Chloe Kim started early through multiple competitions, her professional debut only came in 2013.
She was thirteen years old when she joined the U.S. Snowboarding Team. Chloe was qualified to enter the 2014 Sochi Winter Olympics; however, she got restricted from the game.
According to the International Sports Federation, snowboarder athletes must be fifteen years old.
You might also be interested in David Edward Plummer | Retirement & Olympics>>>
Winter Youth Olympics
After her multiple medals, Chloe made her way to the 2016 Winter Youth Olympics, only to become the first American woman to win a gold medal in snowboarding.
In the meantime, ESPYS nominated her for the Best Breakthrough Athlete. She also became the first snowboarder flag bearer in the Team USA for the Olympics Winter Games.
2018 Winter Olympics
Chloe Kim took home the gold medal at her first Winter Olympics held in Pyeongchang, South Korea.
Right then, the Olympics saw her as the youngest woman ever to land two 1080-degree spins in a row. She also became the youngest women's gold medalist in halfpipe at the Olympics.
Indeed, this particular victory on her list posted her on time's 100 Most Influential People list.
Chloe Kim | Awards & Achievements
Best Female Athlete (2018 ESPYS)
Best Female Olympian (2018 ESPYS)
Time magazine's 100 Most Influential People (2018)
Best Female Action Sports Athlete (2018 ESPYS)
Winter X Games (five golds, one silver, and one bronze)
Winter Youth Olympics (Two golds)
World Championships (Two golds – 2019 and 2021)
Olympic Games (Two golds – 2018 and 2022)
Chloe Kim | Net Worth
As per the sources, Chloe Kim has an annual salary ranging anywhere from $3-$6 million. At the moment, she is expected to have a net worth of $400 thousand.
Brand Endorsements
Besides her whopping career earnings, Chloe Kim has top-tier brand endorsements with Toyota, Monster Energy, Target, Visa, Mondelez, Samsung, Nike, Burton, Oakley, etc.
With Nike, Chloe has had the deal since the young age of thirteen. Later in the 2019 Oscars, she stood with Nike's "Dream Crazier" ad with Serena Williams, Simone Biles, Ibtihaj Muhammad, Megan Rapinoe, and other women athletes.
Moving on, she stood alongside Kellogg's Corn Flakes as their face. Back then, the corn flakes became the fastest-selling cereal box in Kellogg's Company history.
As for her recent brand appearance, Chloe has been added as the playable character in Fortnite's game series starting in March 2022.
Films & Appearances
To date, Chloe Kim has appeared in several movie appearances, television, etc. Some of which are mentioned below.
Double Dare (2018 in the episode Board Bombs vs. Team Over Your Head)
Chloe Kim (2018 in the episode Chloe Kim)
Girls Like You (2018 music video – cameo)
Charlie's Angels (2019 movie as the Angel Recruit)
#KidsTogether: The Nickelodeon Town Hall (2020)
The Substitute (2020 in the episode Chloe Kim)
Scooby-Doo and Guess Who? (Voices in the 2020 episode of Caveman on the Half Pipe.)
The Masked Singer (2020 Season 4)
Cars
With her brand sponsorship with Toyota, Chloe Kim features multiple cars from Toyota's lineup as 4Runner, TRD Pro, etc. As a matter of fact, her initial car was when she was sixteen years old.
Chloe Kim | Personal Life
With their whopping net worth, Chloe Kim leads an exceptionally lavish lifestyle. However, lavish is never acquainted with peace, and as an athlete, she does get her fair share of criticisms on her way.
Throughout her journey, she does look forward to portraying both countries in her games. Due to several reasons, Chloe experiences racist and hateful messages regularly.
Some of the comments she receives include the statements such as "stop taking medals away from the white American girls on the team" and "go back to China."
These hateful comments have instilled fear in Chloe Kim, and hence, she tries to avoid crowded areas as far as possible. Furthermore, she always carries a knife, pepper spray, and tasers whenever she goes outdoors.
Boyfriend Evan Berle
"He has been the best thing that's ever happened to me, just so supportive, so loving. He's always there with such calm energy and I really need that sometimes." – Chloe Kim
Chloe Kim is in a serious relationship with her snowboarder boyfriend, Evan Berle, with whom she has spent two years together now.
According to the sources, the duo currently lives together in a four-bedroom home on the west side of Los Angeles. Additionally, they are also their dog's parents.
Together, they both grow with each other, and Evan had paused his studies just to help Chloe with her games and training. Furthermore, you can always spot them together on a beach or on a lovely vacation in a different country.
Talking about Evan Berle is also a skateboarder who has earned his degree in art history, criticism, and conservation from Santa Monica College.
Social Media
If you are interested in Chloe Kim's uploads and posts, check out her social media sites.
She is on Instagram as Chloe Kim (@chloekim) with 940k followers. Likewise, she is on Twitter as Chloe Kim (@ChloeKim) with 272k followers.
Chloe Kim | FAQs
Does Chloe Kim surf?
According to Chloe Kim, she loves swimming; however, surfing has never been her intense sport. Yet, she has started her wish to be better at it.
"I have [surfed before] but I just almost drown every time so I try not to do it!" – Chloe Kim
What board does Chloe Kim ride?
Before, Chloe Kim used to use the equipment from the Burton, and she had dealt with them for seven years. Today, she uses and sponsors Roxy snowboard.
Are Shaun White and Chloe Kim friends?
Chloe Kim and Shaun White have crossed their paths several times to date. However, they are not the closest of people together yet; both wear nothing but respect for each other.