Cristiano Ronaldo, or CR7, is one of the greatest ever players to grace the football pitch. With five Ballon d'Ors, four Champions League, and one European Championship to his name, Ronaldo is arguably the best football player to exist.
Alongside being the best football player, Cristiano Ronaldo is also the most followed sportsman on Instagram. To put it simply, Ronaldo is an icon of the 21st century.
Furthermore, Cristiano Ronaldo is rivaled by another great player, Lionel Messi. The age-long debate regarding who the greatest ever player is between Ronaldo and Messi continues to this day.
Ronaldo currently plays for Italian powerhouse Juventus FC. Moreover, he is in a relationship with the stunning model Georgina Rodriguez.
"Cristiano Ronaldo is priceless."
The above quote said by Florentino Perez rings true, as Ronaldo is the second-highest goal scorer with 789 goals. Furthermore, he is also the richest footballer on this planet.
Today, we will explore Ronaldo's current and past romantic relationships, lifestyle, business, career, and many more things.
However, let's take a look at some quick facts.
Quick Facts
Full Name
Cristiano Ronaldo dos Santos Aveiro
Date of Birth
5 February 1985
Birth Place
Funchal, Madeira, Portugal
Nick Name
CR7, The GOAT
Religion
Roman Catholic
Nationality
Portuguese
Ethnicity
Portuguese
Languages
Portuguese, English, and Spanish
Education
Unknown
Zodiac Sign
Aquarius
Father's Name
Dinis Aveiro
Mother's Name
Dolores Aveiro
Siblings
Three Siblings: Brother: Hugo, Sisters: Elma and Liliana Catia
Age
37 years old
Height
6'2″
Weight
84 kg
Jersey Number
7 and 9 (Past)
FIFA 22 Rating
91
Hair Color
Black
Eye Color
Hazel Brown
Build
Athletic and Fit
Married
No
Relationship Status
Dating
Girlfriend
Georgina Rodriguez
Position
Forward
Profession
Football Player
Net Worth
$500 million
Annual Salary
26.52 million GBP
Clubs
Sporting Lisbon, Manchester United, Real Madrid, Juventus FC
Current Team
Manchester United
Awards

FIFA Ballon d'Or/Ballon d'Or- 5 times- 2008, 2013, 2014, 2016, and 2017
UEFA Player of the Year
Premier League Player of the Season – 3 times
La Liga Best Player – 2013-14
FIFA World Best Player of the Year -2008

Social Media
Facebook, Instagram, Twitter, YouTube, Official Website
Merch
Soccer Jersey, Cristiano Ronaldo: The Rise of a Winner(Soccer Star Series), Autographed Juventus Jersey
Last Update
July, 2022
From the Streets of Madeira to Manchester | Ronaldo's Childhood
Cristiano Ronaldo was born Cristiano Ronaldo dos Santos Aveiro on 5 February 1985. Furthermore, he was born to Jose Dinis Aveiro and Maria Dolores dos Santos Aveiro.
Ronaldo was born in Sao Pedro, Funchal. However, he was raised in San Antonio, Funchal.
Likewise, he was named Ronaldo due to his father's admiration of former U.S President Ronald Reagan.
Ronaldo's dad, Jose, worked as a part-time kit man and a municipal gardener. Moreover, his mother worked as a cook in a local kitchen. Growing up, Ronaldo had three siblings.
His older brother is Hugo dos Santos Aveiro. Likewise, Ronaldo's two sisters are Katia Aveiro and Elma dos Santos Aveiro.
Ronaldo's Family Condition
Growing up, Ronaldo's family wasn't wealthy in the beginning. They came from a humble lifestyle, as they experienced extreme poverty.
Due to their finances, Ronaldo's mom wanted to abort him. Another reason was his dad's alcohol addiction.
However, the doctors refused to perform an abortion.
Later on, Ronaldo's mother tried drinking warm beer and also tried attempting a miscarriage. Despite several efforts, nothing happened.
Thankfully, Cristiano Ronaldo was born. His birth led him to become the world star he is today.
Moreover, Ronaldo shared a bedroom with all of his siblings. Being the youngest member of the family, Ronaldo received all the love.
In clear words, we can say that all of his family members extremely pampered Ronaldo.
Despite the poverty, Ronaldo never ran out of clothes as a kid. His sister Maria and her husband ensured Ronaldo received plenty of clothes.
Moreover, they did this not to let him feel that he was from a poor household.
Furthermore, being the youngest child in the household eased any career pressures from him.
As his older brothers and sisters had to work hard to meet their parent's expectations, Ronaldo had the freedom to do what he wanted to do.
Ronaldo's Father Dinis Aveiro
Cristiano Ronaldo has gone on to achieve everything a football player can ever achieve. However, there is one thing that still makes Ronaldo emotional and sad.
Ronaldo's father, Dinis Aveiro, was a war veteran who served in Africa as a young soldier.
After being scarred due to the intensity of the wars, he became attached to alcohol. Despite drinking excessive alcohol, his father never beat Ronaldo or his siblings.
But, his father's alcoholism always brought different problems. Ronaldo's father, Dini Aveiro, died in 2005 due to heart problems caused by excessive alcohol consumption.
Cristiano Ronaldo has never consumed alcohol and vows not to drink in his lifetime. This is because alcohol has led to his father's demise and affected several other people's lives.
Ronaldo's father was always proud of his son. When Ronaldo moved to Manchester United, Dinis was extremely proud and revealed that he was too nervous to see his son play.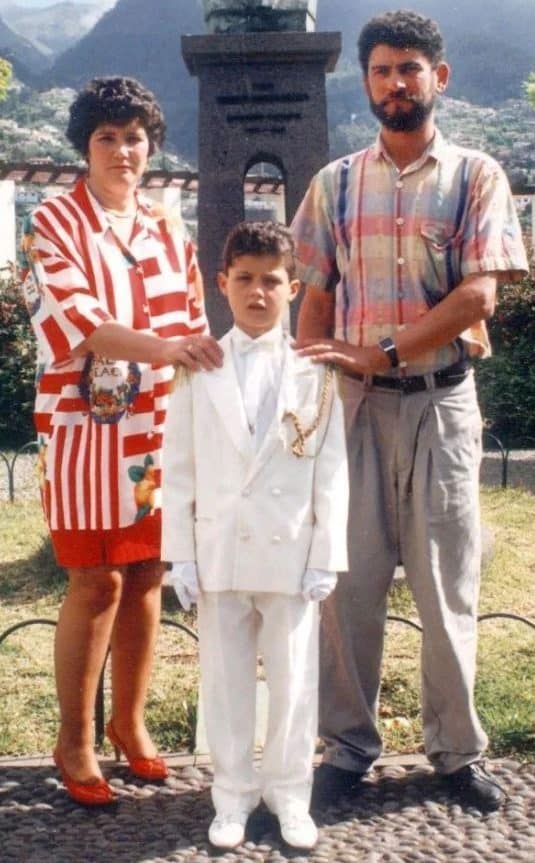 Ronaldo never maintained a close relationship with his father. But he was always close with his mother, Dolores.
Likewise, he revealed that he never had a normal conversation with his father.
In an interview with Piers Morgan on ITV, Ronaldo expressed his sadness regarding not having his father alongside his success.
He always wanted his father to see him win trophies and awards.
Despite the bitter-sweet relationship with his father, Ronaldo was always close with the rest of his family.
Other Childhood Stories of Cristiano Ronaldo
Cristiano Ronaldo never had a strong liking for studying and education. He was enrolled at the Escola Basica e Secundaria Goncalves Zarco.
However, Ronaldo wasn't focused and interested in his studies. He was known for not doing any homework or schoolwork.
Moreover, Ronaldo always had an attachment to football. He loved playing football on the streets. Moreover, Ronaldo used to spend long hours playing football with his friends.
Likewise, Ronaldo accompanied his father to Androinnha Football Club. There, his father worked as a part-time kit man.
Also, Ronaldo signed for Androinnha Football Club when he was just eight years old.
Ronaldo's father worked full-time at the club to keep a close eye on his son. As a result, he could help out to build a football career for his son.
Similarly, Ronaldo helped his team win several trophies.
His teammates sometimes called him a 'crybaby' because he would cry when he lost. According to his teammates, Ronaldo was addicted to winning and improving. He hated losing.
After spending time at Androinnha, Ronaldo went to a trial at Nacional. There, he won several trophies for them.
Despite Ronaldo playing football at the local club level, his family was still in poverty. As a result, Ronaldo moved to Portugal's capital, Lisbon, at 12.
Leaving his family and relatives behind, traveling wasn't an easy decision. However, today Ronaldo is who he is because of the bold move.
Initially, Sporting Lisbon called him on a three-day trial. Later, they signed him for a fee of £1500 in 1997.
Dropping Out of School
CR7 played for Sporting Lisbon's football academy and attended his schooling at Lisbon. However, he wanted his sole focus to be on football.
He was extremely ambitious and passionate about the game, and he wanted to avoid any distraction.
Likewise, he disliked the idea of combining school and football. Young Ronaldo was always a popular figure among his school peers. However, he frequently used to argue with his teachers.
Did you know that Cristiano Ronaldo was expelled from his school? Yes, you heard it right.
The magnificent Ronaldo was once expelled from his school for throwing a chair at his teacher.
Ronaldo later revealed that he threw the chair at his teacher because he had disrespected him. Furthermore, Ronaldo began working extremely hard to prove his teacher wrong and make a name for himself.
His life was all about football. He ate, slept, and drank football. Today, he is in the highest football position due to his passion and obsession to improve to the highest degree.
Ronaldo's Heart Problem
CR7, among many individuals, had to endure difficult obstacles in his life. At a very young age, he has diagnosed with a racing heart. This was caused due to his excessive speed and strong heart response.
Also, his heart problem nearly forced him to quit football. Consequently, the Sporting Lisbon medical team led the laser surgery on him.
The surgery required cauterizing the several cardiac pathways into one singular one.
Thankfully, young Ronaldo's surgery went well. Once again, he could resume playing football and work on to fulfill his childhood dreams.
How tall is Cristiano Ronaldo? | Age, Height & Physical Appearance
The GOAT was born on 5 February 1985. Cristiano Ronaldo is 37 years old.
Ronaldo's star sign is Aquarius. An Aquarius is known for being imaginative and honest.
Now, moving to his physicality, Cristiano Ronaldo has an outstanding height of 6 feet and 2 inches. Similarly, Ronaldo weighs 84 kg.
Furthermore, Ronaldo maintains a perfectly slim and fit physique.
His 6-pack-abs are one of the best in the world. His abs and body build perfectly make him one of the most handsome football players in the world.
CR7 has the perfect handsome appearance as he has black hair color. Likewise, his eye color is hazel brown.
Cristiano Ronaldo | Wife, Past Relationships, and Kids
The world superstar has had several major relationships in his life. Ronaldo's previous girlfriend is a Russian model, Irina Shayk. Then, he started his relationship with Spanish model Georgina Rodriguez.
Likewise, he has been in a relationship with Jordana Jardel, Merche Romero, Gemma Atkinson, and Nereida Gallardo.
Other than that, Ronaldo has been rumored to have been in several other relationships with celebrities such as Kim Kardashian, Paris Hilton, and Bipasha Basu.
Relationship with Irina Shayk
Cristiano Ronaldo and the VS model Irina Shayk were in a relationship that lasted for five years. They first met each other in an Armani Exchange shoot in 2010.
Unfortunately, the two of them broke up in January 2015.
Irina Shayk is a Russian model and actress. She was born on 6 January 1986 and is currently 36 years old.
Moreover, she is the first Russian model to appear in Sports Illustrated magazine.
Various rumors and stories surround Ronaldo's and Shayk's relationship. The two celebrities were known to have led hectic lives.
When Shayk first began dating Ronaldo, she knew that the relationship would not be easy.
Moreover, after their breakup, Shayk expressed that Ronaldo made her feel "ugly and insecure," making her realize that she was with the wrong person.
Also, she expressed that she felt that she and Ronaldo weren't pursuing the same path.
Rumors surrounding the breakup
There are rumors that Shayk didn't want to attend Ronaldo's mother's birthday event. Likewise, various newspapers have reported that Shayk shared a strained and tense relationship with Ronaldo's family.
A news source has revealed that Ronaldo wanted to surprise his mother on her birthday. However, Shayk was uninterested.
As a result, they had a big argument. Several reports also tell us that Ronaldo spent the 2015 new year alone with his son.
Also, Ronaldo received his Ballon d'Or award only with his son on January 15. Shayk was said to have other plans and couldn't attend the ceremony.
Not to mention, Ronaldo thanked all his family, teammates, and friends, but not Irina Shayk. Later on, Shayk went on to have a relationship with popular Hollywood actor Bradley Cooper.
Relationship with Georgina Rodriguez
Currently, Ronaldo is dating Spanish model Georgina Rodriguez. Rodriguez was born in Buenos Aires, Argentina, on January 27, 1994. She is 28 years old.
Ronaldo and Georgina Rodriguez have one daughter, Alana Martina dos Santos Aveiro. Alana is the fourth child of Cristiano Ronaldo.
So, how did Ronaldo and Georgina meet each other? As Sports News's news report points out, Ronaldo met Georgina at a Gucci store in Madrid, Spain. During their first meet, Georgina was working as a shop assistant.
Since it was their first time, Georgina trembled uncontrollably due to Ronaldo's height and looks. Their first meeting sparked love between them and led to their relationship.
Ronaldo's Children
Ronaldo has four children of his own: two boys and two girls. His oldest son is Cristiano Ronaldo Jr.
Ronaldo Jr is ten years old and was born on June 17, 2010. Likewise, the identity of his mother has been kept secret.
Apparently, Ronaldo had agreed with Ronaldo Jr's mother to keep her identity a secret. Moreover, Ronaldo became a father when he was just 25 years old. His first son was born in the United States.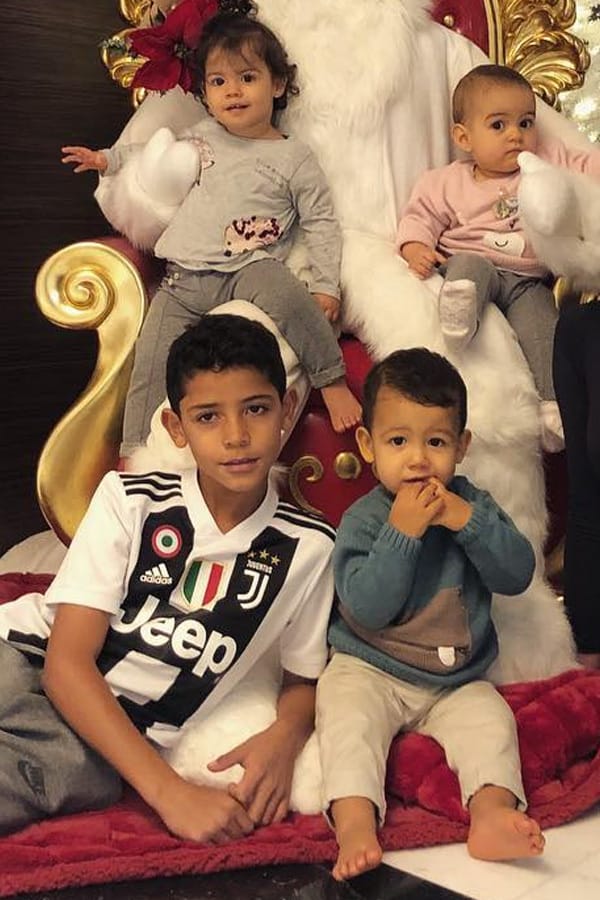 Ronaldo also has twin children, Mateo and Eva, born through a surrogate mother's help. Mateo and Eva were born in 2017 and are now three years old.
Similarly, the identity of the surrogate mother has been kept secret and out of public reach. The Juventus forward desires privacy in this part of his life as a lot about his personal life is public information.
Besides, Ronaldo Jr also has another sibling. His next sibling is his sister, Alana Martin dos Santos Aveiro, born through Georgina Rodriguez.
Alana was born in November 2017. Currently, she is three years old. Aside from that, Georgina and Ronaldo recently announced that they were pregnant with twins.
However, the pregnancy came bearing a heavy loss to the couple as one of the twins passed away sometime after birth.
The pair posted a heartfelt Instagram post for their baby boy and stated that their baby girl gave them the strength to continue in this trying time.
Other Relationships of Cristiano Ronaldo
The Portugal captain has dated several women during his career after his rise to popularity. Likewise, some of his relationships were short, some were long, and some were rumors.
Ronaldo went out with English actress Gemma Atkinson during his time at Manchester United. The two lovers dated for a brief period in 2007 and had a glamourous relationship.
The ex-Real Madrid player has also dated Spanish model Nereida Gallardo during his time in the Spanish capital. There are several pictures out showing them spending time together.
His ex-girlfriend Nereida Gallardo defended him during a recent rape allegation against Cristiano Ronaldo. She said that Ronaldo was always a gentleman.
Further, she expressed her support to her former lover in the court battle.
Likewise, Ronaldo has briefly been with Bollywood actress Bipasha Basu. After meeting at an award ceremony, the two of them went clubbing.
Also, they were pictured sharing an intimate moment. However, no further information exists regarding their brief stint.
Ronaldo has been found dating several other celebrities and models. Their names are listed down below.
Jordana Jardel
Merche Romero
Gemma Atkinson
Furthermore, he has been in a brief stint with these women.
Mia Judaken
Paris Hilton
Bipasha Basu
Olivia Saunders
Kim Kardashian
Cristiano Ronaldo | Football Career and Career Stats
Sporting Lisbon
Cristiano Ronaldo became Sporting Lisbon's senior player at age 16. Likewise, he is the first player to play in the under-16, under-17, under-18, B-team, and senior side for Sporting Lisbon in one single year.
His debut in the Primeira Liga came on 7 October 2002. Consequently, he lit up the Portuguese league with his impressive dribbling and pace. He scored two goals in his debut against Moreirense.
Ronaldo already had begun with impressive coaches, players, teammates, and other clubs. He had started making a name for himself.
At the time, Liverpool, Barcelona, and Arsenal had shown a strong interest in signing the young winger. Furthermore, Arsenal manager Arsene Wenger had lunch with Ronaldo and was in line to sign him.
Arsene Wenger had even flown Ronaldo to London and brought him to the training ground. However, Sir Alex Ferguson made a late swoop to sign the forward later on.
Ferguson's interest arose from United's defeat to Sporting Lisbon in a pre-season match. In the match, Ronaldo played extremely well and caused a lot of problems for the United defense.
Manchester United
Manchester United signed Cristiano Ronaldo for a fee of £12.24 million. With this, he became the first Portuguese player to play for Manchester United.
His signing also made him the most expensive teenager in Premier League history.
Also, Ronaldo initially requested to be given the number 28 jersey that he wore in Sporting Lisbon. However, he was given the iconic number 7.
The number 7 was previously worn by George Best, Eric Cantona, and David Beckham. Wearing the number 7 became the extra motivation for Ronaldo, who wanted to win everything.
Moving forward, Ronaldo made his debut for United on 16 August 2003 against Bolton Wanderers. He scored his first goal against Portsmouth on 1 November 2003.
British Dominance
Ronaldo quickly made himself an important part of the United team. Ronaldo won his first trophy in England by winning the FA Cup final. The United team was dominant in their victory against Milwall.
Likewise, Ronaldo became a key player in the famous Manchester United vs. Arsenal rivalry. The rivalry brought out the best in Roy Keane, Patrick Viera, Thierry Henry, Van Nistelrooy, and Cristiano Ronaldo.
Despite scoring two goals against Arsenal early in the 2004-05 season, Ronaldo missed a penalty in the FA Cup finals against Arsenal.
Ronaldo also wrote his name in history as he scored Manchester United's 1000th Premier League goal. Furthermore, the 1000th goal came as the only goal in their 4-1 loss to Middlesbrough.
In the 2006-07 season, Manchester United won the Premier League with Ronaldo, Rooney, and Scholes's help.
Moreover, Ronaldo learned a lot about the game from first-team coach Rene Meulensteen.
Ronaldo also accumulated several individual awards after the 2006-07 season. CR7 won the PFA Player of the Year and the Young Player of the Year award.
He also came 2nd in the FIFA Ballon d'Or competition, behind Ricardo Kaka.
CR7 scored his first and only hatrick of his Manchester United career in a 6-0 win against Newcastle. In the 2007-08 season, Ronaldo won the Premier League Golden Boot by scoring 31 goals.
In addition to winning the Premier League, Ronaldo contributed significantly to helping United win the Champions League.
Moreover, he emerged as the Champions League top scorer and was awarded the UEFA's Player of the Year award.
Ronaldo's most successful season with United was the 2007-08 season. That season alone, he scored 42 goals in the entire campaign. Despite having a great season, he was attracted by the offer to go to Real Madrid.
Continual Success and Final Season
The 2008-09 season would be the last season of Cristiano Ronaldo. However, going into the season, he had formed an exciting partnership with Wayne Rooney and Carlos Tevez.
In the final season with the Red Devils, Ronaldo ended the campaign with 26 goals. Also, his 40-yard screamer against Porto was awarded the FIFA Puskas Award in 2009.
Ronaldo also helped his team win the FIFA Club World Cup in Japan. Similarly, he helped United maintain absolute dominance by contributing to their third successive Premier League title.
Ronaldo made 196 appearances for Manchester United and won 9 major trophies with the club.
Real Madrid
After a successful spell at Manchester United, Real Madrid showed major interest in buying the golden boy.
Real Madrid signed Cristiano Ronaldo for a world record fee of £80 million (€94 million). Similarly, more than 80,000 fans attended his presentation at the Santiago Bernabeu.
As Ream Madrid legend Raul was already wearing the number 7 jersey, Ronaldo was given the #9 jersey. The jersey was handed over to him by Alfredo Di Stefano.
Cristiano Ronaldo made his La Liga debut for Real Madrid on 29 August 2009 against Deportivo La Coruna. He scored a penalty goal in his debut match.
Likewise, his rivalry began with Barcelona striker Lionel Messi. Ronaldo's first season with Real Madrid was trophyless. Furthermore, he finished his first season with 33 goals.
Despite having an impressive season, he lost out on the Ballon d'Or award and Player of the Year award to Lionel Messi.
Donning the Number 7 Jersey
Real Madrid gave Ronaldo the number 7 jersey from the beginning of the 2010-11 season. He continued his explosive form as he scored 42 goals in a single campaign.
Likewise, he successfully won his first trophy at Real Madrid as he won the Copa del Rey with the team.
However, Ronaldo didn't make it to a podium finish. Despite the discouragement at the league and awards, he won the European Golden Shoe award.
The 2011-12 season brought the best out of Cristiano Ronaldo. With the likes of Mesut Ozil, Di Maria, and Kaka on the team, he scored 60 goals.
His goal-scoring prowess guided Real Madrid to their first league title in four years. Furthermore, Real Madrid set a record-breaking season as they won the league with 100 points.
The same season the GOAT reached 100 goals for Madrid. Besides, his 100 goals came in just 92 appearances.
The 2012-13 season saw Ronaldo and German ace Mesut Ozil form a formidable partnership. The winger-midfielder duo frequently assisted each other for three whole seasons.
During the three seasons, Ozil assisted Ronaldo 27 times. His record only stands behind Karim Benzema, who has spent more time with Ronaldo and has assisted him 31 times.
Furthermore, Ronaldo was dismayed after the announcement of Mesut Ozil's departure to Arsenal. Ozil knew every move of Ronaldo.
Further, he could predict the runs of Ronaldo and provide perfectly weighted passes.
After his departure, Ronaldo expressed, saying,
"He was the player who best knew my moves in front of goal… I'm angry about Özil leaving."
In the 2012-13 season, he became the first player to score in six successive El Classicos. He finished as the runner-up in the FIFA Ballon d'Or, losing to Messi.
Champions League Success and Ballon d'Or Wins
Cristiano Ronaldo captained Real Madrid for the first time on 6 January 2013 against Real Sociedad. Furthermore, he reached 200 goals for Madrid on 8 May. He reached the landmark in 197 appearances.
In the 2013-14 season, Real Madrid signed Gareth Bale from Tottenham Hotspur. They signed the Welsh player for a world record fee of €100 million.
Together, Bale, Benzema, and Cristiano formed a formidable partnership, dubbed as 'BBC.'
The trio enjoyed goal-scoring success. Ronaldo ended the 2014 season with 51 goals to his name.
Also, he guided Real Madrid to the La Decima, their 10th Champions League title win.
Consequently, Ronaldo was awarded the FIFA Ballon d'Or and the FIFA World Player of the Year.
Likewise, he ended the Champions League season with 17 goals. As a result, he received UEFA's Best Player in Europe Award.
Ronaldo set a personal best of 61 goals in a calendar year in the 2014-15 season. He led his team to the UEFA Super Cup victory.
Also, he ended the season by winning the FIFA Club World Cup and a second successive FIFA Ballon d'Or.
Ronaldo's Career Pinnacle
Moving to the next season, Ronaldo became Real Madrid's all-time league top goal scorer. He managed to break the record by scoring 230 goals in 203 games.
To clarify, Ronaldo surpassed the previous club goal record of 229 goals.
Similarly, Ronaldo scored another goal in October 2015 to take his total goals tally for Real Madrid to 324.
Doing so, he became the all-time top goal scorer of Real Madrid. He surpassed Raul's 324 goals for Real Madrid.
Moreover, his two goals on 30 September 2015 took his total goals tally for club and country to 500. Ronaldo helped Real Madrid win their 11th Champions League title defeating Athletico Madrid.
Furthermore, in the next season, Ronaldo helped his team win successive champions league titles. Real Madrid's 12th Champions League title came against Juventus in 2017.
Similarly, their 13th Champions League win came against Liverpool in 2018.
By doing so, Ronaldo became the third most successful and decorated player in the Champions League. His five champions league victories come with Manchester United and Real Madrid.
Moreover, his two successful champions league campaigns in 2016 and 2017 led him to two more Ballon d'Or awards.
Juventus
Ronaldo had a successful time at Real Madrid. He became one of the highly decorated players of Real Madrid in the modern era. However, his time at Real Madrid came to an end as no new contract was agreed upon.
Juventus signed Cristiano Ronaldo on a four-year deal on 10 July 2018. Furthermore, various news sources have reported that Juventus made a deal with a transfer fee of €100 million.
His reasoning for Madrid's exit was due to the lack of support he felt from Real Madrid's president, Florentino Perez.
Ronaldo's transfer fee to Juventus was the highest ever fee paid for a player over 30 years.
Likewise, Ronaldo scored his first goal for Juventus in a match against Sassuolo on 16 September 2018.
He also received his first red card in his Champions League career in over 154 appearances.
Ronaldo scored 28 goals and assisted 11 times in his first season with Juventus. He helped his team win Serie A. Also, he finished the season by winning the Supercoppa Italiana.
Second Serie A Title
Moving forward, Ronaldo helped his team to win the Serie A once again. His goal-scoring prowess and presence in the team guided Juventus to another title.
By scoring a hattrick against Cagliari, Ronaldo became the 2nd player to score a hattrick in three different leagues. The other player to do is Alexis Sanchez.
Currently, Ronaldo is in his third season with Juventus. However, this season they face a tough challenge as Inter Milan and AC Milan look extremely dangerous.
Likewise, Juventus made an early exit from the 2020-21 Champions League. They crashed out of the round of 16 of the tournament after losing to Porto on away goals.
On 27 August 2021, Juventus revealed that their team and Machester United had agreed on a settlement to bring Ronaldo back to Manchester. The transfer was worth £12.85 million.
Recently, Ronaldo came down with an illness that resulted in him missing the game against Leicester City that concluded in a draw.
Portugal National Team
Ronaldo is a Portuguese icon. He has represented his home nation in the under-15, 17, 20, 21, and 23 sides.
Likewise, he has successfully gathered 34 caps as a youth player. For his youth side, Ronaldo has 18 goals to his name.
Furthermore, Cristiano Ronaldo made his debut for the Portugal senior team on 20 August 2003 against Kazakhstan. Also, he was only 18 years old at the time of his debut.
Ronaldo has been featured in Portugal in major tournaments such as the World Cup, Euros, and UEFA Nations League.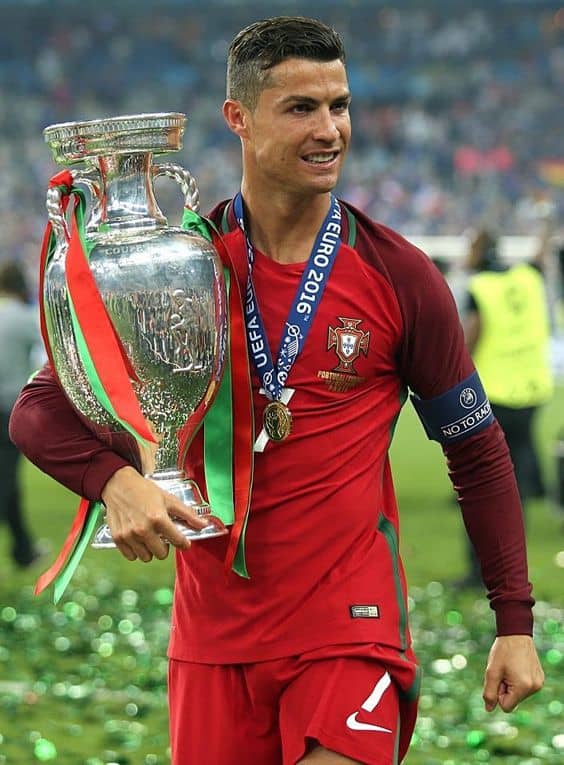 He made his first EURO appearance in 2004 Europe. He helped his team reach the finals by scoring a goal against England in the quarter-finals.
Furthermore, Ronaldo was included in the team of the tournament due to his impressive play.
Moving forward, Ronaldo represented Portugal in the 2006 World Cup and 2008 Euro Cup.
The forward led his team to the semi-finals after controversially winning a penalty against England. However, his team exited the competition as they lost to France.
Captaincy and the 2010 World Cup
Ronaldo was made the permanent captain of Portugal before the 2010 World Cup. However, Ronaldo was unsuccessful in leading his team to the advanced stages. They were knocked out by eventual champions Spain in the round of 16.
CR7 earned his 100th cap for Portugal on 17 October 2012. Further, he scored his first international hat-trick against Northern Ireland on 6 September 2013.
Likewise, he became Portugal's all-time top goalscorer as he bagged two goals against Cameron to take his goal tally to 47.
Finally, after years of attempts, Ronaldo successfully led his team to their first major championship. CR7 led Portugal to victory in the 2016 Euro Cup held in France.
Despite not playing the final match in full, Ronaldo contributed significantly throughout the tournament. Likewise, Ronaldo scored and assisted in the semi-finals match against Wales.
Similarly, Eder's goal in the 109th minute against France gave Portugal the Euro 2016. Consequently, the Portuguese icon was awarded the Silver Boot for being the second-highest goalscorer.
Once again, he was named to the team of the tournament.
Cristiano Ronaldo has made 173 appearances for Portugal. Likewise, he has scored 103 goals to date. He is his country's highest goal scorer.
As a captain, he has led his team to the Euro 2016 title and the Nations League title.
Awards, Accomplishments, and Highlights
The Portuguese player is one of the most popular and high decorated players ever to play football. His list of club and individual awards is an endless one.
Furthermore, he has been honored with several tributes, statues, and commemorations.
Below is the list of the major awards and accolades awarded to Portugal legend Cristiano Ronaldo.
Premier League (Manchester United) – 2006-07, 2007-08, 2008-09
FA Cup (Manchester United) – 2003-04
League Cup (Manchester United) – 2005-06, 2008-09
FA Community Shield (Manchester United) – 2007-08
La Liga (Real Madrid) – 20013-14, 2016-17
Serie A (Juventus) – 2018-19, 2019-20
Copa del Rey (Real Madrid) – 2010-11, 2013-14
UEFA Champions League (Manchester United and Juventus) – 2007-08 and 2013-14, 15-16, 16-17, 17-18
FIFA Club World Cup (Real Madrid and Manchester United) – 2008, 2014, 2017
Supercoppa Italiana (Juventus) – 2018, 2020
UEFA Super Cup (Real Madrid) – 2014, 2017
Supercopa de Espana (Real Madrid) – 2012, 2017
Individual Honors
FIFA Ballon d'Or/Ballon d'Or- 5 times- 2008, 2013, 2014, 2016, and 2017
UEFA Player of the Year
Premier League Player of the Season – 3 times
La Liga Best Player – 2013-14
FIFA World Best Player of the Year -2008
UEFA Club Footballer of the Year – 22007-08
FIFA Puskas Award – 2009
FIFA FIFPro World 11- 14 times
Serie A Footballer of the Year – 2019, 2020
BBC Overseas Sports Personality of the Year- 2014
Golden Foot- 2020
Ballon d'Or Dream Team – 2020
Pichichi Trophy – 2010-11, 2013-14, 2014-15
Medal of Merit, Order of the Immaculate Conception of Vila Viçosa
Grand officer of the Order of Prince Henry
Ronaldo vs. Messi Debate
Perhaps the greatest debate in world football history. Many fans have debated whether Ronaldo or Messi is the best player in history.
Without a doubt, the two of them are the highly decorated and most successful players in the modern era. Moreover, every footballer player is asked the question 'Ronaldo or Messi?' in an interview.
Many players like Zlatan, Mbappe, and Zidane have sided with Ronaldo. Likewise, Scholes, Beckham, and Maradona have sided with Messi on the debate.
The two of them share 11 Ballon d'Or with each other. Messi has the slight edge with 6 Ballon d'Or, while Ronaldo has five.
Their long dominance in the Ballon d'Or was ended when Luka Modric won the 2018 Ballon d'Or.
In comparison, Ronaldo has 31 trophies to his name, which includes Portugal's Euro championship.
Likewise, Messi has 34 trophies to his name. However, he hasn't had major success with his national team.
Ronaldo is the top goal-scorer in the UEFA Champions League. Similarly, Messi is the all-time top goalscorer in La Liga.
Comment down below. Who do you think is the GOAT?
FIFA 21 Rating
So, what rating does Cristiano Ronaldo have in the latest edition of FIFA 21? EA Sports have given Cristiano Ronaldo a rating of 92 in the game.
Similarly, he has a 5-star skill moves rating and 92 ball control, and 88 dribbling ratings.
He ranks behind Lionel Messi at the top of the FIFA 21 rankings. Messi has a 93 FIFA rating.
Goal Scoring Record – Pele
Just recently, in 2021, Cristiano Ronaldo wrote his name in the history books yet again. After scoring a hattrick in a 3-1 win against Cagliari, he took his goal tally to 770 career goals.
As a result, Ronaldo surpassed Pele's all-time goal career record of 758 goals. He currently stands behind Joseph Bican, who has 759 goals to his name.
Pele was quick in congratulating the forward. He expressed admiration for the Juve star and expressed his wish to hug him amidst the covid-19 pandemic.
Cristiano Ronaldo is officially on top, surpassing Pele's record >>
The Playing Style of Ronaldo
"I see football as an art, and all players are artists. If you are a top artist, the last thing you would do is paint a picture somebody else has already painted."
Ronaldo has played on the wings and as a forward in the entirety of his career. He is known for being a fast-paced forward who can dribble and shoot well.
In his early playing days, Ronaldo completed many stepovers to dribble past defenders.
Likewise, his dipping free-kick is one of the most iconic shots in football history. Moreover, Ronaldo is dominant in the air and can score bicycle kicks as well.
His famous bicycle kick goal against Juventus earned him applause from the Juventus fans. Ronaldo's trademark goal is to come from the right-hand side and make a lethal shot.
Cristiano Ronaldo | Personal Life
Fitness Freak
Without a doubt, Ronaldo takes no days off. Furthermore, Ronaldo doesn't smoke or consume alcohol. Rather Ronaldo works hard every single day.
He maintains a strict diet that is high in protein. Besides that, he eats a lot of whole grain carbs, fruits, and vegetables.
Similarly, he has hired a personal dietician who has helped him manage his diet and maintain his physique since his early career.
Recovery time! 💪🏽 pic.twitter.com/1NduH6HkFi

— Cristiano Ronaldo (@Cristiano) March 3, 2021
His teammates have described him as the first one to enter the training and the last one to leave. Likewise, Ronaldo is always working out during vacations and even when he is in his house.
"I've never tried to hide the fact that it is my intention to become the best."
Ronaldo always wanted to be the best. In an interview, he revealed that talent is not enough; you need to work hard. This mindset has led Ronaldo to get almost every honor available.
Philanthropic Activities
Cristiano Ronaldo has always stood out as a helpful person. Throughout his career, he has donated to several charities and hospitals all around the world.
The world-famous superstar has raised funds for the rehabilitation and construction of Indonesia since the 2004 Tsunami.
Furthermore, Ronaldo was named the most helpful and charitable person in 2015. This was due to his £5 million relief donation to battle the consequences of the devastating 2015 earthquake in Nepal.
CR7 always remembers his roots. As a result, he always helps out impoverished people and communities.
Sexual Assault Allegations
Despite his superstar fame and incredible success, Ronaldo has had to deal with various cases outside the football pitch.
He was accused of rape by two women in 2005. However, the woman withdrew the allegation within two days.
Similarly, Ronaldo was investigated for another rape case in 2009. But the Lass Vegas Police Department dropped the case due to a lack of evidence.
You might be interested in reading about Andres Gomes: Career, Girlfriend, Net Worth & Injury >>
Ronaldo's Statue
A huge statue of Cristiano Ronaldo has been erected in Portugal. Ricardo Madeira Veloso designed the huge statue.
Likewise, the statue was unveiled on 21 December 2014 in Funchal.
Praises on Ronaldo
Several players and managers have gone on to praise Ronaldo's life and career. The late Johan Cryuff, who managed Barcelona, expressed that Ronaldo is better than George Best and Denis Law.
Likewise, Sir Alex Ferguson stated that Ronaldo was the best player in his time at Manchester United. Moreover, George Best himself shared that the comparisons with Ronaldo are the only valid comparison for him.
Ronaldo's arch-rival Messi himself has praised Ronaldo's goal-scoring attributes.
He has stated,
"(Ronaldo) is always there, scoring goals in all the games and taking part in his club and the national side. He has been doing that for many years, and whether he is at his peak or a bit below, it makes no difference."
What is Cristiano Ronaldo's Net Worth? | Net Worth & Salary
Ronaldo is undoubtedly one of the richest athletes in the world. He ranks alongside Messi, Michael Jordan, LeBron James, Floyd Mayweather, and Lewis Hamilton.
Furthermore, Ronaldo signed a deal with Nike that is worth $1 billion. According to various reports, Ronaldo is already a billionaire. His billion-dollar earnings come before tax cuts.
Ronaldo earns a breathtaking £540,000-per-week at Juventus. Moreover, his yearly earnings amass to £31 million per year.
He is the highest earner in Serie A. The second-highest earner in the team is Matthijs de Ligt, who earns £7.2m per year.
Furthermore, his other net worth sources are through his business, sponsorships, advertisements, contracts, and bonuses. His net worth in 2021 and net worth in 2022 are almost the same.
According to various online sources, Cristiano Ronaldo has a net worth of $500 million.
Houses and Cars
The popular football player owns several mansions, cars, and properties all around the world. Ronaldo's house in Madrid was worth $6.2 million. Likewise, he also owned an apartment at the Trump tower, worth $18.5 million.
Also, Ronaldo owns several luxury cars such as Ferrari, Bugatti, McLaren, Mercedes, and Rolls Royce. He has revealed that he owns at least two of each.
So, all in all, he has around twenty luxury cars. Likewise, the megastar also owns a portion of Madeira Island.
Currently, Ronaldo lives in Gran Madre de Dio in Turin. His house is located in a lush and posh area with breathtaking views.
His house is a double-villa house with big gardens, swimming pools, gyms, and a play area.
You might be interested in reading about Kevin De Bruyne: Assists King, Wife, Stats & Salary >>
Goal Celebration
Ronaldo has an iconic goal celebration that is copied by millions of fans. After scoring a goal, he jumps with his hands spread and exclaims 'Sui.'
Likewise, Ronaldo does this celebration after every goal he scores.
Sponsorship Deals and Iconic Face
The beast on the field, CR7, is one of the most popular celebrities. His lifetime sponsorship deal with Nike is estimated to be $1 million.
Moreover, he has been featured in countless advertisements and shows and generates a hefty net worth through the shows.
Cristiano Ronaldo Biography and Movie
Despite Ronaldo not having written an autobiography, several biographies have been made on Ronaldo's life and journey. The most famous one is Cristiano Ronaldo: The Biography.
The book was written by Guillem Balague and was published on November 5, 2015.
Likewise, a documentary team made a movie titled 'Ronaldo' in 2015. The movie/documentary follows Ronaldo's life, journey, success, rivalry with Leo Messi, and other personal details of Ronaldo's journey.
Social Media Presence
Cristiano Ronaldo is the most followed celebrity on social media. Due to his worldwide popularity, he has gained a huge following on all social media platforms.
Just recently, Cristiano Ronaldo became the highest followed person on Instagram by surpassing Ariana Grande. To this date, he has over 273 million followers on his Instagram profile.
Likewise, Ronaldo has a Facebook page with over 148 million followers and 124 million likes. The superstar from Lisbon loves posting pictures of himself and his teammates. On average, he receives 1 million to 5 million likes on his posts.
Furthermore, Ronaldo's Twitter account has over 91 million followers. Almost all major celebrities follow him. Also, Ronaldo tweets mainly about his football pictures, family, and vacations.
Did you know Cristiano Ronaldo also has a YouTube channel? Yes, Ronaldo posts content such as training videos, interviews, and advertisements.
Besides, Ronaldo has his own website that he uses to promote his merchandise and products. His own brand CR7 has a product line of underwear, denim, perfume, eyewear, and footwear.
You can follow Cristiano Ronaldo on all of his social media accounts through the following handles.
@cristiano – Instagram – 273m followers
Cristiano Ronaldo – Facebook – 148m followers
@cristiano – Twitter – 91.7m followers
Cristiano Ronaldo – YouTube – 1.74m subscribers
Cristiano Ronaldo's Official Website
You might be interested in reading about Daniëlle van de Donk – Early Life, Football Career & Net Worth >>
Cristiano Ronaldo | Frequently Asked Questions
Is Cristiano Ronaldo the greatest player of all time?
Ronaldo is one of the greatest players of all time. With five Champions League, one Euro Championships, and five Ballon d'Ors to his name, he is arguably the best and greatest player ever.
Did Cristiano Ronaldo date Kim Kardashian?
Ronaldo has dated popular Russian model Irina Shayk. However, rumors suggest that he had a brief meet-up with Kim Kardashian.
How many goals has Ronaldo made this season?
His goals this season amount to 23.
What is Ronaldo's highest jump?
The footballer's highest jump is recorded at 2.93 meters.
What is Cristiano Ronaldo's net worth?
Ronaldo has a net worth of $500 million, making him one of the world's richest athletes.
(Make sure to comment down below if any information regarding Cristiano Ronaldo is missing.)