The eccentric Dale Earnhardt left a legacy to the world and his four kids. Times may have changed, but the Earnhardt name still runs strongly in racing today because of his family.
Dale Earnhardt married three times and had four kids throughout his life. His death certainly shook the racing industry heavily.
However, all his kids are married with children and share a very good relationship with one another.
Ralph Dale Earnhardt (April 29, 1951 – February 18, 2001) was a stock car racing driver who competed in the NASCAR Cup Series for Richard Childress Racing.
Dale was the son of a stock car racer Ralph Lee Earnhardt. Despite his father's refusal to let him race, Dale started his racing career by dropping out of high school.
Furthermore, in his NASCAR career, he registered 676 wins over 27 years and won Cup Series seven times.
Coming from a racing family, his aggressive driving style attracted fans and earned the nickname "The Intimidator."
The legend died during the final lap of the race of Daytona 500 in a crash that caused his head to collide with a wall. His death led to multiple changes in the NASCAR safety protocols.
Who Are The Kids of Dale Earnhardt?
Dale Earnhardt was married to three different wives in his life. His first son, Kerry Dale Earnhardt, is from his first wife, Latane Brown (m. 1968-1970), whom he married at just 17.
He married his second wife, Brenda Gee (m. 1971-1979), and fathered two kids with her—a daughter named Kelley King Earnhardt and a son, Dale Earnhardt Jr.
Furthermore, he married Teresa Earnhardt (m. 1982-2001), with whom he had one daughter, Taylor Nicole Earnhardt.
Kerry Dale Earnhardt
Kerry Earnhardt, 53, is the first son of Dale Earnhardt and a former NASCAR driver.
His parents divorced when he was just 1 and he grew up without the presence of his racer dad, Dale.
He also dropped out of high school and did several odd jobs until 1992, when he made his racing debut.
Moreover, he raced for a few years and competed against his father and step-brother. After his retirement, he worked in Driver Development Program at his father's race team.
Kerry is married to Rene, and together, they run "The Earnhardt Collection." The couple has one daughter named Kayla, who was born in 2003 and is involved in Rodeo.
Furthermore, Kerry has two sons, Bobby and Jeffrey, from his previous relationship. Both of his sons were involved in racing, with the latter still active in NASCAR Xfinity Series.
Kelley Earnhardt Miller
Kelley is the first daughter of Dale from his second marriage with Brenda. She is 51-year-old and was born a year after Dale and Brenda's marriage.
Moreover, she is also actively involved in the racing industry and serves as the CEO and co-owner of JR Motorsports.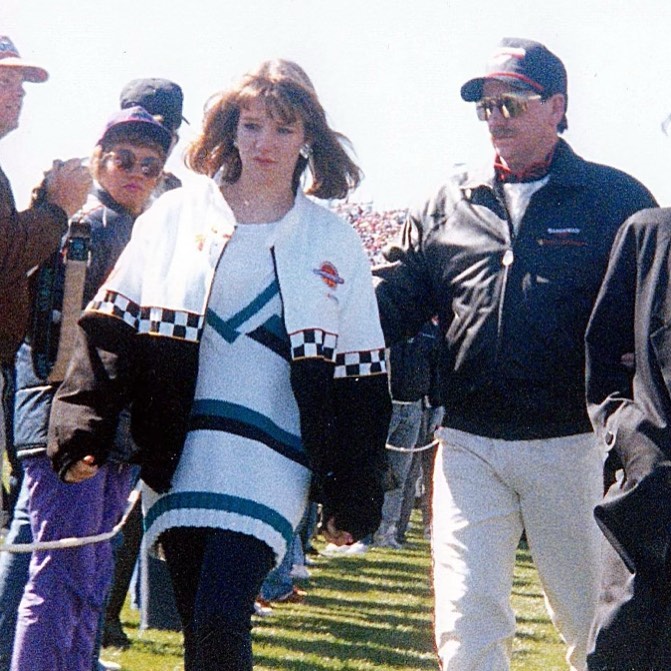 Kelley married former NASCAR driver L. W. Miller III in January 2011 and shares a son, Wyatt Wayne Miller.
However, this is Kelly's third marriage. She was previously married to Raymond Walter Holm Jr. and Jimmy Elledge.
Moreover, she also has two daughters, Karsyn and Kennedy Elledge, from her second marriage with Jimmy.
Furthermore, her kids have also taken up the racing lifestyle from a young age. Karsyn races in Dirt Midget racing, and Wyatt competes in Kart Racing.
Dale Earnhardt Jr.
Dale Jr. is the second son of Dale and Brenda and is currently 48 years old.
He has won 26 races in the Cup series and is also a 2-time Xfinity series champion. His excellent display at the Daytona track won him the nickname "Pied-Piper."
Moreover, the 15-time Most Popular Driver winner currently co-owns the racing team JR Motorsports with his sister. He also races occasionally and works as a Broadcaster and analyst for Fox and NBC.
About his personal life, he has been married to his longtime girlfriend, Amy Reimann, since December 2016.
Together, they share two kids, both daughters. They welcomed their first child, Isla Rose Earnhardt, in December 2016, followed by Nicole Loraine Earnhardt in October 2020.
Taylor Nicole Earnhardt
Taylor is Dale's only child from his 3rd marriage with Teresa Houston. Surrounded by athletes, she grew a passion for racing from a very early age.
The youngest Earnhardt sibling, Taylor, 35, used to visit the race tracks with her mother when she was a kid.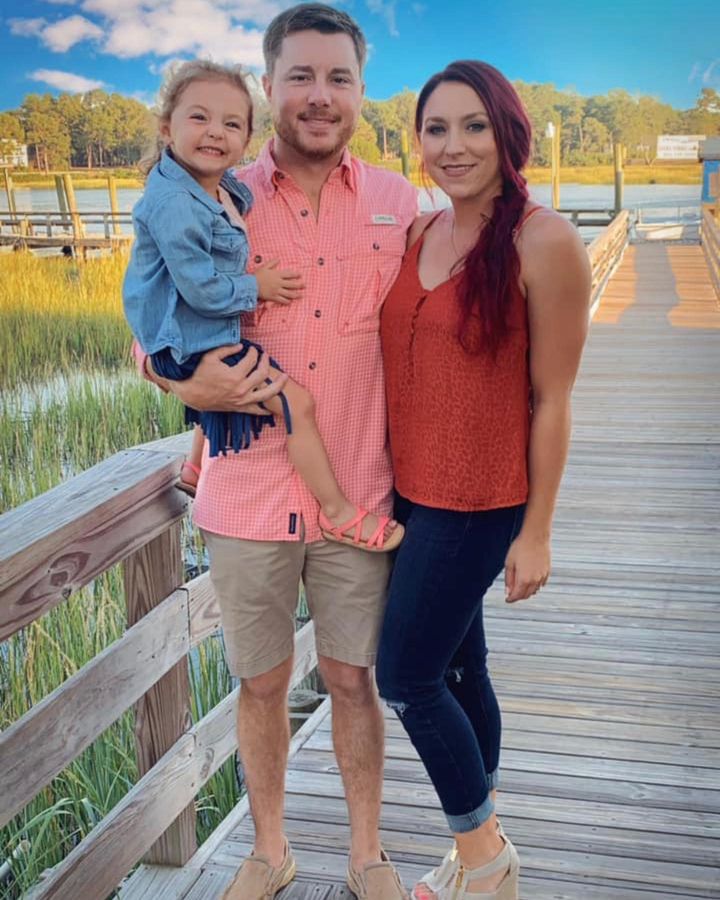 Later, Taylor chose a different racing sport, i.e., Rodeo. She learned to ride horses in her family's stables and even won the 2010 NBHA South Carolina District Championship.
Moreover, the Cowgirl is also a spokesperson at her father's "Dale Earnhardt Foundation."
Not to mention, Taylor has been married to Brandon Putnam since 2012 and shares a daughter, Sage, with him.