An American football player Damar Romeyelle Hamlin better known as Damar Hamlin is a 25 year-old safety for the Buffalo Bills of the National Football League.
Hamlin was on the news all over the world on January 2023 because of the life-threatening incident that occurred during a Week 17 Monday Night Football game on January 2, 2023, against the Cincinnati Bengals when he collapsed on the field after tackling wide receiver Tee Higgins.
The NFL player returned home nine days after staying at the hospital and publicly spoke on January 28. He appears to be on a good path to neurological recovery.
In this article, we will try to cover all the details related to his bio, career, earnings, and personal life.
Please read the whole article to know more about Hamlin.
Damar Hamlin | Quick Facts
Full Name
Damar Romeyelle Hamlin
Known As
Damar Hamlin
Nickname
Damar
Birthdate
March 24, 1998
Age
25 Years Old
Birthplace
McKees Rocks, Pennsylvania, United States
Current Residence
McKees Rocks, Pennsylvania, United States
Father's Name
Mario Hamlin
Mother's Name
Nina Hamlin
Siblings
Damir Hamlin
Nationality
American
Marital Status
Unmarried
Religion
Christian
Height
6 ft. 0 in/1.83 m/183 cm
Weight
200 lb/91 kg
Hair Color
Brown
Eye Color
Dark Brown
Ethnicity
Afro-American
Zodiac Sign
Aries
Profession
Professional Football Player
Net Worth
$1 Million
Education
Central Catholic High School, University of Pittsburgh
NFL Draft
2021/Round: 6/Pick: 212
Awards & Achievements
Second-team All-ACC (2020)
Current Team
Buffalo Bills
Roster Status
Injured
Jersey Number
3
Position
Safety
Career Stats as of Week 16, 2022
Total Tackles: 93

Pass Deflections: 4

Sacks: 1.5

Forced Fumbles: 1

Social Media
Instagram, Twitter, Facebook
Last Update
June 2023
Damar Hamlin | Early Life & Education
Early Life
An American football safety Damar Hamlin was born Damar Romeyelle Hamlin on March 24, 1998, in McKees Rocks, Pennsylvania, United States, to his father, Mario Hamlin, and mother, Nina Hamlin.
His mother, Nina, was 16, and father, Mario, was just 17 when they had Damar.
Damar had a difficult childhood because his parents were way too young when they had him and not really sure about raising a child when they were one themselves.
Damar spent nearly four years without his father, who was imprisoned for three and a half years after being convicted of selling drugs to make ends meet.
Nevertheless, he remained in close contact with his family while he was doing his time. Mario used to call his son as much as he could to see how he was doing with his football.
The NFL star shared a tribute to his father on Father's Day on Instagram, including a photo of them together while he was in prison.
After Mario got out of prison, Damar's parents founded an office cleaning business, and his mother, Nina, still runs a daycare center in Pennsylvania.
Hamlin has accredited both his father and mother with his success, with his mother being his strongest support system.
The 25-year-old Damar does not have children of his own but has a younger brother Damir born in 2015, who is also his biggest supporter. Damir wants to be a football star, just like his older brother.
Growing up in a rough neighborhood in Pennsylvania, Damar witnessed three of his close friends being shot dead while he was a teenager, which traumatized the young Damar.
And the murder still remains unsolved.
Education
Young Damar attended Central Catholic High School in Pittsburgh, Pennsylvania, where he played football and was named the Class AAAA Defensive Player of the Year and first-team All-State.
With impressive high school stats, he was considered a top cornerback coming out of Central Catholic. Also, Damar was a four-star recruit.
Many top-level universities, including Penn State, Ohio State, Pittsburgh, and Temple, offered Damar an athletic scholarship, but he committed and enrolled at Pittsburgh in 2016.
He redshirted his freshman year after playing three games for the Pittsburgh Panthers.
Damar finished his collegiate career with 185 solo tackles, 275 combined tackles, six interceptions, and one fumble recovery.
He not just showcased outstanding gameplay during his four-year college career but also excelled in his education, obtaining a bachelor's degree in communication from the University of Pittsburgh in 2020.
Damar Hamlin | Career
After completing college, Damar declared for NFL Draft.
Buffalo Bills drafted Damar 212th overall in the sixth round of the 2021 NFL Draft.
On May 21, 2021, he signed a four-year rookie contract with the Bills.
He spent the first season with the Bills as a reserve but became one of the team's starting safeties in 2022 after fellow safety Micah Hyde suffered a season-ending neck injury in Week 2 and was placed on injured reserve on September 24, 2022.
On November 6, 2022, Week 9 game against the New York Jets, Damar proved to be instrumental for the Bills as he led the team with 12 tackles and one sack in the 20-17 loss.
During a Week 17 Monday Night Football game against the Cincinnati Bengals on January 2, 2023, Damar collapsed on the field after tackling wide receiver Tee Higgins.
Damar Hamlin | In-Game Cardiac Arrest
Hamlin suffered a cardiac arrest after tackling wide receiver Tee Higgins during Monday night's game, causing NFL to suspend a pivotal game against the Bengals.
The 25 -year-old was administered CPR on the field while his teammates surrounded him, shielding him from public view.
A lot of his fans were weeping and praying while Damar was being treated on the field by the team, medical personnel, and local paramedics.
He was given oxygen, placed on a stretcher, and carried into an ambulance that had entered the field.
And all these dreadful scenes were happening right in front of Hamlin's mother, Nina, as she was in the stands at Paycor Stadium.
She was reportedly brought down from the stands by local security after the incident to ride with her son in the ambulance to the University of Cincinnati Medical Center.
His pulse had been restored by the time he was en route to the hospital, but he was still not breathing on his own.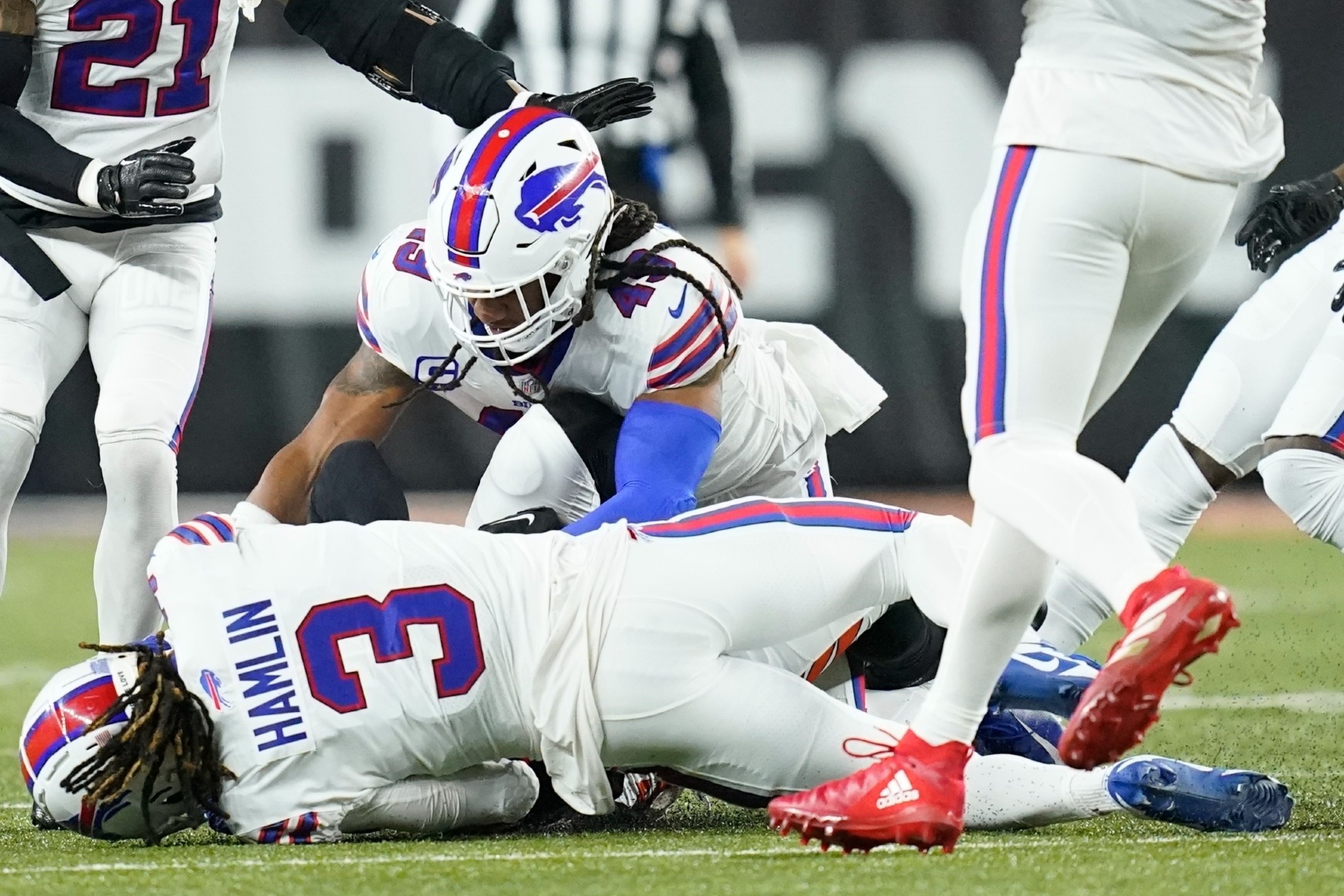 Hamlin spent the night in ICU and remains in critical condition.
About the game, it was postponed, and only one thing was on the minds of the players and fans- Damar Hamlin.
Bills and Bengals started the day as opponents, and by night's end, fans from both teams came together outside the University of Cincinnati Medical Center to show support for beloved safety Hamlin.
Injury Update
Hamlin's Bills teammate Stefon Diggs later went to the hospital to visit Damar while fans of both teams gathered outside, holding lit candles and praying.
On January 3, Damar remained at the hospital while sedated and on a ventilator.
According to his uncle, he was placed on his stomach to help take the pressure off his lungs. He also revealed that Damar had to be resuscitated twice on the night of the incident.
After 9 days of stay at hospital, Hamlin returned back home. He is on a good path for recovery.
Support & Prayers
After the incident, numerous football players and teams offered their prayers and support on social media.
All 32 NFL teams changed their profile pictures on Twitter to a picture of Damar's jersey and text that reads "Pray For Damar."
The Bengals wide receiver Tee Higgins and Ja'Marr Chase offered their prayers to Damar's family.
Similarly, Hamlin's teammate, Bills QB Josh Allen, urged people to "Please pray for our brother."
After the incident, the lights on Paycor Stadium were lit blue in honor of Damar.
Also, it was announced that on the evening of January 3, Niagara Falls would be illuminated in blue to honor and support Hamlin and his family.
Furthermore, the NFL canceled the Bills-Bengals game where Hamlin went into cardiac arrest.
Fundraisers
Aside from playing football, Hamlin is also involved in several charities and fundraisers.
In 2020, he started organizing the annual Christmas toy drive, Chasing M's Foundation Community Toy Drive, in McKees Rocks, Pennsylvania.
Hamlin established a community toy drive for his foundation through the fundraising website.
The initial goal for the drive was to raise $2,500, and by the start of Monday Night Football, it had raised north of $100,000.
And after the link to the GoFundMe was posted on Twitter, donations flooded the fundraiser.
Hundreds of thousands of donations poured in within hours. By midday Tuesday, over $4 million had been donated to Hamlin's GoFundMe.
As of January 4, 2023, Wednesday morning, the donation total was at over $6 million, with one of the biggest donations coming from Buccaneers quarterback Tom Brady, who gave $10,000 to Hamlin's cause.
Denver Bronco's QB Russell Wilson and his wife Ciara also donated $10,000, as did wrestler Chris Jericho.
Also, Rams quarterback Matthew Stafford donated $12,000.
According to reports published on January 3, 2023, donation to Hamlin's Chasing M's Foundation Community Toy Drive was over $7.5 million.
Family
Since the incident, Damar's family were by his side during his injury.
On 3rd January, Damar's family released an official statement stating.
"On behalf of our family, we want to express our sincere gratitude for the love and support show to Damar during this challenging time," the statement read. "We are deeply moved by the prayers, kind words and donations from fans around the country."
Damar's family's official statement ended with a request for more prayers.
Damar Hamlin | Net Worth & Contracts
As of 2023, Damar Hamlin's net worth is estimated to be around $1 million.
All his fortune can be attributed to his successful football career.
However, in addition to his NFL career, Damar is a fashion entrepreneur, having started a fashion line, Chasing Millions, while still at the University of Pittsburgh.
On May 2021, he signed a four-year $3.64 million contract with the Bills, which included a $160,476 signing bonus, $910,119 average annual salary, $160,476 guaranteed at signing, and $160,476 total guaranteed.
It's been just two seasons for the safety, and he has already made $1.64 million in career earnings which will certainly increase in the coming days.
Frequently Asked Questions (FAQS)
Why was Damar Hamlin on a ventilator?
Damar was on a ventilator to release some of the strain on his lungs, that had been damaged.
Is Damar Hamlin going to recover?
Damar's recovery is moving in "a positive direction."
Was Damar Hamlin in a coma?
According to doctors, Damar was likely in a medicated, induced coma as they waited to see how his body responded, but the quick action of medics on the scene is what saved his life.