David Ortiz is a Dominican-American former MLB hitter (DH) and first baseman who played for 20 seasons, mainly with Boston Red Sox.
Famous as Big Papi, Ortiz played baseball from 1997 to 2016. Thanks to his outstanding career, as of 2023, he holds a ginormous net worth of $55 million.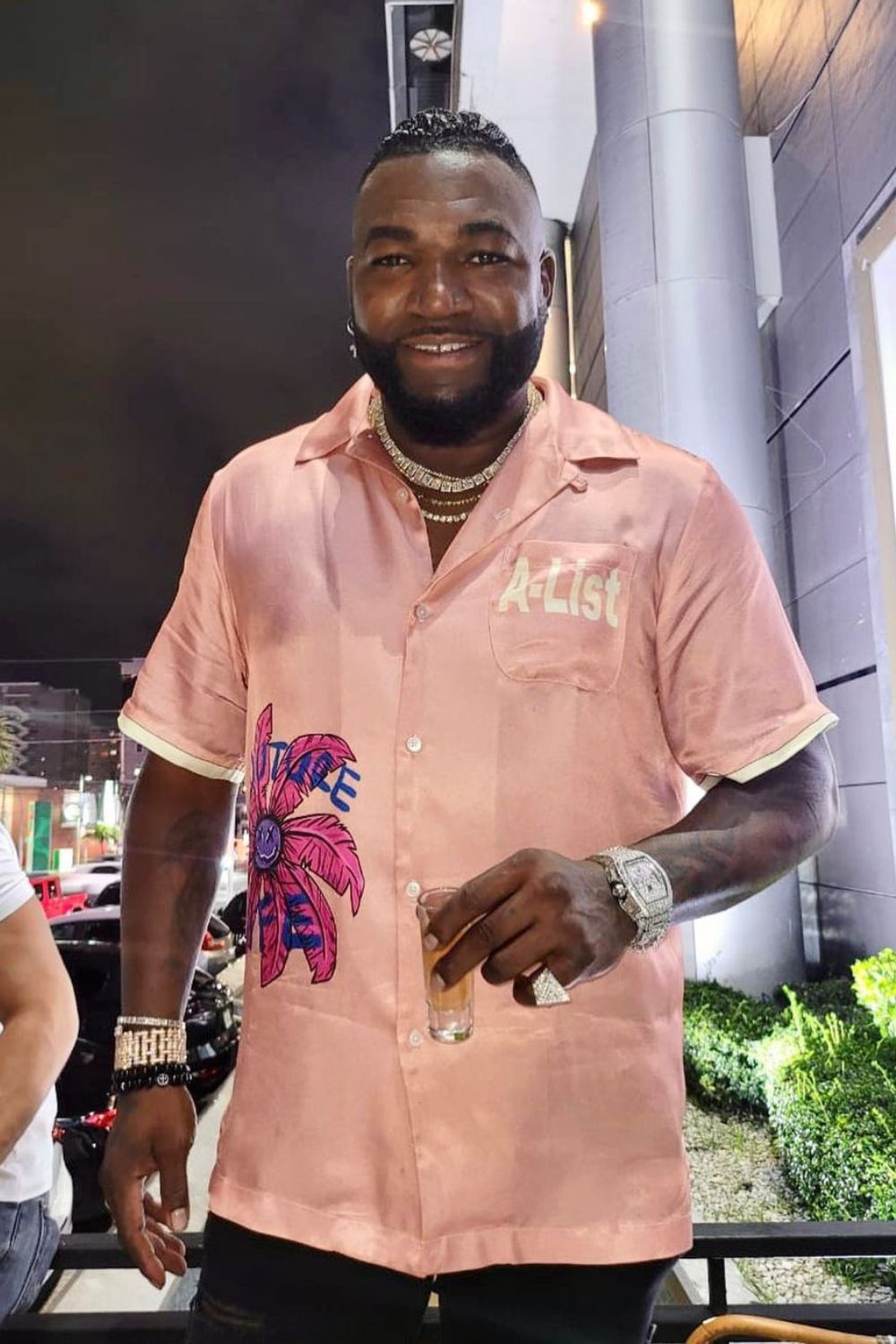 The former hitter played for teams like the Boston Red Sox and the Minnesota Twins.
Ortiz was the ten-time All-Star, a three-time World Series champion, and a seven-time Silver Slugger Award winner.
Know more about Ortiz's professional career, personal life, the gun shooting incident in 2019, and other details. Let's start with quick facts.
Quick Facts
| | |
| --- | --- |
| Full Name | David Americo Ortiz Arias |
| Birth Date | November 18, 1975 |
| Birth Place | Santo Domingo, Dominican Republic |
| Known As | Big Papi |
| Religion | Unknown |
| Nationality | Dominican-American |
| Ethnicity | African |
| Education | Estudia Espallat High School |
| Horoscope | Scorpio |
| Father's Name | Enrique (Leo) Ortiz |
| Mother's Name | Angela Rosa Arias |
| Children | Four |
| Age | 47 Years Old |
| Height | 6 ft 3 in / 192 cm / 1.92 m |
| Weight | 104 kg / 230 lb |
| Build | Athletic |
| Eye Color | Dark Brown |
| Profession | Former MLB Player |
| Active years | 1997-2016 |
| Team | Minnesota Twins And Boston Red Sox |
| Position | Designated Hitter/ First Baseman |
| Bats | Left |
| Throw | Left |
| Marital Status | Married |
| Wife | Tiffany Ortiz |
| Social Media | Instagram, Twitter |
| Merch | Jersey, Rookie Cards, Posters |
| Last Update | March 2023 |
Net Worth, Income, & Earnings
David Ortiz is a legend when it comes to professional baseball. He played 14 seasons for the Boston Red Sox of the MLB.
Big Papi is a Dominican-born who played for two decades in MLB and has earned a handsome net worth.
As of 2023, David Ortiz has a net worth of $55 million. Throughout his career, he earned almost $160 in MLB salaries, with the highest annual earnings of $16 million in 2015 and 2016.
As his career took off, Ortiz earned more than $5 million yearly from his endorsement deals.
During his career, Ortiz endorsed companies like MasterCard, JetBlue, Coca-Cola, Buffalo Wild Wings, Dunkin' Donuts, New Balance, and Marucci.
Dunkin's Donuts, New Balance, and Kingsford Charcoal were the three major contracts he secured before ending pro baseball.
In 2019, David posed nude and semi-nude for the Kingsford Charcoal marketing campaign 'Body By BBQ.'
Cecil and Prince Fielder were also featured in the campaign.
Not too long ago, Ortiz owned an 8,100-square-foot house in Weston, Massachusetts. He put the house on the market for sale in February 2019.
David sold it for $3.5 million in early 2021.
Business & Other Ventures
Ortiz is also involved in some significant business of his own.
In April 2007, the global sports brand Reebok debuted the Big Papi 10M Mid Baseball cleat that David used during the 2007 MLB All-Star Game in San Francisco, California.
David opened a " Forty-Forty " nightclub in his hometown in the Dominican Republic in October 2009.
However, not long after, rapper Jay-Z and his business partner Juan Perez sued Ortiz for trademark infringement.
They alleged that he stole the name from Jay-Z's sports club chain in New York. The lawsuit was settled in March 2011.
Big Papi partnered with Rev Brands and launched his "Papi Cannabis" line of products in July 2022.
He stated that Cannabis helped him relax, sleep better, manage stress, and heal physically after a lifetime in baseball.
Along with Ortiz, other renowned celebrities were paid FTX, a cryptocurrency, for being the spokesperson in 2021.
FTX filed for bankruptcy in November 2022, wiping billions of dollars in customer funds.
David and all other spokespersons are sued for promoting unregistered securities through a class-action lawsuit.
Charity Works
The retired player cofounded David Ortiz's Children's Fund with his wife, Tiffany, in 2007.
Through this organization, he supports a range of his favorite causes and helps children from Boston to the Dominican Republic and beyond.
In 2008, David allowed his likeness to be used on a charity wine label, Vintage Papi.
Moreover, in 2016, he joined UNICEF Kid Power as a brand ambassador Kid Power Champion for a global mission in Burkina Faso.
In the 2017 roast, David raised over $335,000 for his Children's Fund.
Wife & Personal Life
When we talk about David and his professional life, we know he is a successful personality, but what about his personal life?
David is a married man and a father of four. He and his wife, Tiffany, started dating in 1996 after meeting for the first time in the farm league held in Wisconsin.
Ortiz and Tiffany got married in 2002. Tiffany is from Kaukauna, Wisconsin, between Green Bay and Appleton.
It was after his marriage that David became a fan of the Green Bay Packers.
In April 2013, it was announced that David and his wife, Tiffany, were separating. However, the two reconciled.
However, Tiffany announced through a post on Instagram that she and David had separated again in December 2021.
Ortiz's daughter Alex, famous as Alex Veda, will graduate from Berklee College of Music in Boston in 2023.
She sang the national anthem before the Red Sox home opener on April 11, 2016, and again did the same when her father was inducted into the National Hall of Fame on July 24, 2022.
Ortiz's son D'Angelo played baseball at Westminster Christian School in Palmetto Bay, Florida, and graduated in 2022.
In the summer of 2022, he played for Brockton Rox of New England's Futures Collegiate Baseball League.
Big Papi has a daughter named Jessica from his previous relationship in the Dominican Republic.
David also has a son, born in 2008, named David Andres, who resides with his mother, Fary Almanzar Fernandez, in a house bought by Ortiz in the Dominican Republic.
Restraining Order
Fary Almanzar Fernandez, the mother of David Andres, issued a restraining order on May 21, 2020, against Ortiz because of the conflict between them.
Ortiz was ordered to refrain from "annoying, intimidating or threatening his former partner in person or by phone."
According to Ortiz's lawyers, the mother of Andres pushed for more significant financial support and wanted him to stay away from them.
June 2019 Shooting
On June 9, 2019, David Ortiz was severely wounded at the Dial Bar and Lounge in East Santo Domingo, Dominic Republic.
According to the official report, Ortiz was ambushed by a man who got off a motorcycle and shot him in the back.
David underwent a six-hour operation at the Abel Gonzalez Clinic; a portion of his intestines, colon, and gallbladder was removed during surgery. Liver damage was also reported.
Along with him, a Dominican TV host, Joel Lopez, was also wounded in the leg.
Likewise, by June 12, six suspects were arrested; apparently, more were sought concerning the shooting.
Authorities reported the assailants were promised 400,000 Dominican pesos (app. $7,800) for the attack. Also, camera footage showed the two shooters planning with a man in a car near the bar.
Dominican authorities already had 11 suspects in custody by June 18. However, on June 19, it was revealed that the shot was not intended for David.
Victor Hugo Gomez Vasquez, a known associate of a Mexican drug cartel, carried out the shooting. The intended victim was Gomez Vasquez's cousin Sixto David Fernandez.
Further Development
Ed Davis was hired to conduct an independent investigation into the shooting by Ortiz.
The Boston Globe issued that Davis, the former Boston Police commissioner found the contradicting official account of the shooting on March 19, 2022.
He said that accused drug kingpin Cesar "The Abuser" Peralta had put a bounty on Ortiz, whom he disrespected.
Finally, on July 26, 2019, Ortiz was discharged from the hospital. He made his first public appearance after the attack on September 9, where he threw a ceremonial first pitch at Fenway Park.
Drug Test
It was reported that David was among a group of 100 major league players that allegedly tested positive for performance-enhancing drugs during MLB survey testing conducted in spring training of 2003.
Ortiz denied ever buying or using steroids at a press conference before a game at Yankee Stadium in 2009.
At a press conference at Fenway Park on October 2, 2016, MLB commissioner Rob Manfred said it was "entirely possible" Ortiz did not test positive during the MLB survey drug testing in 2003.
Manfred expressed that the alleged failed test should not harm Ortiz's legacy and that he has never been positive at any point under their program.
Professional MLB Career
After Ortiz's high school graduation, he was signed by the Seattle Mariners, for whom he played from 1992 to 1996 before getting traded for the Minnesota Twins.
David changed his name from David Arias to David Ortiz after this trade.
The Dominican-born David made his MLB debut in 1997 for the Minnesota Twins. Sadly, his early injury and knee problem got him off the team in 2002.
But the following year, the Boston Red Sox signed a non-guaranteed free-agent contract worth $1.25 million with him. Ortiz mainly played a pinch but also DH at times.
He finished the season with 31 home runs, 101 RBI, and a .288 average, and finished fifth in American League Most Valuable Player Award.
The 2004 season started well for David. He signed a two-year contract extension with the Red Sox worth $12.5 million and hit 41 home runs and 139 RBIs by the end of it.
Ortiz batted .301 with an on-base plus slugging of .983 and finished fourth in AL MVP voting. They won the World Series after 86 years.
Achieving Greater Height
David led the American League in RBIs, finishing second in home runs and third in OPS in 2005. He got the Red Sox ownership plaque that read "the greatest clutch hitter in the Boston Red Sox history."
In 2006, Ortiz hit his 200th career home run; he tied the record with Jimmie Foxx and broke the record of Johan Santana of the Twins. Not to mention, the home run was his 44th of the season as a DH. He, with Red Sox, won the World Series in 2007.
With his 35 home runs and 117 RBIs, David ranked in the top 10 in the American League. Despite his wrist injury, Ortiz played 109 games and concluded the 2008 season with 23 home runs and 89 RBIs with a .264.
In 2009, David hit his 300th career home run and finished the season. He won the Home Run Derby contest at the All-Star Game in 2010. Also, Ortiz finished the season with 32 home runs, 102 RBIs, and batted .270.
Apart from all that, Ortiz helped the Red Sox win against the Cardinals and won World Series in 2013.
Sadly, in November 2015, on his 40th birthday, Ortiz announced his retirement from the sport.
In the 2016 final season, he hit 38 home runs and 127 RBI while batting .315. Ortiz finished in the top ten in the AL in home runs and RBI for the ninth time in his career.
Following the news, his shirt number 34 was retired in 2017. He won his second Hank Aaron Award as the outstanding offensive player in the AL.
Career After Retirement
Following his retirement from his baseball, David Ortiz has begun a new venture.
Big Papi is a studio analyst for Fox Sports and has developed a line of children's baseball equipment as of 2023.
Hall Of Fame
The baseball Hall of Fame of 2021 remained vacant as no players received the required 75 percent essential to gain induction.
Henceforth, the Baseball Hall of Fame 2022 was quite a debate. David became eligible to appear on the 2022 National Baseball Hall of Fame ballot.
That ballot included Alex Rodriguez, Barry Bonds, Roger Clemens, Curt Schilling, and Sammy Sosa.
The National Baseball Hall of Fame selected Ortiz with 77.9% on January 25, 2022. The baseball Writers' Association of America voted for him only.
Ortiz was formally enshrined on July 24, 2022.
Ventures
Alex Cora, Red Sox manager, asked David to visit during a workout on 3 March 2023 to discuss chemistry and playing in Boston Red Sox.
He walked to each locker, shook everyone's hand, even prospects he had never met, and asked everybody on the team to look out for each other and come prepared every day to perform at the highest level.
Ortiz plans to spend more time with Rafael Devers, as he might advance into a more prominent leadership role.
Family & Ethnicity
David Ortiz was born David Americo Ortiz Arias and was raised in Santo Domingo, Dominican Republic. He is the oldest child of Enrique (Leo) Ortiz and Angela Rosa Arias.
David grew up with his four siblings and was the calmest and easygoing child in the family.
His father played baseball for years in Dominican pro and semipro leagues and even inspired Ortiz to play baseball.
When he was young, Ortiz followed pitcher Ramon Martinez and his younger brother Pedro and had a friendship that would only grow over the years.
As for his education, David graduated from Estudia Espaillat High School, located in the Dominican Republic. Even there, he was a standout baseball and basketball player.
Also, Ortiz became an American citizen on June 11, 2008, at John F. Kennedy Library in Boston.
Age & Body Measurement
David is one of the massive former baseball players weighing 230 lb and standing 1.92 m.
Despite the weight and stout build, David never let it hinder his games; it made his play more impactful and aggressive.
Ortiz is 47 years old as of 2023. His star sign is Scorpio; generally, they are passionate, mysterious, and determined simultaneously.
Aside from his physique, Ortiz has short dark brown hair and the same colored eyes.
Social Media Presence
David Ortiz is on Instagram and Twitter, where he updates photos with family and friends and his other ventures.
You can also watch his highlights on YouTube.
Instagram (@davidortiz)- 2.3 million Followers
Twitter (@davidortiz)- 1.5 million Followers
Frequently Asked Questions (FAQS)
How many home runs does David Ortiz have?
David Ortiz has a total of 541 home runs with three world championship rings in his name.
How did the name 'Big Papi' emerge?
David Ortiz was nicknamed Big Papi years ago. While reserving a spot in Minnesota Twins roster Ortiz required a catchy name, and then they settled with the name 'Papi.' Ortiz was not good at remembering people's names, so, whoever he would meet, he would call Papi. Papi comes from his native Dominican heritage, meaning 'like a father.' When Jeremy Remy learned the meaning of Papi, he asked if he could call Big Papi instead of just Papi, to which Ortiz happily replied yes. Since that day, Ortiz was nicknamed Big Papi.
What are the stats of David Ortiz?
David Ortiz's MLB statistics include batting average (.286), hits (2,472), home runs (541), and runs batted in (1,768). Ortiz, with Boston Red Sox, played his last match against Cleveland Indians, which they lost.