Debi is the only African-American ice skater to win a medal in figure skating in the Winter Olympics and the first to win an award in any event during the Winter Games. Debi Thomas has won three World Professional Championships (1988, 1989, 1991) and was a bronze medalist in the 1987 Olympics.
Yet, even at 56, Debi Thomas misses no chance to express her love for the game that changed her life.
One of the most popular female sports stars of the 1980s was Debi Thomas, a queen of the ice.
Today, let's know a little more about the exciting life of Debi, who is also a Retired orthopedic surgeon.
We will discuss her childhood, career, education, personal life, and more. But before that, let us have an instant glance at the quick facts.
Quick Facts
Name
Debra Jannie Thomas
Birthdate
March 25, 1967
Birthplace
Poughkeepsie, New York, United States
Age

56 Years Old

Nationality

American

Ethnicity

Black
Religion

Christianity

Father's Name
McKinley Thomas
Mother's Name
Janice Thomas
Siblings

1
Education

Northwestern University
Stanford University
Northwestern University Feinberg School of Medicine
San Mateo High School
Profession
Figure Skater, Physician (orthopedic surgeon)
Nickname
Debi
Height
1.65 m (5 ft. 5 inches)
Weight

116.8 lbs (53 kg)
Hair Color
Grey
Eye Color
Black
Shoe Size
9 (United States),

8 (United Kingdom)
Zodiac Sign
Aries
Net worth

$100,000-$1M
Achievement
World Figure Skating World Champion (1986)
Olympic Bronze Medalist (1988)
Two times U.S. National Championship
Salary
Unknown

Started Career

At the age of 9
Retired

1988
Sexual Orientation

Straight
Marital status

Divorced
Husband
Chris Bequette (1996-2010)
Children

Luc Bequette
Fiancé

James Looney
Coach(s)
Alex Magowan
Social Media

Inactive
Last Update
Debi Thomas | Early Life, Education, and Parents
Debra Janie Thomas, famously known as Debi Thomas, was born on March 25, 1967, in New York Poughkeepsie.
Debi loved staking from a very early age and has actively participated in various skating competitions since age five.
At a very young age, Debi's parents, Mckinley Thomas (Father) and Janice Thomas had a divorce. Alas, there is not much information available about Debi's parents.
By nine, Debi took formal lessons and participated in various skating competitions.
Despite that, it has never been easy for Debi, and she was the first African-American player in skating.
Due to this reason, Debi had to face a lot of problems. Just because she was black, the judges favored other white contestants over her.
However, when she was 12 years old, she won the silver medal at the national novice finals.
Alex McGowan was Debi's coach who trained her and guided her for the Olympics.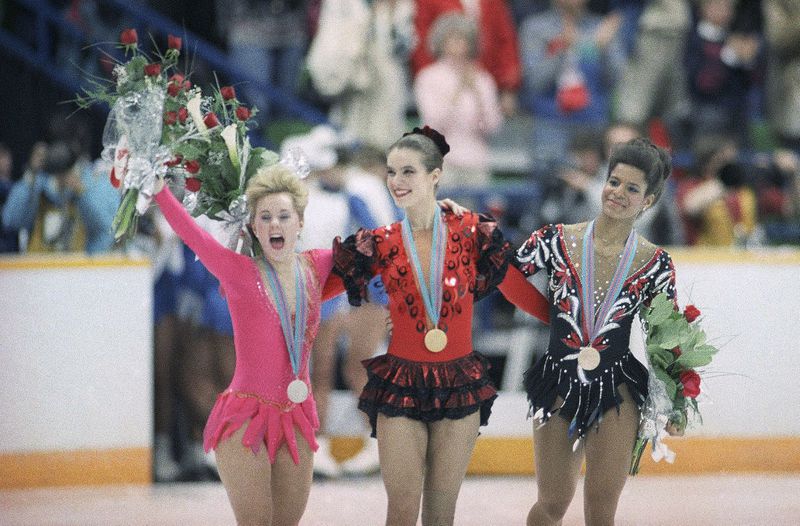 Talking about her education, Debi graduated from Stanford University as an orthopedic surgeon. She had an excellent skating career and an excellent educational degree as well.
Debi was very hardworking because she didn't leave her dream as well, as she gave preference to her studies and fulfilled her parent's dream.
Debi Thomas | Age, Height, and Body Measurement
Born in 1967, Debi is currently 54 years old. She had to face a lot of hardship and struggles from the beginning.
But still, Debi managed to become an inspiration to many skating lovers and aspiring skaters.
On the other hand, this American lady stands at 1.67m and weighs 116.8 lbs.
Apart from that, Debi has beautiful black eyes and black eyes. Likewise, her shoe size is 9 in the United States and 8 in the United Kingdom.
As per her birth chart, she is an Aries. Her sun sign indicates the personality of being passionate, motivated, and confident.
Undoubtedly, Debi is one sure and passionate woman because if it wasn't for her passion and dedication, she could never do skating and engineering simultaneously.
Debi has a flexible and agile body, a necessary trait for a figure skater.
However, as we engage ourselves in her performance, we get to know that figure skating is a daunting task.
Besides, there is no room for error. As we know, a slight mistake can result in severe injuries and career-ending wounds.
Therefore, a skater needs to be physically strong while owning a slimmer body. While Debi was a young olympian, she had a toned leg and lean physique.
Debi Thomas | Career: Figure Skating
Debi started participating in skating competitions when she was 12 years old, which means her career started early. She won the two biggest career matches in engineering college.
However, Debi's mother has a significant role in shaping Debi's career because her mother used to drive 100 miles a day and sacrificed her time between home, school, and the ice rink.
Debi's figure skating career was launched by Los Angeles Figure Skating Club.
Similarly, when Thomas was just 18 years old, she won the short program, and after three significant long jumps, she was placed second in the long program.
Thomas was performing well, and she was evolving to be a better skater and a better competitor.
Moreover, in 1985 Debi came in the fifth position at World Championship, and in 1986 Thomas brought the gold medal home.
Further
Similarly, after winning various competitions continuously, Debi wins ABC's Wide World of Sports Athlete of the Year Award.
Interestingly, Debi became the first female athlete to win all those awards while attending college full-time.
Besides, Debi is the first African-American female skater who has won many awards and titles.
Even though she was a pre-med student, she managed time for University and college.
As a result, Debi is awarded Candace Award from the National Coalition of 100 Black Women for Trailblazing.
No wonder Debi is one strong woman because she never gave up, no matter the situation.
For example, in 1987, Thomas suffered from an ankle injury, and even though she was injured, she participated in U.S Nationals.
Not so surprisingly, she secured second place despite the injury, which deserves applause.
At the 1988 Winter Olympics, Katarina Witt and Debi were in a rivalry. However, Debi came in third place and won the bronze medal in the Olympics.
Unfortunately, Debi made many mistakes in her second round, and in the third round, she couldn't jump correctly, and after the third round, she gave up.
As a result, Debi becomes third. However, she becomes the first African-American woman to win a medal in Olympics.
After winning the 1988 World Champion, Debi retired from amateur figure skating.
After she retired from amateur skating, she won World Champion twice and some other competitions. However, Debi was inducted into the 2000 ice skating Hall of Fame.
Medical Career
After completing her engineering at Stanford University, she moved to Boulder, where she studied orthopedic surgery at Martin Luther King Jr. University.
She started her medical career professionally in 2007 after passing various Orthpodic Surgons' license exams.
However, due to her personality, she couldn't stay in one place, so she moved from clinic to clinic every year. However, she was highly skilled and appreciated by her patients.
Debi Thomas | Net Worth
Debi Thomas had earned a lot of money in her career, but due to some conditions, she is broke now. She has a net worth of $100,000-$1M.
Likewise, Debi went from riches to rags. As soon as Debi announced her bankruptcy in 2014, her life changed.
Even though she is a brilliant surgeon, her license expired then, and she didn't even have money to renew the license.
The main reason for Debi's bankruptcy was her divorce, and she had to pay a considerable amount of money as an alumnus to her ex-husband to raise their son.
However, she even lost custody of her son due to bankruptcy.
Currently, Debi lives in a mobile house with her fiance, and the place is cluttered with dishes and stacks of documents.
It is a tiny house, and barely two people can live there, but Debi lives with three other members in that small house.
Debi Thomas | Personal Life
Debi Thoms had a good life when she married her first husband, Brian Vander.
However, after eight years of marriage, Debi divorced Brian, and in 1996 she married a handsome attorney, Chris Bequette.
Chris and Debi had a son; their son Luc Bequette is a defensive tackle at Boston College.
However, things started to change after her divorce from Chris. Likewise, Debi was diagnosed with bipolar disorder in 2012.
One thing led to another and became a pile of obstacles, from being bankrupt in failed marriage to losing custody of her son when Luc was 13 years old.
Hence, Debi starts to get depressed as she has faced many problems. And after seeing so much success, this failure was indigestible to her.
However, in 2015, Debi's fiance Jamie Looney suffered from alcohol and anger issues. However, despite Debi's problems, she helped her fiance to get over his problems.
Currently, Debi lives in a small house with her fiance and his two sons in a small house.
Similarly, all Debi's medals are packed somewhere in her luggage. Even though they represent her pride and success, she cannot show them.
Indeed, Debi is a strong woman; even though she has lost everything, she is still optimistic that she still has time to rise again.
However, Debi, for now, is happy with her fiance. Both Debi and Looney are trying their best to make their life better.
Similarly, Debi is an inspiration because she came when black women were discriminated against and not given equal opportunities.
Besides, she made an identity of her own because of her hard work and dedication.
Debi Thomas | Social Media Presence
Debi is not active on any social media platform. However, her fans would love to see more from her and see more about her even though she is not involved in social media.
Anyone can find her on different websites if anyone wants to know about her.
Debi Thomas | Popularity
The popular figure skater has lived a life of turmoil, ups-and-down, bankruptcy, and divorce.
The above graph depicts Debi's total google search volume in the States since last year.
FAQs
Where is Debi Thomas now?
Currently, Debi is somewhere in Virginia, living in a small house with her fiance.
Is Debi still a physician?
Debi is not doing anything related to her medical career these days. However, she has maintained silence about why she is not working as a physician.
Debi Thomas is best known for becoming the first African American to win a medal at the Winter Olympic Games in 1988.
Debi revealed that she now lives in a trailer in Richland, Virginia, near the Appalachian Mountains after having to close her medical practice due to bankruptcy.