The NFL star Deion Sanders has always prevailed in the athletic field. However, his personal life is not as stable as his professional career in sports. After Deion Sanders' failed marriage with his ex-wife Carolyn Chambers, the NFL legend's second marriage with Pillar Sanders also didn't sail smooth.
But fortunately, he found his better half eventually; the NFL legend is currently dating Tracey Edmonds.
In this article, you will learn about all the women; Deion, who is considered one of the best cornerbacks ever in NFL history, has previously been married to, along with his present girlfriend.
But before anything, let's take a glance at quick facts about Deion Sanders' girlfriend.
Deion Sanders Girlfriend: Quick Facts
Full Name
Tracey Elaine Edmonds
Date of Birth
February 18, 1967
Nickname
Tracey
Religion
Christian
Sexuality
Straight
Father Name
George McQuran
Mother Name
Jacqueline McQuran
Place of Birth
Los Angeles, California, U.S.
Age
56 years old
First Produced Movie
Soul Food
Debut TV Series
Soul Food: The Series
Net Worth
$30 million
Gender
Female
Ethnicity
Black (African-American)
Ex-boyfriends

Kenneth "Babyface" Edmonds

(

m.

1992⁠–⁠2005)

Eddie Murphy (2008)

Dress Size
Not Available
Profession
Model, Producer & Businesswoman
Famous As
Businesswoman
Nationality
American
Highest Qualification
Graduated in Psychobiology
School
Not Available
Height
5 ft 6 inches (1.68 m)
Weight
119.05 lb (54kg)
Eye color
Dark Brown
Hair color
Black
Body Measurements
Not Available
Body
Slim
Shoe Size
Not Available
Favorite Sports
Football
Relationship Status
Engaged
Spouse
Kenneth "Babyface" Edmonds

(

m.

1992⁠–⁠2005)

Children
2 (Brandon Edmonds, Dylan Michael Edmonds)
Siblings
Michale McQuran (Brother)
Zodiac Sign
Aquarius
Dieon's Merch
Posters, Jersey
Social Media
Instagram, Twitter, LinkedIn
Marital Status
Divorced
Education
Stanford University
Last Update
March, 2023
Brief Details About Deion Sanders
Deion Luwynn Sanders Sr., born on August 9, 1967, is an American athlete, football coach, and sports analyst. He is also known as Prime Time and Neon Deion. He is the head football coach at Jackson State University.
Deion is often considered to be one of the most talented NFL players of all time. In addition, he played for 14 seasons as a member of the Atlanta Falcons, San Fransico 49ers, Dallas Cowboys, Washington Redskins, and Baltimore Ravens of NFL.
Moreover, he was also a baseball outfielder for Major League Baseball (MLB). He played nine seasons for the New York Yankees, Cincinnati Reds, Atlanta Braves, and San Francisco Giants.
Deion is the only athlete to play in both a Super Bowl and a World Series. In addition, he has won two Super Bowl titles and made a World Series appearance in 1992.
After he retired from his athletic career, Deion became an analyst for CBS Sports, Barstool Sports, and NFL Network.
In 2012, he founded Prime Prep Academy, a grouping of charter schools in Texas. Unfortunately, the school was plagued by legal, ethical, and financial issues and shut off on January 30, 2015, due to financial insolvency.
Who Is Deion Sanders' Ex-Wife Carolyn Chambers? His Relationship History
Deion Sanders' Ex-Wife Carolyn Chambers is a real state broker, model, social media influencer, and notary signature agent from the United States. She is mainly known as the first wife of Deion Sanders.
Carolyn is a Christian and a devoted follower of Jesus. Carolyn completed her graduation in Management of Business Administrative.
Deion and Carlyon were married in 1989. However, after spending nine years with each other, they split. The couple has two children together. They have a daughter named Deiondra Sanders and a son Deion Sander Jr.
Deion took custody of both of his children. However, he never forbids Carlyon to meet her children. Moreover, as per the court order, she is allowed to meet them according to her will.
Talking about her net worth, as a successful real state agent, she has an estimated net worth of $1-2 million.
Carolyn Chamber: Social Media Profile
Carolyn Chamber is relatively active on social media. Unfortunately, besides Instagram, we could not find her on other social media platforms.
She mostly posts pictures on her page after a huge gap. We can say that she hardly shares posts. However, she does use her social media to post about her children often.
You can find her on Instagram by the username @carolynecsandersrealtor. Currently, she has accumulated 7,046 followers on there.
Read Next: Thomas Rohler, his Career, Achievements, Fiancé & Net Worth, a German track and field athlete and an Olympian who competes in the javelin throw category>>>
Deion Sanders' Ex-Wife: Pillar Sanders
Pillar Sanders, Deion Sanders' ex-wife, was born on October 10, 1974, in Elmira, New York. Born to Jeanette and Dan Biggers, she was raised with her two siblings- her brother, Scottie Biggers, and her sister Kandie Biggers.
Since her young age, Pillar has been very into acting, and she did not hesitate to pursue her career in the field. Unfortunately, there is no information about her educational background.
Pilar started her acting career in her mid-twenties. She debuted in the movie The Mod Squad (1999) by giving a brief appearance. After many years, she finally did other films, such as Streets of Bloods (2009) and Percentage (2014), which she produced.
Moreover, Pillar has also appeared on the small screen where she was featured in the reality television show "Deion & Pilar: Prime Time Love & Football Wives. She accumulated quite a fame after these shows.
Deion Sanders & Pillar Sanders Marriage and Kids
Deion and Pillar tied the knot on May 21, 1999. They have three children- two sons, Shilo Sanders (born in 2001) and Shedur Sanders (born in 2003), and a daughter Shelomi Sanders (born in 2004).
However, in 2011, the news spread that Deion had filed for divorce from Pilar, citing lies and infidelity. It appears to be the athlete didn't inform Pilar about the divorce, and she found out about it on TMZ.
When it became evident that Deion was adamant about divorce, Pilar began begging and making amends. However, none of the movements she did work. So the divorce was subsequently finalized on June 28, 2013.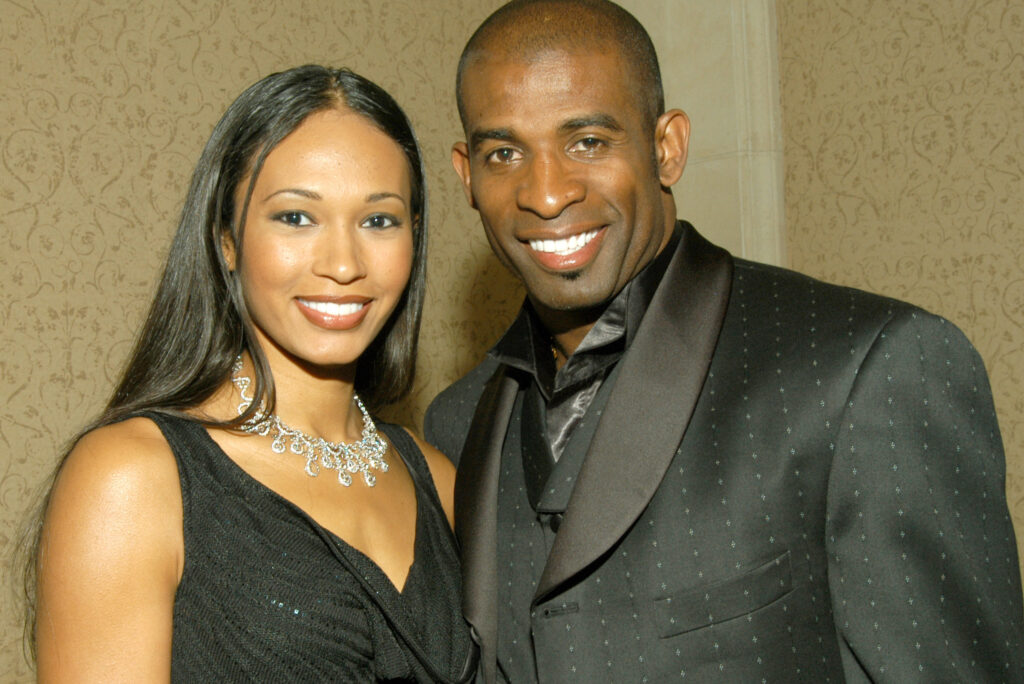 Since her divorce, Pilar has been linked to different guys. She was first reported to be in a romantic relationship with Wesley Snipes and then Johnny Mitchell.
However, none of these rumors has been substantiated. Currently, Pilar resides in New York and seems to be sharing a happy life with her children. They have also appeared in the Celebrity Family Feud, an American Game Show.
Besides her motherhood, she is also trying to excel in her modeling and acting career. After all the controversy, Pilar is trying to make the best out of her life.
Deion Sanders & Pillar Sanders Controversy
Deion Sanders' Ex-Wife, Pilar, was arrested on domestic violence-related charges in 2012, hours after Sanders posted a series of bizarre tweets saying she assaulted him.
However, Pilar proclaimed her innocent by referring to Deion as a Hall of Fame, and she had a minimal chance of beating such a guy who is loved and adored by all.
According to Deion, he was attacked by two women, among which one was Pilar in his room, which their kids witnessed.
In February 2012, Pilar filed a suit against her husband and his aunt, Lara Jones.
Deion's aunt attacked Pilar in their 10-bedroom, 29000 square foot home in Prosper, Texas. She also said that Deion watched all this violence and did nothing.
However, the athlete defeated himself and explained that his aunt was in the home merely to fix his phone. In addition, he also accused Pilar as the aggressor.
Furthermore, Pilar also filed allegations against her husband and his daughter, Deiondra, after she addressed her stepmother as the number one gold digger of the year" and "gold-digging (expletive)" on Twitter posts.
She demanded $200 million in damages for slanderous and libelous comments in the second suit. Pilar also claimed that her husband buttressed Deiondra's false statements and himself tweeted he was "exhausted of all Pilar's foolishness and lies."
Deion Sanders' Ex-Wife, Pilar Sanders: Net Worth
Pillar Sander gained quite a fame after her marriage to Deion. On her divorce from Deion, she petitioned the court with a bill of $24,000 monthly for child support.
The producer and actress has been very successful in her career and accumulated an estimated net worth of $5 million.
Apart from her acting career, she also does various endorsement projects and promotion activities which add a decent amount to her wealth.
Pilar Sanders: Social Media Profile
Model, actress, trainer, writer, and producer, Pilar Sanders is very active on various social media platforms. She constantly shares glamorous pictures of her and her children.
On Instagram, she goes by the username @pilarsanders. She has amassed 125k followers on there. In addition, Pilar is also present on Facebook and has total followers of 20k.
Deion Sanders' Present Girlfriend: Tracey Edmonds
Born on February 18, 1967, Tracey Elaine Edmonds is an American businesswoman, television personality, and producer. She is the founder and CEO of Edmonds Entertainment Group Inc and Alrightnow.com.
She started her career in real estate before moving to the media and entertainment industry.
In addition, she is a former host of the television show Extra. Currently, she is a member of the national board of directors for the Producers Guild of America.
Tracey has produced and created projects for film, television, film, digital media, and music. Edmonds joined Extra in 2014. However, she left the company in 2017.
While at Extra, she won an Emmy Award for co-hosting alongside Charissa Thompson and Mario Lopez. Edmond founded Alright TV in 2013. It is a family and faith-oriented Web network.
Additionally, she executive produced a drama about the NBA called Games People Play (BET), which aired in 2019.
More About Sanders' Girlfriend Tracy Edmonds: Early Life
Born to scholar parents Jacqueline McQuran and George in Los Angeles, California, she was raised in an upper–middle–class African–American family.
Tracey had an extraordinary academic ability as a child. At first, Edmonds dreamed of becoming a doctor, and she was mentally prepared for the hard work. She completed high school at the age of 16 but was bewildered regarding what was next.
So she took a break for a while and meanwhile joined a pre-medical college at Stanford University and graduated in psychobiology.
Unfortunately, her parents split before she went to college. So, although she was an extraordinary student, her scholarship didn't cover the cost of studying at Stanford University.
Tracy Edmonds: Career
Tracy started her company 'Yab Yum Entertainment' with the help of ideas given to her by musician and singer Kenneth Edmonds. He was an established and known name in the music industry.
Soon her venture became profitable, and later, she got married to her co-partner, Kenneth.
In 1997, she produced her first film named Soul Food. The film was a substantial commercial success and critical. All the characters in the film were black, emphasizing the African-American community.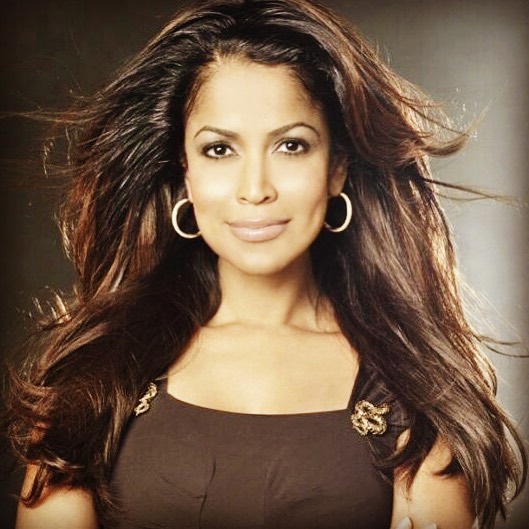 Tracey produced the film 'Good Luck Chuck' in 2007. It was her first feature movie to have an all-white cast. The movie was a box-office success, but critics severely panned it due to its plot.
Moreover, Edmonds is also a member of the 'Academy of Motion Pictures Arts and Sciences.' In addition, she has led the humanitarian organization "Care," which serves to diminish world poverty.
Tracy Edmonds: Net Worth
Tracy Edmonds has an estimated net worth of $30 million. She has accumulated her wealth from her career as a producer and businesswoman.
She has gained quite a fame after her romantic relationship with Deion Sanders. However, besides her professional career, she is also involved in various activities like endorsements and promotions, which puts an extra amount on her wealth.
Also Read About: Marty Hurney, his Wife, NFL Draft & Net Worth, an American football executive for the Washington Football Team of the National Football League (NFL)>>>
Is Deon Married? Have Deion Sanders and Tracey Tied Knots?
Deion and Tracy have been in a relationship since 2012 and are engaged. The couple first met at a movie premiere party years after Deion's retirement. They have been inseparable and proved themselves as a power couple.
They eventually started dating when they met for Sander's idea for a reality show, "Deion's Family Playbook." As they started working with each other, they gradually generated feelings for each other and ended up dating.
After more than a decade of dating, Deion and Tracey are still going strong together. The secret to the lasting relationship between the couple is that they share a mutual understanding and honor their commitments outside of the relationship.
Sanders also revealed that what works for the pair is that they don't "need a lot" at this point in their relationship. However, there were rumors that the couple would tie the knot in 2020, but the pandemic blocked their plan.
Previously, Tracey Edmonds was married to music legend Kenneth Edmonds for almost 15 years before separation in 2005. They have two sons, Brandon and Dylan.
Tracey Edmonds: Social Media Profile
Tracey Edmonds is very active on various social media platforms. She consistently posts pictures of her and her fiance, Deion Sanders.
You can find her on Instagram as @traceyeedmonds. She has accumulated 300k followers on Instagram. Besides that, she is also present on Twitter as @Traceyeedmonds and has total followers of 113.1k.
Apart from Twitter and Instagram, you can connect with her on LinkedIn. She has 67000+ followers on it.
Frequently Asked Questions
How many wives has Deion Sanders had?
The NFL legend, Deion Sanders, had been married and divorced twice. His first marriage was with Carolyn Chambers, which lasted for nine years (m. 1989-1998).
His second marriage was with Pilar Sanders, which ended up in a pretty terrible way. It lasted for 14 years (m. 1999-2013).
Are Deion and Tracey still together?
Deion and Tracey have been together for nine years and are engaged. They started dating in 2012.
Don't Miss: 12 Highest Paid NFL Players, highest-paid NFL players, find out whose net worth ranks above whom?>>>