Deontay Leshun Wilder, better known as The Bronze Bomber, is a 38 year-old American Boxer. He is a well-known boxer who is really good at what he does.
Standing tall at 6 ft 7 inches, Deontay is an absolute beast on the ring. He always gives his best, despite having a rough childhood and facing many hardships before being an adult. His perseverance is admirable and inspiring.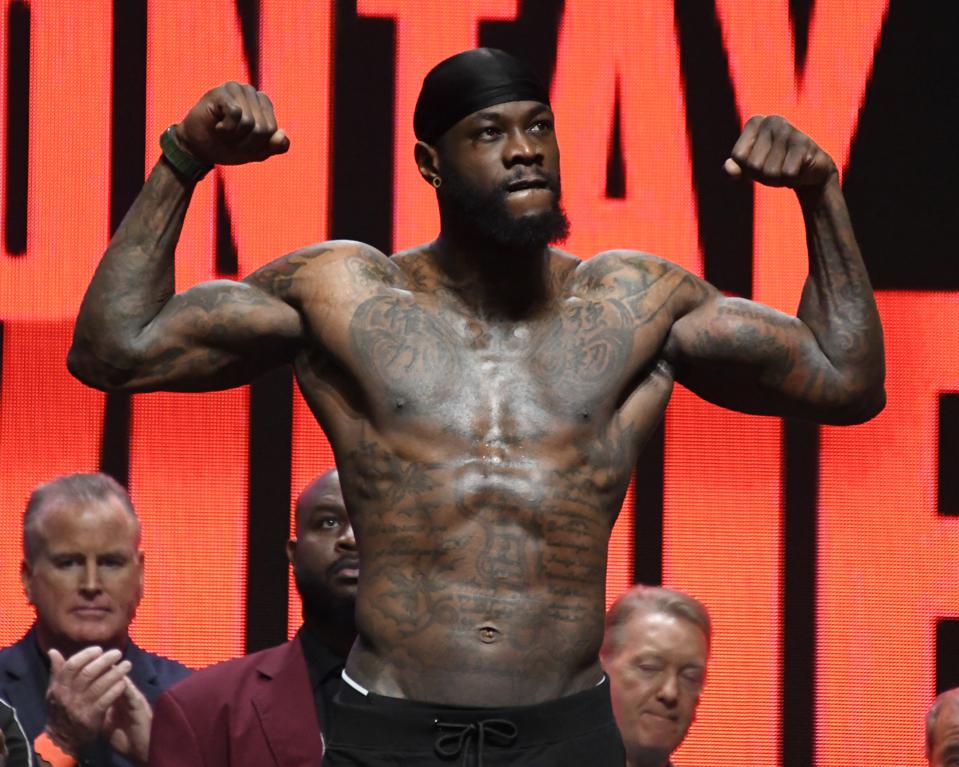 Here are some quick facts about him before we get into the details of his life.
Quick Facts
| | |
| --- | --- |
| Full Name | Deontay Leshun Wilder |
| Birth Date | October 22, 1985 |
| Birth Place | Tuscaloosa, Alabama, United States |
| Nick Name | The Bronze Bomber |
| Religion | Christian |
| Nationality | American |
| Ethnicity | African |
| Education | Tuscaloosa High School |
| Horoscope | Libra |
| Father's Name | Gary Wilder |
| Mother's Name | Deborah Wilder |
| Siblings | 4 |
| Age | 38 years old |
| Height | 6 ft 7 in (2.06m) |
| Weight | 96 kg |
| Hair Color | Black |
| Eye Color | Black |
| Build | Athletic |
| Profession | Boxer |
| Current Team | Independent |
| Stance | Orthodox |
| Active Years | 2009- present |
| Marital Status | Engaged to Teli Swift |
| Children | Eight |
| Salary | N/A |
| Net Worth | $30 million |
| Social Media | Twitter |
| Last Update | November, 2023 |
Deontay Wilder – Early Life, Education, Depression
Wilder was born on October 22, 1985, in Tuscaloosa, Alabama, USA. He was born to his mother, Deborah Wilder, and his father, Gary Wilder.
In his own words, he describes that he was raised by his parents up until he was 17. They were middle-class people who went to church.
He has 4 siblings, and he is next to the oldest sibling in his family. Deontay credits his success to his father's work ethic and that he grew up looking at his father and his sense of integrity and honesty.
He graduated from Tuscaloosa High School but had to go to junior university before he could go to University because of his low grades. He later dropped out of college when he had his first daughter.
SPEAK it.
BELIEVE it.
RECEIVE it.
👑 ✊🏿#BombZquad#WilderFury2 pic.twitter.com/cnRbjSvrO9

— Deontay Wilder (@BronzeBomber) February 6, 2020
Initially, he wanted to become a football player or a basketball player for his hometown, the Alabama Crimson Tide. However, his plans were thawed by his daughter's birth.
Deontay first starting boxing when he was 20 years old. He attended the Shelton State Community College.
Wilder mentions that he suffered from depression and even contemplated suicide via gunpoint at one point.
However, he bravely fought against it and is free from depression and suicidal thoughts today.
Specifically known for his strong and formidable punching abilities and having knocked over every single fighter he has fought has been knocked out apart from Tyson Fury.
Amateur Career and Record
Wilder was 20 years old and extremely unsure when he first stepped his feet on the Skyy Boxing Gym in Northport, Alabama. He began training under Jay Deas with uncertainty.
Before that day, Wilder had never thought about boxing as his career before. He always wanted to be a footballer or a basketball player.
But boxing fit him like a glove, and within two years, he won National Golden Gloves and US Championships at 91 kg.
Again, Deontay Wilder won against the highly acclaimed Isiah Thomas and David Thompson in the finals for the Golden Gloves. Likewise, he defeated Quantis Graves and won the final against James Zimmerman of California.
After performing impressively at the Olympics trial, he played the Olympics 2008 and won the bronze medal by defeating Abdelaziz Toulbini of Algeria and Mohamed Arjaoui of Morocco. He eventually lost to Clemente Russo of Italy and settled for the bronze medal.
Professional Career
At the age of 23, Wilder made his professional debut. It was November 2008 at the Vanderbilt University Memorial Gymnasium in Nashville, Tennessee against Etham Cox, which he won.
Riding in my 64' Impala SS…
Listening to the sounds in the streets
as the cars honk their horn and people
gathering together to make a joyful noise
into the universe as Victory is Celebrated.
A new beginning has begun!#BomZquad #TilThisDay 🤴🏿✊🏿⚔️ pic.twitter.com/GP14xeSiEt

— Deontay Wilder (@BronzeBomber) November 8, 2020
Wilder won all of the 7 matches he fought in 2009 in the first round itself. By 2012, Wilder had a 25-fight winning streak, all by knockouts and all within the first four rounds.
He won against the former WBA heavyweight challenger Owen Black, WBO light heavyweight title challenger DeAndrey Abron, and former WBO heavyweight challenger Damon Reed.
Deontay Wilder won his first title in professional boxing when he won against Kelvin Price in 2012. Wilder played slowly for the first two rounds but knocked out Price with a punch straight to his jaw that gave him the win.
Wilder debuted in the UK in 2013 against the former heavyweight championship and 2000 Olympics Gold Medalist Audley Harrison at the Motorpoint Arena in Sheffield.
Harrison had announced that he would retire if he lost, and Wilder knocked him out in the first round.
Wilder was set to fight against Derek Chisora in Wembley Arena,. Still, the fight fell through when Deontay Wilder was arrested from Las Vegas, Nevada,, on domestic abuse. A few days later, Wilder signed Al Haymon as his new advisor.
Deontay Wilder went on to fight with Siarhei Liakhovich and knocked him out in the first round itself. This caused Liakhovich to stumble and twitch.
After the fight, Liakhovich filed a complaint accusing Wiler of punching him illegally.
Wilder also fought Nicolai Firtha and maintained his knockout streak. He fought Malik Scott and knocked him out within 1:36 minutes of the first round.
This win set Deontay Wilder as a mandatory challenger for the WBC Heavyweight title held by the new champion Bermane Stiverne who defeated Chris Arreola for the title, which remained empty when Vitali Klitschko retired.
Also read: Canelo Alvarez
WBC Heavyweight Championship
Wilder and Stiverne fought for the WBC World Championship at the MGM Grand Garden Arena in Las Vegas. Deontay Wilder became the first American Heavyweight champion since Hasim Rahman when he defeated Stiverne in a unanimous decision after twelve rounds.
Wilder dedicated his win to his differently-abled daughter and his boxing hero, Muhammad Ali, who turned 73 that day. Wilder earned an estimated $1 million from the single fight.
After the match, he ended his relationship with the Golden Boys and Al Haymon became his new manager.
In May 2015 Wilder announced that he was fighting his first defense in Alabama, which was the first time it was held in the state.
He was fighting against Eric Monila, an ambitious Mexican-American boxer who wanted to win the WBC heavyweight championship. Wilder completely dominated that match and won Monila after 4 rounds.
In August of 2015, Wilder was up against Johann Duhaupas at the Legacy Arena, Alabama. Wilder won again after fierce competition and even praised Duhaupas later.
For this match alone, Wilder made about $1.4 million while Duhaupas took home around $140,000.
In December 2015, it was confirmed that Deontay Wilder would be fighting Artur Szpilka at the Barclays Center, New York. Despite losing for the first three rounds, Wilder made a recovery and won with a knockout punch after the ninth round.
This fight led Wilder to earn his career-high of $1.5 million and Szpilka took home about $250,000. The knockout was voted Knockout of the year by Premier Boxing Championships.
On May 26, 2016, Wilder was challenged by former two-time world title challenger Chris Arreola. This match was a particularly interesting one because Arreola was not in the ranking as a result of a positive marijuana test.
The fight happened at Legacy Arena, Alabama. The entire fight was dominated and controlled by Wilder and eventually won. Wilder received $1.4 million for the match while Arreola took home $150,000.
The fight was extremely well viewed with about 1.8 million viewers on FOX.
On July 30, 2018, it was reported that a match between Wilder and unified heavyweight world champion Tyson Fury. Wilder and Fury fought in an audience of approximately 18,000 people in the Staples Center.
The fight was a win Wiandandr FOX news and even Fury as they all made huge money from this fight. Wilder took home about $14 million while Fury took home about $10 million.
Similarly, Deontay Wilder had a lot of other memorable fights including Povetkin in Russia, Breazeale, Washington in Alabama, Stiverne again, Ortiz, Fury, etc.
Might find interesting: Keith Thurman
Deontay Wilder – Awards, accolades, and honors
Represented his country in the Olympics Games and won a bronze medal in the 2008 Olympics.
Won the U.S National Championship in 2007 in Heavyweight
Won the Golden Gloves 2007
Was named the Boxing Ambassador for Peace by Pope Francis
Deontay Wilder: Boxing Records
44 fights
42 wins
1 loss
By knockout
41
1
By decision
1
0
Draws
1
Deontay Wilder – Personal Life, Kids & Net Worth
Wilder had his first daughter with ex-girlfriend Helen Duncan in 2005. She was born with spina bifida, a spinal cord disability. He had to quit his school for the sake of his daughter.
He had two daughters and one son with his ex-wife Jessica Scales Wilder. The two got married in 2009 and later divorced.
Deontay Wilder is currently engaged to Teli Swift and they have a baby together. The duo was even featured in a reality television show, WAGS Atlanta.
During the beginning of his career, he was struggling with depression, anxiety, and even contemplated suicide. The difficult times he faced are what he attributes his strength and success.
When asked about the incident, he says
"You don't think about what effect it would cause for your family, your daughter, your kids and so forth and so on… In that state of mind, you just become selfish.

You think of the inner pain and the outer pain that you're feeling right at that very moment in time."
Deontay has a younger brother who is also a professional boxer. Marcellos Wilder currently fighting in the cruiserweight division and has a 5-2 record.
Grand Garden Arena is where champions are made. 💪 We're taking a look back on Deontay Wilder's 1st fight @MGMGrand v Bermane Stiverne in 2015, when he won his belt for the 1st time.
Will @BronzeBomber get another W vs. @Tyson_Fury? Find out 2/22. #WilderFury2
📸: @premierboxing pic.twitter.com/2eNpWVrYUT

— MGM Grand Hotel (@MGMGrand) February 13, 2020
Deontay Wilder is a wealthy sportsperson. His estimated net worth is at $30 million. He wants his wealth to be for his children as he wants them taken care of.
For more details on his net worth and lifestyle, check out this article Deontay Wilder Net Worth: House, Cars & Earnings >>
Deontay Wilder – Some Popular Quotes
I don't care what you have done before or what you are capable of: if you come up against a guy like me, you are in trouble.
People can be too harsh, especially with social media. It brings a person down.
To build my legacy and be that person I want to be, this is what it's going to take: to get on the road and travel. Let's do it that way.
God definitely blessed me with power. I still don't know the limits of my own power.
Deontay Wilder – Social Media
Wilder is on Twitter and Instagram. He is relatively open and shares his personal life and other news on his social media handles.
Deontay Wilder – FAQs
Are Deontay Wilder and Tyson Fury enemies?
They are not enemies per se but they are the contenders and biggest competition to the other for the Heavyweight Championship.
How rich is Deontay Wilder?
Deontay Wilder is a well-0ff guy and has a net worth of $30 million approximately.
How was Deontay Wilder's costume designed for WBC heavyweight title defeat?
Deontay entered the MGM Arena wearing a full leather suit of armor that also includes a crown and face mask. The custom was designed by Los Angeles-based designers Cosmo + Donato, weighed around 40 pounds, and cost $40,000.
Who is Deontay Wilder's Coach?
Previously Deontay Wilder coach was Mark Breland but at present Jay Deas continued to be Wilder's Coach.
What Happened to Wilder?
Deontay suffered from bicep injury before defeat with Tyson Fury at WBC champ.
How Hard is Deontay Wilder Punch Power?
According to the people who have gotten hit from Deontay punch rates his punch power to be 10 out of 10.