What does it take for an athlete to make a successful career? Especially when the profession is not your first choice. Well, there are many failed stories regarding the change of profession, but luckily it is a different story for Dominic Breazeale.
The former quarterback, Dominic, decided to pursue boxing after he turned 23. Without any prior knowledge about it, the road he chose was sure to be tough. However, looking at him now, Breazeale has made a successful career out of it.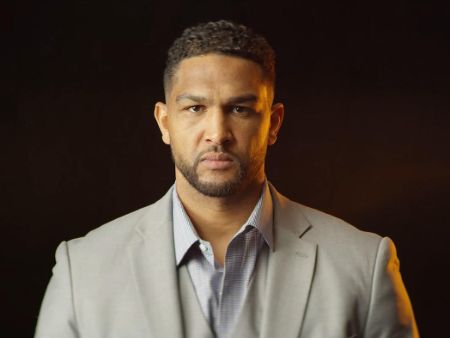 Since his professional debut back in 2012, Dominic has only suffered two losses. Unlike that, he has made numerous records and acquired victory against many tough opponents.
It will be a shame if you folks don't know about it. Alongside his career, we will also talk about his family, net worth, and many more. Now, let's get started.
Dominic Breazeale: Quick Facts
| | |
| --- | --- |
| Full Name | Dominic Angelo Breazeale |
| Birth Date | August 24, 1985 |
| Birth Place | Glendale, California, US |
| Known as | Trouble |
| Religion | Unknown |
| Nationality | American |
| Ethnicity | Unknown |
| Education | Boston College |
| Horoscope | Virgo |
| Father's Name | Unknown |
| Mother's Name | Unknown |
| Siblings | Unknown |
| Age | 38 Years Old |
| Height | 6 feet 7 inches (201 cm) |
| Weight | 100 kgs |
| Build | Athletic |
| Eye color | Brown |
| Profession | Professional Boxer |
| Active years | 2008-present |
| Stance | Orthodox |
| Weight | Heavyweight |
| Marital Status | Married |
| Spouse | Christine |
| Children | Three |
| Net Worth | $5 million |
| Social Media | Instagram |
| Last Update | November, 2023 |
Where is Dominic Breazeale from? Early Life, Family, and Education
The professional boxer, Dominic Breazeale, was born and raised in the City of Glendale, California, the United States of America.
When it comes to his family, Dominic has maintained silence and refrained from talking about them. Not even their names are known.
Likewise, Dominic is an American by nationality, while his ethnicity is unknown. As for his education, Breazeale went to Mt. SAC and later enrolled at the University of Northern Colorado.
Even though he is a boxer now, Dominic used to play American football in his early days. Interested from a young age, he played as a quarterback for the high school team and even college team before opting for boxing.
Career Stats as a Quarterback
YDS- 1450, 27th
TD- 8, 3rd
INT- 8, 150+
How tall is Dominic Breazeale?- Height and Body Measurements
Famous as "Trouble" in the boxing world, Dominic Breazeale was born on August 24, 1985. As of now, he is 38 years old, and also his star sign is Leo. According to the signs, Dominic is fierce, strong, and competitive.
Aside from his nature, it is also Breazeale's physical status that helps him achieve the goal. Likewise, Dominic stands at 6 feet 7 inches(201 cm) and weighs around 100 kgs.
Included in the heavyweight category, he is also known for his powerful punch that reaches 81 inches or 207 cm. Added that to his weight, Dominic is one strong beast in the ring.
Nonetheless, as much as he is rouge inside the ring, Breazeale is proper and sleek outside. The famous boxer looks dandy with his short dark brown hair and dark brown eyes.
Net Worth and Career Earnings
The former quarterback, Dominic, has been active as a professional boxer since 2012. Since then, in eight years, Breazeadale has earned a lot of recognition from fans and critics.
Added to that, Dominic has earned an estimated net worth of $5 million (£3.9m) as of 2023.
Moreover, from his fight against Deontay Wilder, Dominic won $1.5 million as prize money. It was one of the most awaited fights in the history of boxing.
Even though some professional names in boxing, like Floyd Mayweather, earn $500 million from fights, many boxers still struggle to earn a living. It is said most professional fighters make around $51,370 on average, which is not enough considering the risk.
Nonetheless, Dominic has been able to make enough to live a comfortable life with his family. However, he has not disclosed all of his income and assets in the process.
Amateur Boxing Career
As we talked about before, Dominic is not someone who started boxing from an early age. During his high school and college years, Breazeale was active as a quarterback.
Dominic only started boxing when he was 23 years old. Coming from a football background with no prior knowledge of boxing was tough for him in the beginning.
But one thing he had as an athlete was the tenacity to win and progress further. Because of his perseverance, Breazeale won the 2012 US National Super Heavyweight championship at the Fort Carson Special Events Center in Colorado Springs, Colorado.
Likewise, he later qualified for the 2012 Olympic Games in London. He earned a spot in Olympics after winning the Olympic trials.
Unfortunately, Breazeale lost in the preliminary round against Russian Magomed Omarov, with a score of 19-8.
Professional Career as a Boxer
After his amateur years, Breazeale finally made his professional debut as a boxer on November 9, 2012.
Dominic fought against Curtis Lee Tate for his debut match and won the fight via knockout in the first round. Later that month, he knocked out Mike Bissett in the second round.
Likewise, Dominic kept his winning streak in 2013 as well. On August 24, 2013, the American boxer fought Jamaican Lenroy Thomas and knocked him out in the fourth round.
Following that, he bagged the next two wins against Jon Hill and Keith Barr.
Good fortune followed Breazeale in 2014, too, where we saw him knocking the opponents in a heartbeat.
During that time, Dominic won the fight against Homero Fonseca and Nagy Aguilera and three more wins towards the end of the year.
In his first fight of 2015, Breazeale fought against Victor Bisbal. Dominic won the match via knockout in the fourth round.
He then went on and knocked out Yasmany Consuegra in the third round. Moreover, Dominic won the fight against Cameroonian fighter Fred Kassi on September 26, 2015. But the match was full of controversies and disputes.
Similarly, for his next match, Dominic was scheduled to face fellow contender Charles Martin on a PBC card in San Antonia, Texas. But before the match, Martin withdrew to pursue an IBF title bout.
Dominic Breazeale and His Pursuit of Success
On January 26, 2016, Dominic faced a formidable opponent, Amir Mansour, a fellow American fighter who stood like a wall. In the third round, Dominic was floored but fought back and won eventually.
Simultaneously, Mansour lost the match with a severe laceration in his mouth, resulting from biting his tongue, and was forced to quit on his stool at the end of the fifth round.
Similarly, in April 2016, the professional boxer Dominic was scheduled to fight against Anthony Joshua for the IBF heavyweight title. The much-awaited match was going to occur on June 25, 2016, at the O2 Arena in London.
As expected, Anthony was a formidable opponent and was reluctant about losing his title. Hence, in the end, Dominic lost the fight in the seventh round after getting knocked down for the second time.
The following year on February 25, Dominic fought the undefeated heavyweight fighter Izu Ugonoh as a replacement for Artur Szpilka. While Dominic wanted to get back in the ring as soon as possible, Izu wanted more time to train and wanted to push the date.
However, the match took place as scheduled and what a match it was. The clash of two tough opponents in the ring was a sight for viewers.
Ugonoh was dropped in the third round but got back up and brought Breazeale to the ground in the fourth round.
The exchange of punched back and forth was insane to witness. In the end, Dominic dominated the match and brought the victory home.
Also, the match won the round of the year from the Ring Magazine for the third round.
Dominic Breazeale vs. Molina and Wilder
Breazeale was making a name for himself with each win, and more people were tuning into his match now.
On November 4, 2017, the American boxer fought against the former world title challenger, Eric Molina. Their match took place on the undercard of the Deontay Wilder vs. Bermnace Stiverne rematch.
Swiftly, Breazeale won the match after Molina slumped to his corner after the eighth round. Then on May 18, 2019, Breazeale faced WBC Heavyweight Champion Deontay Wilder but was knocked out in the first round.
Moreover, Dominic was caught by Wilder's powerful right, which sent him flying headfirst onto the canvas and his body flat on his back.
After this, Dominic could not continue as the referee waved him off after reaching the ten count. This was Dominic's second professional loss.
I am Deontay Wilder's retirement plan- Dominic Breazeale.
Well, it seems like Dominic shares an old rivalry with Wilder and Joshua, and the rivalry is getting stronger as it gets older.
The last fight Dominic had with Wilder was in May 2019, and we must say Wilder terribly knocked out Dominic in the first round to retain his WBC world heavyweight title in New York with an overpowering right hand.
Dominic was quite confident about his win and Wilder's end in the fighting career. He even made statements like; Wilder is a disgrace, will retire when I beat him. Tragically, the words did not go in his favor.
To add on, the pair indulged in a scuffle at a hotel in 2017, and Wilder has drawn fight-week scrutiny for comments about getting a body in his record. ( Obviously, which was against the WBC code of ethics).
It was almost a second career loss for Dominic after his 2016 defeat by Anthony Joshua. Dominic was willing to challenge Wilder for a very long time for a heavyweight title as he was stopped by Joshua in the seventh round (TKO) in Britain three years ago.
Knock-out By Joshua in 2016 at O2 Arena in London
The defeat was a major one as Joshua could grab his record to 17 KOs from 17 flights and successfully defend his IBF heavyweight title. What a knockout it was!
Joshua's hand speed was recommendable from the first bell. As he threw the first punch, he dragged a doubtful look from his opponent. The second round was filled with a three-punch combination with a big left hook shockwave that almost shook Dominic.
While it was the fourth round, Dominic had his eyes swollen and got another strong punch; the fight got vicious. Following that, Dominic had bloodied nose as well.
Joshua ended the fight with an impactful left hand, and the results were announced.
Personal Life- Dominic Breazeale Wife and Children
Just as he is successful in his professional career, it is the same when it comes to Dominic's personal life as well. At the moment, the 35-year-old is happily married to his wife, Christine. Comparing his life to other celebrities, Breazeale has maintained secrecy.
On the same note, it is unknown when and how the two met in the first place. Hence, we have no idea about their past. Moreover, the two have been reluctant about their current situation as well. Their wedding dates and ceremonies are all kept in the dark.
However, it is known that the duo is the parents of three beautiful children. Despite the secrecy, Dominic continues posting about his wife and children on his personal Instagram.
Maybe it is due to his effort, but the professional boxer has yet to be caught in any rumors and controversies. Also, the information on his past relationships has been missing from the media.
Social Media Presence
Instagram– 15k Followers
Frequently Asked Question
Who did Dominic Breazeale last lose to?
Otto Wallin on 2021-02-20 by unanimous decision with scores of 117-111, 118-110, and 116-112.