Eddy King's name should be familiar if you were a BMX enthusiast in the 1980s. He was one of the top BMX riders in prime sports before retiring at 24 in 1989.
Known as Eddy the King and Silver Bullet, the old school BMX rider was one of the fastest BMX riders in 1983. He was also named Rookie of the Year the same year.
The Eddy King is also known for his amazing sibling combination with his brother Mike King and his Diamondback teammate Harry Leary. The duo was called Dynamic Duo.
Despite his short-lived career and early retirement, Eddy King already had left a strong impact in the world of BMX. Thus, BMX star was later inducted into the ABA BMX Hall of Fame in 1989.
The article will cover the professional and personal life of the old-school BMX star Eddy King and uncover what he has been up to after his retirement.
But, before diving into the details, let's glance at his quick facts.
Quick Facts
Full Name
Edward King
Name
Eddy King
Nick Name
"King Edward," "Eddy the King"
"Silver Bullet"
Date of Birth
October 9, 1964
Age
59 years old
Birth Place
Philippines
Nationality
American
Ethnicity
Asian
Zodiac Sign
Libra
Height
5'5" (1.65 meters)
Weight
145 lbs (66 kg)
Hair Color
Black
Eye Color
Black
Father's Name
Not Available
Mother's Name
Not Available
Siblings
1; Mike King
Education
Not Available
Marital Status
Not Available
Wife
Not Available
Children
Not Available
Profession
Former Professional Bicycle Racer, BMX racer
Leagues

American Bicycle Association (ABA)
American Bicycle League (ABL)
National Bicycle League (NBL)

Discipline
Bicycle Motor Cross (BMX)
Rider Type
Off-road
Sponsor

DiamondBack

Debut Year
1983
Retirement
1989
Major Achievement

Inducted in ABA BMX Hall of Fame in 1989

Awards and honors

Rookie of the year 1983
Fastest amateur racers in the world 1983

Net Worth
$1million – $5 million
Social Media

Instagram

,

Facebook

Merch
BMX Bike
Last Update
November 2023
Eddy King | Personal Life
Eddy King was born on October 9, 1964, in the Philippines. He was born as the first child to his parents.
When Eddy was six years old, his parents moved to Chula Vista, California, for better opportunities and a future. Eddy's parents belonged to a lower-middle-class family as his father was only the breadwinner.
In addition, his father was a military person and would always be away from the home to make a living. Thus, Eddy grew up with his mother, a housewife, and his brother, Mike King.
There is not much information on the educational background of Eddy King, but it can be assumed that Eddy was more focused on racing than getting the degree.
Eddy King | BMX Career
How Did He Start Racing?
Eddy King started racing on January 15, 1975, when he was just 10. He found a flyer of the bicycle race on the door at his local bicycle shop.
He was interested in seeing how the bicycle race looked, so he decided to go to Silver Wing Park track to watch the race.
After watching the race for few times, he no longer wanted to be an audience but part of the race.
But, Eddy didn't know how to ride a bicycle. He learned it himself. The pro racer says when he first rode the bicycle, he tumbled a lot of times, and after a few tumbles, he learned to ride the bicycle.
In December 1974, he bought his first racing bicycle from K-mart, costing US$ 29.95.He said the bike was basic with a banana sear, bull horn handlebars, short cranks, and street tires.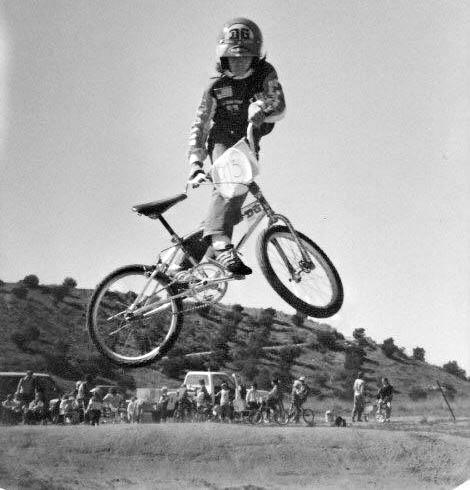 He then replaced the street tires with knobby tires. Also, he modified the banana seat and put motocross bars. He wanted his bicycle to look like a motorbike like the ones he used to see in the races.
When asked if Eddy ever wanted to race motorcycles instead of bicycles, he said that he never thought about motorbikes since he was focused on BMX.
But, he also added, although he rode a bicycle as it was cheaper than the bikes, he slowly grew fond of it.
Eddy had his clear vision of being a professional bicycle racer, and he soon started his professional career.
The First Race and Sponsor
When Eddy was 10, he took part in his first race. He competed in the nine and 10-year-old categories and won the race.
After his fantastic debut, he was then sponsored by S & W Bike Shop a year later after his second race.
After Eddy knew he was sponsored, he felt relieved that the sponsor would cover his race expenses.
Eddy didn't want to bother his parents with the race expenses. He was struggling to participate race as it would cost a lot to upgrade and mend the bicycle parts.
Professional Career
In 1980, Eddy was sponsored by DiamondBack for his professional career. In addition, DiamondBack sponsored Eddy throughout his professional bicycle career.
Also, he won the Over Expert Grand National Champion title in 1981 when he was 16 years.
A year later, when he was 17, he won titles such as Expert Grand National Champion and Expert National No.3 in the league.
Eddy debuted as a professional bicycle racer on March 26, 1983. He raced professionally in National Bicycle League. However, he did not finish the event as he collided with the photographer.
Fortunately, both weren't injured, but Eddy couldn't finish the race. However, he didn't go home empty-handed but with the US $25 in his pocket. It was his professional race earning.
The following month, he participated in the American Bicycle Association Wheaties Gold Cup Qualifier, where he finished A Pro Main and had his first career win.
Anabolic Steroids
In the August 1987 issue of BMX Action, Eddy King admitted that he, along with Harry Leary and four other people, took anabolic steroids to race. As BMX tracks during that time were focused on the power racer more than the fit racer with jumping ability.
You may also like reading about BMX Star, Maris Strombers>>>
Eddy King | Injury
On March 7, 1987, Eddy broke his right foot at ABA Gilley's Nationals in Pasadena, Texas. He had a collision in the race, and someone ran over his foot, thus causing a serious injury.
Eddy also suffered a hand injury at the First Annual Palm Springs Aerial Tramway Gravity Powered Vehicle (GPV) and Ramp Jam in Palm Springs, California, the same year.
In 2013, Eddy King had a serious bike accident and was airlifted to the hospital. He had a severe spinal cord injury and was paralyzed for several months.
The accident occurred while mountain backing at Big Bear. He crashed with an overpacked camelback/hydration pack.
Following the accident, Eddy doesn't recommend putting anything in the camelback.
Eddy regrets keeping the camelback packed with a shock pump, which caused severe injury.
The knob of the shock pump was bent from the crash, and it was the cause of serious spinal cord injury.
Eddy King | Awards and Achievements
Picked as one of the fastest amateur racers in the world by BMX Action in 1983

Rookie of the Year 1983

Inducted to ABA BMX Hall of Fame in 1989.
You may also like reading about BMX Star, Tommy Brackens>>>
Eddy King | Retirement
Eddy King retired early from his bicycle career at 24 years old. He retired in February 1989 after the expiry of his contract with Diamondback.
When asked why he retired so early, he replied he was physically and mentally tired and wanted to do something else.
He wanted to explore new dimensions of life as he believed quarter of his life, he was only racing.
Before his retirement, Eddy King participated as Senior Pro in ABA Winternationals on February 19, 1989. He ended up in eighth place in the tournament.
Eddy King | Real Estate Career
After retiring from the BMX race, Eddy King focused on his real estate career. While he retired, his brother Mike King earned his name in BMX racing.
When asked if he felt regret about retiring from the BMX race, he said he never regretted it. Instead, he retired early as he wanted a new direction on his which he found in his real estate career.
Eddy King | Wife and Children
There is no information about the marital status of Eddy King and if he has children or not. But, do stick with us; we will update about as soon as we receive it.
Eddy King | Net Worth
The net worth of Eddy King is estimated to be anywhere around $1 million to $5 million. He has earned the net worth from his professional bicycle career and real estate career.
He earned handsome money from the tournament wins, sponsorships, and endorsements. In addition, he was on the cover of several BMX magazines.
He also earned fortunes as a real estate broker. He sold his first house at a whopping amount of US $180,000 in 1987.
You may also like reading about BMX Star, Brian Foster>>>
Social Media Presence
Eddy King's social media are like a bridge between him and his admirers. Even if Eddy retired long ago, BMX fans still adore him and want to stay connected to him.
Thus, Eddy King is active on social media, where he connects with his fans and shares his personal and professional life.
He is active on Instagram and Facebook, where thousands of his fans and admirers follow him.
In addition, Eddy's Insta feed is full of him enjoying his life, going on adventures, and cycling.
Thus, if you want to get a sneak peek of Eddy King's life, then follow him on the social media handles.
Frequently Asked Questions
Is Eddy King paralyzed?
Eddy King is not paralyzed, but he needs support while walking. After the awful accident in October 2013, Eddy King was bedridden for several months. But, with his recovery, he can walk with support.
Is Eddy King still riding BMX?
No, Eddy King is not riding BMX. He rode BMX after his retirement in 2013 but met with a horrible accident that left him paralyzed for months. After the accident, he is riding the E-bike.