The boxing division undoubtedly has many talents spread across the world. Eleider Alvarez is one of those boxers.
Alvarez, famous for his nickname Storm, is a Colombian professional boxer who started his boxing journey as a 14-year-old.
Before his professional debut, Alvarez won a gold medal in the light-heavyweight division at the 2007 Pan American Games.
Likewise, Alvarez was also the titleholder of WBO Light-Heavyweight from 2018 to 2019.
Moreover, according to Transnational Boxing Rankings Board, Alvarez is the world's eighth-best active light-heavyweight boxer and seventh-best according to The Ring Magazine.
Furthermore, let's get to know more about Eleider Alvarez's early life, career, family, and net worth. First, let's look into Storm's quick facts.
Eleider Alvarez | Quick Facts
Full Name
Eleider Alvarez Baytar
Birth Date
April 8, 1984
Age
39 Years Old
Birth Place
Apartado, Colombia
Nickname
Storm
Religion
Not Available
Nationality
Colombian
Education
Not Disclosed
Horoscope
Aries
Father's Name
Not Disclosed
Mother's Name
Not Disclosed
Siblings
None
Height
6'0" (183 cm)
Weight
Not Available
Build
Athletic
Shoe Size
Not Available
Eye Color
Brown
Hair Color
Black
Marital Status
Married
Spouse
Jessica Mosquera Córdoba
Children
Ayda Eliza
Profession
Professional Boxer
Reach
75 1⁄2 in (192 cm)
Stance
Orthodox
Division
Light- heavyweight
Net Worth
$2 Million
Awards and Achievements
2007 Pan American Games- Gold
WBO NABO Light Heavyweight
WBC Silver Title
WBO Light Heavyweight title
Social Media
Instagram, Twitter
Boxing Merch
Gloves, Bag, Equipment
Last Update
November, 2023
Eleider Alvarez | Early Life, Family & Education
Colombian professional boxer Eleider Alvarez was born on April 8, 1984, in Apartado, Colombia. His mother's name is Ayda Eliza.
There isn't much information available regarding Alvarez's parents. Thus, his father's name is not known. Moreover, Alvarez is the only child.
Since very young, Alvarez has been interested in boxing and music. Because of his love for boxing, Alvarez's mother wanted him to pursue his career in boxing.
Unfortunately, his mother passed away when he was only fourteen years old. After his mother's death, he started his boxing career as per his mother's wishes.
Age, Height, and Body Measurements
Furthermore, Alvarez turned 39 Years Old in 2023, and he stands at the height of 6'0" (183 cm).
Alvarez possesses an athletic physique. His eyes are brown colored, and his hair is black.
According to Alvarez's birthdate, he falls under the sun sign of Aries. People with Aries as their sun sign are known for their motivated and passionate nature.
Education
There isn't any information regarding Alvarez's educational background. As we know, he was born and raised in Colombia. We can assume that he graduated from Comlubian educational institutions.
Eleider Alvarez | Career and Profession
Amateur Career
As an amateur in boxing, in 2006, Alvarez won the South America Games against another Brazilian amateur boxer Hamilton Ventura.
Likewise, during the 2007 Pan American Games Man's Boxing Tournament, Alvarez defeated Julio Castillo and Yusiel Napoles in the finals.
Moreover, at the 2007 World Championships, Ramadan Yasser defeated Alvarez. He also participated in Olympic qualifying rounds at his first Olympic qualifiers; he lost to Cuban amateur boxer Julio Cesar la Cruz.
Likewise, during Alvarez's second Olympic qualifiers, he fought Julio César la Cruz again and won with an 8:8 countback. Later, he defeated Julio Castillo and Azea Austinama, which made him qualify for the Olympics.
Furthermore, during the 2008 Pan American Championships held in Ecuador, Alvarez won the tournament gold.
Professional Career
Eleider made his debut as a professional boxer at the age of 25 on August 28, 2009, when he fought against Jesse Sanders at Montreal Casino.
In 2009 he fought against two other boxers at the Montreal Casino and set a record for the year with 3-0 and 2KOs.
WBO NABO Light Heavyweight
Moreover, in 2010 Alvarez went back to Colombia as he didn't fight due to VISA issues. He came back to the ring in April 2011 and fought for his first vacant title, "WBO NABO Light Heavyweight," against Emiliano Cayetano.
Alvarez won the title, and during the match, Cayetano was knocked down three times during round one, and the fight was stopped after 2 minutes and 33 seconds.
Furthermore, in April 2012, he defended his title against Shawn Hawk at the Bell Centre. The match went for 12 rounds, and Alvarez won through wide scoreboards.
His match against Shawn Hawk was his first 12-round match in his professional career.
WBC Silver Title
Alvarez went on to fight for the WBC Silver Title against the titleholder Ryno Liebenberg. After scoring a stoppage in round seven, he won the belt as he used the first two rounds to test Ryno's shots.
Moreover, under the WBC rules of open scoring, the judge's scorecards read 39-37 and 38-38 after four rounds. Ryno was cut due to an accidental headbutt, which deducted his point as per the WBC regulations.
After the fight resumed, Alvarez landed a right uppercut, but Ryno survived the round.
Later, during round seven, Liebenberg's cutover on his left eye re-opened, and referee Frank Garza ended the fight after 1 minute and 54 seconds, declaring Alvarez as the winner.
Takanori Gomi- UFC, MMA, Record, Tapology & Wife >>
WBC Mandatory Challenger
Furthermore, Chilemba and Alvarez's teams started their discussions on August 26, 2015, and within a month, both of the teams agreed to the terms of the fight and avoided purse bids.
Alvarez defeated Chilemba through a majority decision and became the WBC, Mandatory Challenger. If Chilemba had won during the final round, the decision would have ended with a draw.
According to ComputBox stats, Alvarez landed 27% of the punches he threw, and Chilemba landed 25% of the punches he threw.
Alvarez thought he was the clear winner as he lost only two rounds. Chilemba won most of the early rounds, and only during the later rounds did Alvarez take over the fights.
However, Chilemba stated that Alvarez won because of a hometown decision and had only fought out of Canada.
Alvarez vs. Pascal
Moreover, on April 15, 2017, Alvarez was set to defend the WBC Silver Light Heavyweight title against Jean Pascal. The fight was aired live on Showtime on April 21, 2017.
During the fight, Alvarez outboxed Pascal and won the match after 12 rounds through a majority decision.
One of the judges scored the fight with 114-114, while the other two scored 116-112 and 117-111, which were both in favor of Alvarez. Likewise, Alvarez dominated the fight with his general ring work, accuracy, and superior jab.
However, Pascal stated that he had done enough to win the match and wanted a rematch with Alvarez. The fight was Pascal's third defeat in five fights that he fought.
Oscar Valdez- Net Worth, Weight Class, Trainer & Next Fight >>
Issues with the WBC
On September 8, 2017, Yvon Michel disclosed that there were serious ongoing negotiations between Alvarez and Adonis Stevenson to fight before 2017.
However, he also revealed that the fight would be pushed to January 2018 as he had difficulty finalizing the venue and time for the fight.
Moreover, On November 8, 2017, rumors stated that Stevenson would pay Alvarez a step-aside fee to fight Badou Jack.
Likewise, Alvarez stated that he didn't think that he would fight Stevenson and expected the step-aside offer.
Reportedly, GYM offered Alvarez a step-aside deal, which consisted of a multi-fight contract with a six-figure salary guarantee per fight.
Similarly, WBC announced that they would allow Stevenson to avoid fighting Alvarez and fight Badou Jack.
Additionally, they also stated that they would Alvarez fight Oleksandr Gvozdyk for the interim title. However, Alvarez withdrew from the fight before the bid.
WBO Light-Heavyweight Champion
Moreover, in 2018, Alvarez decided to fight against the WBO light heavyweight titleholder Sergey Kovalev.
The fight took place on August 4, 2018, at the Hard Rock Hotel & Casino in Atlantic City, New Jersey, which aired on HBO.
Alvarez won the fight in round seven via TKO and claimed the WBO Light Heavyweight title. During the fight, Sergey was knocked down three times by Alvarez before the fight was stopped.
The official stoppage of time was 2 minutes and 45 seconds. Kovalev was winning the first six rounds with scoreboards 58-56, 59-55, and 59-55. According to Alvarez, he was waiting for his contender to get tired.
Furthermore, after the fight, Kathy Duva, Kovalev's promoter, confirmed a rematch clause in the agreement, but it was unsure when the rematch would occur.
After the fight, Alvarez stated-
"Words cannot express how I feel. I am grateful to God and all my fans in Columbia and Canada. This was all for them. It was a two-punch combination that I have been throwing my whole career.
CompuBox Stats recorded that Kovalev landed 27% of the punches he threw, and Alvarez landed 29% of the punches he threw. The fight had an average of 731,000 viewers, with a peak of 813,000 viewers.
Rematch with Kovalev
On August 25, 2018, Kovalev stated that he would exercise the rematch clause. Early talks showed the rematch would take place in December 2018.
However, a stumbling obstacle appeared when HBO verified that they were not fully committed to airing the rematch.
Moreover, ESPN agreed to broadcast the rematch; the first press conference to officially start the build-up for the rematch took place on December 8, 2018.
Besides, Alvarez signed a multi-year co-promotional deal with Top Rank on December 20, 2018.
The deal highlighted that Alvarez would earn PPV shares, seven-figure bids, at least one fight per year in Quebec, and gate revenue for his fights.
Furthermore, Kovalev set an incredible fight and regained his WBO title through a 12 round unanimous decision becoming a three-time light heavyweight titleholder.
Reportedly, following Alvarez's loss, his new contract with Top Rank would continue, but it would contain some financial consequences where Alvarez would not be assured with a minimum of $250,000 bid.
He can only go back to his previous contract terms if he manages to capture a world title.
Injury
After his second fight with Kovalev, he was due to return on June 28, 2019, and fight Jesse Hart, a former super middleweight world title challenger.
However, Jesse's only concern was that the fight was taking place in Canada. In April, Alvarez agreed to fight Jesse with a pending contract signing. Unfortunately, Alvarez suffered from a ligament tear while training, which delayed his ring return.
John Laurinaitis: Net Worth, Wife, Brothers, WWE & Career >>
Return after Injury
Moreover, during Alvarez's comeback fight after injury, he fought Michael Seals on January 18, 2020.
Michael was caught by with a big overhand right at the end of the seventh round, from which he could not get up during the fight.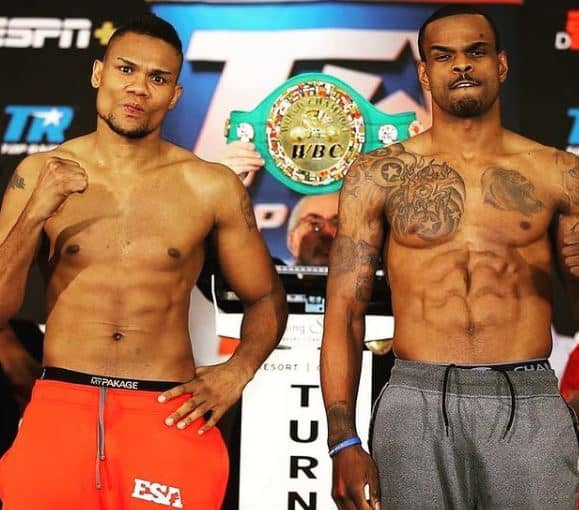 Likewise, on August 22, 2020, Alvarez fought heavy-handed Joe Smith Jr during a WBO title shot eliminator. Joe boxed well and took over the fight after a ninth-round one-punch knockout.
Switched his training coach to Pedro Diaz
Former WBO light heavyweight world champion Eleider Alvarez has concluded his alley with the trainer, Marc Ramsay, and manager, Stéphane Lépine.
The undefeated champ has moved on to another coach Pedro Diaz and decided to give the lace of his career on his hand.
Mondo Boxing Gym is the place where Alvarez plans to train much harder. Also, top boxers like Guillermo Rigondeaux, Ivan Baranchyk, Filip Hrgovic, and Tyrone Spong come there.
Alvarez met with his promoter, Yvon Michel, and puked all his intentions. Thereafter, he planned to go and continue his training at Diaz's gym located in Miami.
Diaz speaks Spanish and is a well-known personality in Quebec. Prior to launching his own gym, he worked two years at GYM and has suggested Jean Pascal, David Lemieux, Oscar Rivas, and Eleider Alvarez.
But why did he drop Marc Ramsay?
Aligning with the online sources, trainer Marc Ramsay had suggested Alvarez consider retirement.
Actually, there were two reasons that made Marc suggest him this, one was his weight between fights (Marc weighed around 225 lbs whereas he wanted him to maintain around 200lbs), and the other was he wanted him to prepare a post-career project.
Well, it seems like, Eleider does not want to end his fighting career now clearly. We hope he finds his way out real soon.
Professional Record Summary
| | | |
| --- | --- | --- |
| 27 fights | 25 wins | 2 losses |
| By knockout | 13 | 1 |
| By decision | 12 | 1 |
How much is Eleider Alvarez's net worth?
Alvarez has been fighting since the age of fourteen. After his professional debut at the age of 25, he has achieved several accomplishments throughout his career.
Although Alvarez has not revealed anything regarding his career earnings, looking back at his career, we can state that-
The presumable net worth of Eleider Alvarez falls around $2 Million.
Eleider Alvarez | Wife and Children
Alvarez is married to Jessica Mosquera Córdo, and they have a daughter named Ayda Eliza, named after Alvarez's mother.
His wife and daughter reside in Colombia, and Alvarez lives far from his family in Laval, Quebec, Canada.
Eleider Alvarez | Social Media Presence
Instagram– 17.2k followers
Twitter– 3k followers
Frequently Asked Question
When is Eleider Alvarez's next fight?
It's been almost a year of his last fight with Jr. on August 22, 2020, at Las Vegas, MGM Grand USA, but as of now, there are no such updates on his next fight.
Did Eleider Alvarez participate in the Tokyo Olympics 2021?
No, he did not. Actually, he has not fought since his last fight with Jr in 2020. However, we are looking for his back-breaking and solid comeback.