"The only person that deserves a special place in your life is someone that never made you feel like you were an option in theirs." It is such a befitting quote for the couple, Elle Bielfeldt and Meyers Leonard.
Despite being accomplished professionally, Meyers never treated his wife's passion and pursuit in a diminutive way. Indeed, Elle is a lucky woman to have found such a gentleman, on and off-the-pitch.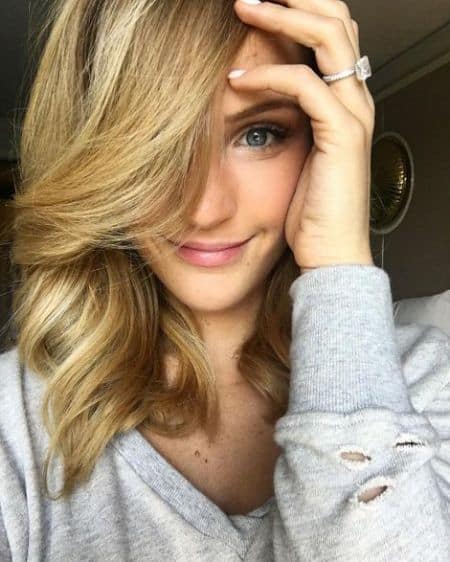 By now, you probably guessed who Leonard is. He is a power forward for Miami Heat, previously an 11th draft pick for the Portland Trailblazers.
However, we are not here to discuss the basketball player; instead, we want to talk about his beautiful wife, Elle Bielfeldt.
It takes a lot to be in a relationship with someone whose fame can sometimes feel belittling. Nonetheless, Bielfeldt stood by Leonard through thick and thin, and their bond is independent of their personal success.
The article focuses on Elle Bieldfeldt and comprises her early life, career, body measurements, net worth, and how she came to meet the love of her life. But, before we continue, let's have a look at some quick facts!
Quick Facts
| | |
| --- | --- |
| Full Name: | Elle Bielfeldt |
| Birth Date: | January 15, 1992 |
| Birth Place: | Peoria, Illinois, U.S. |
| Nickname: | Elle |
| Religion: | Undefined |
| Ethnicity: | Caucasian |
| Age: | 31 Years Old |
| Parents: | Julie Bielfeldt (Mother); David Bielfeldt (Father) |
| Nationality: | American |
| Height: | 5'10" (1.80 m) |
| Siblings: | Lydia, Matti, and Max Bielfeldt |
| Profession: | Founder & CEO of Levels Food |
| Net Worth: | Over $1 million |
| Married: | Yes (Meyers Leonard) |
| Education: | Peoria Notre Dame High School; the University of Illinois at Urbana-Champaign |
| Social Media: | Instagram |
| Last Update | November, 2023 |
Elle Bielfeldt Wiki-Bio | Early Life, Parents, & Ethnicity
Elle Bielfeldt was born on January 15, 1992, in Peoria, Illinois (U.S.). Also, the proud parents were Julie Bielfedt and Max Bielfeldt. Added to that, she has three younger siblings named Lydia, Matti, and Max Bielfeldt.
Likewise, being born in one of the states, America makes her a U.S. citizen by default. In like manner, the horoscopic charts suggest that she is a Capricorn and comes under the classification of caucasian ethnicity.
Further, Elle attended a local high school called Peoria Notre Dame High School and, upon graduation, enrolled in the University of Illinois at Urbana-Champaign.
Another unknown fact about her is that her grandparents, uncles, and even aunts are alumni of the institutions.
Similarly, Bielfeldt's sister Matti went to the same college and played for the Fighting Illini Women's Basketball team. Similarly, her brother, Max, is also a basketball player, not for Illinois but the University of Michigan.
On the other hand, Elle was a bright student and balanced her study schedule and sporting involvement accordingly. In 2014, the Illinoian graduated with a bachelor's degree in advertising with a commendable 3.73 GPA.
Elle Bielfeldt | Age, Height, & Body Measurements
At the time of writing, Bielfeldt is 28 years old. Besides, the Illinoian stands at the height of 5'9″ (1.79 m) and is over a foot shorter than her astoundingly tall partner, who is 7'1″ (2.16 m).
Moreover, Elle is a fitness geek. If you check out her Instagram, most of the posts are about exercising and following a dietary regime. Also, being married to a sportsman is another factor that provides her with motivation.
Although the brunette bombshell's body measurements are unavailable, it is evident from the photos that she is an ab-clad woman with a leaner frame.
Elle doesn't take her daily activities lightly and squeezes in time for a quick workout, even while on vacation.
Talk about commitment; the American clearly deserves all the attention that social media is giving. With an inch-perfect body, Elle can slip into any dress and essentially nail the look. Further, her tastes in fashion are also impeccable.
At the same time, Bielfeldt technically compliments her husband. A fun-loving, athletic, and ambitious woman, she is any man's dream. Similarly, Elle's most distinctive feature is her long wavy hair, piercing blue eyes, hooked nose, and sharp jawline.
Elle Bielfeldt | Career As An Entrepreneur
There is a saying that if a woman is successful, society ultimately progresses. Besides, educated, motive-driven, and disciplined women are the reason why many families, societies, or organizations can climb up the success ladder.
Initially, Elle started playing basketball and is surprisingly able to run circles around her basketball pro-husband.
In fact, the Illinoian wasn't as adept at basketball as she is now. Her family comes from traditional basketball lovers, and she likely partook in the passion.
Eventually, Bielfeldt's parents sent her and their brother, Max, to a basketball training camp. Being the only girl there, Elle remained determined not to seem fragile and hence practiced day and night to hone her skills.
While studying in high school, the American received an opportunity to play for the basketball team.
As a result, she created history with her high school team registering 1,000 points in total and getting nominated as a four-year starter.
The future surely looked bright for Elle, as many colleges would welcome her through scholarships.
Nonetheless, she was faithful to the family tradition and joined the University of Illinois, essentially ending her potential career in basketball.
Despite quitting her pursuit of basketball as a career, Bielfeldt regularly practices in an indoor court inside her home and gives a hard time to Leonard while dueling.
Contrarily, Elle obtained a degree in advertising that opened a passage to her entrepreneurial expedition.
To illustrate, health is of prime importance in Illinoian life. Stemming from an athletic background and being in a relationship with a professional athlete led Elle to venture into the world of health and nutrition.
For instance, at one point, Meyers was suffering from deteriorating health mainly due to his dietary routine. This enabled Bielfeldt to consult a nutritionist and receive guidance to alleviate health issues.
For this reason, the Illinoian went on to establish Level Foods in 2018, a brand that deals in producing nutrition bars targeted especially at athletes. Moreover, Elle's blog also delves into improving personal wellness and includes various food recipes pertaining to her experiences.
Apart from being a nutritional blogger and Level Foods owner, the Meyers' wife has work cut out for her as a business manager for the Meyers Leonard Brand. Hence, Elle keeps super busy and is continuously contriving ways to improve her brand.
Elle Bielfeldt | Net Worth, Salary & Income
In particular, Bielfeldt expectedly accrued over $1 million in net worth. The possibilities for a significant amount aside from the said figure are high.
Even though sources have no reliable information to report, the Illinoian is definitely earning a heft amount.
Since the income from such businesses depends on the total revenue generated, we are unable to pinpoint an exact number. However, observing her day-to-day livelihood suggests that cash inflow isn't a problem for Bielfeldt at the moment.
In contrast, Meyers Leonard comfortably enjoys a massive $10 million net worth in almost a decade-long career. Additionally, while playing for the Portland Trailblazers, the NBA star collected an outstanding $39.4 million sum.
Furthermore, the Trailblazers even dealt him in a 4-year signing that saw Meyers pocket a huge $41 million from the contract alone. In the same way, Leonard walks away with an annual salary of $10 million.
Accordingly, anyone can conclude that the Leonard-Bielfeldt household has no problems regarding finances. The couple resides in a $7.3 million Miami Beach Home rented from fellow basketball star Hassan Whiteside.
Elle Bielfeldt: Meyer Leonard's Wife | Kids
Moving on, Elle is a happily married woman who tied the knot to her college sweetheart Meyers Leonard. Firstly, during his college years, Meyers didn't go out much and had his focused only on basketball.
Sometimes, Leonard would occasionally go for drinks and hang out with friends at the weekend or during his leisure period. In like manner, he spotted Elle and even learned that she studied at the same university as him.
On one fateful day, Mike Davis, a senior basketball player, whose girlfriend was friends with Bielfeldt, introduced her to Leonard. Subsequently, the two went for a couple of dates, and it was only a matter of time before they announced their relationship.
While Meyers played for the Portland Trailblazers, Elle had to remain in Illinois and make the relationship work. Aren't the couple glad now? Even with such distance, their love for each other persisted.
In May 2014, the Bielfeldt family planned a graduation party for Elle. It was a perfect occasion for Meyers to seal their relationship. In the celebratory moment, Leonard popped the four-word question.
Thereafter, the couple exchanged vows in autumn 2015 August in Oregon. As per Instagram, the venue had a beautiful setting, and the ceremony took place in the presence of family and friends.
At present, the couple is still exploring life and developing professionally. As a result, they have no plans to have children right away. Nevertheless, we cannot rule out any pleasant news and thereby wish the lovebirds a prosperous and healthy marital life.
Elle Bielfeldt | Social Media Presence
Instagram: 47,400 followers
Elle Bielfeldt | FAQs
Did Elle Leonard play college basketball?
No, Elle did not play collegiate basketball. However, she played basketball in high school.