Garrett Temple, an American professional basketball player, is currently with the New Orleans Pelicans. Active since 2010, Temple has been an NBA journeyman who has played for 11 NBA teams so far.
For the Baton Rogue native, the basketball passion came from his father, who played college basketball & was the first-ever African-American to play for LSU, where he would attend later.
Throughout his NBA journey, he made five NBA playoff appearances but never got hands into the NBA Championship title.
His highest-ever clinch post-season was in the conference semifinals (2010, 2014 & 2015).
On the court, the basketball player has an impression of a formidable persona but melts down regarding his family.
Garrett and his wife, Kára McCullough, the 2017 Miss USA, are parents of two children together.
Besides basketball games, Garrett is also involved in charity work and teamed up with other basketball players to support clean water initiatives in East Africa.
This article will cover every aspect of Garrett Temple's life- NBA career, contract, net worth, family & relationship.
Quick Facts
Full Name
Garrett Bartholomew Temple
Known As
Garrett Temple
Date of Birth
May 8, 1986
Age
37 Years Old
Birth Place
Baton Rouge, Louisiana
Nationality
American
Father's Name
Collis Temple Jr.
Mother's Name
Soundra Temple-Johnson
Siblings
Three (Collis III, Elliott & Colleen)
Zodiac Sign
Taurus
Religion
Christianity
Relationship Status
Married
Wife's Name
Kára McCullough
Children
Two
Height
6 feet 5 inches/ 196 cm/ 1.96 m
Weight
195 lbs/ 88 kg
Education

High School: LSU Laboratory School
College: LSU (2005-2009)

NBA Draft
Undrafted (2009 NBA Draft)
Playing Career
2009-Present
Current Team

New Orleans Pelicans (2021- Present)

Awards & Achievements

NBA D-League All-Star (2011)
Second-team All-SEC (2009)
SEC All-Defensive Team (2009)

Position
Shooting Guard
Jersey Number
41
Average Annual Salary
$5.15 Million
Net Worth
$12 Million-$15 Million
Social Media
Instagram, Twitter, Facebook
Merch
Signed Photograph
Last Update
June 2023
Parents Are Divorced
Temple was born on May 8, 1986, in Baton Rouge, which makes him 37 years old as of 2023.
He is the youngest of three boys to parents: Collis Temple Jr. (b. November 8, 1952) and Soundra Temple-Johnson, who are now divorced.
His two elder brothers are Collis Temple III and Elliott Temple.
The NBA player also has a younger step-sister named Colleen Noelle from his father's second marriage to Kelli Terrell Temple, a Sr. Ruby Ambassador at Plexus Worldwide.
More On Family!
Father Is A Former Basketball Player
The credit for Garrett Temple's basketball interest directly goes to his father, Collis, a former NBA player.
Collis was the first African-American to play varsity basketball at Lousiana State University from 1971 to 1974.
After being drafted as the 94th pick by the Phoenix Suns in the 1974 NBA Draft, he played 24 games for the San Antonio Spurs during the 1974-75 season.
He also played professional basketball in Europe before returning to LSU to pursue a Master's degree in Business Administration.
On the other hand, Garrett's mother, Soundra Temple-Johnson, founded Louisiana Health and Rehabilitation Options, Inc. (LHRO) and L.A. Health and Rehab Center, Inc.
She graduated from Southern University with a degree in Business Administration and Management.
Details On Siblings
Temple's eldest brother Collis III (b. September 1, 1979), is a former basketball player who played from 1999 to 2003 at LSU. He finished his college career with 1,167 points.
After going undrafted in the 2003 NBA draft, he turned to entrepreneurship. Collis Temple III runs his own company, Collis Temple III, Inc.
Moreover, he is married to Britney Temple, an entrepreneur, and shares four kids, three daughters: Monet Juliet, Eden Amelia, and Briton, and a son named Collis IV.
Garrett Temple's middle brother Elliott Temple also attended LSU. Elliott is married to real estate agent Ayoi Temple. They share a twin: Kyndall Leigh and Elliott Lee II.
As for the NBA player's younger sister (step-sister), Colleen completed high school at University Laboratory School. Now, she plays volleyball at Howard University.
High School & Collegiate Career
While at LSU Laboratory School, he led them to the 2004 Class 2A state championship.
Temple enrolled in Louisiana State University (LSU) for college, becoming the third member of his family to play basketball there, following his father, Collis, Jr., and older brother, Collis III.
He redshirted the 2004-05 season to work on his games & practiced daily with the LSU Tigers.
As a result, he started his freshman year in the 2005-06 season & played throughout the 2008-09 season, averaging 6.7 points, 3.7 rebounds & 3.6 assists per game.
In his senior year at LSU, Temple became the all-time leader in minutes played with (4,432), breaking Howard Carter's record of 1983.
NBA Career
An undrafted free agent of the 2009 NBA draft, Garrett Temple's NBA journey started with Summer League & then as an assigned G League player for RGV Vipers.
Then, after signing a 10-day contract with the Houston Rockets, he made his NBA regular season debut on February 9, 2010, against the Miami Heat.
In his rookie season (2009-10), Temple signed two other 10-day contracts with the Kings & Spurs before splitting the 2010-11 season with the Bucks and Bobcats (now the Hornets).
Having played for Washington Wizards for four seasons (2012-16), Garrett signed a three-year contract with Sacramento Kings but played for two seasons only (2016-17 & 2017-18).
While with the Kings, the NBA player scored his career-high 34 points against the Orlando Magic on January 23, 2018.
After that, he had brief stints with the Grizzlies, Clippers, Nets, and Bulls.
Then, in 2021 the New Orleans Pelicans signed him where he currently plays.
Married Life & Children, Who Is Garrett's Wife?
The American-born NBA player is currently in a marital relationship with Kára McCullough. His wife is the winner of Miss USA 2017.
The two married on November 24, 2020, during the COVID-19 pandemic.
Earlier that year, they had gotten engaged. On January 29, 2020, Kara went Instagram official about their engagement featuring a video from the proposal moment.
Although the couple remains tight-lipped about how & when they began dating, they've been public about their relationship since August 2018.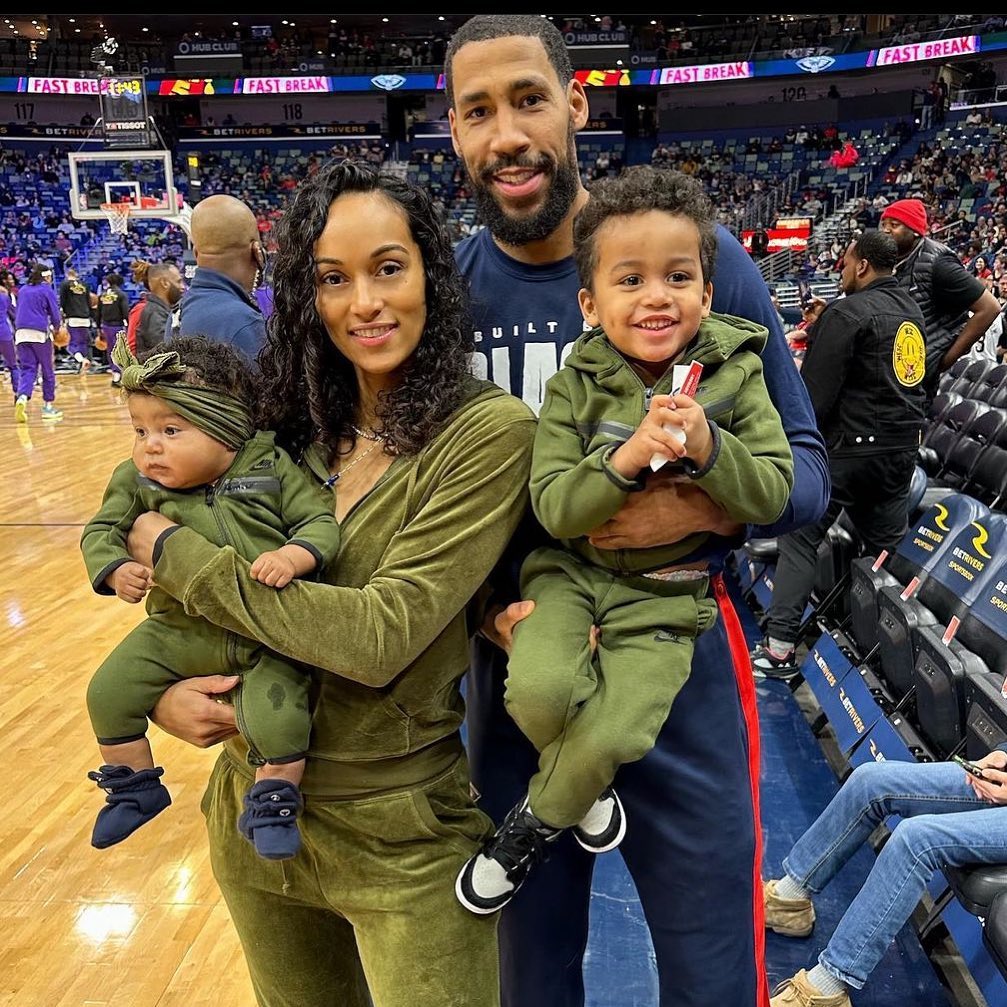 Garrett & Kara share two children together.
Their first child, son Garrett Bartholomew Temple II, was born on August 28, 2020. The pair welcomed their second child, daughter Verity Parker Temple, on November 6, 2022.
The lovely duo is both active on social media & regularly shares heartwarming posts featuring his family, demonstrating his deep affection towards them.
Brief About Wife Kára McCullough
McCullough, a beauty pageant title holder, was born on September 9, 1991, in Naples, Italy.
She got crowned the title of Miss USA 2017, making her the seventh Miss USA titleholder to be born outside the United States.
Representing the United States, she competed at the Miss Universe 2017 and finished in the top ten.
Her other pageantry titles include the Miss District of Columbia USA 2017 and the first runner-up in the 2015 & 2016 Miss District of Columbia USA pageants.
Kara McCullough holds a Bachelor of Science degree in chemistry with a concentration in radiochemistry from South Carolina State University.
Charity Involvement
To support clean water initiatives in East Africa, Garrett Temple teamed up with Malcolm Brogdon, Joe Harris, Justin Anderson, and Anthony Tolliver to raise $225,000 through Hoops2O, an organization founded by Brogdon.
They aimed to fund the construction of five wells by the end of the 2018-19 basketball season.
Hoops2O was launched in 2018 as the third program in the Waterboys family by the Starting 5, a group of five professional basketball players.
The charity had surpassed its initial goal and funded the building of ten wells in Tanzania and Kenya.
As a result, over 70,000 people gained access to clean water through the initiative.
Net Worth & Contracts
Net Worth
Garrett Temple is estimated to have a net worth in the range of $12 million- $15 million as of 2023.
Given that he has been playing basketball for over 14 years, this estimated net worth is justifiable.
In addition to his earnings from basketball, Temple also earns money from several endorsement deals.
It endorses companies such as Samsung, Big Blanket Co, and Brown & Brown Clothiers, which further contribute to his overall income.
Contracts
On August 8, 2021, Garrett Temple inked a sign-and-trade contract for three years with the Chicago Bulls & was immediately traded to the New Orleans Pelicans.
In the trade, the Pelicans received Temple, Tomas Satoransky, and a 2024 2nd-round pick were traded to the Pelicans in exchange for Lonzo Ball.
The contract, valued at $15.47 million, offers him an average yearly salary of $5.1 million and a guaranteed amount of $10 million.
Earlier than this, Garrett Temple, who went undrafted in the 2009 NBA draft, has signed contracts with multiple teams.
The table below shows the contracts he has signed, along with their respective amount.
Previous Contracts
| | |
| --- | --- |
| Date | Contracts |
| September 30, 2009 | Temple signed a multi-year contract with the Houston Rockets but was waived on October 21, 2009. |
| September 12, 2012 | The Miami Heat signed him on a one-year contract worth $854,389, but he was waived on October 27, 2012. |
| December 25, 2012 | Temple signed a one-year contract worth $572,943 with the Washington Wizards. |
| July 10, 2013 | He signed another one-year contract worth $916,099 with the Wizards. |
| 28th of July 2014 | The Wizards signed him on a fully guaranteed two-year contract worth $2.08 million. |
| July 9, 2016 | He then signed a fully guaranteed three-year contract worth $24 million with the Sacramento Kings. |
| July 17, 2018 | The Kings traded him to the Memphis Grizzlies for Deyonta Davis, Ben McLemore, $1.54 million, and a 2021 2nd-round pick. |
| 8th of July 2019 | Temple signed a one-year contract with the Brooklyn Nets that amounted to $4.67 million. |
| November 27, 2020 | He signed a $4.767 million one-year contract with the Chicago Bulls. |
In addition to the aforementioned contracts, Garrett Temple has also signed numerous ten-day contracts throughout his career.
It is estimated that he has earned approximately $300,000 just from these ten-day contracts.
Interesting Facts
In addition to playing basketball in high school, Garrett Temple also participated in track and field events, specializing in the long jump and triple jump.
His favorite NBA player is Shaquille O'Neal.
In 2017, his father, Collis Temple, was elected to the Louisiana State University Athletic Hall of Fame.
Popularity Graph
With already 13 NBA seasons & running, Temple is often on trend with his scoring abilities & impressive games.
The chart displayed above shows the search interest trend of Garrett Temple over the past twelve months, with the highest level of interest occurring in July 2022.
Frequently Asked Questions (FAQs)
How many NBA teams has Garrett Temple played for?
Garrett Temple has been a part of 11 different NBA teams throughout his career.
How much does Garrett Temple make?
Temple's basic salary for the 2022-23 NBA season is $5.1 million.