15 Greatest Skateboarders of all Time!
Skateboarding is an action sport that is also a recreational activity and an art form. Every skateboarder has an individual style and technique that sets them apart from the rest.
Watching the skateboarders perform their stunts is always awe-inspiring. But a few prominent skateboarders are considered some of the greatest in the sport and have created their legacy.
So who are these greatest skateboarders of all time?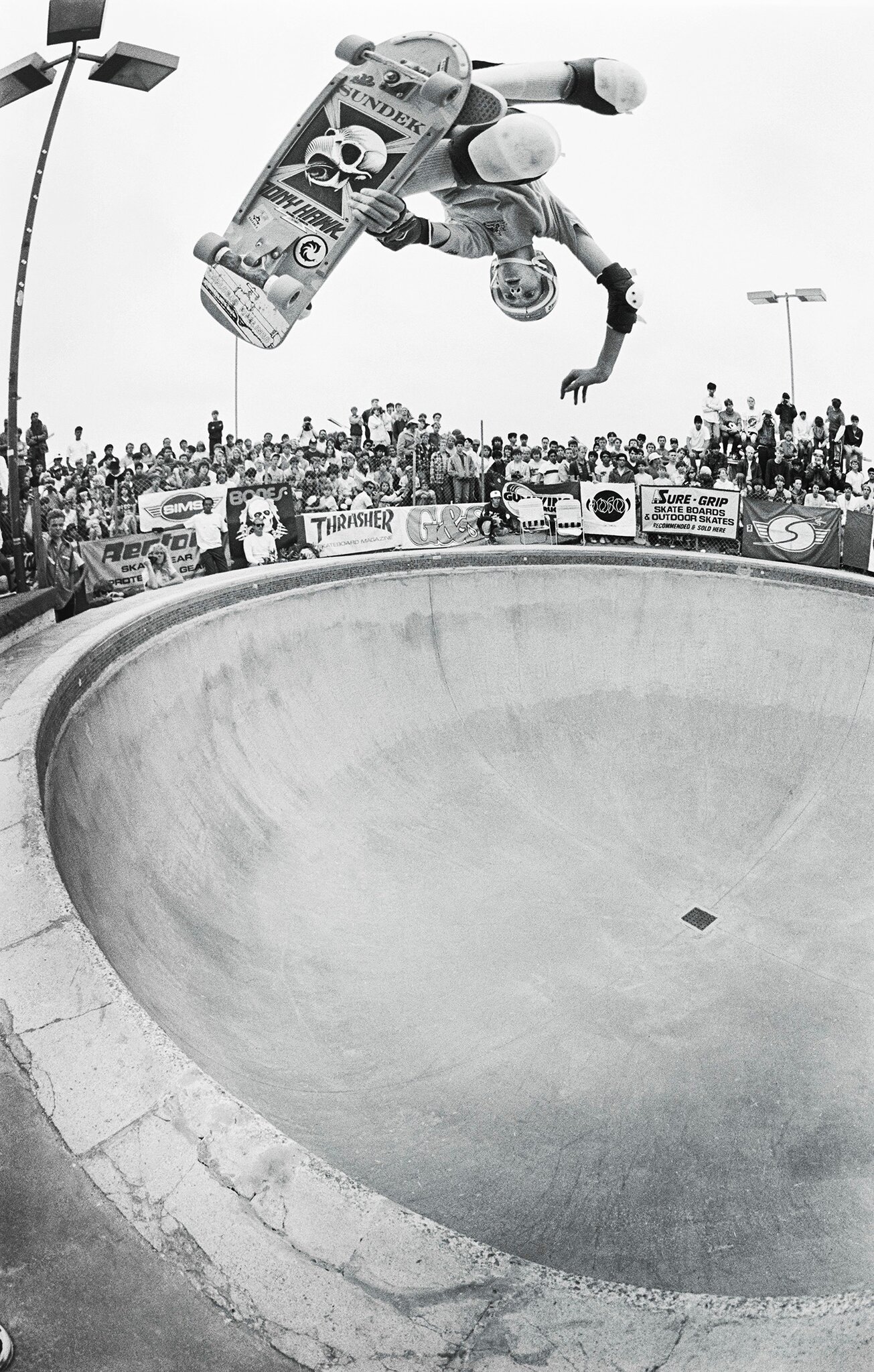 Here in this article, we have compiled a list of 15 great individuals who are legends in skateboarding. Their skills, technics, and dedication to the sport are on the whole another level compared to the rest.
Let us look at these skateboarders who are some of the greatest the sport has ever seen and have contributed to the skate culture. So without further ado, here are the 15 greatest skateboarders of all time.
Quick Overview
Here is a quick overview of our list.
| | |
| --- | --- |
| Skater Name | Age |
| 15. Mike Vallely | 53 year-old |
| 14. Anthony Mosley | Unknown |
| 13. Lance Mountain | 58 year-old |
| 12. Ed Templeton | 50 year-old |
| 11. Chris Cole | 41 year-old |
| 10. Daewon Song | 48 year-old |
| 9. Rob Dyrdek | 48 year-old |
| 8. Danny Way | 48 year-old |
| 7. Eric Koston | 47 year-old |
| 6. Stacy Peralta | 65 year-old |
| 5. Tony Alva | 65 year-old |
| 4. Bob Burnquist | 46 year-old |
| 3. Mark Gonzales | 54 year-old |
| 2. Tony Hawk | 54 year-old |
| 1. Rodney Mullen | 56 year-old |
15 Greatest Skateboarders of all Time
15. Mike Vallely
Mike Vallely, also known as Mike V, is an American professional skateboarder. He discovered skateboarding in 1984 at age 14 and has been active in the sport since 1986.
In 1986, Vallely won the amateur division and was featured in the Transworld Skateboarding's September issue in a full-page spread.
Vallely's skating style is known to be raw and very creative. He used old-school street tricks like foot plants, hand plants, fast plants, and street grabs to overcome obstacles.
Skate bearings are round metal piece that fits inside the wheel that allows you to roll smoothly and fast. Read here about the nine best skate-bearing from bones!
14. Anthony Mosley
On number 14 of the greatest skateboarders of all time, we have Anthony Mosley. Born in Los Angeles, California, he started practicing skateboarding at age 13 and turned pro at 16.
Mosley's first-ever competition was in Tampa Am in, Florida. He came in second place, and since then, he has won numerous competitions and awards.
His unique style and showmanship have made him a popular figure in skateboarding.
13. Lance Mountain
Our 13th pick for the greatest skateboarders of all time is Lance Mountain.
He was one of the prominent skateboarders through the 1980s and one of the original skaters of the Bones Brigade.
Early skateboarding magazines inspired him. Mountain started as an amateur and became a professional in 1981.
He became an influential figure in the sport as his skating struck cords with many skateboarders.
12. Ed Templeton
Ed Templeton is a professional skateboarder who is also the founder and owner of the skateboard company Toy Machine. He started skating in 1985 in Huntington Beach.
Templeton turned professional a month before graduating from high school in 1990. Afterward, he signed with New Deal Skateboards.
He is well-known for doing ollie impossibles downstairs.
Similarly, Templeton was an innovator who helped to progress technical street skating with tricks. He was inducted into the Skateboard Hall of Fame for his influence on the sport in 2016.
11. Chris Cole
Chris Cole is number 11 on our list of the greatest skateboarders of all time. He is a professional skateboarder who is nicknamed Cobra.
Cole first gained attention after he completed complicated tricks: 360 Flip, Switch Frontside Kickflip, and Backside 360 Ollie down the staircase at Wallenberg High School in San Francisco, California.
He won the Thrasher's Skater of the Year twice and is known for being a consistent skateboarder.
10. Daewon Song
Daewon Song is a Korean-American professional skateboarder and co-owner of Thank You Skateboards. He started skating at the age of 14.
Song grabbed the attention of the skateboarding community due to his artistic abilities and skateboarding techniques. His skills at flip tricks, grind, spins, and late flips are unmatched by any other.
Similarly, he is known for skillful technical street skateboarding. In 2006, Song won the Thrasher's Skater of the Year award.
Despite their training and dedication, some skaters could never win an Olympic medal. Read here about the top 9 best US figure skaters who never won Olympic Medals!
9. Rob Dyrdek
Our ninth pick for the greatest skaters of all time is Rob Dyrdek. The FoxWeekly named the former professional skateboarder one of the "Most Influential Skateboarders of All Time."
Dyrdek started skating at age 11 and acquired sponsorship at age 12. He forwent his senior year of high school at age 16 to continue his professional skateboarding career.
Since he retired from skating, Dyrdek has ventured into entrepreneurship, acting and become a reality TV star.
He also has established the Street League Skateboarding competition.
8. Danny Way
Danny Way is a popular professional skateboarder famous for his extreme stunts.
He has attempted extreme stunts with his skateboard, like jumping onto a skateboard ramp for a helicopter and jumping the Great Wall of China on a skateboard via a mega ramp.
As a result of his extreme stunts, Way has undergone 13 severe injuries.
He was the youngest person to win a Pro Vert Skating Contest at age 15. He was named Thrasher magazine's "Skater of the Year" twice in his career.
7. Eric Koston
Our seventh greatest skaters of all time spot go to Eric Koston. He is a professional skateboarder whom his teammate and fellow professional skateboarder Brandon Biebel called "Michael Jordan of Skateboarding."
Koston began skating in 1986 and turned professional in 1993. He is a pioneer in the sport and well-known for doing unusual tricks on big handrails, ledges, and gaps.
Similarly, Koston's style of skating is clean, smooth, and technical. He has been featured in the Electronic Arts (EA) video games Skate 2 and Skate 3.
Although some may find it superficial to go for a look, there is no shame in admiring their stunning face. Read here about the 15 best-looking male athletes in the world!
6. Stacy Peralta
Stacy Peralta is a former professional skateboarder who started competing with the Z-Boys skating team at age 15. By age 19, he had become the highest-ranked professional skateboarder.
Peralta has made a significant impact in skateboarding. He teamed up with George Powell to form one of the most successful skate brands, Powell-Peralta, in the 80s.
He has written, directed, and produced twelve skate films and documentaries.
Similarly, Peralta's knowledge and keen eye for talent helped build the legendary Bones Brigade.
5. Tony Alva
On number 5, we have a professional skateboarder and a pioneer of vertical skateboarding, Tony Alva. He began skateboarding at around ten, and his unique style, skill, and charisma led him to become a professional skateboarder.
Alva is credited for being the creator of modern skateboarding. Aside from vertical skateboarding, he is also a pioneer in the first frontside air.
In 1977, he set the Guinness World Record for barrel jumping.
In 1972, Alva and the Zephyr team first made pool skating popular. Many call him "the guy who started it all." Similarly, he is the first skater to own and operate a skate company.
4. Bob Burnquist
Bob Burnquist is a Brazilian-American professional skateboarder. He started skateboarding at age 11 and turned professional at age 14. He holds dual citizenship in Brazil and America but competed for Brazil throughout his career.
Burnquist is well-known for his innovative vertical tricks and fantastic ability to switch stance skateboarding.
He was the first skateboarder to land a 900-degree reverse-natural rotation and the fifth person to complete the 900 tricks successfully.
In Vista, California, Burnquist owns his private and world-renowned skatepark, Dreamland.
The skatepark has a Mega Ramp which he opens to pros to help them train for Mega Ramp competitions.
3. Mark Gonzales
Known as the godfather of modern street skateboarding, Mark, "The Gonz" Gonzales, is number 3 of the greatest skateboarders of all time. He began skateboarding at the age of 13.
By age 15, Gonzales had earned his reputation for his style of progressive street skating and for adopting a modern and innovative approach. His double flips, 360's, and flip tricks in and out of manuals, grinds, and slides are iconic.
The Transworld Skateboarding awarded Gonzales the Legend Award in 2006 and, in December 2011, named him the "Most Influential Skateboarder of all Time."
He is credited with having started it all and all street skating.
2. Tony Hawk
Nicknamed "Birdman," Tony Hawk is one of the most recognizable figures in skateboarding history. He is a pioneer of modern vertical skateboarding and completed the first documented "900" skateboarding trick in 1999.
During his professional career, Hawk won over 70 contests, the most by any skateboarder in history. He is credited for inventing tricks like Madonna, Stalefish, and the Sacktap.
Hawk licensed a skateboarding video game series named after him called Tony Hawk's Pro Skater in 1999. He retired from the skateboarding world in 2003.
Hawk has appeared in countless skateboard videos, films, documentaries, and TV episodes.
He is an icon in skateboarding and contributed to modernizing the sport. His influence on skateboarding is undeniable.
1. Rodney Mullen
Considered one of the most influential skaters in the history of the sport and one of the best freestyle skateboarders in the world, the greatest skateboarder of all time title goes to Rodney Mullen.
At age 14, Mullen won his first world freestyle skateboard championship. He is credited for inventing street tricks like the kickflip, heelflip, 360 flip, dark slide, and many more.
Similarly, it was he who created the flat ground ollie.
In his career, Mullen won 34 out of 35 freestyle contests. It is one of the most successful competitive runs in skateboarding history. Additionally, he has created several skate companies like Almost and Tensor Trucks.
In 2002, Mullen received the Transworld Skateboarding Readers' Choice Award for Skater of the Year.
He is the co-author of an autobiography, "The Mutt: How to Skateboard and Not Kill Yourself," and was enshrined in the Skateboarding Hall of Fame in May 2013.
Conclusion
Throughout the years, these great skateboarders have helped to evolve the sport and make it more popular. Their skills and passion for the sport have made them legendary figures in skateboarding.
These skaters have dedicated their lives to being the best in the sport. Thus, they deserve to be called the greatest skateboarders of all time. Thank you for your time!
Scootering, one of the extreme sports, first gained popularity in the street of Asia as fun means of transportation over a short distance. Click here to read more!