Life gives us as many joyful moments as much as the downfall. We wish to spend our everyday life like the way we write manuals. However, it wouldn't be the same without any spontaneity.
Our life journey gets difficult as we grow older, and Haskell Garrett's journey was not easy. Garrett lost his father at the age of 13, which was quite a devastating moment in his life.
Despite the ups and downs in life, Garrett never gave up and kept working hard mentally, preparing himself to be stronger than before.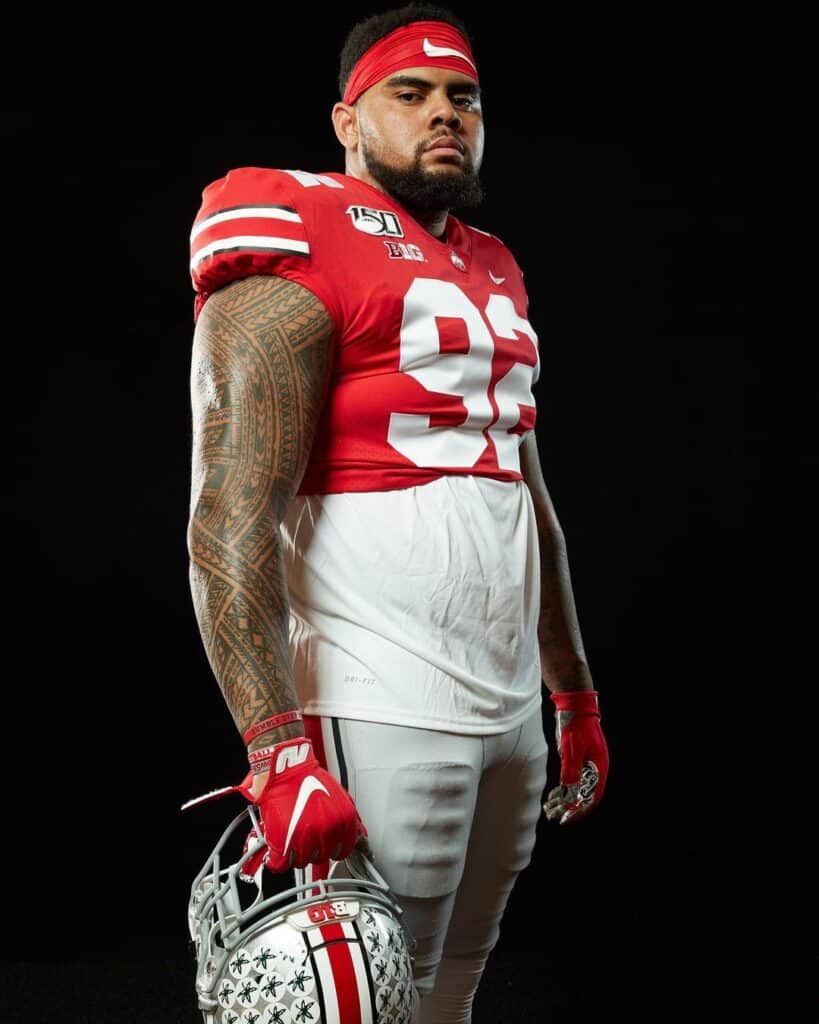 Haskell, from Los Vegas, is a rising senior in a defensive tackle for the Ohio State Buckeyes. Over the past three seasons, Garrett had appeared in 33 games, including eleven last year.
Moreover, he was a finalist for the Polynesian College Football Player of the Year Award. It is presented to the most outstanding college football player with Polynesian ancestry and its value.
Garrett was involved in a shooting incident where officers found him shot through the left cheek in August 2020.
Let's go through the article to know more about Haskell Garrett's early life, family, education, career, and injury. We will begin with quick facts.
Quick Facts
Full Name
Haskell Garrett
Date of Birth
May 4, 1998
Birth Place

Los Vegas, Nevada

Nick Name
None
Religion
Christianity
Nationality
American
Ethnicity
Samoans
Zodiac Sign
Taurus
Age
24 Years Old
Height
6 ft 2 in (1.88m)
Weight
299 lb. (136 kg)
Hair Color
Black
Eye Color
Black
Build
Athletic
Father's Name
Name Unknown
Mother's Name
Maria Key
High School Education

Bishop Gorman High School

College

Ohio State

Major Subject

Sociology

Class

Senior

Marital Status
Unmarried
Profession
Football Player
Stance
Defensive Tackle
Sports Association

National Collegiate Athletic Association (NCAA)

Team

Ohio State Buckeyes

Bowl games
2021 Sugar Bowl
2021 CFP National Championship
Active Years
2017-present
Net Worth
Unavailable
Social Media
Instagram, Twitter
Merch
Autographed Rookie Card
Last Update
March, 2023
Haskell Garrett | Early Life & Family
Born on May 4, 1998, Haskell was originally from Vermont and lived there briefly.
Following his father's death at 13, Haskell moved to Hawaii with his mother. Garrett is the youngest child of his parents and has five siblings.
He also has three nephews he loves spending time with during his holidays.
After Haskell's father died in 2011, his mother, Maria Key, wished to stay near her family. So, Haskell, with his mother and siblings, moved to Hawaii.
According to his mother, Garrett had difficulty adjusting to the new place. However, it was this time during which his football career started blooming.
Education
Haskell had a hard time adjusting to his life after coming to Hawaii. However, it was the period when his football career started to thrive.
Garrett grabbed the opportunity to play at national powerhouse Bishop Gorman High School in Los Vegas as a sophomore.
During his years in Bishop Gorman High School, he played for all three years as a role player and won state and unofficial titles.
He signed with Ohio State on February 9, 2016, and gradually started working his way to coach Larry's defensive line.
Garrett is a sociology major graduate student from Ohio State University.
Haskell Garrett | Birthday, Age & Height
Born under the Taurus sign, Haskell Garrett is 24 years old as of 2023. Similarly, he is born under the sun sign Taurus.
Talking about the height of the football player, he stands at 6 feet 2 inches tall. Likewise, he weighs around 299 lb (136 kg).
Moreover, he has an athletic body with black curly hair and black eyes.
By personality, Garrett is a humble and big-hearted guy. Moreover, his friendliness and generosity make him an easy person to rally around.
Kind and supportive, Garrett is a versatile player who has the size and toughness to play as a true tackle. In addition, his physique, strength, and creativity make him a good playmaker.
Haskell Garrett overall is an average athlete having quick body response and agility.
Tattoos
Talking about his tattoo, Haskell Garrett has a tattoo on both hands that runs through generations, cultures, and families.
The tattoo designs he has are the tribal designs of Garrett's Polynesian heritage.
His inner left forearm's design characterizes a palm tree-lined stream, with the phrase "E lele le toloa, ae ma'au I le vai."
You might be interested in reading Barry Foster Bio: Family, Career, NFL & Net Worth >>
Haskell Garrett | Professional Career
Bishop Gorman High School
As a sophomore, Haskell got an opportunity to play at national powerhouse Bishop Gorman High School in Summerlin, Nevada.
He played for the national powerhouse for three seasons and helped Gorman go 43-0. In addition, he won state and unofficial national titles all three years that Haskell played for Gorman.
Moreover, he was a consensus four-star prospect and one of the top-ranked players in the country. The Scout rated him fourth among defensive tackles, while Rival and 247Sports ranked sixth, and ESPN ranked him seventh.
Garret led a terrific Gorman defense with fifty-four tackles in his senior year at Bishop Gorman, including tackles for losses, sacks, and interceptions.
Later, Haskell Garrett signed with Ohio State and committed to play football. In 2017, he played U.S Army All-American Bowl.
Ohio State Buckeyes
After signing with Ohio State on February 9, 2016, Haskell was simply a role player for the first three years, but he had high expectations a year after that.
So, Garrett gradually worked his way into the defensive line of coach Larry Johnson's deep rotation. Finally, he joined a group of defensive tackles with people entitled All-American in Ohio State history.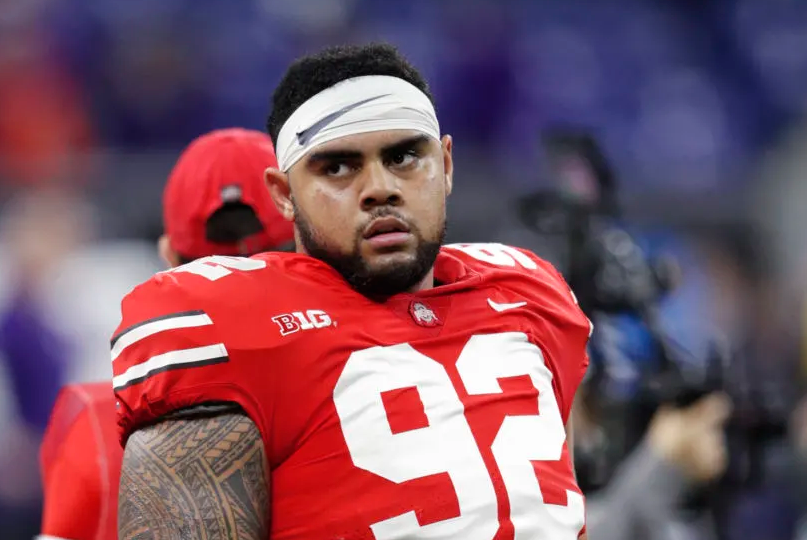 For Buckeyes, Garrett, a true senior, would become one of the most experienced defensive tackle rotation members in 2020.
Haskell Garrett's stats show how good he is, so the Buckeyes have had the best defensive player of 2020.
Breakout Season Highlights
Haskell recovered and returned to the football field just after two months after the incident date.
Likewise, Garrett's maturity and willingness to learn have transformed him into a star from a role player post-injury.
Haskell was medically cleared just four days before the season opener against Nebraska.
Garret played so well against Nebraska on October 24 that the coaching staff rewarded him with the week title's defensive player.
From the game on with Nebraska, Haskell Garrett has been a force and a leader along the defensive line.
On December 5, Garrett acquired a dominant victory of 52-12 over Michigan State. He finished with a pass in the end zone in the game and then caught out in the air for a nifty defensive touchdown.
The Pro Football Focus College has graded Garrett higher than any other defensive lineman in college and Big Ten's highest-graded returning defensive tackle for the 2020 season.
Haskell set career highs over the first seven Ohio State games with eighteen tackles, four tackles for losses, and two sacks.
Regarding the NFL Draft, Haskell has not decided and is still debating. He is more likely to continue with Ohio State and not continue with the NFL draft.
Haskell Garrett | Awards and Achievements
AP Second Team All American (2020)
Third Team All-Big Ten (2020)
First-team All-Big Ten (2021)
4A Sunset / Southwest League defensive most valuable player
You might also want to read about Ousmane Dembele Bio: Brother, Injury, Net Worth & Stats >>
What Happened to Haskell Garrett? Injury
All-American defensive tackle Haskell Garrett has been through many ups and downs in life. However, the multiple All-Americans titles he has earned are imposing, considering what he has been through over the past months.
It was August 30, 2020, when Garrett was shot near Ohio State's Campus. The incident nearly cost him his life.
On Sunday morning, while Haskell was walking down the street, he attempted to break the dispute between a man and a woman.
The man had a gun and shot Garrett. Haskell was shot in the face where the bullet went in one cheek and out from the other through his teeth and tongue.
Surprisingly, he survived and said, "I underwent a series of surgeries on my mouth, and I had to get a bone graft in my mouth."
He also said that he lost five teeth and had to intake a lot of protein shakes and be on a liquid diet.
Despite the endurance of pain and patience he had to go through, he didn't let the injury slack him off. Instead, his life changed for the better with his strong will and maturity.
Even though Garrett could not do physical training and activities in the field after the surgery, he would sit and talk with his coach Larry and go over the game plans.
After the incident, Haskell became the best version of himself, transforming himself to a star from a role player to handle himself, lead himself, and practice.
Garrett is thankful to those who helped him recover physically and mentally during his injury.
Also, Read Mike Golic Jr. Bio: Career, Net Worth, Salary & Family >>
Haskell Garrett | Net Worth and Salary
How much does Haskell Garrett earn every year? Such a question might pop up in your mind.
As a renowned football player, Haskell has handsome earnings. However, how much he earns is not disclosed or is currently not available to the public.
In his football career, Haskell has won several awards and titles. With this also, we can say that he generates a good income for his living.
Also, looking at his social media profiles and posts, we can assume that he lives a standard life.
Social Media Presence
Instagram: 30.3k followers
Twitter: 21.7k Followers
Frequently Asked Questions (FAQs)
Why was Haskell shot?
Haskell Garrett was a gunshot when he attempted to break up a squabble in the University District on August 30, 2020.
For how long was Haskell Garrett hospitalized?
Right after the gunshot in stable condition, Haskell was hospitalized at Ohio State University Wexner Medical Center. He spent two nights at the hospital.
When did Haskell Garrett return to the game field?
Garrett had a speedy recovery after the gunshot incident and was cleared by Ohio state medical staff days before the season started in late October.
Did Haskell Garrett and Jerron Cage Play together?
Yes, they have played together in different games. They played together for the 2021 season.
Where did Haskell Garrett meet Tate Martell for the first time?
Garrett met Tate during the freshman season at Ohio State University.
Did Garrett ever Play for Iowa State?
No, he did not play for Iowa State.
Which position does Garrett play for?
Garrett plays for the Defensive tackle position.
What is the jersey number of Haskell Garrett?
Haskell wears jersey number 92. He has used the number while playing for the Ohio State Buckeyes.