Being a professional player is not an easy job. One needs to pour sweat and blood and go through rigorous training to make one dream come true. Alike is the story of FC Barcelona's heart, Ousmane Dembele.
Born as Masour Ousmane Dembele, he started his career at Rennes before joining Dortmund in 2016. Tailing an impressive resume, Dembele managed to win Barcelona's fans' hearts within years and superhuman skills.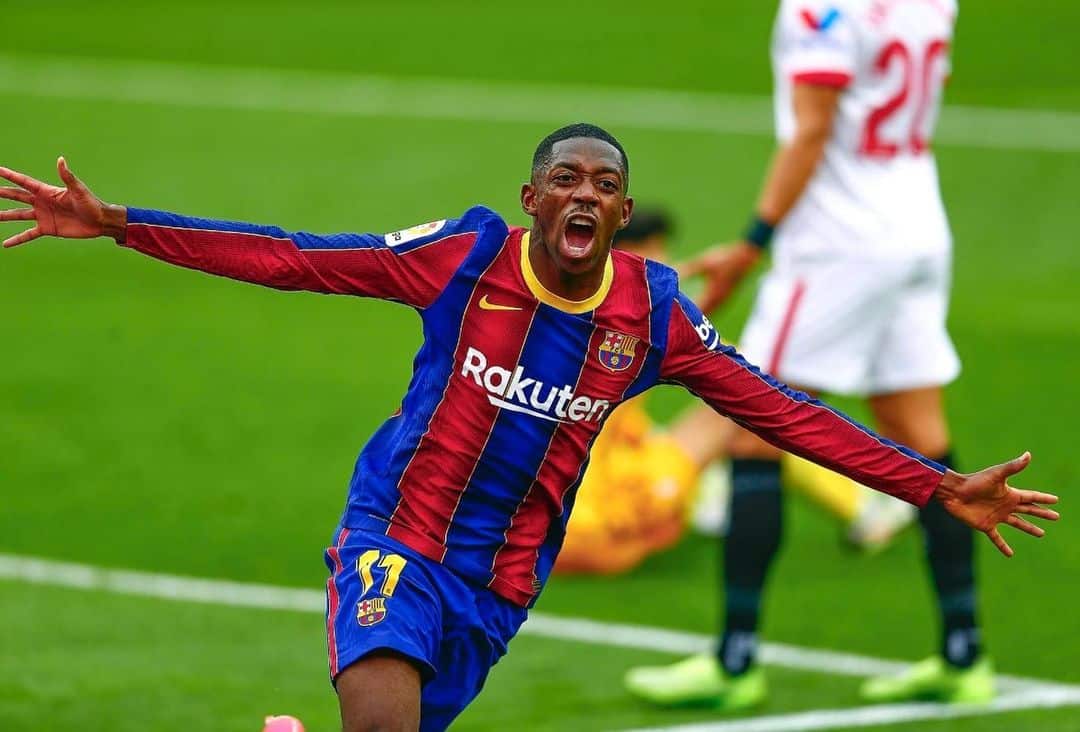 Furthermore, the French professional footballer also plays in the France national team.
Regarded as one of the greatest, Lionel Messi acknowledged Dembele's skills as a pro footballer and commented that he could be one of the best.
Well, there are many tales of Ousmane Dembele we have tried to toss them in this article. Thus enjoy.
But before moving further, here are some quick facts about Ousmane Dembele.
Ousmane Dembele: Quick Facts
Full Name
Masour Ousmane Dembele
Date of Birth
May 15, 1997
Birth Place
Vernon, France
Nick Name
Mosquito
Religion
Not Available
Nationality
French
Zodiac Sign
Taurus
Age
23
Height
5 ft 10 inches (1.78m)
Weight
67kg
Hair Color
Black
Eye Color
Dark Brown
Build
Lean & athletic
Father's Name
Ousmane Dembele Snr
Mother's Name
Fatimata Dembele
Siblings
A brother & sister
College
University of Kentucky
Marital Status
Single
Profession
Footballer
Club
FC Barcelona
Number
11
Club Career
Madeleine Évreux (2004-9)

Évreux (2009-10)

Rennes (2010-15)

National Team
France National Team (2016)
Position
Forward
Active Years
2017 – present
Net worth
$1- $6 million
Social Media
Instagram, Twitter
Merch
Autographed France Blue World Jersey, Figurine
Last Update
2021
Early Life, Education, and Family
Footballer Ousmane Dembele hails from an intellectual family. He was born to Ousmane Dembele Snr and Fatimata Dembele on May 15, 1997, in Vernon, France.
Dembele's father, Ousmane Snr, is of Malan origin, and his mother, Fatimata, is a Senegalese-Mauritanian, who hails from Wally Datang.
Likewise, Dembele grew up in Évreux and got fascinated by football, so much so that he was the only one who hesitated education to pursue his career in football.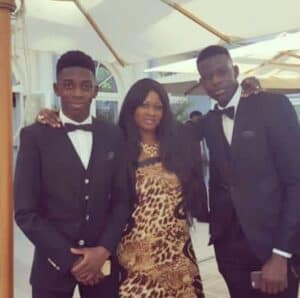 Meanwhile, Dembele's siblings, a brother, and sisters decided to advance their education.
Furthermore, Ousmane was influenced by his uncle, Badou Sambague, who also acts as his agent. He received lessons from him and initiated his youth career at the Madeleine Évreux in 2004.
Likewise, Badou's dream was playing football and then studying, so he became an attorney after retiring.
Thus, as a good agent, he advised him to choose wisely and have a good mentality to maintain the best performances after the game.
Alike another influential footballer Paul Pogba, Ousmane Dembele's career is centered around his mother, Fatimata.
While talking to The Guardian in 2016, Dembele's agent revealed that his mother decides his future and handles negotiations and contract agreements. You know how Mother Gothel said, 'Mother knows best?'
Dembele's mother further assisted him in making his first professional contract and stay at Rennes. If we are to talk about Ousmane Snr, he likes to keep his life confidential.
Thus, we can only be thankful to him for welcoming and pushed Dembele to pursue his dream.
Age, Height & Appearance
The 23-year-old football genius, Ousmane Dembele, stands tall at 5 feet10 inches. The black short afro-hair and dark eyes perfectly compliment his caramel complexion.
Furthermore, the small and lean build combined with his speed has earned him his nickname, Mosquito. Also, his thin and long limbs & the peculiar shape of his stride make him unstoppable. Thus, the name mosquito suits him the best.
Moreover, Dembele's minimalist wardrobe choices make him irresistible, not to mention his charming smile.
Therefore, Ousmane Dembele is an all-rounder and perfect boyfriend material. But for now, let's look into the charmer's roadway to professional football.
Ousmane Dembele's Career Stats
Aforementioned, Ousmane Dembele has achieved a lot in his earliest 20s. Thanks to his mother and uncle, who acts as an agent, Dembele made wise choices and landed in his dream club, i.e., FC Barcelona.
Ousmane took his first footballing steps in at ALM Évreux and Évreux FC 27 between ages 12 and 13.
However, the road was not easy. Ousmane fought and worked hard to become terrific.
The road to becoming an excellent footballer began in Madeleine Évreux and then to Rennes and all the way to Barcelona.
Club Career
As mentioned earlier, Ousmane Dembele started his football career at age 12 in Evreux. Then he made his senior debut for Rennes on September 6, 2014.
Likewise, he made his first career goal on November 9, the same year against Laval. Dembele further bagged his first hat-trick on 16 May 2015 in a 6-1 win against Hérouville.
While Ombele was beginning to question his time in Renne, he made his professional debut for Rennes' team in Ligue 1 against Angers.
Bringing the victory goal over Nantes in the Dery Breton, Mikaël Silvestre compared him to Cristiano Ronaldo.
Also, Read More About George Bello >>
After Renne's journey, Dembele signed a five-year contract with Borussia Dortmund and made his debut on August 14, 2016, in a defeat against Bayern Munich.
Likewise, Ousmane Dembele made a victory goal against Eintracht Frankfurt and bagged Dortmund's first major title in five years in 2017.
Moreover, he also scored this first Champions League goal as Dortmund defeated Legia Warsaw.
Ousmane Dembele continued to shock his fans and helped German club Dortmund reach the DFB-Pokal's cup.
Consequently, he also scored the first goal of 2-1 victory against Eintracht Frankfurt, won the finals, and subsequently named the Man of the Match.
After a year in Dortmund, Ousmane signed a five-year contract with his buyout clause set at €400 million. Interestingly, Dembélé became the second most expensive player, along with Paul Pogba.
Dembélé made his appearance on 9 September as a substitute for Gerad, slaying the number 11 jersey that Neymar previously held. He assisted the final goal by Luis Suárez in a 5-0 Derbi barceloní win over Espanyol.
Ousmane Dembele's Injury & Time In Barcelona
As mentioned earlier, Dembele assisted Suarez in a final victory goal in his debut game. Unfortunately, he injured his hamstring at Getafe in his first league and was ruled out for four months.
Although cleared in January 2018, Ousmane Dembele injured himself against Real Sociedad and was ruled out for additional four weeks. Though injuries plagued initial seasons, he helped Barcelona win against Chelsea, netting two goals.
An impressive performance in his first season in Spain rewarded him with both the Copa del Rey and La Liga winners' medals. Similarly, he made 24 appearances in cross competitions and scored four goals.
The French winger has improved a lot since he arrived in the Spanish club in 2017.
While talking to Fansided, Ousmane mentioned the adjustments he had to make for the club and spoke about his Argentine idol, Lionel Messi's impact.
Ousmane Dembele injured his left hamstring in the opening match of the 2019-20 La Liga season and was expected to miss five weeks.
Furthermore, he suffered a severe hamstring tear in February 2020 and was not expected to return additional six months.
Dembele made an impressive comeback after scoring his first & victory goal over Juventus in Champions League goal 2020.
He further created a buzz after an impressive opening goal with a striking effort from 20 yards against Sevilla in 2021.
You Might Also Be Interested About Mike Golic Jr. >>
Member of The France Squad That Won 2018 World Cup
As stated earlier, the French footballer Ousmane Dembele was asked to join the senior France squad for the first time to face Italy in 2016. He joined the France team after Alexandre Lacazette and Nabil Fekir withdrew through injury.
Moreover, Dembele made his debut against the Sadio San Nicola for the final 27 minutes of a 3-1 win over Italy. In June 2017, he scored his first France goal in a 3-2 friendly victory over England.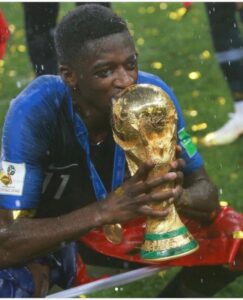 Ousmane Dembele was called up to the 23 men French squad for the 2018 World Cup in Russia and was an unused substitute as France beat Croatia 4-2 in the final.
Because of the impressive career, Ousmane Dembele's net worth continues to increase noticeably.
Footballer Ousmane Dembele's Net Worth
Having a prolific career as a professional footballer, Ousmane Dembele has gained ginormous wealth. As of now, Ousmane Dembele's net worth has become a multimillion, thanks to his innate sports genius and a grand passion.
Considering Dembele's lucrative career as a professional footballer, he can earn a bulky income.
Earnings From Barcelona
According to Salary Sport, Ousmane Dembele's salary is $15,257,204 per year (£11,024,000).
In 2017, Ousmane agreed to sign $125,118,945 contract. He reportedly rejected Barca's approach before as their offer 'did not correspond to his exceptional footballing and value of the player.
Furthermore, Dembele agreed to sign the contract with his buyout clause set at $476,643,600 (€400 million).
Thus, the deal meant that Dembele became the second most expensive player (in euros).
Therefore, Ousmane Dembele's net worth must have proliferated by another million from his career progression.
Well, Ousmane Dembele is a genuinely talented player with incredible skills up his sleeve.
Therefore, his income from FC Barcelona makes sense. Besides, Dembele's salary and incentives might add more zeros to his bank account.
Ousmane Dembele Fined For Leaving House With Trash
According to the Sun, Barcelona ace Ousmane Dembele, was sued by his landlord, Jurgen Klopp, after leaving the flat in poor condition.
Moreover, attorney Gerd Weissenberg took Kloop's case to Dortmund District Court, demanding £18,000 in compensation for its poor condition and unpaid rent.
However, things were settled about he was awarded a £9,000 settlement.
Likewise, Barcelona star Dembele allegedly left the house in poor condition, including blocked toiled and rubbish bags left in the garden.
Similarly, Marco Lichsteiner supposedly offered to demolish the house and build a new one for the owner.
Read About Tyler Shough And His Life Events >>
Ousmane Dembele's new residence must be luxurious and has every comfort according to his taste. Barcelona also placed a personal chef at his disposal who prepares the balanced nutrients he requires. He also owns luxurious cars, which he barely shows off.
Ousmane Dembele's Girlfriend & Personal Life
As stated earliest, Ousmane Dembele is a private person and prefers to keep his life confidential.
Earning millions at the young age of 23, Dembele has managed to win millions of hearts with his balling skills. But, looks like he is yet to meet Ms. Right.
Moreover, looking at the dedication and hard work, Ousmane Dembele's girlfriend is his career. He has had quite a career, but his relationship dynamics seem pretty dry.
However, Ousmane is young and is a career-oriented person. He further needs to keep his mind in the game to make his athletic career more promising.
Hence, Ousmane is probably single and in love with football more than a human. But, when the right person arrives, Ousmane would perhaps announce his relationship with the world and his millions of fans.
Similarly, Ousmane Dembele's Instagram is filled with his professional posts. He barely shares anything personal with his 8.8 million followers.
Social Media Presence
Ousmane Dembele's career is impressive, and so is his personal life as much as he's shared.
However, he is a private person who keeps his personal life and political beliefs private. Also, his social media is hugely engaging, and he seems to stay off Facebook. Thus, here are links if you are interested in following him.
Instagram: 8.9 million Followers
Twitter: 1 million Followers
FAQs
Has Ousmane Dembele recovered?
After struggling with back-to-back injuries and inconsistencies, he toiled to live up to expectations at Nou Camp.
However, Ousmane Dembele has proven himself as he scored in the La Lga victory over Sevilla last weekend.
Thus, no worries people, FC Barcelona is reportedly looking forward to extending Dembele's contract, which is due 2022.
Why did Barcelona wear Dembele Shirt?
Barcelona players like Antoine Griezmann and Lionel Messi wore Ousmane Dembele shirts to support the striker, who was ruled out for six months following a hamstring injury.
Barcelona FC also tweeted #CourageDembele. Keep your head up, Ousmane!'
The storm of support came after the club was ridiculed for the repeated action; the French footballer Ousmane Dembele was injured in 2017 for a month.
Is Ousmane left-footed?
The football genius Ousmane Dembele is comfortable on both his right and left side.