Henry Hasselbeck was born to his parents, Sarah and Matt Hasselbeck, on June 17, 2005.
Sarah and Matt Hasselbeck are proud parents to their three children. Besides Henry, they share two daughters, Annabelle and Mallory.
Every member of the Hasselbeck family plays/played professional sports at some point in their lives.
Matt was a professional football player who played in the NFL, while Sarah played hockey.
Henry Hasselbeck is a high school athlete who plays several sports, football, lacrosse, hockey, and track and field.
He currently attends Xaverian Brothers High School and plays football. Prior to Xaverian, he attended Belmont Hill and Westwood.
Moreover, Hasselbeck committed to playing at Michigan State as a three-star recruit in June 2023.
Henry Hasselbeck Parents Sarah And Matt Hasselbeck
Henry's parents, Matt, and Sarah Hasselbeck, are former athletes. Matt is an American former professional football quarterback.
After his collegiate career at Boston College, he was drafted by the Green Bay Packers in the 1998 NFL draft.
Later, he played for Seattle Seahawks, Tennessee Titans, and Indianapolis Colts and announced his retirement on March 9, 2016.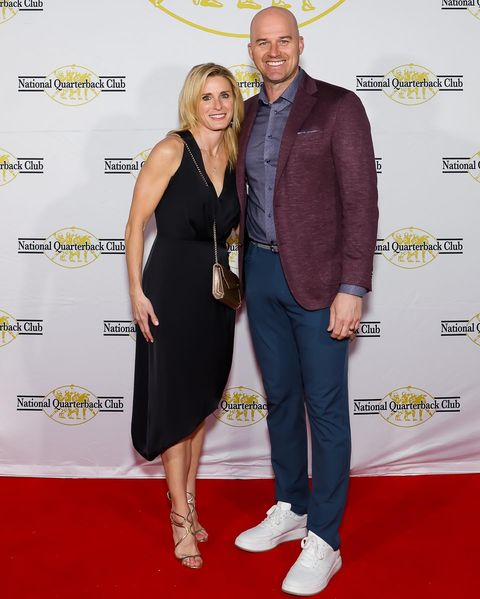 Since his retirement, he worked as an analyst for ESPN on Sunday NFL Countdown until ESPN recently laid him off in June 2023.
Similarly, Henry's mother, Sarah Hasselbeck (nee Egnaczyk), played hockey during her collegiate years at Boston College.
She also represented the US women's national hockey team at Junior and Senior levels.
Additionally, Sarah was inducted into the Boston College Varsity Club Athletic Hall of Fame in 2002.
The Hasselbeck Family Tree
Matt and Sarah have been together for more than 25 and share three kids.
Henry grew up with two elder sisters, Annabelle and Mallory. The eldest of the three, Annabelle plays lacrosse for the Boston Eagles.
During high school at The River School, she played lacrosse, basketball, and field hockey.
Similarly, Henry's other elder sister, Mallory, also plays lacrosse with her elder sister Annabelle at Boston College.
Mallory was a member of three varsity teams during high school; lacrosse, field hockey, and ice hockey.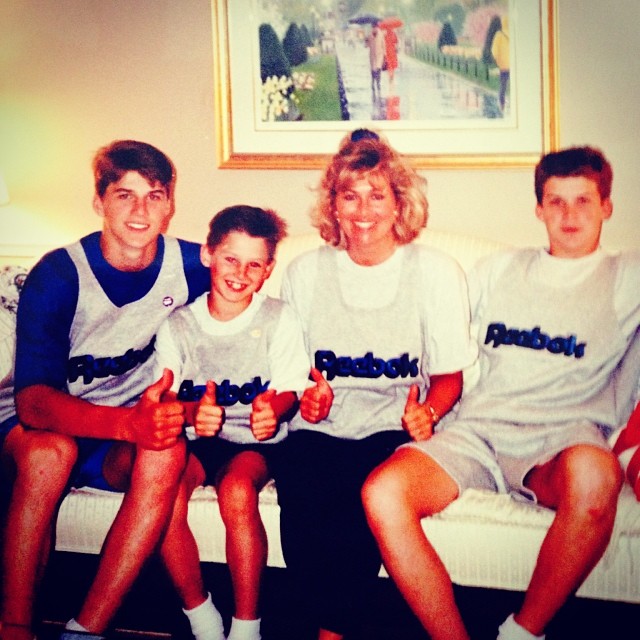 Besides Henry's siblings, his uncles were also professional athletes. His uncle Timothy Thomas Hasselbeck played in the NFL as a quarterback and currently works as an analyst for ESPN.
Timothy is married to Elisabeth Filarski, a television personality. The couple shares three kids, Grace Elisabeth, Taylor Thomas, and Isaiah Timothy.
Similarly, Henry's other uncle Nathanael Hasselbeck is also a former collegiate football player. He later did not continue his football journey and started working as a real estate agent.
Nathaneal is married to Kelley Hasselbeck, and they share two kids, Jack and Charlie.
Not to mention, Henry's grandfather, Donald William Hasselbeck, is also a former professional football player.
He played tight end for the New England Patriots, Los Angeles Raiders, Minnesota Vikings, and the New York Giants in the NFL.