Chris Long, originally Christopher Howard Long, is a former American football defensive end and son of sports analyst and Hall of Fame football defensive end Howie Long.
He played in the National Football League for 11 seasons with teams such as St. Louis Rams, New England Patriots, and Philadelphia Eagles.
Chris is also the older brother of football guard Kyle Long who is currently a free agent.
The University of Virginia alumnus Chris is a two-time Super Bowl champion and one of six players to win consecutive Super Bowls for different teams.
As of 2022, Chris hosts the Green Light Podcast, which features in-depth interviews with celebrities, musicians, and athletes.
Chris's father, Howie, played in the NFL for 13 seasons, spending his entire playing career with the Raiders franchise in Oakland and Los Angeles.
Stay tuned to learn more about Chris, his career, his family, and many more. But before diving deep, let's check out the facts.
Howie Long Son | Quick Facts
Birth Name
Christopher Howard Long
Known As
Chris Long
Date of Birth
March 28, 1985
Birthplace
Santa Monica, California, United States
Religion
Roman Catholic
Sexual Orientation
Straight
Father Name
Howie Long
Mother Name
Diane Addonizio (m. 1982-Present)
Gender
Male
Age
38 Years Old
Profession
Former NFL Player, Podcaster
Famous For
Former Professional NFL Player, Son of NFL Player Howie Long, Older Brother of NFL Guard Kyle Long
Nationality
American
Education
St. Anne's-Belfield School, University of Virginia
Height
6 ft. 3 in/1.91 m/191 cm
Weight
270 lbs./122 kg
Eye Color
Black
Hair Color
Brown
Build
Large
Marital Status
Married
Wife
Megan O'Malley (m. 2013-Present)
Children
Two Son (Waylon James Long & Luke Redding Long)
Siblings
Kyle Long, Howie Long Jr.
Zodiac Sign
Aries
Played For
St. Louis Rams (2008-2015)

New England Patriots (2016)

Philadelphia Eagles (2017-2018)

Position
Defensive End
NFL Stats
Total Tackles: 332

Sacks: 70.0

Forced Fumbles: 15

Fumble Recoveries: 6

NFL Draft
2008 / Round: 1 / Pick: 2nd
Roster Status
Retired
Career Highlights
2X Super Bowl Champion (LI, LII)

NFLPA Alan Page Community Award (2018)

Walter Payton NFL Man of the Year (2018)

PFEW All-Rookie Team (2008)

Ted Hendricks Award (2007)

Dudley Award (2007)

First-team All-ACC (2007)

Jersey Number
72, 91, 95, 56
Net Worth
$40 Million
Social Media
Instagram, Twitter
Merch
Signed Eagles Full-Size Eclipse Authentic Proline Helmet, Signed Photo
Last Update
May 2023
Howie Long Son | Early Life, Education & More
Early Life
The former football defensive end Chris Long was born in Santa Monica, California, to Super Bowl champion Howie Long and Diane Addonizio on March 28, 1985.
He is the eldest son of three children of his parents. Both his brothers are associated with football in one way or the other.
His younger brother Kyle plays as a guard in the NFL, and his other brother Howie Jr. is a scouting assistant and personnel assistant for the Raiders.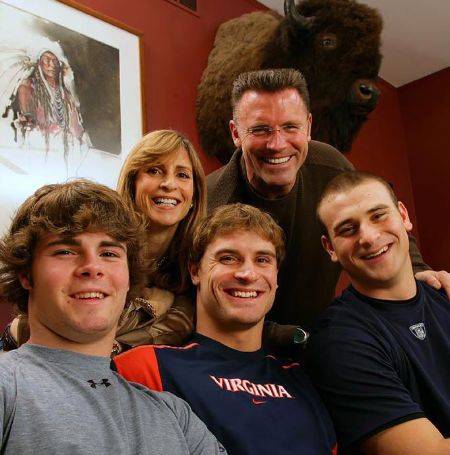 Similarly, Long is a godson of Hall of Fame quarterback Terry Bradshaw.
Coming from an athletic family, Chris was drawn to the sport of football as a kid, which he pursued as a profession growing up.
He would dream about playing in the big stadiums just like his father when he was a kid.
And not to anyone's surprise, Chris not only achieved his dreams but became one of the most notable figures in professional football.
Education
Talking about his studies, Chris attended St. Anne's-Belfield School in Charlottesville, Virginia.
Along with excelling in his studies and football Chris managed to play baseball, lacrosse, and basketball as a high schooler.
However, his first love was football. For his exceptional high school football, Rivals.com gave Long a 4-star ranking for college recruiting.
After graduating high school, Long enrolled at the University of Virginia and played for the Virginia Cavaliers football team.
He played colligate football from 2004 to 2007 under head coach Al Groh while pursuing a degree in sociology.
Also Read About Walter Payton's Son: Jarrett Payton Bio, Career & Net Worth
Howie Long Son | Age, Height & Weight
Born in 1985, Chris Long is 38 years old as of 2023. According to his birth date, he falls under the Aries sun sign known for being passionate, determined, courageous, and confident.
The former defensive end, Chris, has a large build standing 1.91 meters tall and weighing around 270 lbs.
Howie Long Son | Career
Chris Long had an extraordinary college football career. He played for the Virginia Cavaliers football team for four years garnering numerous awards and accolades and setting several records.
He received a first-place vote and finished 10th in the Heisman Trophy voting in 2007.
Chris forwent his senior year and declared for a draft.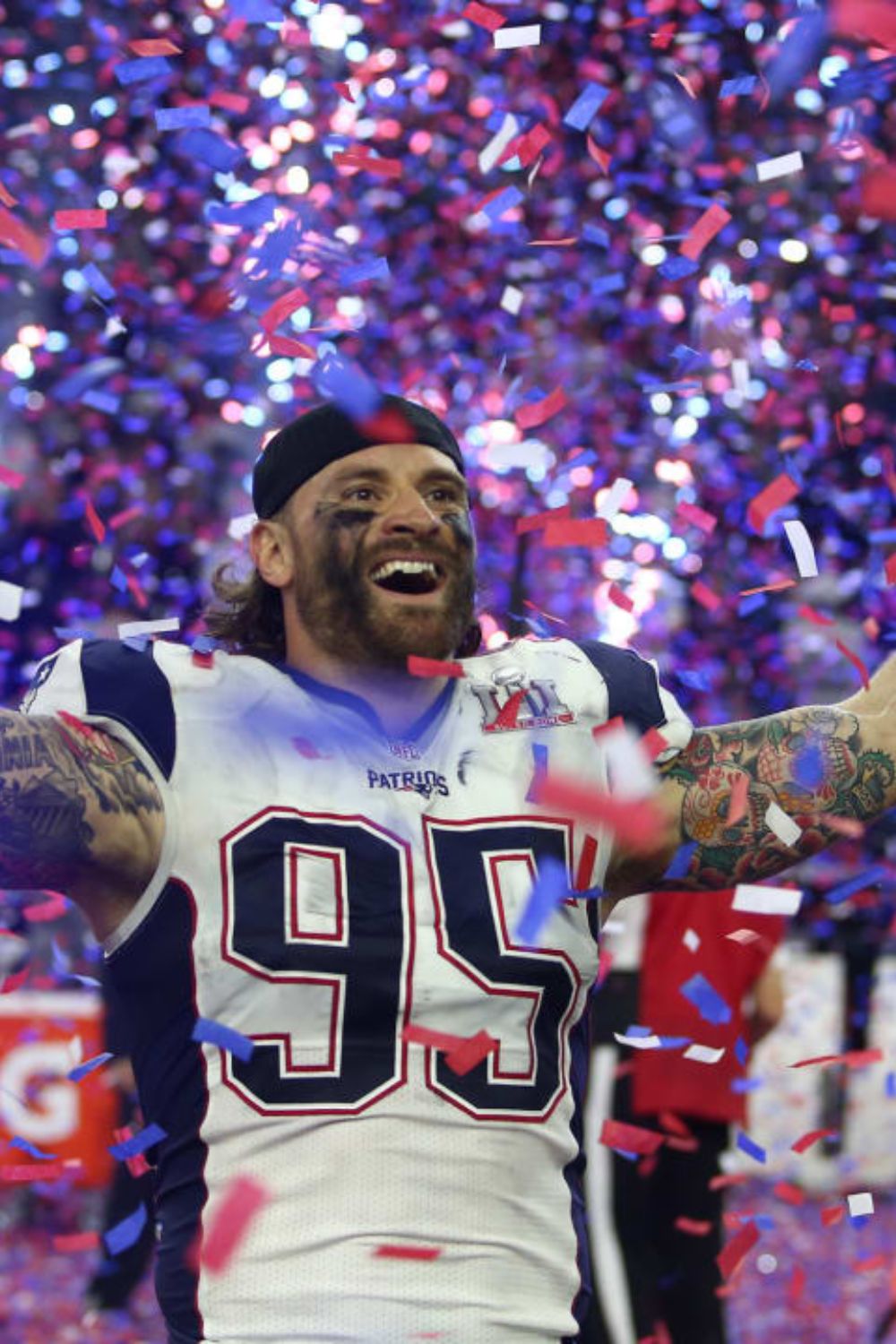 Even though his NFL Combine went terribly because he could not lift the bench press because of an injured thumb, St. Louis Rams drafted Chris second overall in the 2008 NFL Draft.
This pick made him the second son of Hall Famer to be drafted in the first round after tight end Kellen Winslow II.
Chris recorded his first career sack against Eli Manning of the Giants on September 14, 2008.
At the end of the 2014 season, Chris suffered an ankle injury limiting his season to just six games. In the 2015 season, he played only 12 games and was subsequently released by the team on February 19, 2016.
The following month he agreed to a one-year deal with the New England Patriots.
Chris went on to win one Super Bowl with the Patriots; Super Bowl LI.
After a season with the Patriots, Chris signed a two-year deal with the Philadelphia Eagles on March 28, 2017, on his 32nd birthday.
With the Eagles, Long won his second Super Bowl, Super Bowl LII. After the 2018 season, he announced his intention to retire, and on May 18, 2019, Long hung his boots.
You Might Also Want To Read About Aaron Boone's Father: Bob Boone's Career, Net Worth & Personal Life
A Short Bio On Howie Long
The one-time Super Bowl champion and Pro Football Hall of Famer Howie Long played in the National Football League for 13 seasons. He is one of the most decorated players in football history.
Howie spent his entire 13 seasons with the Raiders franchise in Oakland and Los Angeles.
After more than a decade-long organized football career garnering tons of accolades, Long retired after the 1993 season and pursued acting and broadcasting.
He currently serves as a studio analyst for Fox Sports' NFL coverage.
The Villanova University alumnus was drafted by the Oakland Raiders in the second round of the 1981 NFL Draft.
After ending his NFL career, Howie pursued an acting career and focused mostly on action flicks.
Some of his films include Firestorm, Broker Arrow, and 3000 Miles to Graceland.
Talking about his wife, Howie met his future wife, Diane Addonizio, during his freshman year at Villanova.
The couple got married in 1982. They have three sons; Chris, Kyle, and Howie Jr.
Howie Long Son | Wife & Children
Chris is married to his longtime girlfriend, Megan O'Malley. The couple met each other when they were both in college.
Megan was born Megan Ann O'Malley on March 28, 1968, in Fair Fox, Virginia, United States, to her father, Joe, and her mother Robbing O'Malley.
She grew up with her two siblings, Katie and Joe Jr.
Megan was a member of the UVA women's lacrosse team at the University of Virginia. It was probably around this time the two college athletes began seeing each other.
They dated for several years before tying the knot on June 22, 2013, in Charlottesville, Virginia.
Chris and Megan share two sons together. Their first son Waylon James Long was born on March 2, 2016, and the second, Luke Redding Long, was born on November 26, 2018.
You Might Also Want To Read About Ronnie Lott's Son: Ryan Nece's Career, Net Worth & Broadcasting
Howie Long Son | Net Worth
The two-time Super Bowl champion Chris Long has a net worth of a staggering $40 million as of 2023.
Chris's most lucrative years were his active playing days when he garnered a boatload of money from contracts and brand endorsement deals.
After getting drafted by the St. Louis Rams, Chris agreed on a 5 years $55.25 million rookie contract with the team with an average annual salary of $11 million and $22.38 million total guaranteed.
He became a free agent after the 2012 season but shortly extended his stay with the team with a $48.2 million four years deal with a $6.05 million signing bonus, $12 million average annual salary, $23.55 million guaranteed at signing, and $36.75 million total guaranteed.
So all in all, Chris made $42,325,000 in the NFL salaries, $1 million in signing bonuses, $7.68 million in roster bonuses, $21.1 million in restructure bonuses, $16.2 million in option bonuses, and $4.05 million in incentives with a total of $92,360,162 career earning.
As for Howie, his net worth sit somewhere around $16 million.
The old man earns more than $4 million per year from his broadcasting career.
Howie Long Son | Social Media Presence
Chris Long is famous for his football career and his podcast named Green Light Pod, which is available on Apple Music and Spotify, among other platforms.
The man uses social media platforms to promote his podcast episodes.
View this post on Instagram
He has over 392k Instagram and more than 643k Twitter followers, which means he can boost his promotion among his 1 million audiences at once with the help of these platforms.
He also shares about his personal life, family times, and vacation pictures on these handles.
Popularity Graph
Unknown Facts
Chris Long launched his own foundation, The Chris Long Foundation, in May 2015. The foundation helps raise money for the Waterboys.
After the 2018 season, Chris was named the recipient of the prestigious Walter Payton Man of the Year Award for his contribution to clean water, military appreciation, and youth education.
After his football career, Chris's father, Howie, became known for his use of a famous stock sound effect in the film Broken Arrow. During his death scene, the sound effect was used, which became known as the Howie scream.
Frequently Asked Questions (FAQS)
Is Howie Long married to Teri Hatcher?
Howie Long is not married to actress Terri Hatcher. He has been married to Diane since 1982.
How tall is Howie Long?
The former defensive end Howie Long is 1.98 meters tall and weighs around 265 lbs.
What is Howie Long's NFL stats like?
Over the course of his career, Howie recorded 84.0 sacks, ten fumble recoveries, and two interceptions.
You Might Want To Read About Bob Griese's Son: Brian Griese's Career, Net Worth & More