Many wonder about the religion of the 2023 Laver Cup winner, Ben Shelton if he has Christian or Jewish faith. The young tennis star is Christian.
Shelton, the 2023 US Open semi-finalist, admits that his self-belief and hard work paid off with ATP Tour success. But another reason for his advancement is his faith in god.
Ben, who has mixed ethnicity, has harmony for every faith. Being biracial gave him a multifaceted lens through which he perceived and engaged with cultural understanding.
Born on October 9, 2002, Benjamin Todd Shelton made his ATP debut in July 2022 through the Atlanta Open at the age of 20.
In 2022, he played in his first Grand Slam, the US Open, but lost in the first round to Nuno Borges.
The 6 feet 4 inches tall tennis player reached greater heights after he became a quarter-finalist in the 2023 Australian Open, where he lost to Tommy Paul.
Then, in the 2023 US Open, he faced a defeat to the eventual champ Novak Djokovic in the semi-finals.
As of October 16, 2023, Shelton ranks #19 (his career-high ranking) in the men's singles, having earned prize money (in the singles category only) of $1.931 million.
Ben Shelton Religion: Is He Christian Or Jewish?
The M25 Champaign winner, Ben, comes from a family with religious faith. While Shelton has yet to speak openly about his religion, his Instagram posts tell it aloud- he is Christian.
On his December 25, 2022 Instagram post, the 21-year-old tennis player shared a family picture, wishing Christmas to his fans.
In his Instagram profile, Ben Shelton has shared pictures of him wearing a double chain necklace with a "cross" embedded in it. It's a clear depiction that he has Christian faith.
Starting in 2023, the tennis star's necklace has no cross.
Perhaps it was to keep the talks about his religion on the bay, or maybe it created a disturbance as it juggled around when he played tennis.
Ben Shelton Ethnicity And Family
A native of Atlanta, Georgia, Shelton is an American by nationality and has mixed ethnicity.
His father, Bryan Shelton, has African American heritage, while his mother, Lisa Witsken Shelton, is white caucasian. His parents have been married since October 1999.
The University of Florida alum is biracial and comes from a family of tennis players.
Ben's father is a former tennis player and coach who played in the ATP tour for nine seasons before his retirement in 1997.
Afterward, he became a women's tennis coach at his alma mater, Georgia Tech, from 1999 to 2012.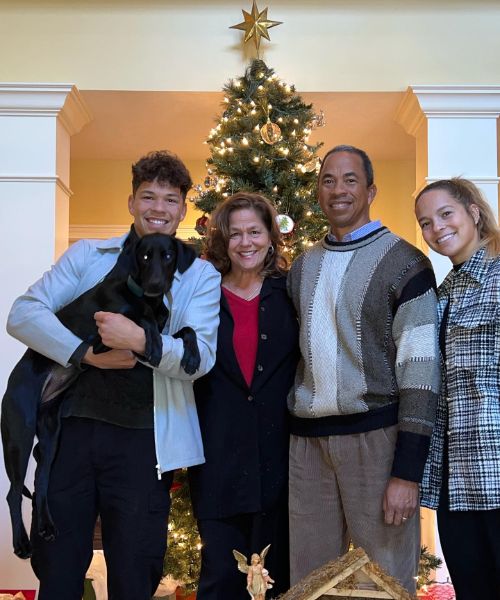 In 2013, Bryan became the head tennis coach at the University of Florida and served throughout 2023. As reported, he retired from coaching to focus full-time on his rising tennis star son.
Shelton's mom, Lisa, was a skilled junior tennis player, even though she didn't reach the same level of success as his dad.
Currently, she is a real estate agent at Better Homes and Gardens Real Estate Thomas Group in Gainesville, Florida.
Ben has a younger sister, Emma Shelton (b. March 18, 2001), who also is a tennis player. She played for the University of Florida (2021-22).
Earlier, she was a collegiate tennis player at the University of South Carolina before her transfer to Florida.