The young and vibrant Jake Daniels is an English-born professional footballer aspiring to make his way to the national team in the future. He currently plays club football for the Lancashire-based club, Blackpool.
Hailing from Bispham, Daniels has been with the Blackpool Academy since he was a kid. He became formally associated with their senior team only recently when he signed a professional contract.
Despite being a beginner, Jake always makes sure that his every performance gets noticed. For this reason, Jake has become one of the new favorites of Blackpool F.C. fans.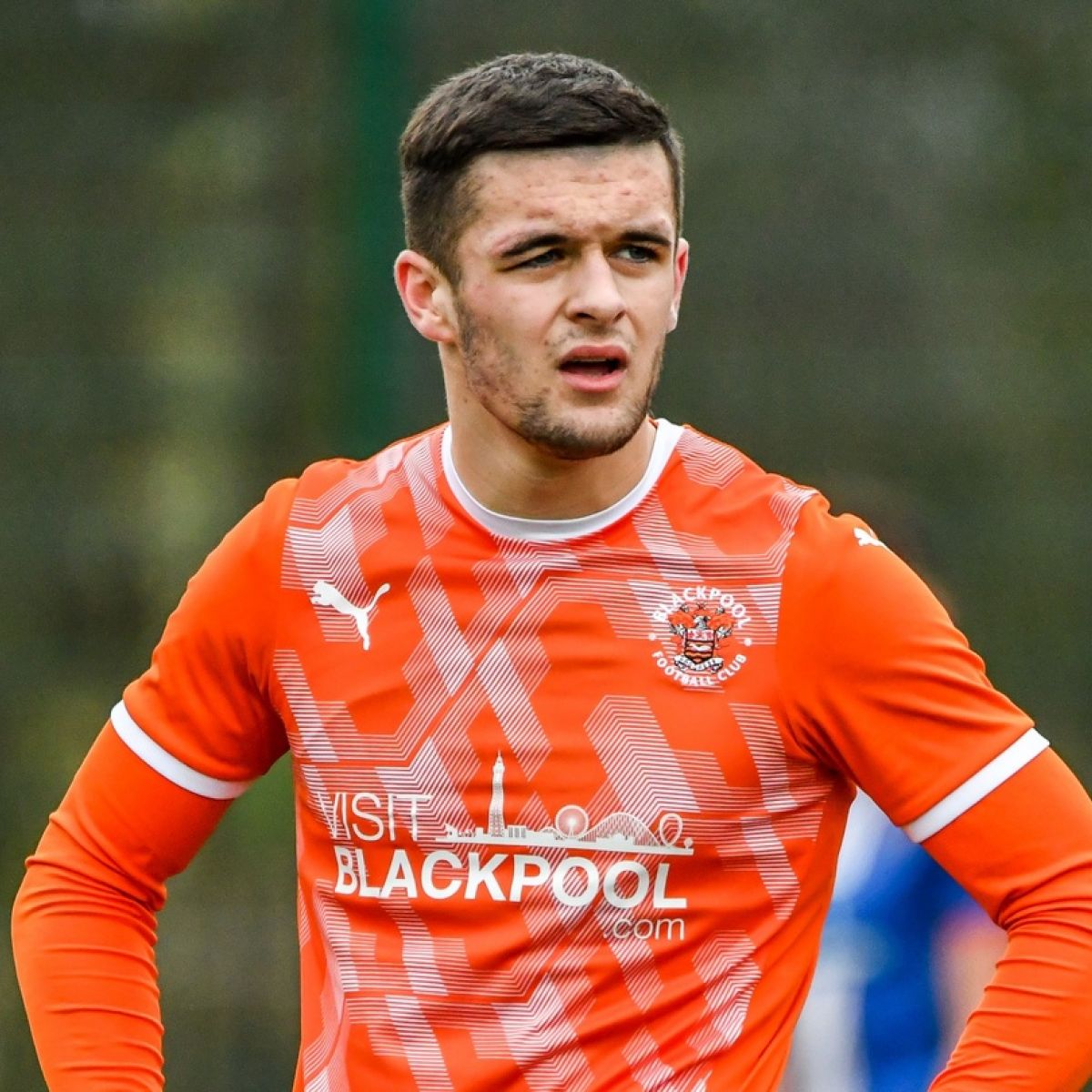 The Blackpool forward is already an adept player with excellent shot accuracy and dribbling skills.
In addition, he is a pretty versatile athlete as he can execute his gameplay well as a midfielder when needed.
Recently, Jake made the newspaper headlines after coming out openly as gay. He made his sexual orientation clear soon after starting his professional league journey.
The player is receiving a mixed reaction from the public, as is always the case with such a revelation. After all, this subject remains taboo in our "liberal" society.
This article will explore more about Daniel's life before, and after expressing his sexual identity publicly, his football career run to date, and everything interesting about him.
But before that, let's take a look at some quick facts about Jake.
Quick Facts
Full Name
Jake Daniels
Date of Birth
January 8, 2005
Birth Place
Bispham, Lancashire, England
Nick Name
Not available
Religion
Christianity
Nationality
British
Zodiac Sign
Libra
Age

18

years old
Height
1.75 m (5 feet 9 inches)
Weight
Not available
Hair Color
Light brown
Eye Color
Blue
Build
Athletic
Father's Name
Jason Daniels
Mother's Name
Jayne Richardson Mumby
Siblings
Georgia Daniels, Casey
Food Habit
Non-vegetarian
Marital Status
Unmarried
Sexual Orientation
Gay
Partner
None
Kids
None
Salary
Under review
Profession
Football player
Position
Forward / Midfielder
League
English Football League Championship
Active Years
(2022 – Present)
Net Worth
Not available
Currently Plays For
Blackpool F.C.
Jersey number (recent)
43
Social Media
Instagram, Twitter
Merch
Blackpool F.C. Calendar
Last Update

November 2023
Jake Daniels | Early Life & Family
Jake Daniels, the footballer, was born on January 8, 2005, in Bispham, Lancashire, United Kingdom. He is the younger child of Jason Daniels (Father) and Jayne Richardson Mumby. Before him, his parents had given birth to his elder sister, Casey.
However, his parents divorced when he was a little kid. He also has another elder sister, Georgia.
Daniels grew up with his sister, Georgia, almost eight years older than him. Everyone related to his family hail from Lancashire, so he spent a lot of time hanging around with his cousins and close ones.
The Daniels family is fond of football like every other typical British household, so Jake inherited his love of football from them at a very young age. He began playing the game with his friends and classmates as soon as he learned to walk.
At age six, he had already thought of becoming a football player. In a way, it was his childhood dream.
As a result, Jake's parents admitted him to the Blackpool Academy when he reached seven.
The academy was pretty close to his home, and his family members had been a fan of the Blackpool club for a long time. So, it was his family's obvious choice.
Now, it has already been around a decade since Jake joined the Blackpool Academy, but he is still with them.
His sister, whom everyone calls Georgie, attended Leeds Beckett University and is a founder/ director at Black Hole Events which organizes parties and musical events.
Unlike his sisters, Jake did not want to pursue academics, so he did not attend college. Instead, he focused on developing himself as a skilled forward/midfielder.
Jake Daniels | Discovering His True Self
Even though Jake Daniels made it clear that he is gay recently, he had been mustering the courage to tell this to the world for quite a long time.
In an interview with Sky Sports Football, Jake said he had been aware of his sexual identity since five or six.
However, he had not had many ideas about people with such tendencies initially, and it saddened him when he started learning more about it.
Not because of who he was but due to the flawed societal attitude towards homosexuality.
Daniels discovered that people had unreasonably distinguished people as either masculine or feminine, and they had a preconceived notion of gender binarism.
But, he did not fit into the narrow framework that society had created for so long.
To seem straight, he even unwillingly made some girlfriends during his school. He says he did all that to be "normal" in front of his friends and relatives.
He wanted to speak out, but his passion for football and fear of losing everything he had earned refrained him back.
In the same interview, the player said that if he had revealed his sexuality, then he would not have come this far in his career.
There is still a widespread perception that homosexual people are physically weak and can't do well in sports that demand heavy physical labor.
For that reason, Jake says he wanted to hide his true sexual identity until his retirement. But after he made his professional league entry, he felt it was the right time to let the people know that he was gay and proud of his identity.
Click here to learn about the professional American-born basketball player, MarShon Brooks, who plays for the Guangdong Southern Tigers of the Chinese Basketball Association (CBA)!
Jake Daniels Receives Overwhelming Support
Jake has received enormous support from many fellow footballers and football fans since he announced he is gay.
Before making it public, he was in close contact with many athletes who were outspoken about their support for the LGBTQ community.
He thanked fellow footballer Josh Cavallo and Olympic diver Tom Daley, who provided him with so much support and inspired him to come out. Jake was also grateful to his teammates and the Blackpool F.C. for acceptance.
After having a great match in Accrington, where he scored four goals, he seized the moment to share his secret with his mom and sister.
He initially had mixed feelings while revealing it to them, but to his surprise, they were as happy as him when they heard the news. His sister, Georgie, overwhelmed with happiness, shared the information on her Facebook post.
He was even more surprised when they told him they had known about it all since he was a kid, but they wanted him to open up about it himself with pride.
Similarly, many from the football fraternity from all over the world expressed their views regarding Jake's big decision and its impact on the modern football community.
The English former professional footballer Gary Lineker remarked that young Daniels created a path many footballers would follow. Similarly, the England national team captain Harry Kane praised him for being who he was.
Renowned players such as Rio Ferdinand, David de Gea, Thomas Hitzlsperger, Casey Stoney, etc., openly came out on media in support of the young player.
In addition, the Conservative Party politician and the current PM Boris Johnson, Prince William, and many people outside the football world also expressed support for him.
Homosexuality is Normal
Although homosexuality started gaining considerable positive interest in the first decade of the 20th century, a large section of our society still considers it taboo.
In the past, constitutions in almost every country criminalized it to appease the majority of straight people.
However, the sexual minorities in the last hundred years have fought numerous battles and waged resistance against their persecution.
The sexual minority in the early 20th century attempted to bring some changes in Europe, especially after the Soviet Revolution in 1917 but the conservative forces in society were so strong they failed.
The gay rights movements, ignited in the latter half of the 20th century, have achieved considerable success. However, rejoicing in partial achievements is not enough. They have to take their campaign forward for total acceptance in society.
The English forward Jake Daniels' recent step, although small, is another exciting thing for everyone who supports the LGBTQ community. The considerable media attention it has garnered has helped propagate positivity about this topic.
Even the football world has once again joined the debate regarding the normalization of homosexuality within their community.
Young people like Jake are signs of hope for a better and progressive society tomorrow.
Hopefully, his decision inspires other players to come out as well and join the campaign that had started long ago by breaking the barriers of modern society.
After all, every human feature or action that does not harm humanity is normal.
Jake Daniels | Career
Jake is still in the early phase of his professional career. Although he has played for the Blackpool Academy all his life, he joined its U18 team in 2018.
Daniels played almost every match in the 2020-21 season and scored 30 goals.
Consequently, he won the club's youth player of the year. In addition, he signed a professional contract with Blackpool on February 25, 2022.
He made his debut for his club on May 7 against Peterborough United. However, he was loaned to the Bamber Bridge to play in the Northern Premier League in March 2022.
Hopefully, we will see him donning the English national team jersey someday.
The American former basketball player Brian Roberts played professional leagues for over a decade in countries such as Spain, Germany, and Greece, apart from the NBA. Read his story here!
Age & External Features
As of 2023, Jake Daniels is 18 years old.
Jake looks like he has an average height and medium body type regarding his physical features. Based on some websites on the Internet, he stands at 1.75 meters (5 feet 9 inches) which is the average height for men in the U.K.
Similarly, he has a well-maintained body for a teenager and seems as though he weighs around 143 lb (65 kg).
Social Media
Instagram: @officialjakedaniels
Twitter: @Jake_Daniels11
You may want to read about David Wear, an American-born professional basketball player who has played in the NBA and the Australian National Basketball League (NBL)!
Frequently Asked Questions
Is Jake Daniels UK's first professional gay footballer?
No, Jake is not the first professional footballer from the U.K. to come out as gay. Before him, around thirty years ago in 1990, Justin Fanshau had revealed that he was gay.
Since then, there was none, but after Jake recently came out as gay, he became the U.K.'s first active male footballer to identify himself as gay.
Has Jake Daniels played for the England national team yet?
Jake Daniels has not played for the England national team yet.