Anthony Davis is a professional American basketball player who currently plays for the Los Angeles Lakers of the National Basketball Association. From a young age, Davis has achieved indisputable success in the course of his basketball career.
He is popularly called "AD" or "The Brow" or "BROW" inside the court. Likewise, he had won numerous awards and played with some of the field's biggest names, all before he even turned 30.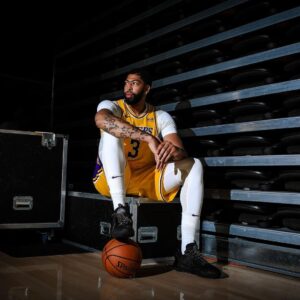 Today, let's take a closer look at Anthony Davis's life and his journey as a Basketball player. Below are the details about his family, early life, education, career, net worth, and personal life.
But before that, let's look at some of the quick facts of Anthony Davis!
Quick facts:
Full Name
Anthony Marshal Davis Jr.
Birth Date
March 11, 1993
Birth Place
South Side of Chicago, USA
Nick Name
Anthony Davis, AD, BROW, The Brow
Religion
Unknown
Nationality
American
Ethnicity
African American
Education
Perspectives Charter High School

Kentucky University

Horoscope
Pisces
Father's Name
Anthony Davis, Sr.
Mother's Name
Erainer Davis
Siblings
Antoniette Davis(Twin sister), Lesha Davis(Sister)
Age
29 years old
Height
6 feet 10 inches (2.08 m)
Weight
115 kg (253 lb)
Shoe Size
17 (U.S.)

16.5 (UK)

50 (Europe)

Hair Color
Brown
Eye Color
Dark Brown
Body Measurement
Unknown
Build
Athletic
Married
Unknown
Girlfriend
Marleen P
Children
Nala Davis
Profession
Professional Basketball Player
Net Worth
$30 million
Salary
$25 million
Currently Works As
Basketball Player
Affiliations
Los Angeles Lakers, Kentucky University
Active Since
2012 – present
Social Media
Instagram:@antdavis23

Twitter:@AntDavis23

Merch
Jersey, NBA Champions Bobblehead
Last Update
December, 2022
Anthony Davis | Early Life, Family and Education
Anthony Marshal Davis was born in Chicago, Illinois, USA, to father Anthony Davis Sr. and mother, Erainer Davis. He has an older sister named Lesha Davis and a twin sister named Antoniette Davis.
Where did Anthony Davis go to high school? High School Career
Davis played basketball throughout his childhood, as well as his high school years. Davis studied at Perspectives Charter High School since the sixth grade. He played basketball as a part of his high school team.
The team played in the Blue Division of the Chicago Public High School. Still, it was given minimum attention because the school he attended was well reputed for academic excellence but not much for athletics.
How tall was Anthony Davis in high school?
By the time Davis reached the junior basketball season, he was 6ft 8 inches tall. He feels fortunate to have rapid growth without any knee pains.
In August 2010, he verbally committed to Kentucky. He chose the college team over others like DePaul, Ohio State, and Syracuse. Davis successfully became the number one rated player at scout.com for the national class of 2011.
The Chicago Sun-Times selected him as the preseason first-team all-state. He was already 6ft 10 inches by then, which gained him a huge advantage as a basketball player. He won various awards during his high school time. Some of them are :
McDonald's All-American Game
10th Annual Jordan Brand Classic
The first team in USA Today All-USA High School Basketball Team, Parade All American, SLAM Magazine, Dime Magazine, and ESPN raise boys' high school basketball All-American team.
Here is another piece about the one and only Stephen Curry. Have a go!!
Where did Anthony Davis go to college?

College Career

Anthony decided to go to the University of Kentucky and play for Kentucky Wildcats. During all of his matches, Davis was widely appreciated for his height and his scoring capabilities, along with other skills he possessed.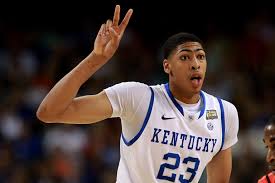 ESPN's Andy Katz had high praises for him as well,
"Davis offers a multitude of skills for the Wildcats with his ability to block shots, run the floor, score in the low post and face up to the basket."
Davis was being compared to other big-name players like Marcus Camby, another tall shot-blocker.
Anthony was being considered the National Player of the year with his competition from Thomas Robinson of Kansas. He led the Arizona Wildcats to numerous wins and even on the top of the charts in 2012.
How Tall is Anthony Davis? Age, Height, and Body Measurements
The professional basketballer was born in 1993, which makes his age 27 years old at the moment. Likewise, the American native shares his birthday on the 11th of March, making his birth sign Pisces.
And from what we know, people of this sign are known for being ambitious, loyal, and passionate.
Moreover, Anthony is not only athletically gifted but built as well. The professional player has well maintained his physique with an appropriate diet and workouts. Likewise, Anthony also tends to hit the gym most of the time.
Moving on, Davis stands at an astounding height of 6 feet 10 inches (2.08 m) and weighs 115 kg (253 lbs). Other than that, Anthony has got short brown hair and a pair of shining dark brown eyes.
Anthony Davis | Professional Career
New Orleans Hornets/Pelicans
Davis joined the New Orleans Hornets in 2012. He was the fifth person from Chicago to be selected in the first overall pick. Anthony signed a three-year $16 million contract with the Hornets as required by the NBA's collectives' bargaining agreement.
Rookie Year
Anthony Davis debuted his first National Basketball Association (NBA) match for New Orleans Hornets against the San Antonio Spurs. He scored a team-high of 21 despite losing the match.
Davis got a concussion that barred him from 2 games. When he returned to play, he won against any teams like Charlotte Bobcats, Milwaukee Bucks, Golden State Warriors in 2012.
Anthony appeared in the Rising Stars Challenge during the 2013 NBA All-Star Game. He contracted a minor injury of a sprain on his left shoulder. Davis returned to the lineup with 17 points, 15 rebounds, and 4 blocked shots against the Orlando Magic.
Playing against the Memphis Grizzlies, Davis reached an impressive, then career-high, with an 18 point rebound along with 20 points against them. He also scored the game-winning basket against the Boston Celtics.
Anthony had to go through an injury at the end of the season. He suffered a left knee medial collateral ligament sprain and a bone bruise.
Davis came second to Damian Lillard on the NBA Rookie of the year voting that year. Davis was a pick and roll threat on offense and needed to practice his isolation and post-up skills. However, he was considered super effective in fast-break transition and offensive boards.
New Orleans Hornets renamed themselves as Pelicans. The new season seemed to have started great for the young Davis as he created a record as the youngest player ever to record 25 pounds and 15 rebounds in one game. He did this against the Orlando Magic.
He performed exceptionally well in the game with the Charlotte Bobcats, making himself the only player in 20 years to have 6 blocks, 6 steals, and 25 points in the game. Davis, unsurprisingly, won an NBA Player of the week nomination for the historic win.
Davis created another history with the Los Angeles Lakers when he scored a career-high of 32 points, tied a career-high with 6 blocks, 12 rebounds, and became the youngest player in NBA history.
He also has a commendable 8 blocks against the Philadelphia and Utah Jazz. However, he got injured with a non-displaced fracture in his left hand with the New York Knicks.
This injury cost him his chance to play in his hometown for the second time. He missed a total of 7 games due to the injury.
First Playoff Appearance
In the 2014-15 NBA Season, Anthony played against the Orlando Magic and impressed everyone with one of the best season-opening performances in NBA history. He scored 26 points, 17 rebounds, 9 blocks, 3 steals, and 2 assists in a single match.
Again, on November 8, Davis successfully posted 27 points, 11 rebounds, and 6 blocks, including the winning basket in a nerve-racking 6.6 seconds in the end.
The all-time career-high for Anthony Davis came when he scored a record 43 points with 14 rebounds against the Utah Jazz. At this point, he was at the top of the game. His current gameplay is excellent as well.
At the beginning of 2015, Davis injured his shoulders after falling off the rim. He had to withdraw from the 2105 NBA All-Star Game. He missed five games from February to March due to the injury.
When he returned to play against the Detriot Pistons, he was at the top of his game. He scored a total of 39 points. 13 rebounds, and 8 blocks.
Only two players had gotten over 30 years ago. Davis also reached a staggering 437 career blocks, which is a record for the NBA franchise.
Davis's average scores were 31.5 points with 11 rebounds and 3 blocks per game in the first playoff of his career.
He is named alongside Shaquille O'Neil, Hakeem Olajuwon, and Karl Malone as the only players in the last 20 seasons to have the average score record of 30 points and 10 rebounds.
On March 20, 2016, he suffered from another injury yet again. His left knee was injured, along with a torn labrum in his left shoulder.
After being ruled out for the rest of the season, he mentioned that he had been having left shoulder pain since he first started as a rookie.
All-Star Record Breaker
Anthony Davis became the second player ever in the NBA to achieve 50 points after the Legendary Micheal Jordan.
He again impressively scored a career-high of 22 rebounds against the Miami Heat. Davis was selected for the NBA All-Star Games again in 2017. It was his fourth selection and second time as a starter.
In November 2017, he scored 29 points against San Antonio Spurs, making him the second-highest career point in the National Basketball Association's history. He scored a season-high of 48 points and 17 rebounds over the victory of the New York Knicks.
Los Angeles Lakers
Davis requested the Peclians for trade despite him not becoming a free agent until 2020. He was charged with a $50,000 fine for making the request public. He waited for trade until February, and when that did not happen, he was allowed to play again.
The New Orleans Pelicans completed Anthony Davis's trade with the Los Angeles Lakers on July 6, 2019. Anthony continues to awe everybody with his performance in the Lakers as well.
Moreover, he became the first-ever Laker to put up a 40 point and 20 rebounds after Shaquille O'Neil in 2003. He achieved the score in 30 minutes of play, which is also another record in NBA history.
Davis has also played for the USA's National Team and has earned a gold medal in the 2012 Olympics.
How many points does Anthony Davis average? Career stats
How much does Anthony Davis make?

Net Worth and Income

Anthony is one of the best and well-known players in the NBA's most valuable team Los Angeles Lakers. Likewise, the talented basketball player has already made a big name for himself.

But it is not only the name and fame that he has earned; Davis's outstanding play has successfully managed to gain him a hefty amount, which comprises the majority of his wealth today.
#ANTDAVIS23XSAKS https://t.co/eVsWx4KU50 @saks pic.twitter.com/ILGvLTh33w

— Anthony Davis (@AntDavis23) August 21, 2016
Well, all NBA stars are pretty rich but sit tight because Davis' earnings will blow your mind. At the network $30 million, the first signed a $16 million 3 year contract with the Hornets in 2012.
In 2015, Davis signed a contract extension for 5 years with the Hornets/Pelicans for a whopping $145 million.
The Lakers signed him for roughly $25 million. It is rumored that the Lakers will offer him a 5 year and a whopping $202 million contract to keep him on the team.
Aside from his contracts and salaries, Anthony has partnerships with top brands. In the 2017-18 season, Anthony signed a multi-year extension with Nike, giving his off-court earnings a boost.
Likewise, he also signed an endorsement deal with Ruffles in 2019. He serves as a creative partner in developing new products with the brand. Anthony was ranked #44 in the World's Highest-Paid Athletes in 2020.
To get more detailed information on his lifestyle, cars, and others, check this article down below.
Anthony Davis Net Worth | Contracts, House & Lifestyle >>
Who is Anthony Davis dating? Personal Life & Girlfriend
Just like his professional life, Anthony is also successful when it comes to his love life. Additionally, Anthony is in a committed relationship with his girlfriend, Marlene.
Moreover, the couple also has a daughter named Nala, who was born in 2018. Sadly, the couple lives a very private life, so nothing much is known about their relationship. Likewise, despite being in a relationship for a long time now, they have yet to tie the knot.
Well, it seems Marlene and Davis are having a happy time being together and will do official confirmation and share the good news of their wedding soon.
Social Media Presence:
Anthony Davis is quite active on social media. The talented basketball player has created a massive social media profile and has successfully assembled millions of followers on his different social handles. You can follow Anthony Davis via these links.
Instagram account: 6.8million followers
Twitter account:2million followers
Some FAQs:
What position does Anthony Davis play?
Anthony Davis plays in the power forward and center positions.
What team is Anthony Davis on?
Anthony Davis currently plays for the American professional basketball team Los Angeles Lakers.
Why can't the Boston Celtics trade for Anthony Davis?
Boston Celtics can't trade Anthony Davis until July 1 due to the NBA's Designated Rookie Extension Rule.
What is Anthony Davis's wingspan?
Anthony Davis has a wingspan of 7 feet 5.5 inches (2.27 m).
What shoes does Anthony Davis wear?
Anthony Davis wears different shoes wears on and off the court. In the last few seasons, Davis was seen wearing Nike Kobe 4 Protros, Kobe 5 Protros, and stunning Trophy Gold 5s.
Likewise, Anthony has worn other Nike silhouettes like the Air Max Dominate, Air Max Audacity, and Kobe AD Exodus shoes in the past few years.
What number will Anthony Davis wear for Los Angeles Lakers?
Anthony Davis wears jersey number three (#3) as the player of the Los Angeles Lakers.
When was Anthony Davis drafted?
Anthony Davis was drafted as the number one pick in the 2012 NBA Draft by New Orleans Pelicans.
How long is Anthony Davis's contract?
Anthony Davis signed a five-year contract worth $190 million with the Los Angeles Lakers. He is committed to the Lakers until the 2024-2025 season.