Jared Rhoden, an American basketball shooting guard/small forward, plays for NBA team Detroit Pistons & its G-league affiliate Motor City Cruise on a two-way contract.
Despite finishing his high school career with over 2000 points & being a stand-out college basketball player, Rhoden went undrafted in the 2022 NBA Draft.
Though he later got a call to play for Sacramento Kings in California Classic of the 2022 NBA Summer League, which they won.
After a series of signing & waiver, Rhoden signed a two-way contract with the Pistons & made his NBA debut on January 10, 2023.
An alumnus of Seton Hall, Rhoden was one of only twelve Pirates to score more than 1,200 points and 600 rebounds.
Throughout his high & lows, the basketball player always his family on his back.
There is no denying that a great support from family & his compassion for the hoops will lead him to prominence in the coming days.
This article will explore Jared Rhoden's family, education, career, net worth, and many more.
Quick Facts
Full Name
Matthew Jared Rhoden
Known as
Jared Rhoden
Birthdate
August 27, 1999
Age
23 Years Old
Birthplace
Baldwin, New York, United States
Father's Name
Matthew Rhoden
Mother's Name
Rosa Crespo-Rhoden
Siblings
Two (Marissa Rhoden & Lauren Rhoden-Montgomery)
Nationality
American
Marital Status
Single
Girlfriend
N/A
Height
6 feet 6 inches/ 198cm/ 1.98m
Weight
210 lbs/ 95 kg
Zodiac Sign
Virgo
Profession
Professional Basketball Player
Education

High School: Baldwin and Our Saviour Lutheran (The Bronx, New York)
Seton Hall University (2018-2022)

NBA Draft
Undrafted (2022 NBA Draft)
Awards & Achievements
First-team All-Big East (2022)
Playing Career
2022-Present
Current Team

Detroit Pistons
Motor City Cruise (G-league affiliate of the Pistons)

Position
Shooting Guard/Small Forward
Jersey Number
8
Salary
$500k
Net Worth
$300k-$500k
Social Media
Instagram, LinkedIn, Twitter
Last Update
March 2023
Jared Rhoden Is The Youngest Of Three | Family Details!
Born on August 27, 1999, in Baldwin, New York, Rhoden is the only son & youngest of three children to Matthew Rhoden and Rosa Crespo Rhoden.
He is 23 years old as of 2023.
Nothing much on his parents are out, except they are very supportive of their son's basketball career.
He has two older sisters: Marissa Rhoden (b. March 12, 1997) and Lauren Rhoden-Montgomery.
The basketball player's sister Marissa is a 2019 graduate of Penn State University with a degree in Public Relations & Communication.
According to her LinkedIn profile, Marissa works as an athlete innovation coordinator at The Players Tribune (Sept. 2020- now), which she joined in 2019.
Earlier, she worked as an office administrator and athlete marketing & partnership coordinator in the same company.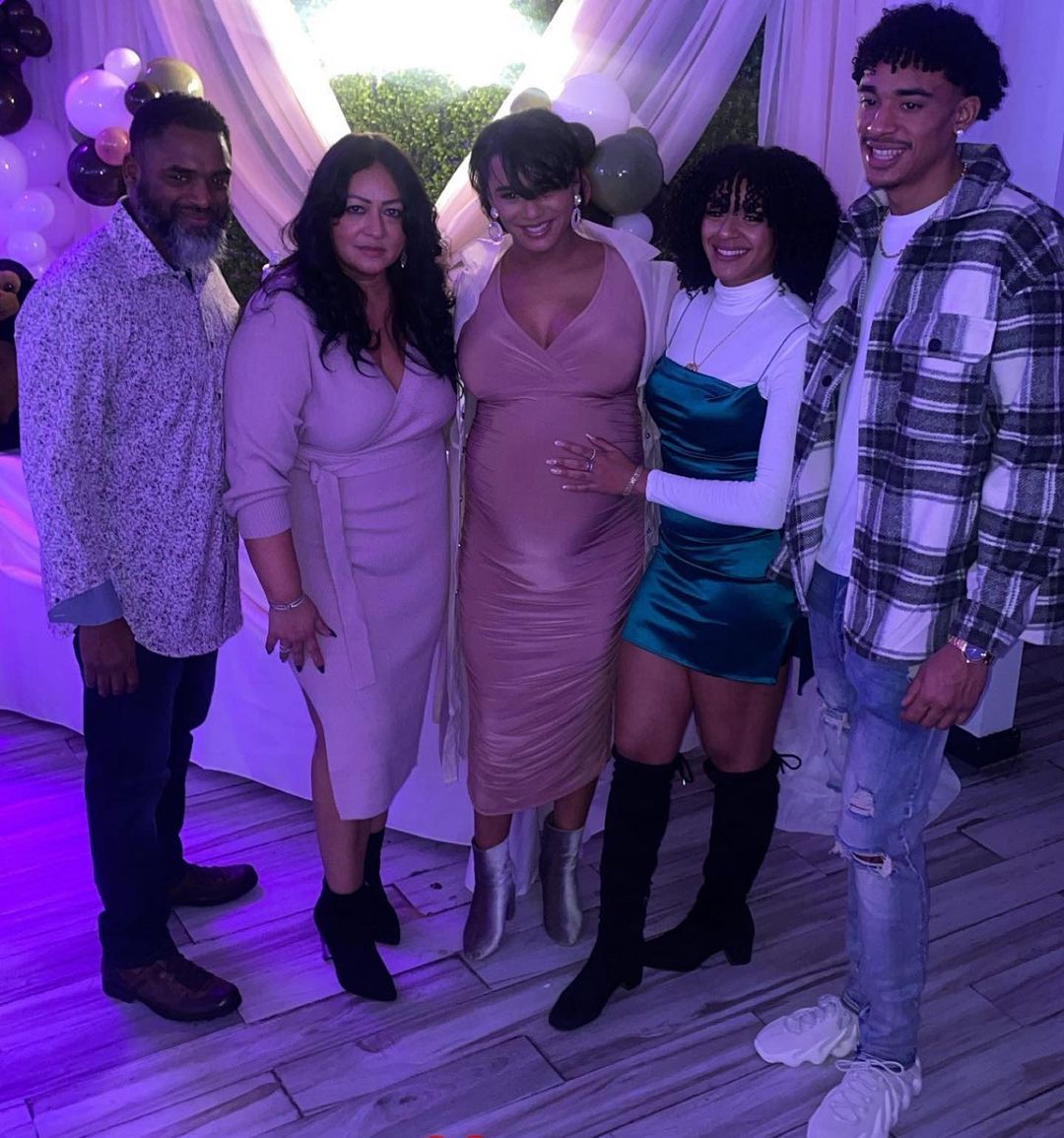 Jared Rhoden's other sister Lauren, an MBA graduate of Utica University, currently works as an operations manager at New York Bariatric Group (2018- now).
Lauren is married to Samuel Montgomery Jr, MD, an orthopedic surgeon; they exchanged vows on May 2, 2021.
Basketball Prominence At High School & College
While at Baldwin High School, Rhoden averged 9.5 points and 6.7 rebounds as a junior in 2016 & even led the team to Long Island "AA" Championship that year.
Then, he transferred to Our Saviour Lutheran High School, where he played for the varsity basketball team for two years while serving as team captain.
Overall, Jared Rhoden finished his high school career with over 2,000 points scored.
Rhoden signed a letter of intent with Seton Hall in October 2018 despite receiving more than a dozen offers from other schools.
With the Seton Hall Pirates, he played for four years (2018-2022) but didn't get to start in the rotation until his sophomore year.
In his junior year, he was named to the BIG East Championship All-Tournament Team.
As a senior, Jared Rhoden averged 15.5 points (482 points in total), 6.7 rebounds & 1.2 assists.
Upon his departure, he secured the 33rd spot in the Pirates' program history with a total of 1,270 career points, as well as the 20th spot on the all-time list with 669 rebounds.
Undrafted In The 2022 NBA Draft
Even after being a touted college basketball prospect, Rhoden didn't get selected in the 2022 NBA Draft, where the top-three picks were Paolo Banchero, Chet Holmgren & Jabari Smith Jr.
Though, he later got to a call for the 2022 NBA Summer League, where he played for Sacramento Kings & led them to California Classic victory; in the tournament, Keegan Murray was the top scorer.
Rhoden featured in all five of the Kings' Summer League games averaging 25.3 minutes, 11.8 points, 5.4 rebounds, 1.6 assists, and 1.4 steals.
On August 2, 2022, he signed with Portaland Trail Blazers for pre-season games & got a waiver on October 12.
Professional Career
On October 22, 2022, Jaden Rhoden became the round-one (4th overall) pick of G-leage team College Park Skyhawks in the 2022 Annual NBA Development League Draft.
With the Skyhawks, he made his NBA G-league debut against Long Island Nets, scoring 15 points, on November 4, 2022.
On December 26, 2022, Rhoden signed a two-way contract with Detriot Pistons, splitting his time between the Pistons & their G-league affiliate Motor City Cruise.
Rhoden made his NBA debut for the Detroit Pistons, playing 12 minutes in a loss to the 76ers on January 10, 2023, where Jaden Ivey, Rodney McGruder, and Saddiq Bey scored a team-high 17 points.
He became the 30th Pirates to play in an NBA game and the fifth since 2016.
On January 15, just five days after making his NBA debut, he scored his NBA G-league career-high 30 points against Ontario Clippers.
Net Worth & NBA Contracts
Net Worth
Jared Rhoden has an estimated net worth between $300k-$500k as of 2023.
Aside from his NBA contract, he earns a considerable sum of money through brand endorsements.
Rhoden is sponsored by Focus On The Bag Clothing (FOTB). He promotes the brand by posting pictures of him wearing the outfits of FOTB on his Instagram.
He has also partnered with iTouch Wearables which is one of the best-selling smartwatch brands in America.
Salary & Earnings
With the Trail Blazers, Rhoden agreed on an Exhibit 10 contract on August 3, 2022, with a potential salary of $1 million.
However, he was wavied on October 12, 2022 before the start of the season.
On October 14, 2022, Atlanta claimed waivers, but waived him again a day later.
Then, on December 26, 2022, he signed a two-way contract with Detriot Pistons.
According to new rules of two-way contract, any player on a two-way deal can play in 50 NBA games at most & earns the half of the league's minimum salary.
And since the minimum pay in the NBA is $1 million, Jared Rhoden could be making around $500K from his deal with the Pistons.
He will be a restricted free agent after the 2022-23 season, with a qualifying offer of $1.77 million.
Is Jared Rhoden Dating Anyone?
With his uprising basketball success, Rhoden, who stands 1.98 m tall, attracts speculations beyond his career journey, especially in his love life.
Surely, many are wondering if the young NBA player is in a relationship.
Seems Jared is not dating anyone or married officially. So far, there are no records of his relationships or any girlfriends in the past.
He is allegedly single at the moment.
The basketball player is an active Instagram & Twitter user with more than 9.8K followers & 2.2K followers, respectively. Though, none of his posts on social media has shed light into his romantic life.
Rather, his IG posts & Tweets are all about his basketball career & his family members.
Popularity Graph
An exemplary young NBA figure, Jared Rhoden is often in trends with his spectacular game plays.
The above graph represents the search interest of Jared Rhoden over the past twelve months.
Frequently Asked Questions (FAQs)
Which team is Jared Rhoden on?
Jared Rhoden plays for Detroit Pistons and its affiliate team, Motor City Cruise, on a two-way contract.
What is Rhoden's standing reach and wingspan?
Rhoden has a standing reach of 8 feet 8 inches (2.64 m) and a wingspan of 6 feet 11 inches (2.1 m).
When did Rhoden make his NBA debut?
He made his NBA debut on January 10, 2023.