Jason Taylor, a former NFL player & Pro Football Hall of Fame, naturally attracts concerns about his personal & family. And Noah Taylor, the youngest half-sibling of the 6-time Pro Bowl, is no exception.
Noah grew up seeing his brother Jason's football journey- through college to NFL prominence. So, it was apparent he followed his elder brother's path to athletism & even played college football with the Vulcans.
Though as of 2023, Jason Taylor's younger brother, who is 15 years his junior, seems away from the field. There is no denying that Noah gave his best & lived up to his reputation, but the NFL career didn't work out for him.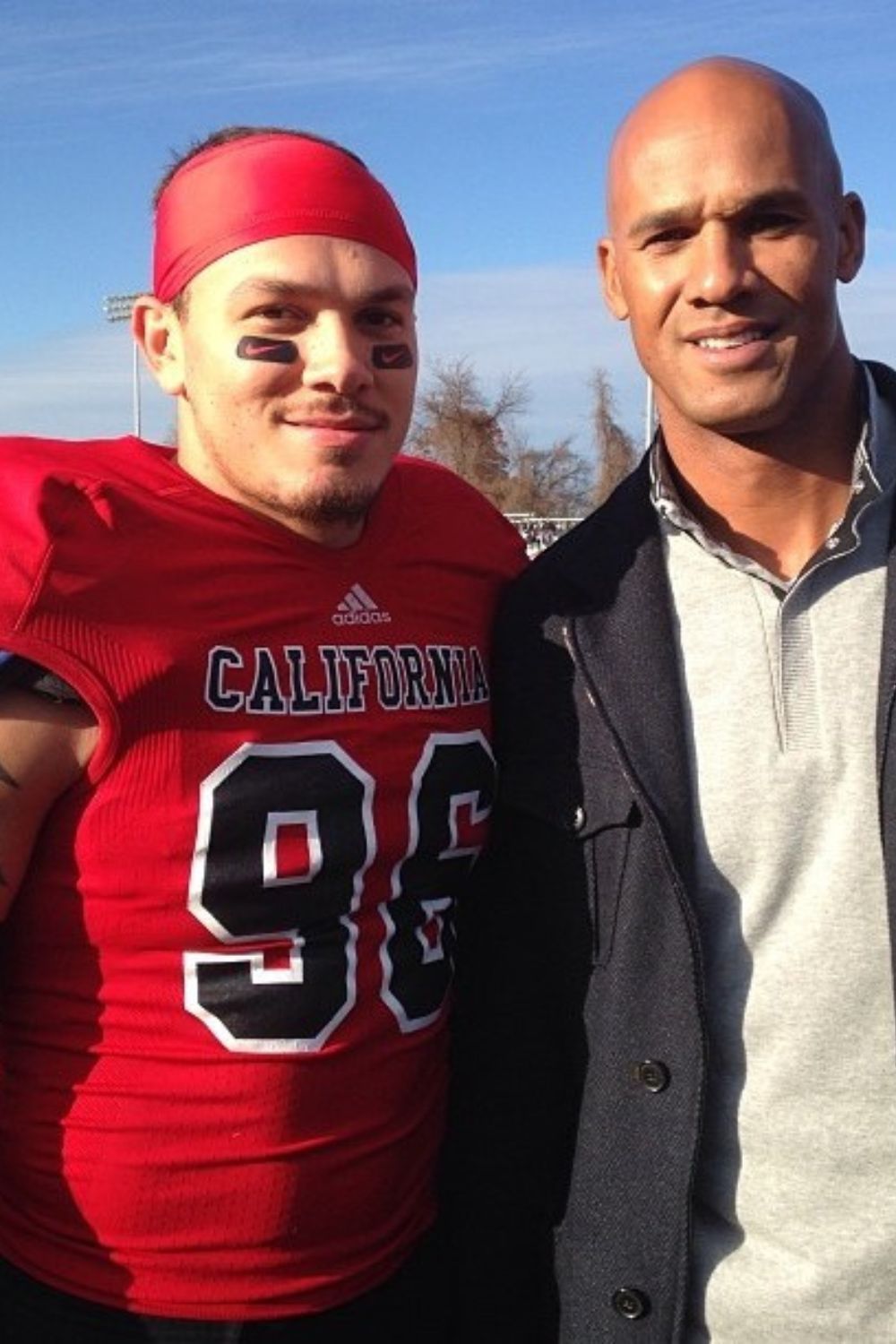 The article covers the detail of Noah Taylor, the brother of Jason Taylor & their brotherhood relationship. Also, get further insight into the life of the NFL player Jason.
Here we go!!
Quick Facts
Name
Noah Taylor
Date of Birth
Not Known
Age
In his 30s
Birthplace
Pittsburgh, Pennsylvania, USA
Zodiac Sign
N/A
High School
Woodland Hills High School
College

Youngstown State University
University of California

Father's Name
Anthony Taylor
Mother's Name
Georgia Taylor
Siblings
Brother (Jason) and Sisters (Tiffany & Joy)
Height
6 foot 2 inches (1.87 m)
Weight
112 kg (247 lbs)
Body Build
Athletic
Marital Status
Not Available
Child
None
Profession
(Former) College Football Player
Active Years
2010-13
Position
Defensive line
Team
California Vulcans (in NCAA Division I)
Net Worth
N/A
Salary
N/A
Social Media
Not Active
Last Update
May 2023
Brother Of Jason Taylor, Noah Taylor | Family Details!
Noah Taylor, a former college football player, became widely popular as the brother of NFL star Jason Taylor. To be precise, he is the youngest-half sibling of Jason.
Born in Pittsburgh, Pennsylvania, in the 1990s, Noah is the son of Georiga, a Caucasian, and Anthony Taylor, an African-American.
The retired NFL player's mother, Georgia, married Anthony Taylor (Jason's stepfather) after the divorce from her previous husband.
Noah Taylor has an elder half-sister Tiffany (the eldest of all) and an elder sister named Joy Taylor, a Fox Sports 1 former news anchor at The Herd with Colin Cowherd.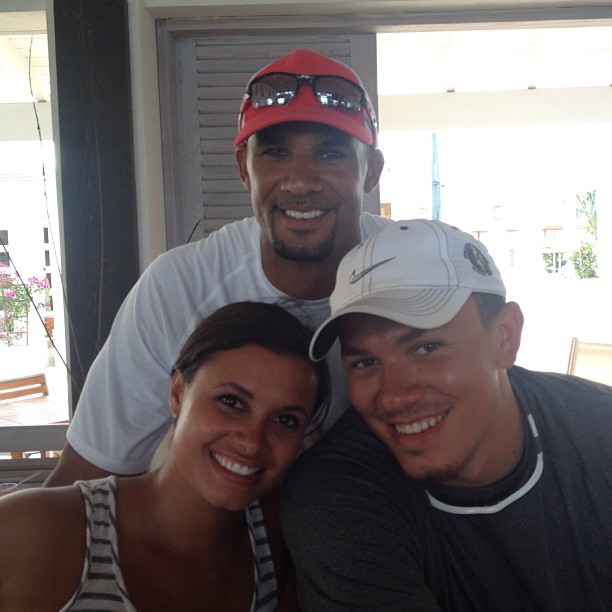 He went to Woodland Hills High School & played football there- the same school his NFL star older brother attended.
Noah then went to Youngstown State University on scholarship and played for a year before transferring to Pennsylvania Western University California in 2010.
As reported, his coach George Novak helped him enroll there.
Brotherhood & Collegiate Career | Jason Inspired Noah Taylor
Noah Taylor followed his 15-year senior brother Jason Taylor's footsteps to football.
In an interview in 2014, Noah told NFL that he was proud of being the brother of the NFL player Jason but also wanted to make his own identity. He would talk with his big brother and often took guidance from him.
While in high school, Noah demonstrated impressive gameplay. But during his senior year, he had a hairline fracture in his ankle that sidelined him for the season.
As a result, many of the schools stopped recruiting him. In 2009, Youngstown State University offered him a scholarship.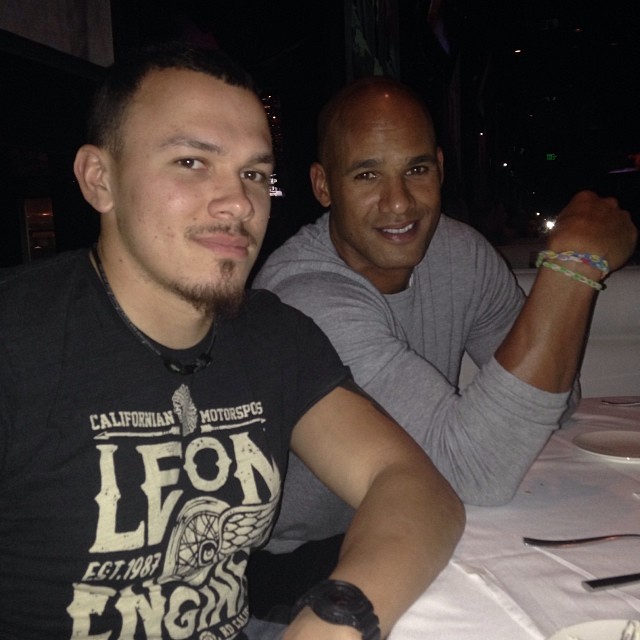 After a year at Youngstown State, Noah Taylor transferred to Pennsylvania Western University California in 2010.
As a freshman, he played in nine games as a reserve defensive lineman and recorded five tackles. But in his sophomore year, in 2011, he tore his ACL, resulting in a medical redshirt that season.
Taylor played as a regular defensive lineman for the final two seasons with the Vulcans.
In 2012, appearing in all 11 games, he finished 21 tackles (seven solos), 5.0 TFL, and 2.5 sacks, including a career-high 2.5 TFL & 1.5 sacks with seven tackles against Gannon.
As a senior, Noah Taylor was selected to All-PSAC West Second Team. A starter in 10 out of 11 games, he recorded 60 tackles (19 solos) and 3.5 TFL.
What Is He Doing Now?
Even though the younger Taylor brother was a DL prospect in the 2014 NFL Draft, he didn't make it.
Some notable picks in that draft were Jadeveon Clowney, Jake Matthews, Aaron Donald, Blake Bortles, and Sammy Watkins.
A graduate with Bachelor's degree in Justice Studies (criminology), Noah currently works as an insurance underwriter/broker at Bass Underwriters (2016- Now).
Brief About Brother Jason Taylor
Noah's elder brother Jason Paul Taylor played as a defensive end for NFL teams: Miami Dolphins, Washington Redskins, and New York Jets.
After 15 years of playing career, the NFL player retired in 2011- lastly playing with the Dolphins (third stint). Later, he became an analyst for ESPN & a football coach.
Jason's broadcasting career came in 2012, having worked for NFL Live, SportsCenter, NFL32, and Sunday and Monday NFL Countdown.
Since 2022, he has worked as a defensive analyst for the Hurricanes at the University of Miami. Earlier, he was the defensive line coach/defensive coordinator for St. Thomas Aquinas High School (2017-19).
The Woodland Hills High School attended was a four-year letterman at the University of Akron from 1993 to 1996.
A 1997 NFL Draft (round-three 73rd pick) of Miami Dolphins, Jason Taylor played with the team from 1997 to 2007.
Then, he went to Washington Redskins for the 2008 season before returning to the Dolphins in 2009.
And after the 2010 season with NY Jets, Taylor joined Miami Dolphins for the third time for the 2011 season before retirement.
His NFL career stats recorded 139.5 QB sacks, 775 tackles, eight interceptions, 46 forced fumbles & 9 touchdowns.
Career Accolades:
6× Pro Bowl (2000, 2002, 2004–2007)
Miami Dolphins Honor Roll (2012) alongside Zach Thomas
Walter Payton NFL Man of the Year (2007)
Pro Football Hall of Fame (2017)
Jason Taylor became the 5th Miami Dolphins player to become Hall of Fame in the first year of eligibility- joining Jim Langer, Paul Warfield, Don Shula, and Dan Marino.
Noah's Nephews Are College Football Players
Regarding his relationship status, Noah Taylor remains mum- it is not known if he is married or dating.
From his big brother Jason Taylor's two marriages, he is the uncle of four: three nephews (Isiah, Mason & Jordan) & a niece (Zoe).
The retired NFL player Jason was married to Katina Thomas for 14 years (m. June 23, 2001 – 2015) before they divorced due to irreconcilable differences. Together they welcomed three kids:
Isiah Taylor– a 2021 enrollee & college football safety for Wildcats at University of Arizona
Mason Taylor– a 2022 enrollee & college football tight end for LSU Tigers
Zoe Taylor– verbally committed to play Beach Volleyball at LSU (Lousiana State University) in the 2024 class
Noah's brother Jason married for the second time, with Monica Taylor, a fashion designer at her clothing store MONUIT & VP of the Jason Taylor Foundation.
They exchanged vows on August 18, 2020, during the COVID-19 pandemic in the court. The couple welcomed their son Jordan Paul Taylor on July 30, 2021.
Did you know? Noah Taylor's sister Joy Taylor was in a marital relationship with Richard Giannotti for a year (2016-17). After her divorce, she confirmed her engagement with former NBA point guard and head coach Earl Watson in September 2018, but they broke up in 2019.
Noah Taylor | Net Worth & Salary
Noah Taylor diverted his career from football to a corporate job. But his interest in football & collegiate achievements won't fade away from his memories.
As per his LinkedIn, Noah works as an insurance underwriter, which could earn him a salary in the 5-digit figures annually. Even though his net worth is under review, it could be hundreds of thousands of dollars.
On the other, his older brother Jason Taylor has a net worth of $25 million as of May 2023.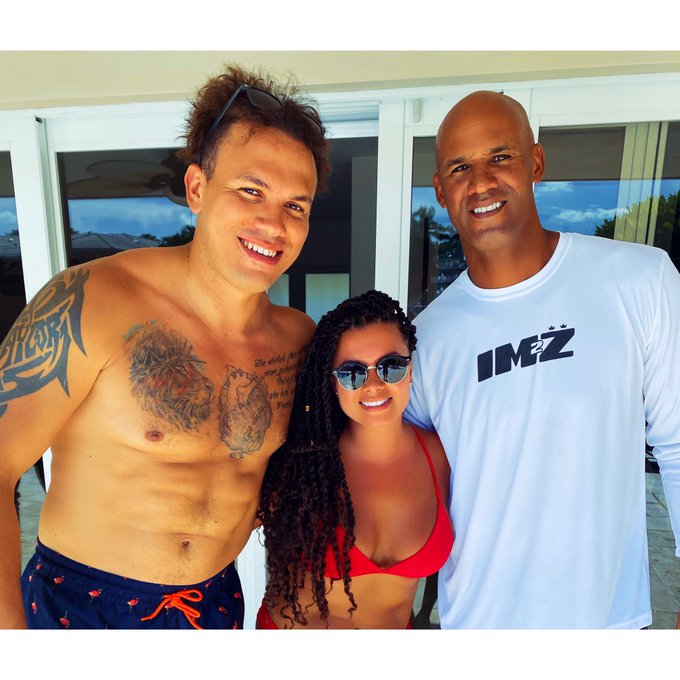 A 1997 NFL Draft, Taylor had a 15-year-long playing career before retiring on December 29, 2011. His lucrative NFL contracts & salary, along with endorsements, made him a multi-millionaire.
Mostly, Jason played with Miami Dolphins- he had three stints there in 1997-2007 (first), 2009 & 2011 (last). His contracts with the Dolphins were:
A three-year $982,500 contract (on July 9, 1997)
Tender worth $1.027 million for a year (on April 15, 2000)
A six-year $42 million contract (on July 24, 2001)
An extension for six years worth $45 million (March 1, 2004)
$1.1 million deal for a year (May 13, 2009)
In the 2010 season, Jason Taylor played for the New York Jets on a $3.75 million two-year deal but was released a season later. It followed his third stint with the Dolphins in 2011, and he retired after that.
Noah Taylor | Popularity Graph
While Noah may not be as famous as his NFL star (now retired) brother Jason Taylor, but the family connections make him a media interest.
Here is the popularity graph of Noah Taylor as the brother of Jason Taylor.
Jason Taylor | Frequently Asked Questions (FAQs)