Jennifer Jo Cobb is an American professional stock car racing driver. She is one of the most successful female racers with a desirous net worth in the male-dominated sports of racing.
Very rarely do we see a female participating in racing sports. And even fewer get the opportunity to witness a successful female racer.
But, it seems we live in one of those lucky eras because we get to see the great Jennifer Jo Cobb break the stereotype in racing.
In other words, Jennifer is one of the pioneers of her generation because not only did she dream of being a racer, but she also achieved it. As a result, many young girls look up to her, hoping to become female icon like her.
Therefore, we have written this article to provide our dear readers with information about Jennifer's career up until now.
You will also find details on her net worth, salary, age, height, husband, and social media.
Jennifer Jo Cobb | Quick Facts
| | |
| --- | --- |
| Full Name | Jennifer Jo Cobb |
| Birth Date | June 12, 1973 |
| Birth Place | Kansas City, Kansas, U.S.A |
| Nick Name | Not available |
| Religion | Not available |
| Nationality | American |
| Ethnicity | White |
| Education | F. L. Schlagle High School |
| Horoscope | Gemini |
| Father's Name | Joe Cobb |
| Mother's Name | Connie Cobb |
| Siblings | Not available |
| Age | 49 years old |
| Height | 5'11″/1.80 m/180 cm |
| Weight | 63 kg/138.9 lb. |
| Hair Color | Dark Brown |
| Eye Color | Blue |
| Married | Yes |
| Girlfriends | No |
| Spouse | Eddie Troconis (Separated) |
| Profession | MotorSports Racing Driver/ Racing Driver |
| Truck Number | 10 |
| Organization | NASCAR Gander RV & Outdoors Truck |
| Net Worth | $3 million |
| Teams | Jennifer Jo Cobb Racing (Current), Keith Coleman Racing, Mike Harmon Racing, JP Motorsports, Rick Ware Racing, Jay Robinson Racing (Former) |
| Associated with (Car Brands) | Ford, Chevrolet, Toyota, Dodge |
| Social Media | Instagram, Facebook, Twitter |
| Merch | Press Pass Card |
| Last Update | March, 2023 |
Where Is Jennifer Jo Cobb From? Early Life & Family
Jennifer Jo Cobb was born to her parents, Joe Cobb and Connie Cobb, on June 12, 1973, in Kansas City, Kansas.
Young Jenny got her passion for racing from her father, Joe, a racer, back in the '70s and '80s. And all Jo Cobb ever wanted was to be a racer like her father from very early on.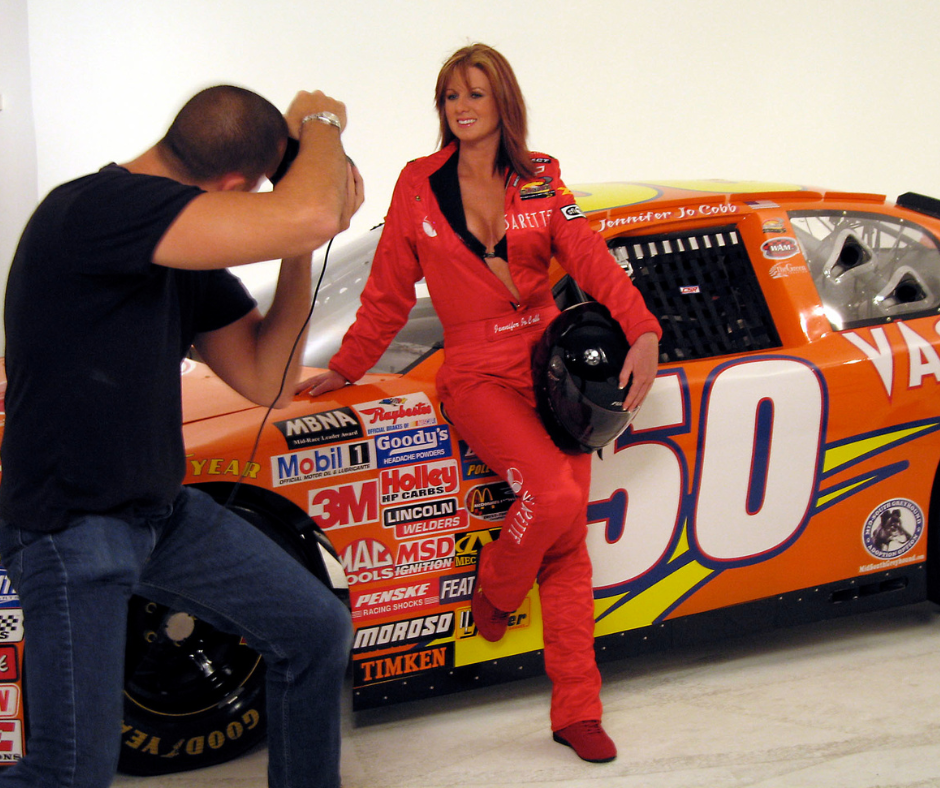 Jennifer would visit Joe's races at every opportunity she could, which further intensified her hunger to become a racer.
Then, following years of practice in her local race tracks, the Kansas native started racing competitively at 18 at the Lakeside Speedway and raced competitively at various other tracks and events before beginning her professional career.
How Old Is Jennifer Jo Cobb? Age, Height & Body Measurements
Jo Cobb started racing in 2002, meaning she has been in the business for a staggering 20 years.
Moreover, the Kansas-born racer stands at 1.80 meters tall and weighs 138.9 lb.
Similarly, Jennifer has long dark brown hair and stunning blue eyes that look beautiful with her contagious smile.
Most people falsely believe in the notion that race car drivers don't need to be as fit as other athletes.
Contrarily, racers often lose up to 3 kilos just from their sweat due to the extreme amount of G-forces. Jo Cobb likes to stay fit as it gives her an added advantage when it comes to endurance.
Jennifer Jo Cobb | Professional Career
Early Career
Jennifer did race in some professional races in the ARCA Racing Series before making her NASCAR debut in 2004 in the Busch Series. She drove for the Keith Coleman Racing in a No. 50 Vassarette Chevrolet on her debut.
Unfortunately, Jo Cobbs' debut was nothing like a Hollywood movie as she crashed during the second lap and finished 43rd. After that, she raced another 34 races with the team before the season ended.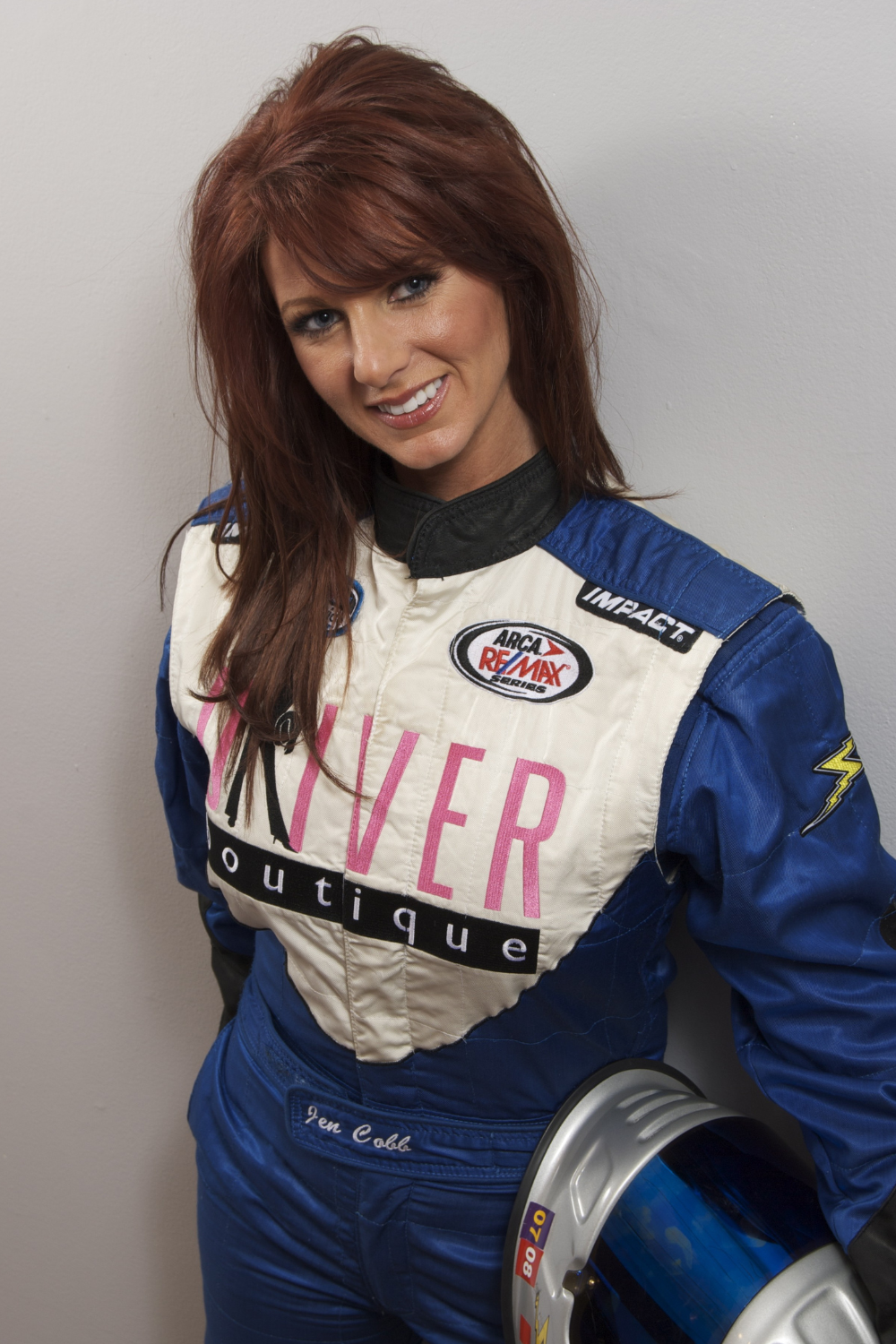 Then, in 2006, Jennifer launched her own clothing line for female race fans called Driver Boutique.
She also announced that profits from the sales would go on toward her racing career, which propelled her fans to buy the merchandise.
After that, the Kansas native spent the next four years racing in the Xfinity Series and Gander RV& Outdoors Truck Series.
Later Career
Although Cobbs did not achieve anything significant, being a female racer in a male-dominated sport was more than enough to gather a massive fan following.
Jennifer's popularity grew even further in 2010 as she became the highest female points finisher in NASCAR's history, achieving 17th place.
Consequently, the Kansas-born racer felt she was finally moving in the right direction for her racing career.
The following year turned out to be just as good, if not more, as Jennifer finished sixth in the Truck Series, which made her the highest finishing female in the competition's history.
Also, she formed her own racing team, Jennifer Jo Cobb Racing, in partnership with the U.S Army Family and MWR Command.
After that, Cobbs' next headline moment, unfortunately, came for the wrong reason. Mike Harmon, her fellow team owner and driver, accused of stealing racing team's hauler and several other pieces of equipment made the news.
Eventually, the police found out that Mike had indeed stolen various items with his sister and former partner of Jennifer, Dave Novak.
Even though the controversy was resolved, the damage had already been done as the Jennifer Jo Cobb Racing team's image got hurt massively during the saga.
She worked hard to overcome the incident and get back the respect that her team deserved. Despite those incidents, she kept her racing spirit and is still racing full-time in the NASCAR Gander RV & Outdoors Truck Series with her racing team.
Jennifer Jo Cobb | Net Worth & Salary
Jennifer is reported to have a net worth of around $3 million accrued mainly through her racing career in the NASCAR series.
She also collects some extra cash from her racing team aptly named Jennifer Jo Cobb Racing, which was formed back in 2011. Jennifer is also sponsored by many organizations, which further adds to her earnings.
In fact, the Kansas native has collected more than $4 million in career earnings.
Jo Cobb demands a yearly salary of over $200,000, which is respectable, considering she has never won a race.
Her huge fan following and popularity certainly play a part in her yearly income as she gets paid a fair sum from endorsements.
Who Is Jennifer Jo Cobb Married To? Marriage & Husband
Talking about her marriage, Jennifer is happily married to her husband, Eddie Troconis. The two lovers met each other back in 2012 when Eddie worked as Cobb's crew chief in the Xfinity Series in 2012.
Additionally, Troconis was a former racer but eventually hung up his boots to become a crew chief.
Furthermore, the couple got married in a lavish ceremony in the presence of more than 200 families and friends.
To emphasize, the event was one to remember as the venue was lit up in tiffany blue, which twinkled every corner of the place while the grand staircase acted as the main focal point.
Since then, the couple has been in a strong relationship with no news of controversies whatsoever.
Who Is Eddie Troconis?
Eddie Troconis is a Mexican stock car racing crew chief. Previously, Troconis was a driver who competed in the NASCAR Mexico Series.
Likewise, he also attempted to qualify for one race in the Xfinity Series in 2006, which is also known as the NASCAR Busch Series. He was also Cobb's team boss in the Xfinity Series in 2012.
Troconis is a two-time Mexican Formula Three International champion and a Rookie of the Year Award winner in the Formula Vee Series (1995). Not to mention he had also won Indy Lights de las Americas in 2000.
Jennifer Jo Cobb | Career Stats
Career Stats

YEAR
WINS
TOP5'5
TOP10'5
POLES
LAPS LED
AVG. START
AVG.FINISH
2022
0
0
0
0
0
31.00
32.00
2021
0
0
0
0
0
29.57
32.57
2020
0
0
0
0
16
31.38
30.19
2019
0
0
0
0
0
28.79
22.90
2018
0
0
0
0
4
28.62
24.29
2017
0
0
0
0
0
28.72
24.72
2016
0
0
0
0
0
29.63
25.94
2015
0
0
0
0
0
26.09
23.44
2014
0
0
0
0
0
27.86
22.95
2013
0
0
0
0
0
31.31
27.63
2012
0
0
0
0
0
31.67
27.47
2011
0
0
1
0
0
32.42
24.83
2010
0
0
0
0
0
27.84
23.32
2009
0
0
0
0
0
35.00
31.00
2008
0
0
0
0
0
35.50
29.50
Jennifer Jo Cobb | Social Media Presence
Jennifer keeps her fans posted about her life on her socials. She uses handles; @jenjocobb on Instagram, @JJC Racing on Facebook, and @JenJoCobb on Twitter.
Instagram: 21.1k followers
Facebook: 81k followers
Twitter: 58.1k followers
NEW: @JenJoCobb 2020 Fastener Supply/Driven2Honor Silverado!

Use code DFans for free shipping on orders over $20!https://t.co/AJQhO7ucsS pic.twitter.com/DDBQaLuCW4

— NASCAR DIECAST FANS (@DiecastFans) July 21, 2021
Jennifer Jo Cobb | Popularity
Jennifer Jo Cobb is searched quite frequently all over the world.
The above image gives a brief overview of her popularity all over the world over 3 months period.
Jennifer Jo Cobb | FAQs
Is Jennifer Jo Cobb Still Racing?
Yes, Jennifer Jo Cobb is still racing. She currently competed in 2022 Baptist Health 200 (Homestead).
Why Was Jennifer Jo Cobb Disqualified For NASCAR Cup Series Debut At Talladega?
Jennifer Jo Cobb was disqualified for NASCAR Cup Series debut at Talladega due to certain conditions and rules of NASCAR.
As per the rule, drivers must outline their previous racing experience to the NASCAR Resume Committee to get approved for the competition.
Cobb notched up 11 lead-lap finishes in 217 Truck starts, which was not enough to secure a Cup Series berth.