Fans are always curious about the personal lives of athletes in general. And when it is race car drivers, their eagerness to know their better half and family doubles. One such race car driver is Joey Logano, who competes full-time in the NASCAR Cup Series, driving the No. 22 Ford Mustang.
Joey has been married to his childhood sweetheart Brittany Baca since 2013 and shares three children with her.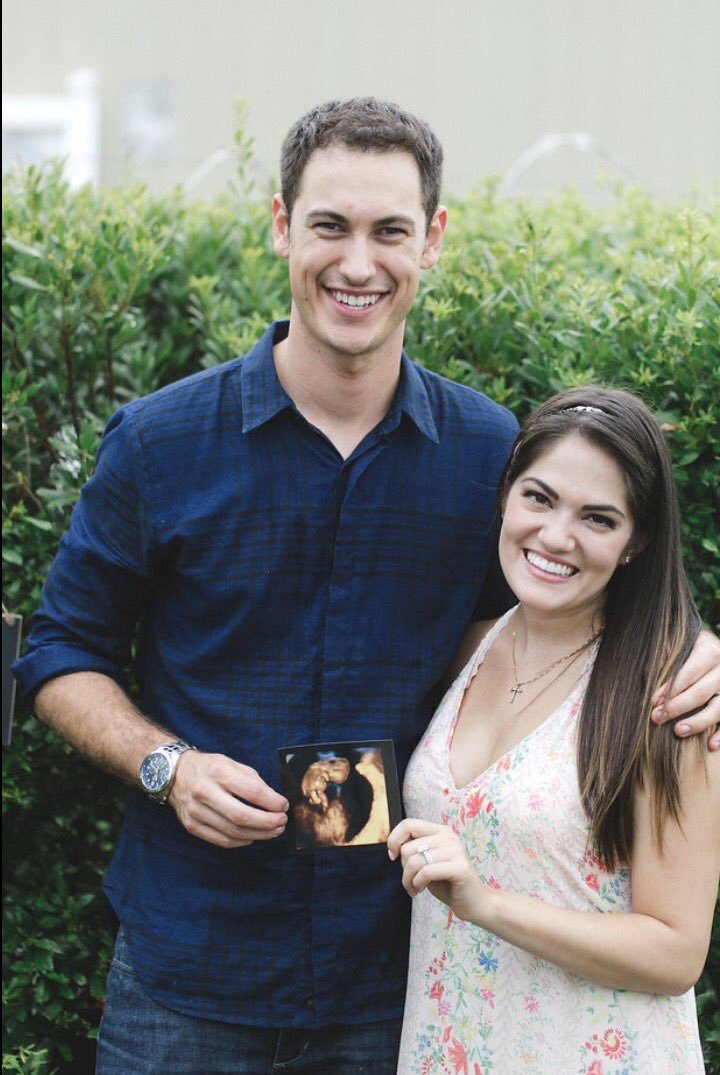 The sweet couple welcomed their third child, a daughter named Emilia, in 2022.
In this article, we will delve a little deeper into the personal life of the 2018 and 2022 NASCAR Cup Series champion Joey Logano and try to dig out every possible detail regarding his family.
Let's explore.
Quick Facts
| | |
| --- | --- |
| Full Name | Joseph Thomas Logano |
| Nickname | Sliced Bread |
| Date of Birth | May 24, 1990 |
| Birth Place | Middleton, Connecticut, United States |
| Age | 33 Years Old |
| Profession | Stock Car Racing Driver |
| Father's Name | Thomas J. Logano |
| Mother's Name | Deborah B. Logano |
| Siblings | Sister (Danielle Logano) |
| Ethnicity | Italian-Mixed (Italian) |
| Nationality | American |
| Wife's Name | Brittany Baca |
| Children | Hudson Joseph Logano, Jameson Logano, Emilia Logano |
| Current Residence | Charlotte, Florida, United States |
| Net Worth | $24 Million (Joey Logano) |
| Salary | Not Known |
| Social Media | Instagram, Twitter (Joey) |
| Last Update | May 2023 |
Parents
The two-time NASCAR Cup Series champion Joey Logano was born Joseph Thomas Logano on May 24, 1990.
He is one of his parents' two children, Thomas J. Logano and Deborah B. Logano. He grew up with his sister Danielle Logano.
His father is of Italian ancestry. The family initially lived in Portland near the Connecticut River but later moved to Georgia to advance Joey's racing career.
Joe played ice hockey as a kid in addition to racing. After five years in the rink, he could not time both careers and had to let go of hockey.
The whole family is deeply rooted in the world of skating. His parents own and operate Extreme Ice Center in Indian Trail, North Carolina.
Sister Danielle Logano
Joey's sister Danielle Logano is a former professional figure skater and instructor.
She began skating at the age of 6, competing at rinks all over the New England area.
As a figure skater, she achieved astounding success, completing all her senior-level tests by the time she was sixteen.
Even after her competitive days were over, she continued her passion for skating by performing in professional ice shows for more than 18 years.
Her talent and skills as a performer took her around the world along with some of the top names in the industry, such as Magic on Ice, Rand Productions, Woodstock Productions, and many others.
In addition to her remarkable accomplishments on the ice, Danielle has also become a highly respected skating instructor. She has more than 12 years of experience teaching hockey players at all levels.
Danielle has helped numerous players in professional leagues like the NHL, AHL, ECHL, and minor hockey.
At one point, she was even contracted by the Hockey Summit all-inclusive professional hockey camp as the primary skating development coach.
As of 2023, she serves as the owner cum manager of her family-owned ice hockey rink named Extreme Ice Center, where she is responsible for the growth, stability, direction, and daily operation of the business.
Joey Logano's Wife, Brittany Baca
According to her Facebook profile, Brittany Baca was born in California, United States. She grew up in Matthews, North Carolina, where she went to David W. Butler High School.
After graduating high school in 2010, she attended the University of North Carolina-Charlotte, where she initially pursued apparel and fashion but ended up with a psychology degree after graduating in 2014.
The mother of three currently serves as the vice chairman and secretary of the Joey Logano Foundation.
How It Started?
As mentioned earlier, the whole Logano family is deeply rooted in the word of skating.
Interestingly enough, it was the ice hockey rink owned by his parents that brought Joey and his future wife Brittany closer.
Joey Logano, 27, met Brittany Baca at Extreme Ice Center in Indian Trial, North Carolina, aptly while he was driving.
Joey was piloting the Zamboni while Britt was skating at the center. She also worked at the rink's cafeteria.
Surprisingly, Baca was the first girl Joey ever went out with and the first girl he ever kissed.
And he got even luckier when he proposed to Baca, and she readily accepted his sincere proposal.
Engagement, Wedding & Kids
Joey announced his engagement to Brittany on November 13, 2013, and a year later, the pair walked down the aisle on December 13, 2014.
Their wedding took place in Ashville, North Carolina, in the attendance of their families and friends.
They welcomed their first child Hudson Joseph in January 2018. Their second son Jameson Jett was born two years later, on May 2020, via cesarean section.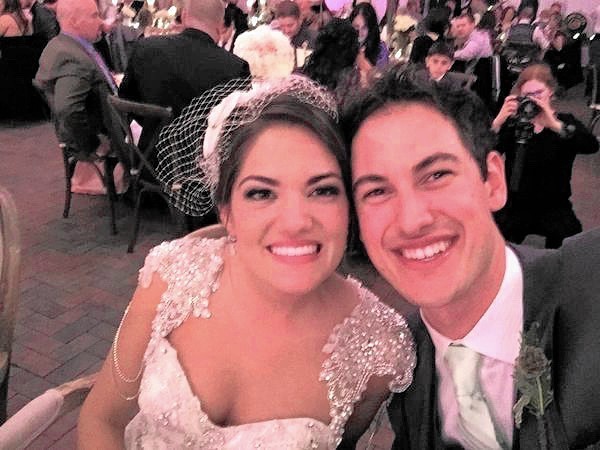 Similarly, in February 2022, the pair welcomed their third child and first daughter Emilia Love.
When asked about their plans to have another Kid in an interview with People, Baca replied,
"Emilia was a wonderful surprise and a wonderful blessing, but I think we're done, I think it'd be different too if [Joey] wasn't traveling so much…Yeah, I think we're good."
Joey Logano's Alopecia Areata Diagnosis
In September 2019, NASCAR driver Joey Logano was diagnosed with Alopecia areata, an autoimmune disorder that causes hair loss by attacking hair follicles.
Even though the condition does not pose any physical health risks, it can result in patches of thinning hair or baldness, which Logano has joked about occasionally.
However, in December 2022, after winning his second NASCAR Cup Series Championship, Logano underwent hair treatment and proudly showed off his new locks in a Twitter post.
This triumph is particularly meaningful for Joey, as he has been open about his struggles with Alopecia areata and how it has tarnished his self-confidence.
Joey Logano Foundation
Currently, Baca serves as both the vice-chair and secretary of the Joey Logano Foundation board, which was established in 2013 by NASCAR driver Joey Logano.
Logano was inspired to create the non-profit after visiting Joplin, Missouri, where he witnessed firsthand the aftermath of a devastating tornado.
As a result, he was moved to help rebuild a family's home and provide support to those affected by the disaster.
The foundation is dedicated to providing second chances to individuals and communities in need, offering assistance in various forms, including education, medical care, and financial support.
Through the foundation's efforts, Logano and his team hope to create a brighter future for those facing difficult circumstances.
Amidst the coronavirus lockdown in 2020, the Joey Logano Foundation amalgamated with Bobbee O's BBQ, a restaurant based in Charlotte, North Carolina, to provide free meals to children.
This effort was aimed at ensuring that families in need had access to nutritious food during the pandemic.
Unknown Facts About Joey Logano
From 2009 to 2012, Joey drove the No. 9 Toyota Camry for Joey Gibbs Racing.
He became the youngest driver to win a Nationwide Series race at 18 years and 21 days old.
He is also the youngest-ever driver to win in both the Cup and Xfinity Series.
Frequently Asked Questions (FAQS)
Does Joey participate in the NASCAR Craftsman Truck Series?
Yes, Joey competes in the NASCAR Craftsman Truck Series part-time. He drives the No. 66 Ford F-150 for ThorSport Racing.
Which team is Joey Logano signed with?
On August 24, 2022, Joey signed a five-year extension with Team Penske.
What is Joey's NASCAR Cup Series stats?
His NASCAR Cup Series stats include 515 races run over 15 years with 32 wins, 261 top ten finished, and 28 poles.