Have you ever heard of a football player who turned into an explosive furniture maker? Yes, he calls himself 'John The Builder,' who found his new love by building his life as a builder.
For the curious minds, the man we are talking about is John Malecki, a former NFL player.
John served as an offensive guard while taking off his journey as a player for the Tennessee Titans.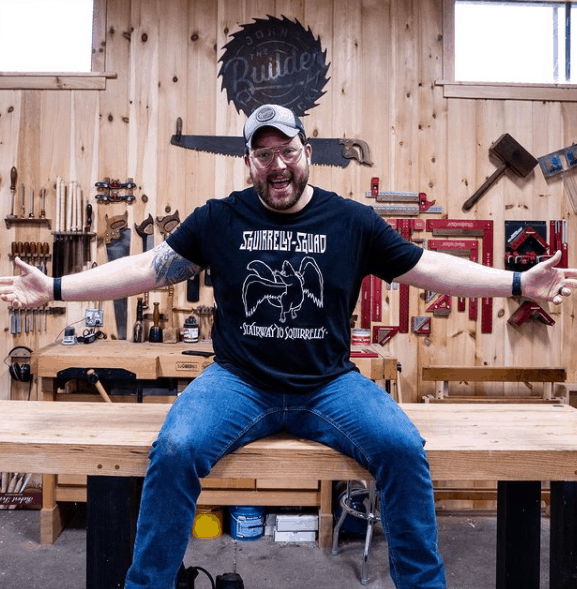 Before that, he remained a standout athlete at the University of Pittsburgh. But unfortunately, things did not work out according to his plan.
And henceforth, John had to think of something that kept the fire, zeal, and passion burning inside him.
As a result, he switched his career to woodworking and now sells his craft and creativity to his clients and has not looked back since (something wondrous about this champ !).
Let's hop into the inside story of John Malecki, who owns his custom woodworking studio, and talk about his ride from football to furniture.
But before that, glancing at the quick facts would be a must.
"As it turns out, you never really stop having dreams — whether they're playing in a Sunday night game or sharing your craft with the world — and I'm grateful every day that I have the opportunity to live mine."
John Malecki | Quick Facts
| | |
| --- | --- |
| Full Name | John Malecki |
| Birth Date | May 26, 1988 |
| Birth Place | Pittsburgh, Pennsylvania |
| Nick Name | Not known |
| Religion | Not known |
| Nationality | American |
| Ethnicity | White |
| Education | Franklin Regional Senior High School, University of Pittsburgh |
| Horoscope | Gemini |
| Father'sName | John Malecki Sr. |
| Mother'sName | Angela Malecki |
| Siblings | Geoffrey Malecki (younger brother) |
| Age | 34 years old |
| Height | 6'2″ (1.88 m) |
| Weight | 298 lb (135 kg) |
| Shoe Size | Not known |
| Hair Color | Dark Brown |
| Eye Color | Light Brown |
| Undrafted | 2010 |
| Build | Athlete |
| Marital Status | Married to Sara Linkosky Malecki |
| Kids | Expecting one |
| Position | Offensive Guard |
| Profession | Former NFL player, Youtuber, Furniture Builder |
| Net Worth | $9,00,000 (as of the year 2012) |
| Salary | $390,000 base salary (as of the year 2012) |
| The last team played for | Pittsburgh Steelers |
| League | NFL |
| Active Tenure | 2010 to 2013 |
| Social Media | Instagram, Twitter, Facebook, Youtube |
| Merch | Safety Glasses, Titans Jersey |
| Last Update | February, 2023 |
John Malecki | Early Life, Family & Education
Starting with the basics, John was born on May 26, 1988, to his parents, Angela Malecki and John Malecki Sr., in Pittsburgh, Pennsylvania.
He also has a brother who is fourteen months younger than him, Geoffrey Malecki. Clearly, John did not face a hard time growing up as he had a companion to play with.
Talking about John's parents, his mother, Angela, was a softball player since she turned eight and played until her senior year in high school.
Unfortunately, she had to put a full stop to her career after facing a knee injury. Henceforth, she could not accept a college scholarship.
Moreover, his father, John Malecki Sr., has been a basketball player but did not grab any opportunity to deliver his skills through organized sports since he had to earn his bread and butter from an early age.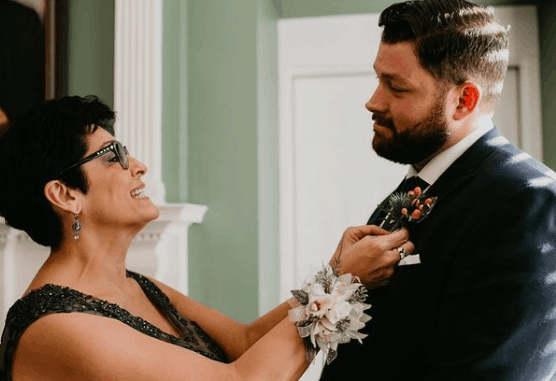 Aforementioned, fourteen months after John stepped into the earth, Geoffrey was born.
Yes, John Sr and Angela did not know whether their baby would be a he or she. But their (kids') future was already decided. You see, their dreams were older than them.
Angela saw an athlete in both her boys. She knew there was some kind of athletic talent brimming in her boys.
She planned to have John and Geoffrey on two different t-ball teams. According to her, having the brothers on the same team would be unfair.
Childhood Stories
John got to evolve across the street from "Franklin Regional High School" in Murrysville, Pennsylvania.
The moment they moved into the house, some noise kept intriguing him from the Friday Night football.
Since then, he also got addicted to a dream where even he wanted to hear his name from the stadium full of fans cheering out loud for him.
Every time he saw the crowd in the game and the players, he wished to become the one. No, not on the audience's side but the player's side.
He was attracted to the style of the players walking onto the field and slapping each other's shoulder pads.
It just wooed him. John would simply stare at them and think for a while how cool they looked.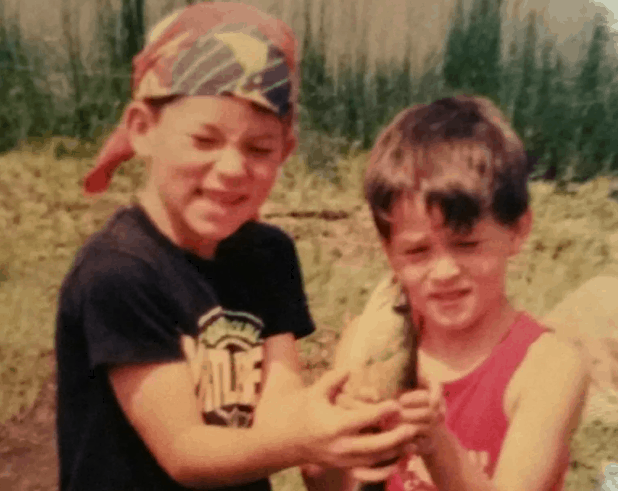 John could easily recall the moment when his parents asked if he wanted to play organized football. Only he knew; his heart shouted it out loud, yes.
It was the late nineties, and he would soon be jumping into the sixth standard while his father was a maintenance worker at his high school.
John Sr. made that his son understood the trauma where he could easily get hurt in the field. He had to prepare himself as the most formidable contender mentally and physically.
They were on top of the hill outside the back door when elder John taught him to tackle, deal, and offend. And this was something instilled in his mind by his father.
"You might be the best kid in the backyard but there will always be someone bigger and badder."
School Days
Eventually, the guy who used to hear the cheers and intercom announcements loud from his house with his father became a standout.
And why he was taught to fight back and fight harder. All his father's teachings and preaching were working for him.
John headed Franklin Regional to a win in the AAA Pennsylvania State Championship.
It was a memorable moment for him not because he was recognized for his performance, but he shared the victory with the people he had played with since sixth grade.
John Malecki | College Career
Malecki chose to stay close to his house and play for Pittsburgh's University on the offensive line.
College football was all about fun, growth, and constructive experience. Not to mention, it was also about close friendships and bonding.
When John, along with his mates, was not at the football ground, they chilled out, moving around and hanging out together. They played ping pong and BSing in the lunchroom.
John was titled to the Big East All-Academic Football Team. He was selected as the Pittsburgh Panther's "Most Improved Offensive Player" after the 2008 season.
Further, his football career also helped him graduate with a bachelor's degree in marketing in 2010 from Pitts.
John Malecki | Professional Career
Tennessee Titans
After going undrafted in 2010, John signed as a free agent with the Tennessee Titans on April 26, 2010.
He was living the life he always wished for, the stadium, the fans, and the loud cheers.
Mike Munchak was head coach, and he was all young and green. He thought the same mindset that got him to this would help him out in NFL.
But John was wrong; NFL was a legit quick turnover business. Someone's better available for your position, and you are switched.
"You're just a number on a paycheck for every team in the league," he said.
And henceforth, he was released on August 10, 2010.
Cleveland Browns
Cleveland Browns hired John on August 13, 2010, and soon waived him before he could even unpack his bag on August 31.
Further, John signed a deal with the Tampa Bay Buccaneers on October 26, 2010, and joined the practice squad.
After playing on the practice squad for the 2010 season, he was re-signed by Tampa Bay Buccaneers to a futures contract on January 4, 2011.
John inked a contract with the Pittsburgh Steelers on August 7, 2011. He also shared a brief stint with the Redskins.
John was just at his home in Murrysville, just 20 minutes from Latrobe. But then, he received an unexpected call to be on the offensive line for the Steelers.
As one of the Steelers left the team for some reason, that set a vacant position for the offensive line.
John just jumped in the truck and drove there to become a Steeler on October 19, 2011. And soon, he was released on October 26 from the practice squad.
Return to the Pittsburgh Steelers
The Pittsburgh Steelers again hired John to a futures contract on January 18, 2012.
He was soon then released and hired back to the practice squad. John was slowly then promoted to the active roster spot.
Following the teams' back and forth, he grabbed a playtime, one game against the Cleveland Browns in December 2012 at Heinz Field.
All his family members, former teammates, and his friends were present there to shower their support.
His father's face was shining bright with that wide smile on his face. "It was great to experience that," John said.
And as per Mrs. Malecki, she was thrilled to watch him play. She also recalls when one of the Browns' fans was asking her to lower her voice.
To which Mrs. Maleski replied, "I don't want to ruin this moment by getting into an argument."
On the other hand, even John had a great time with the Steelers.
He was invited to be a part of the brotherhood and accepted as the underdog by Willie Colon, Max Starks, Maurkice Pouncey, and Doug Legursky.
John played in the Super Bowls and went on playing together for years. There was something about those dudes that he loved.
But the good tenure with the Steeler did not last long. John was just enjoying his time and thrilled with joy.
He was all in a celebratory mood up for fishing and hunting with his father. And suddenly, out of nowhere, a call pops in. And this time, it was not good news.
He was waived from the squad again. And this time, it was an abrupt end to his NFL career.
No doubt John still misses the ramp-up to the first game of the season, the training camp, the banter, the meeting room.
Woodworking & New Beginning
Well, God also helps those who help themselves. The finishing of a football career was a start to a new beginning.
He took a year off from just about everything and tried to figure out something new and innovative.
John developed his new passion for building custom furniture with a little bit of aesthetic touch. He began doing DIY projects in his free time.
Not to mention, creativity was an inherited gift from his parents. Angela is a hairstylist, and her mother was involved in a drapery business.
John's brother Geoffrey is a musician in California. His father, Senior Maleski, worked in a construction company for a certain period.
According to him, "Everyone takes a tool and gets on board."
How did he get started?
Once his friends broke a coffee table, they had to get a new one, as per sources.
But instead, John looked for a plan, built it, and replaced it. Since then, he started finding his love and passion for woodworking.
John bagged his first-ever project for former Steelers teammate Baron Batch an artist who bought a spacious home and wanted some unique customized furniture.
He and Baron brainstormed together and subsequently built tables and cabinets that best suited the aura of the house.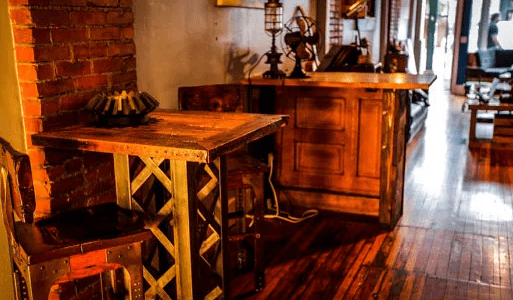 Following that, John started displaying his stuff on social media, which quite opened a way for him.
He started getting queries about his new business, and most people loved the craft and the work. He initiated building and producing furniture to pay his bills and stuff.
John was not a stranger to constructing and building things, as his father and grandfather were already involved with.
Moreover, he used internet sources to study metalworking, woodworking, and welding.
You might be interested in reading: <<Jake Reed: Former NFL Player, Career, Wife & Net Worth >>
Pittsburgh as an Inspiration
The only mantra that John focused on was getting a drill and seeing what you can make. It's not the tool that you use.
It is the way that you apply and see how creative you are. Similarly, John has always taken his place as a tool for inspiration.
According to him, "I am lucky enough to live in a city with so much history." He just embodies that reclaimed industrial aesthetic in his work.
He tries to draw the city's essence, brick and steel buildings with wooden walls all up and down downtown.
John's designs are simply authentic that display the essence of good times. He makes sure each of his designs, no matter what, tells a story.
John's workroom for his business, JM Custom Builds itself, is in the underground room of this historic old school building in Homestead, Pa.
The location was once a house to astounding steel mills. Talking about inspiration, John is a big fan of Jimmy DiResta. He likes his content, and there is a kind of aesthetic enjoyment.
Marc Spagnuolo, with whom he learned all the wood crafting skills, is really fond of him. And then there is Ben Uyeda, whom he appreciates a lot as a content maker.
A high-time Youtuber
Youtube has always helped him to keep grinding. He says. "There is a vast amount of knowledge on any subject on youtube."
John also operates his own channel on youtube and has his own website as, johnmalecki.com.
It is also there where he had the project of cutting boards and fire pits running as well. Moreover, his business content is also displayed on Instagram.
To boot on, John also has a supplemental website that's metalandwood.us, and that's where he showcases all his designs for selling purposes.
That is the only place where the clients can enjoy their portfolio.
John wears several hats as a business owner, custom fabricator, videographer, marketing head, designer, and photographer.
He is a one-person show and is also planning to put his hands forward for collaboration if needed.
Not to mention, John is also a part of the DIY movement and loves to grow and evolve out of it.
It's not like one day he wakes up and makes a plan, and the other day, boom, the furniture building plan is a huge success.
It took a lot of time, effort, dedication, and sacrifices. He stayed in his friend's basement for two and a half years and kept grinding for his passion.
Co-hosting a creative Channel
John co-hosts a podcast," Made for Profit," with Brad Rodriguez.
It all started when the two met at a show and realized how talking about the business aspect of woodworking and making DIY can help makers evolve.
Therefore, they thought of hosting a podcast to talk about money-making in the shop and monetizing as an artist.
And it is going quite well; the podcast has managed to grab quite a whopping audience. It has also formed a learning base for them.
John Malecki | Personal Life, Wife & Kids
Coming to the personal aspects of John's life, there is nothing much to remain curious about. He is a simple man with a simple living.
There is nothing obnoxious or hideous about him. John is currently in a marital relationship with his wife, Sara Linkosky Malecki.
Sadly, there is not much revealed about Sara on the internet, but yes, you can surely follow her on Instagram and know more about her. She is available there as @malinkky.
Furthermore, John and Sara share a great bond and have fallen for each other madly yet profoundly.
However, the couple is not hogging all this love to themselves but has expanded their family as they have welcomed their first child, a beautiful baby girl Annie Elizabeth Malecki on March 12, 2021.
So far, the happy couple is living a blissful life. And both of them have yet to be mingled in any rumors or controversies regarding their marriage.
Even though John seems to be quite a busy man, he takes out enough time to spend with his family.
Just a quick, interesting fact, John has also been benefitting his personal life with his art and craft skills.
He made his own ring when he was getting married. As per him, this was the most fulfilling and enjoyable moment of his life.
Below is the Youtube video where you can find him making a wedding ring with a steel block.
John Malecki | Net Worth and Salary
Bringing straight on his salary and net worth, when he was an NFL player, John used to earn a base salary of $3,90,000 after signing a two-year agreement with the Pittsburgh Steelers in 2012.
The contract was worth $870,000. Other than that, it is clear that John has been making his living out of his furniture-making business. He is a YouTuber as well.
Thus, we don't have to keep saying that he must live the life he wanted. He is already on the heights of success but still keeps pushing himself harder to bring out new every day.
When asked about his favorite project, John says, "My last project is typically my favorite project just because I continually am pushing myself to do something over the top."
One of his favorite products is the industrial reclaimed kitchen island. It had some metalwork, reclaimed work, cabinetry, and carcass work.
It ended up looking good and surprised him with satisfaction.
Don't forget to check out another interesting article: <<Former NFL Player James Harrison: Bio, Wife & Net Worth >>
Social Media Presence:
John Malecki is an entrepreneur, and he knows what social media means when you are making money out of business.
Thus, he is available on each possible social networking site with a great number of followers.
Do give him a follow and ponder over the beauty that he produces with his woodworking skills.
Facebook: 150k Followers
Instagram: 243k Followers
Twitter: 11.5k Followers
Youtube: 629k Subscribers
Some FAQs:
Does John Malecki still play in the NFL? What is his NFL Career statistic like?
No, John doesn't play in the NFL. He is into his own business of furniture making.
Though John Malecki played numerous games in a practice squad, he only ventured into the professional arena with a single-game appearance.
How much is John Malecki's Ultimate Miter Saw Station Plan?
John Malecki's Ultimate Miter Saw Station Plan is worth $25.00. Click here to know more information about the plan.