If you follow curling, you probably are familiar with John C. Morris. He is the first man to win two Olympic gold medals in curling at Vancouver 2010 and PyeongChang 2018.
The Canadian player has been in this curling field for about 28 years, including his junior years. John has won many local and national championships with the team.
Already considered a legend in Canadian Curling history, he still thrives to achieve more success.
For instance, John recently debuted as a coach at the 2021 Olympic Qualification Event and guided the Australian mixed doubles team.
Already a qualified personal trainer, a degree-holder in Kinesiology, fire-fighter, nutritionist, and co-author, John has stood robust as a standout athlete in different sports.
Before getting into more details about his life, let's go through some quick facts:
Quick Facts
Full Name
John C. Morris
Known as
Johnny Mo
Birth Date
December 16, 1978
Birth Place
Winnipeg, Manitoba
Religion
Unknown
Nationality
Canadian
Horoscope
Sagittarius
Education

Wilfrid Laurier University
Colonel By Secondary School

Father's Name
Earle H. C. Morris
Mother's Name
Maureen Morris
Siblings
Three
Age
43
Height
1.9 meters (6 feet 3 inches)
Weight
84 kg (185 lbs)
Hair Color
Light Brown
Eye Color
Blue
Build
Athletic
Profession
Curler, Firefighter
Current Team
Position
Second
Active Years
1993- present
Marital Status
Married
Wife
Maggie Morris
Kids
Three
Net Worth
$1 million
Merch
Fit to Curl (Guidebook)
Social Media
Instagram, Twitter
Update
September, 2022
John C. Morris | Early Life, Family and Education
On December 16 of, 1978, curling legend John C. Morris was born to Canadian curlers Earle Morris and Maureen Morris.
His father was the inventor of the stabilizer curling broom and was the first curler to play for three different provinces at the Brier.
In addition, his father was named to the Curling Hall of Fame in 2016 and has coached at the Elena Stern rink.
Interestingly, Morris is the third generation of his family to complete in the Brier as not only his father Earle, his great-grandfather Cliff McLachlan skipped Saskatchewan in the 1933 Macdonald Brier.
Therefore, he had a curling-filled childhood that motivated him to take this career path.
But he wasn't limited to curling. When he attended high school at Colonel By Secondary School in Gloucester, Ontario, he played hockey, softball, volleyball, soccer, and baseball in his youth.
Later, he joined Wilfrid Laurier University to earn a degree in Kinesiology.
John Morris | Height and Weight
The elite curler weighs around 84 kg which is about 188 lbs. Meanwhile, he stands 6 feet and 3 inches tall, about 1.88 meters in height.
John Morris has an athletic build. Being a personal trainer, he focuses on his fitness diet to keep himself healthy.
All About Curler Brendan Bottcher: Wife & Team>>
John Morris | Curling Career
Morris started his curling career as a skip for the Ottawa Curling Club. He won three-straight Ontario provincial junior Men's titles from 1997 to 1999.
In addition, he won both the 1998 and 1999 Canadian and World Junior Championships. Thus, he set the record for most wins by a skip along the way.
His team, which included Craig Savill, Matt St. Louis, and Mark Homan finished third at the 1997 Canadian Junior Curling Championships.
He headed the team to first place at the 1998 Canadian Junior Curling Championships with a 9-3 round-robin record in a 4-way tie and won gold.
His team replaced Ormsby with Jason Young as a second the next season. And the team conquered the 1999 Canadian World Junior Curling Championships.
In addition, Morris won a provincial junior mixed title in 1999 with Jacqueline Smith, Brent Laing, and Chrissy Cadorin. He was also a WJCC All-star skip and winner of the Canadian Citizenship Award.
Early Men's Career
After juniors, Morris moved to Ontario and started his career with Stayner Granite Club in the first season after juniors. However, his junior curling team remained nearly the same except for Young. Andy Ormsby replaced him on the men's team.
Later the team entered playdowns for the 2000 Ontario Nokia Cup and lost in regionals. Ormsby left the team in 2000, and hence Joe Frans joined the team as the third.
Soon, the team won a couple of tour events and entered the 2001 Ontario Nokia Cup provincial championship, and came in second place.
Likewise, they qualified for the 2001 Canadian Olympic Curling Trials. Despite a brutal loss to Russ Howard, Morris received national attention.
Morris won his first provincial title at the 2002 Ontario provincial championship and qualified for the 2002 Nokia Brier.
Similarly, the Morris rink made it to the finals at the inaugural Canada Cup of Curling but lost to Randy Ferbey in 2003. That same year, the team played in the provincial championship and reached the semifinals.
Later, they finished the season curling at the 2003 Players' championship Grand Slam and ended in second place, losing to Jeff Stoughton in the final.
Calgary Winter Club
Morris made a new team hence moving to Calgary, consisting of Kevin Koe, Marc Kennedy, and Paul Moffatt. The team had won a few events on tour, including the 2004 Players' Championship Grand Slam. The group later played three seasons together.
However, the team never won a provincial championship and lost in the semifinal of the 2005 Canadian Olympic Curling Trials.
Team up with K-Mart
The new team of Morris and Kevin Martin won the provincial championship 2007 Kia Cup, defeating Morris's former teammate Kevin Koe in the final.
Morris won all-star third in the tournament. In their first season together, the team dominated three of the four Grand Slam events, the Canadian Open, the National, and the Players' Championship.
Likewise, Kevin Martin and Morris returned to the 2008 Brier after winning the 2008 Boston Pizza Cup provincial Championship.
In addition, Morris was named MVP of the Canadian Men's Curling Championship Final after curling 90% at the Brier.
Furthermore, Morris helped team Canada to a World Championship crown and led all players with a round-robin percentage of 90% at the 2008 World Men's Curling Championship.
Likewise, the team won the 2009 Boston Pizza Cup the next season. Hence, they won their second straight Tim Hortons Brier title.
In addition, the team won the 2009 Canada Cup of Curling and hence qualified for the 2009 Canadian Olympic Curling Trials.
Morris and Team Martin represented Canada at the Olympic Winter Games Vancouver 2010. They even won the gold medal on home ice for the Alberta-based team defeating Thomas Ulsrud of Norway.
Similarly, the team won the 2010 BDO Classic Canadian Open and the 2010 Players' Championship. In Grand Slam play, the team won December 2010 National along with the 2011 Players Championship.
In the 2011-12 season, Morris won the Canada Cup of Curling and got a chance to participate in the 2013 Canadian Olympic Trials.
The team also won the 2013 provincials defeating Kevin Koe's team in the final, and hence participated in the 2013 Tim Hortons Brier.
Next Team
Morris joined Jim Cotter's team and found success soon. He skipped the team and qualified for the 2013 Canadian Olympic Curling Trials but lost to Brad Jacobs's team in the final.
The team remained undefeated to win the 2014 British Columbia provincial Championship and represented the province at the 2014 Tim Hortons Brier.
Hence, he became one of only three curlers to play for three different provinces at the Brier. He joined his father, Earle Morris, and Ryan Fry.
However, Morris's team lost to Kevin Koe's team. After Kevin Koe announced leaving his team in the 2014 off-season, his teammates recruited Morris to skip them. This led to his first-ever Team Canada entry in Brier.
Later, Morris moved to vice, assigning Pat Simmons as a skip, and with the changes, the team went on to win the Canadian Championship and won the bronze at the 2015 world championship.
Hence, the team participated in the 2016 Tim Hortons Brier and represented Team Canada. However, the team did not achieve good results and disbanded after the season.
Then, he returned to play with Jim Cotter's team, where he skipped the team and won the 2017 Belaridirect BC Men's Curling Championship.
Morris led the team and won one Grand Slam event in that same year. He also led the team to qualify for the 2017 Olympic Pre-trial and put the team in the Olympic Curling trials.
Mixed Doubles
Firstly, Morris teamed up with Rachel Homan in pre-trials events. However, after Rachel's team was chosen to represent Canada in the Olympic women's event, Morris had to find a new partner.
Hence, Morris teamed up with Kaitlyn Lawes and won the 2018 Canadian Mixed Doubles Curling Olympic Trials. Later, they participated in the Winter Olympics and won gold, defeating Switzerland.
After the Olympics, Morris continued with Lawes and focused on the mixed doubles event rather than the team event. They won several mixed doubles events, including Canada Inns Mixed Doubles Classic.
After Lawes sustained an injury, Morris played with several mixed doubles partners. He won Qualico Mixed Doubles Classic with Rachel Homan.
Return to the Team Event
Morris joined John Epping and his rink as their alternate for the 2020 Tim Hortons Brier. The team finished fourth place in the event.
Subsequently, Morris joined team Kevin Koe as their new second. He finished in second place at the 2019 tour challenge grand slam event.
The team participated in several provincial events of the 2020-21 season before getting canceled due to the COVID-19 pandemic.
The team got the second Wild Card spot at the 2021 Brier in Calgary, Alberta, after COVID was dialed down.
All About Olympic Gold Medalist Curler Jennifer Jones>>
John Morris | Wife and Children
The Canadian curler, John Morris, is a married man. He proposed to his long-time girlfriend, Maggie. The two had their first child in 2018 and named him Jake.
Likewise, his wife gave birth to a daughter, Zoe, in 2019. ET Canada even featured Morris in a Valentine's special as one of Canada's most eligible bachelors in 2010.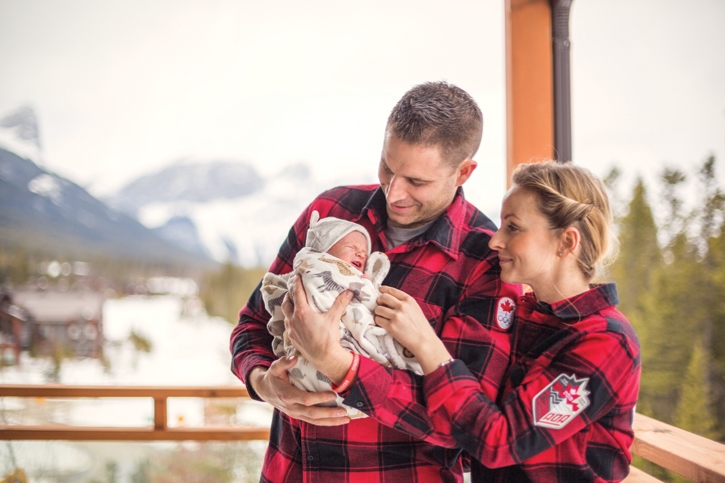 Interestingly, John has also co-authored the sport-specific training guide, Fit to Curl, with Dean Gemmell in 2009.
John Morris | Net Worth
The Canadian curler is also a full-time firefighter, nutritionist, a certified personal trainer. And also, he has been in curling for more than 20 years, and for sure, he has accumulated a massive amount of fortune under his belt.
According to the source, John Morris's Net Worth is estimated to be $1 million. The amount he collected includes money from his curling career, stocks, properties, and luxury goods, social media.
Social Media Presence
The Canadian Curler has an Instagram account with more than 13.2k followers, where he shares lots of pictures of his teammates and family.
Morris is fond of traveling, adventures, and hockey besides curling which can be observed from his posts.
Similarly, he is also on Twitter with more than 19.1k followers. The legend often tweets and supports his teammates and other colleagues in his tweets.
Frequently Asked Question
Did John Morris ever win the Brier?
John Morris won Tim Horton Brier three times in 12 Brier appearances. He won Brier in the year 2008, 2009, and 2015.