Kendrick Perkins is an ESPN sports analyst and former professional basketball player. He entered the NBA straight out of high school.
Since then the player has played for the Boston Celtics, Cleveland Cavaliers, Oklahoma City Thunder, and New Orleans Pelicans.
Throughout his career, Perkins relished his role as an enforcer, a physically intimidating player who would send a message with a hard foul and was not afraid to get in an opponent's face.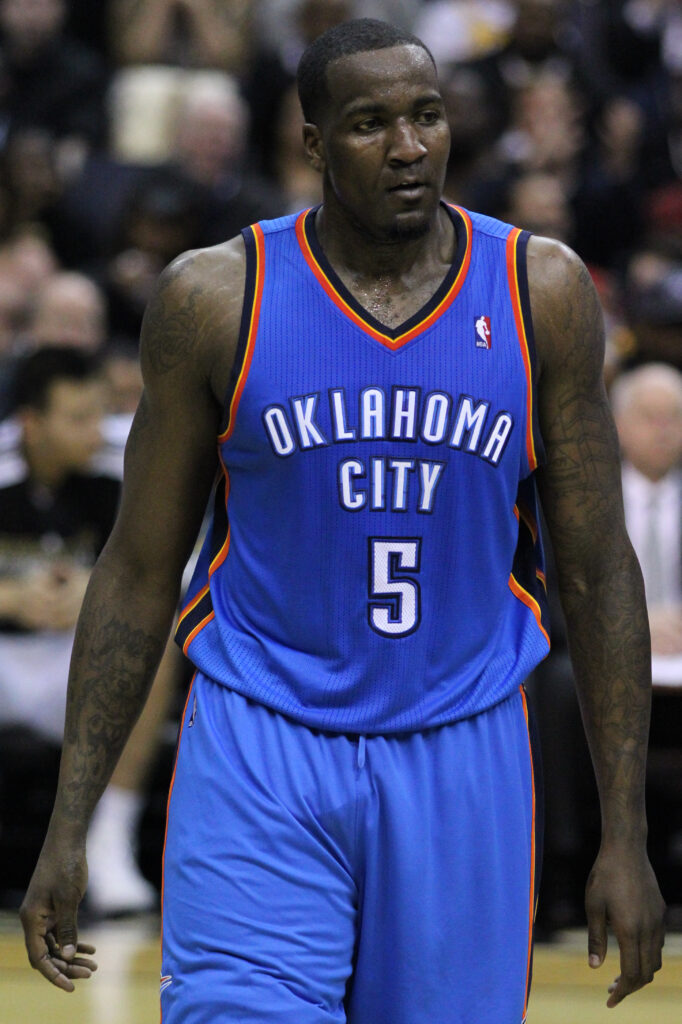 Kendrick's teammates, on the other hand, told a different story. Kendrick was well-known for being the consummate teammate; someone who provided strength and support to his teammates.
Moreover, Perkins also won the NBA Championship with the Celtics in 2008. Want to know more about Kendrick Perkins? If so, make sure to read this article to the end!
Quick Facts
Full Name
Kendrick Le'Dale Perkins
Birth Date
November 10, 1984
Birth Place
Nederland, Texas, US
Nick Name
Kendrick
Religion
Christianity
Nationality
American
High School
Clifton J. Ozen High School (Beaumont, Texas)
College
Not available
Playing Career
2003 – 2018
Zodiac
Scorpio
Chinese Zodiac
Rat
Father's Name
Kenneth Perkins
Mother's Name
Ercell Minix
Grandmother's Name
Mary Minix
Grandfather's Name
Raymond Minix
Age
37 years old
Height
6 feet 10 inches
Weight
122 kg
NBA Draft
2003
Shoots
Right
Food Habits
Non-veg
Chest Size
Not available
Biceps Size
Not available
Waist Size
Not available
Hair Color
Black
Eye Color
Dark Brown
Career Highlights

2008 NBA champion
2003 McDonald's All-American

Points
4,214 (5.4 ppg)
Rebounds
4,532 (5.8 rpg)
Blocks
903 (1.2 bpg)
Build
Strong, muscular
Marital Status
Married
Children
Four
Wife
Vanity Alpough
Jersey Number
45, 5, 3, 21
Shoe Size
Not known
Playing Position
Centre
League
TBL
Net Worth
$60 Million
Annual Salary
$1.5 million
Social Media
Instagram, Twitter, Facebook, Linkedin
Merch
Notebook
Last Update
October 2022
Kendrick Perkins: Early Life and Family
Kendrick Le'Dale Perkins was born in Nederland, Texas, US, on November 10, 1984. The player's grandparents, who lived on a farm, raised him.
Kendricks's mother died when he was five years old, and his father played professional basketball in New Zealand. His father stayed in the New Zealand entire time and never visited him.
Kendrick attended a private Catholic school. His grandfather was a big sports fan, which fueled his interest.
Perkins played pick-up football as a defensive end and baseball as a first baseman in addition to basketball. Eventually, the player stopped playing baseball in the ninth grade and football in the tenth.
Are Kendrick Perkins and LeBron James Childhood Friends?
Kendrick first met LeBron James in seventh grade, when he was a member of the Houston Hoops, a team that competed against LeBron's Ohio Shooting Stars.
The player later became friends with LeBron while they were teammates on the Oakland Soldiers at ABCD Camp.
Kendrick was ranked No. 3 on the AAU circuit beginning in eighth grade. Likewise, LeBron was ranked No. 1, and Chris Paul was ranked No. 2.
Wesley Matthews' classmates often teased him and called him to be a "mama's boy". Click here to find out why!
Kendrick Perkins: High School Career
Kendrick graduated in 2003 from Clifton J. Ozen High School in Beaumont, Texas. During his high school career, he led Ozen High to four consecutive district championships and one state championship.
As a senior, Kendrick led Ozen to a 33–1 record, averaging 27.5 points, 16.4 rebounds, and 7.8 blocked shots per game.
The only loss was a 66–54 loss to Fort Worth Dunbar in the state 4A championship game. Perkins was named to the McDonald's All-American Game following his senior year in 2003.
Likewise, Perkins, a five-star recruit was ranked as the No. 3 center and No. 6 player in the country in 2003.
The player had originally committed to Memphis, however, he chose to enter the NBA straight out of high school.
Kendrick Perkins: Professional NBA Career
The Memphis Grizzlies selected Perkins with the 27th overall pick in the 2003 NBA Draft. He, along with Marcus Banks was quickly traded to the Boston Celtics, for Troy Bell and Dahntay Jones.
During the 2004-2005 season, Kedrick established himself as one of the Celtics' toughest players. He had some of the best games of his career in the 2006 NBA Playoffs, consistently reaching double figures in points and rebounds.
Kendrick and Nate Robinson were traded to the Oklahoma City Thunder in exchange for Jeff Green and Nenad Krsti in 2011. He then signed a multi-year contract extension with OKC.
The player helped the Thunder reach the 2012 NBA Finals, where they were defeated in five games by the Miami Heat. After that, Kendrick joined the Cleveland Cavaliers in 2015.
In 2015, the Cavaliers advanced to the NBA Finals, where they were defeated in six games by the Golden State Warriors. Perkins signed with the New Orleans Pelicans during the 2015 offseason.
Afterward, Perkins re-signed with the Cleveland Cavaliers in 2017, returning to the Cavs for a second stint. The Cavaliers advanced to the NBA Finals in 2018, where they were swept by the Golden State Warriors.
Awards
2008 NBA champion
2003 McDonald's All-American
2003 First-team Parade All-American
2002 Second-team Parade All-American
2003 Texas Mr. Basketball
Kendrick Perkins: Post-retirement
Initially, the player began doing some studio work for ESPN and Fox Sports 1, more as a freelancer than an employee.
Eventually, after announcing his retirement formally in an entertaining podcast with reporter/insider Adrian Wojnarowski, ESPN began booking him. Following that, Kendrick signed a two-year contract extension with ESPN.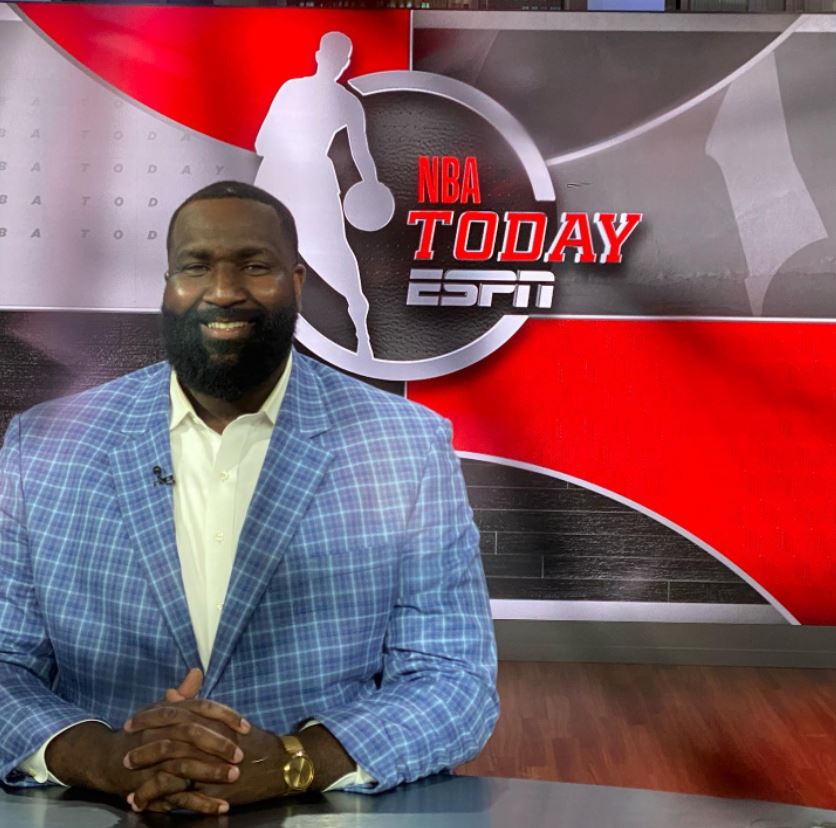 Along with host Cassidy Hubbarth, he also served as the primary analyst for Hoop Streams, the network's on-location digital NBA pregame show on the ESPN App/Twitter/YouTube.
Perkins went on to work as an on-air sports commentator and analyst for Fox Sports 1, and NBC Sports Boston, as well as on the ESPN television sports talk shows NBA Today, First Take, and Get Up.
In addition, the player contributed to "The Jump," "Get Up," and "SportsCenter."
Kendrick Perkins: Body Measurements and More
Perkins is 37 years old. He was born in the Rat year, as per the Chinese zodiac. Likewise, his zodiac sign is Scorpio.
The player stands tall at the height of 6 feet 10 inches and weighs 122 kg. During his days as a player, Kendrick used to spend much of his time in the gym and exercising.
For instance, in the summer of 2002, the player worked tirelessly on his body. Perkins got up before dawn daily and went for two hours of running. After that, he spent a few more hours on weights and a couple of hours of work on the court.
The player kept working on his body and conditioning. By 2006, Kendrick lost 53 pounds of body fat and transformed his bulky figure into a constantly evolving NBA body.
At present, although the former player's body is not as 'chiseled' as it used to be during his playing days, he has a perfectly healthy body.
Kendrick Perkins: Personal Life
Kendrick married his longtime girlfriend, Vanity Alpough. Despite attending different high schools, Kendrick and Vanity fell in love during high school.
Vanity revealed that they had been sweethearts since 11th grade, while her husband, Perkins, always tells people that it all started in 10th grade.
Following years of dating, the couple decided to marry on July 25, 2009, at Carlton, Woods Country Club in Woodlands, Texas.
Furthermore, they had a lavish wedding ceremony in which they exchanged vows in front of 17 bridesmaids and 17 groomsmen, as well as more than 200 guests and other visitors.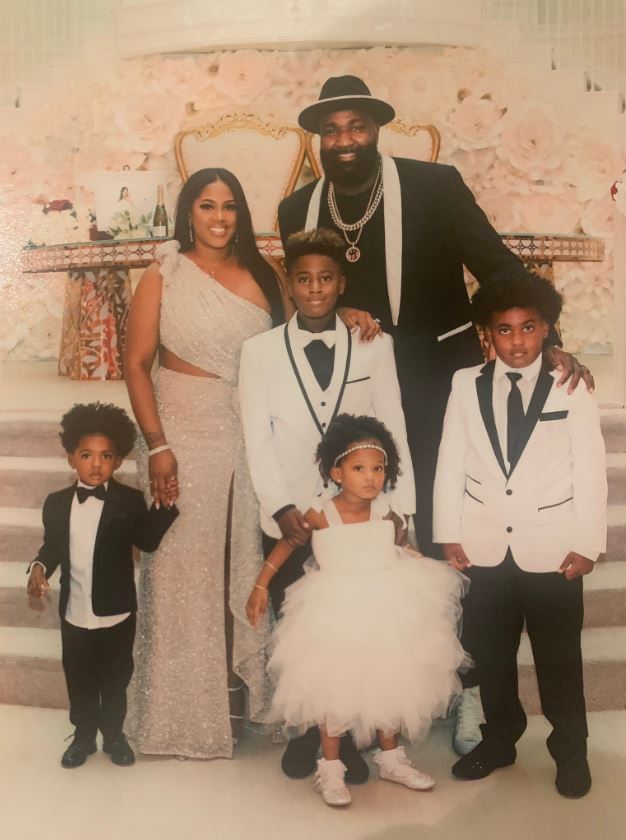 Kendrick's wedding appeared to be more special because he married Vanity 18 days before her 24th birthday.
The couple had their first child, Kendrick Jr. Perkins, two years before their marriage, i.e., on September 10, 2007.
Similarly, Kenxton Raymond Perkins, their second child, was born on October 10, 2011. The Perkins family has since grown in prominence as Vanity gave birth to twins, a son Kanter Perkins and a daughter Zoey Perkins, on October 25, 2015.
Kendrick Perkins: Interesting Facts
Kendrick is a devout Catholic. He used to be an altar boy, though his height made it difficult to find an alb that fit him.
Perkins posted a $1,000 bond on a misdemeanor assault charge on October 10, 2013. Following a traffic accident, he allegedly punched a man and a woman.
In 2020, Kendrick Perkins' children made headlines for spending $16,000 on Fortnite, causing Perkins' credit card to be declined.
Kendrick Perkins is responsible for giving Lakers veteran Rajon Rondo the most accurate nickname ever, the 'Playoff Rondo'.
Ethan Rusbatch, Perkins' cousin, is a New Zealander who plays in the NBL.
Kendrick Perkins: Charity
The former NBA player Kendrick Perkins is well-known for his generosity to Southeast Texans, particularly during the holiday season. The player was born and raised in Beaumont.
The player collaborated with his Beaumont Panthers team to distribute gifts to families in need. Perkins says that he has been blessed and wishes to ensure that others in the community have a Merry Christmas.
Five families were greeted by the ESPN sports analyst after he asked for nominations directly on social media. He then selected families based on their requirements.
Kendrick wanted to make certain that the children received gifts that they truly desired, so he used their personal Christmas lists. He and his team had also organized a turkey giveaway.
Vince Carter is a retired professional basketball player in the United States and a current ESPN basketball analyst. Click here to find out more!
Kendrick Perkins: Net Worth
Kendrick Perkins played for 15 years in the NBA before ultimately retiring in 2018. The player had a successful NBA career. His total NBA career earnings are around $60 million.
In addition to his NBA earnings, the former Celtics star reportedly earns $1.5 million from ESPN and other networks.
Kendrick Perkins' current net worth is estimated to be around $40 million.
The player earned $2.37 million in his final season with the Cleveland Cavaliers before being waived. He also earned $2.62 million over three years for his first NBA contract with the Boston Celtics.
In addition to his current NBA earnings, Kendrick Perkins also owns an $850,000 Mediterranean-style home in Tomball, Texas, as well as a private collection of luxury cars.
Social Media
FAQs
Has Kendrick Perkins always been this tall?
No, Kendrick was not always this tall. The player grew the most from eighth to ninth grade, when he went from 6'5″ to 6'10", his current height.
When was Kendrick's first in-game dunk?
Kendrick Perkins made his first in-game dunk in seventh grade.